The 55 best historic houses and gardens to visit in the South West of England
Discover historic houses and gardens all across the South West, including an array of castles, manors and ancient halls, all for free with a Historic Houses membership card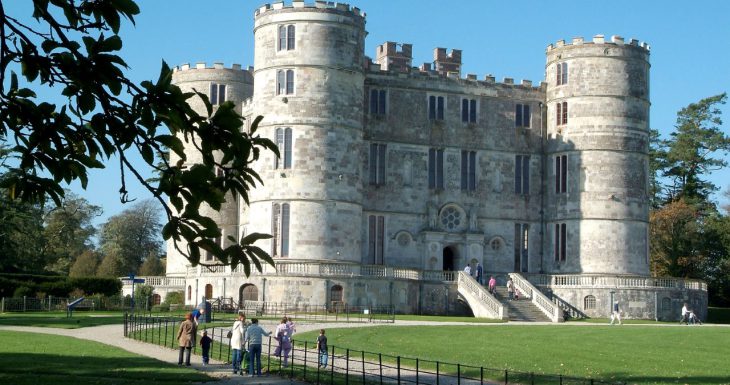 The South West of England is full of glorious places to visit and explore, including an array of the country's finest historic houses and gardens. Here, you can find a selection of places to visit when in the area, and if you're a Historic Houses member, you can use your card to explore these places for free. Take a look now by scrolling down our page here or view a map of all the houses here.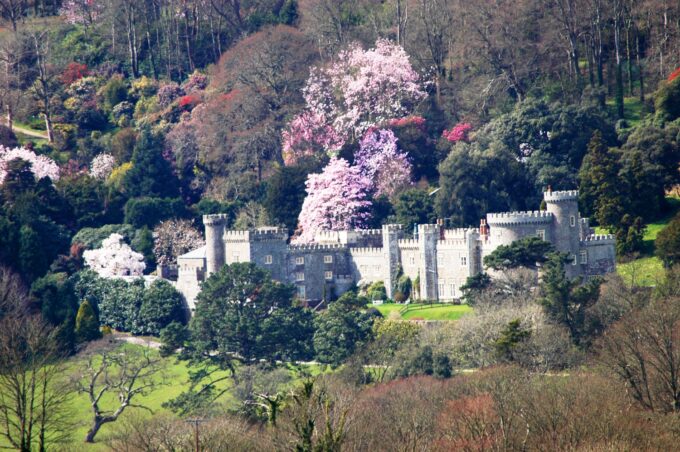 Caerhays Castle & Gardens, St Austell
It is difficult not to be stunned when you visit Caerhays Castle and its 140 acre Gardens which are the home of the Williams family.
The natural beauty of the coastline and its steep valleys, the architectural surprises, the inescapable sense of history and the range of activities and facilities that the estate offers, all set the scene for a wonderful day of discovery and exploration.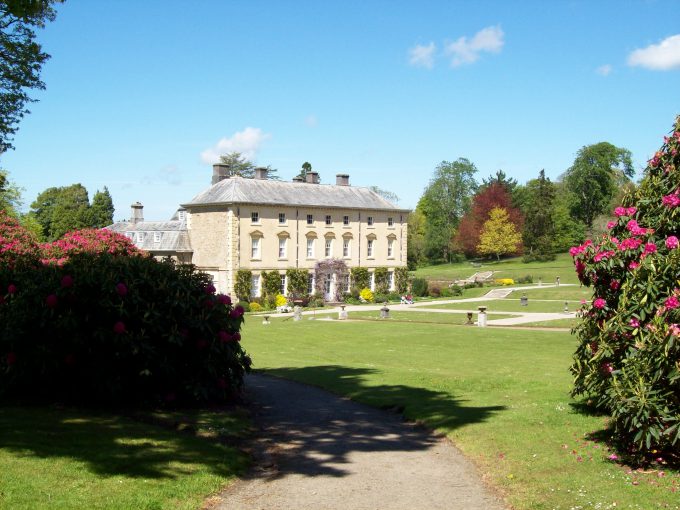 Pencarrow House & Gardens, Bodmin
Owned, loved and lived in by the family. Pencarrow is a Georgian house with Grade II* listed gardens.
Enjoy a guided tour with a difference and step back into the past with stories of the Molesworths past and present! We have a superb collection of portraits, furniture and porcelain.
Interested? Explore their page here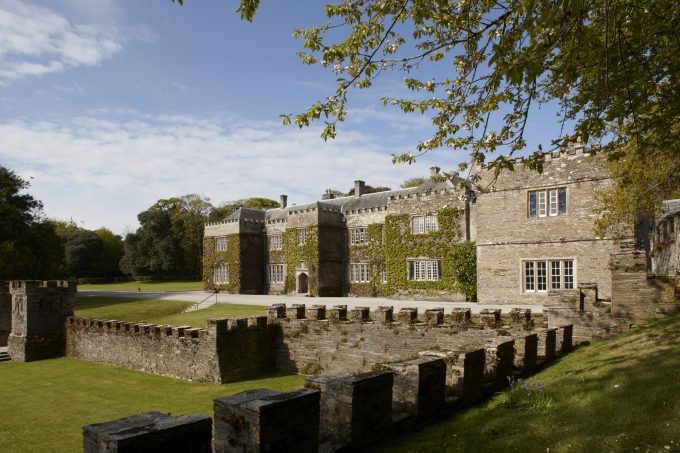 Prideaux Place, Padstow
First recorded as being Lords of Prideaux Castle, Luxulyan 1000 years ago, the family has been based at Prideaux Place since 1592, still lived in by the family who built it.
The house, surrounded by 40 acres of landscaped grounds and with its ancient Deer Park, is a charming mix of Elizabethan, Strawberry Hill Gothic and Georgian eras. Each room has its own individuality from all these different ages and one of it has been spoilt by Victorian additions.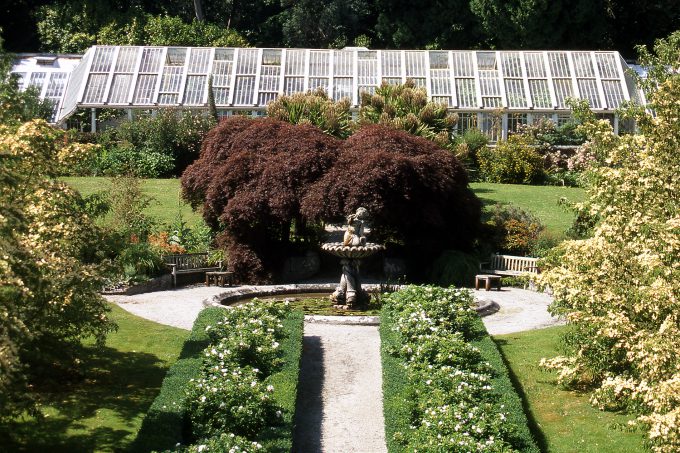 Tregrehan, Par
Tucked into St Austell Bay, Tregrehan has an enviable location for a Woodland Garden.
The garden is well sheltered, has deep soil and prevalent rainfall and with the mild Gulf Stream Current nearby. This has all helped to create Cornwall's atmospheric temperate rainforest.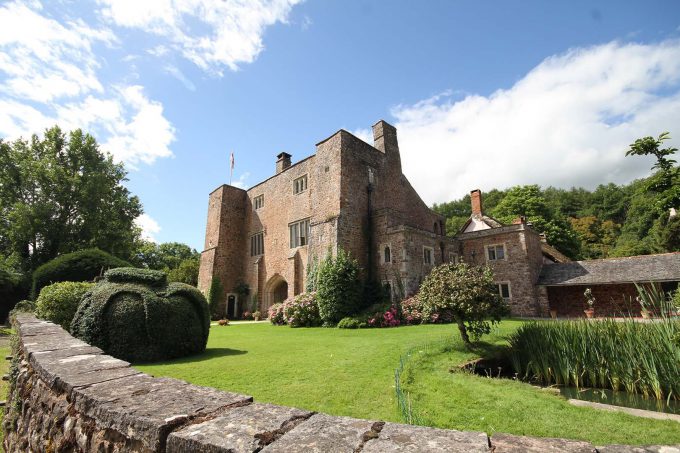 Bickleigh Castle, Tiverton
Bickleigh Castle is an ancient water castle remodelled as a fortified manor house during the 15th Century and severely damaged in the 17th, since when it has been much restored.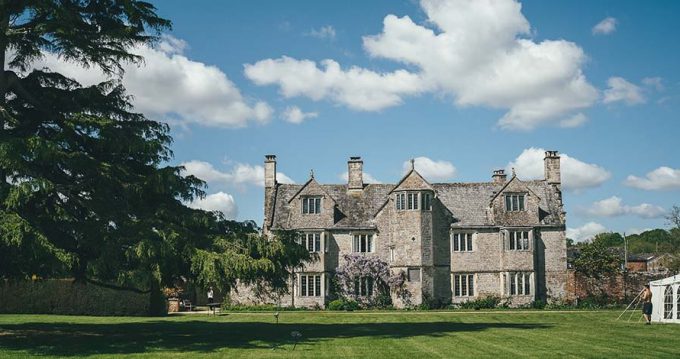 Cadhay, Ottery St Mary
One of the most interesting Tudor manor houses in Devon. Built in 1550, Cadhay retains the hall of an earlier house.
An Elizabethan Long Gallery was added to form a unique courtyard with statues of Tudor sovereigns on each side described by Sir Simon Jenkins as 'one of the treasures of Devon'.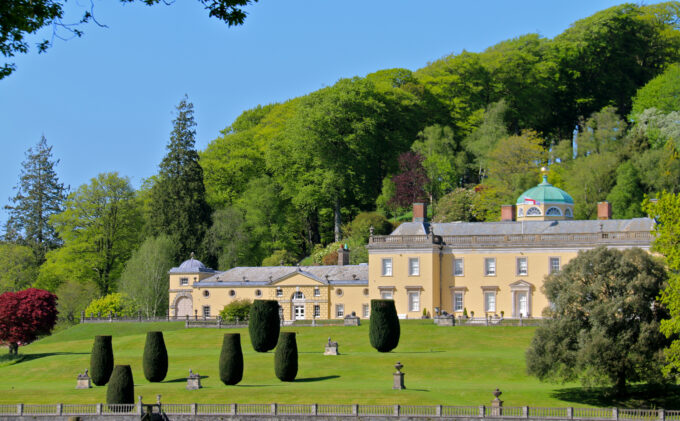 Castle Hill Gardens, Barnstaple
Castle Hill was built in 1730 as Earl Fortescue's family home. The current custodians are the 15th generation of the Fortescue family to live in the Palladian house.
Set in magnificent 18th-century parkland with many original follies, statues and temples, a sham castle and Triumphal Arch. The woodland gardens are abundantly planted with magnolias, camellias, rhododendrons, eucryphias and many rare trees. Formal gardens include the Millennium Garden and a Topiary water sculpture by Giles Rayner.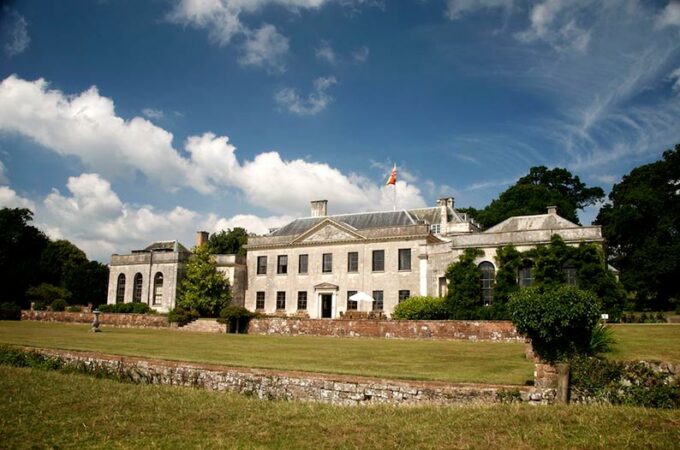 Downes House, Crediton
Downes is the family home of the Buller and Parker Family. It is still lived in by the current generation of the family – Henry and Susan Parker and their children Redvers (born 1992) and Stroma (born 1995).
The attraction of Downes is the way it brings together aspects of the history of our country (particularly as the home of the famous General Buller) and the history of a family home, still privately occupied and loved by its owners, some 300 years after it was first built. It is hoped that visitors will appreciate the opportunity to share this special place.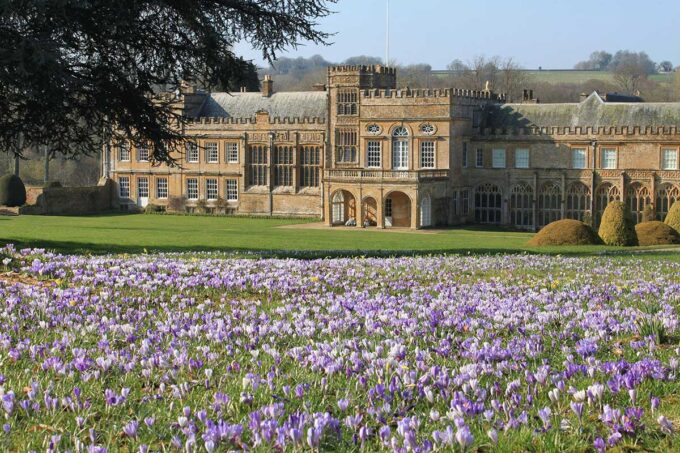 Forde Abbey, Chard
Forde Abbey is a former Cistercian monastery dating back to the early 12th century.
It was converted into a palatial family home during the mid 17th century. The house has exquisitely ornate plaster ceilings throughout the state rooms, together with collection of tapestries woven from cartoons drawn by Raphael for the Sistine Chapel, it is a unique family house.
Fursdon, Cadbury
Fursdon House has evolved from a modest cob and thatch dwelling to the elegant Georgian manor house you see today. The Fursdon family has lived on this site since 1259 and behind its façade lie centuries of history.
Additionally, there is a lovely Victorian cottage available for holiday accommodation. Fursdon also hosts a very small number of special wedding receptions each year and can cater for small corporate events.
Special events in the South West
Historic houses and gardens in the South West are well known for their spectacular events for a range of different interests. From concerts at Powderham Castle, to outdoor theatre at The Bishop's Palace, and organised garden tours at Kelly House, there's something for everyone to enjoy.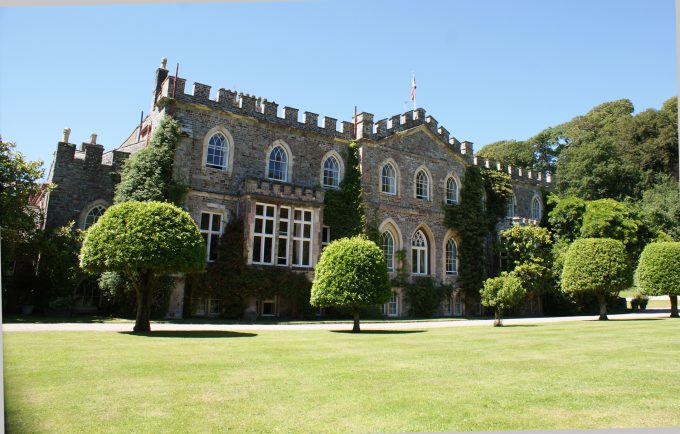 Hartland Abbey, Bideford
Hartland Abbey is a fascinating house. Built across a narrow, wooded valley leading to an Atlantic cove a mile away, Henry VIII gifted the Abbey to The Keeper of his Wine Cellar, whose descendants live here today.
Not only can visitors experience the stunning interiors, collections, beautiful gardens and walks but the Abbey exudes the warmth and friendliness only found in a family home cherished for generations. Close family connections to Poltimore House and Clovelly Court nearby are evident.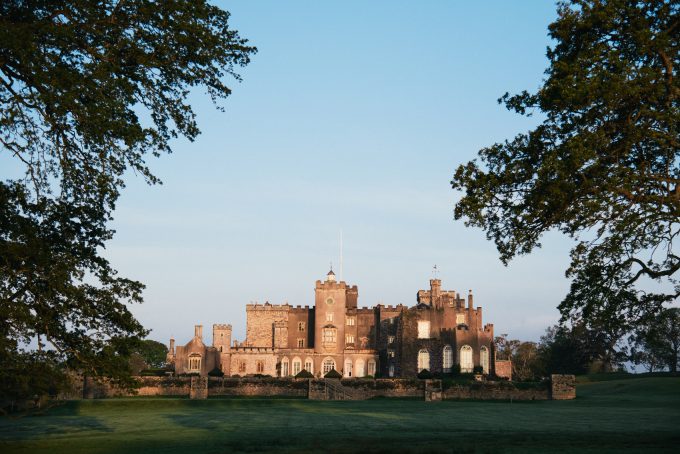 Powderham Castle, Exeter
Powderham Castle has been the same family home for over 600 years. It was built by Sir Philip Courtenay in the 14th century and, despite many alterations and additions to adapt the Castle to changing times, Philip and his many descendants would undoubtedly still recognise it today.
"There is so much to see, enjoy and appreciate that we cannot take full value from it ourselves. Nor, frankly, could we afford to maintain it without the help and support of our visitors. You are therefore doubly welcome."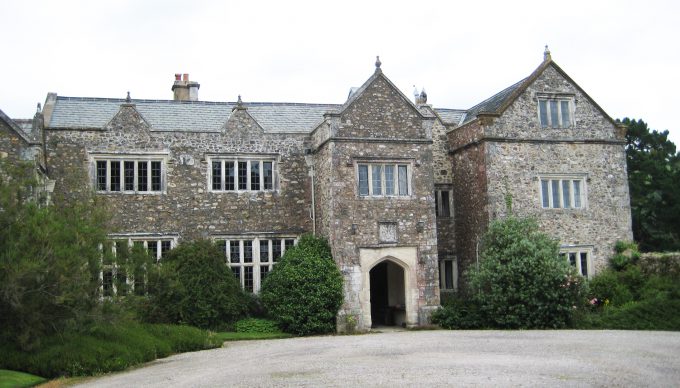 Sand, Sidbury
Family members, Stella and Stephen Huyshe-Shires, provide personal guided tours of the lived in house explaining how it has developed over centuries to accommodate the changing needs of generations.
Set in a peaceful East Devon valley, the main house is largely Elizabethan with an adjacent mediaeval hall house and early 17th-century garden house and about 6 acres of varied gardens.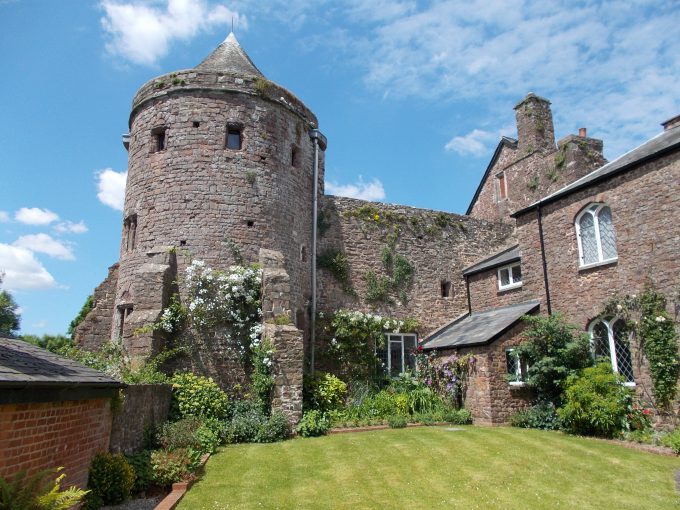 Tiverton Castle, Tiverton
Originally built as motte & bailey castle in 1106, later rebuilt & altered down the ages. Tiverton was once the home of the medieval Earls of Devon & Princess Katherine Plantagenet. The Castle was captured by Fairfax in 1645 due to a lucky shot hitting the drawbridge chain.
Today Tiverton is a peaceful private house, with a fine collection of Civil War arms & armour, some of which can even be tried on. See the medieval loos, once cleaned out by children, interesting furniture and pictures and a beautiful garden.

Ugbroooke House, Chudleigh
Ugbrooke House is a Grade I listed stately home nestled in the quintessential rolling green hills of south Devon.
It has a fascinating history covering 900 years, originally featuring in the Domesday book of 1086, and today it remains the private home of the Clifford family. The Honourable Alexander Clifford and his wife live in the main house, but each summer, they open the doors to their house and garden to allow visitors a sneak peek into their family home.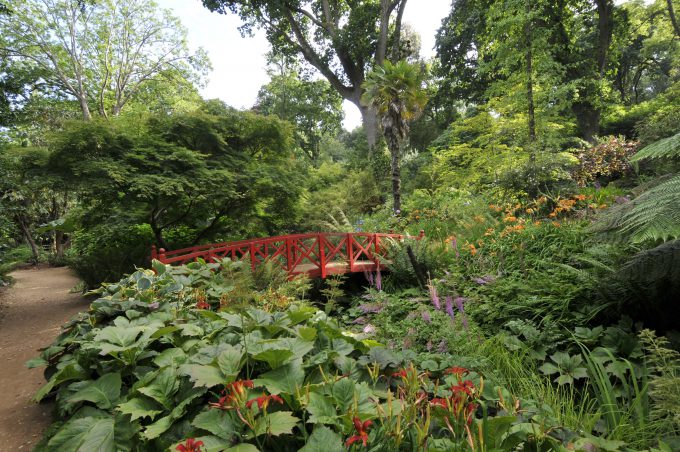 Abbotsbury Subtropical Gardens, Abbotsbury
Abbotsbury Subtropical Gardens overlooks the World Heritage Jurassic coast, and is situated between Bridport and Weymouth in Dorset.
The gardens have previously been winners of the Historic Houses/ Christie's Garden of the Year Award, and were described by Alan Titchmarsh as "One of the finest gardens I have ever visited".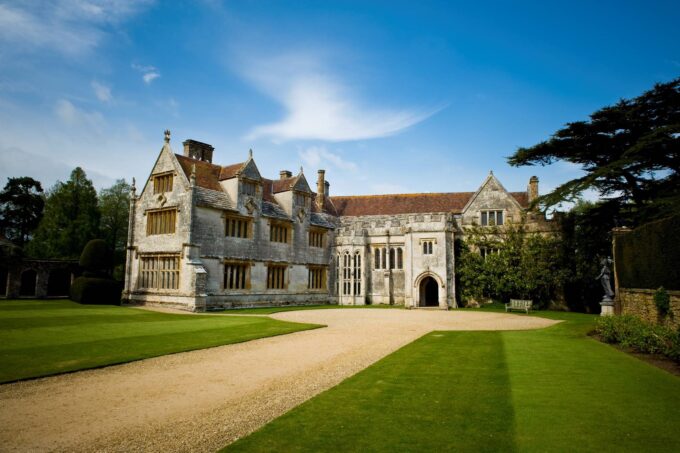 Athelhampton House & Gardens, Dorchester
Athelhampton is one of England's finest Tudor Manor Houses. The Great Hall, the heart of the House was built in 1485, when it would have served as the entire accommodation. The West Wing was added in the 16th Centuty as the house become domesticated, with further additions over the centuries.
With its linenfold paneling, ancient heraldic stained glass & minstrels gallery, The Great Hall is a fine example of Tudor architecture.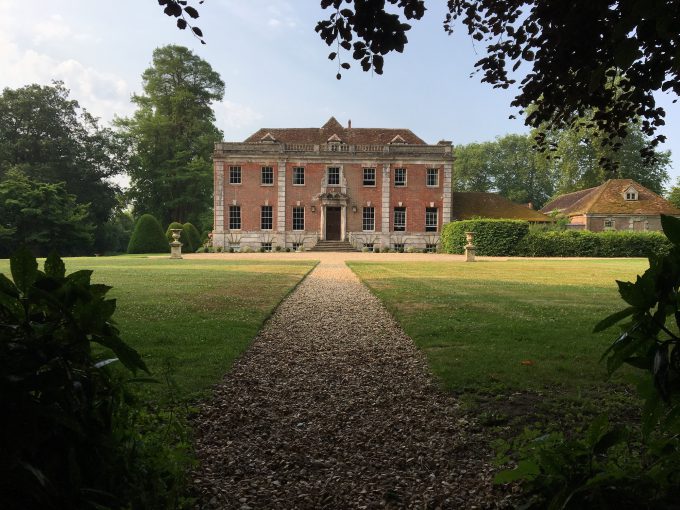 Deans Court, Wimborne
Deans Court is an ancient house with fine Georgian facades, set in romantic gardens. It was formerly a Saxon monastery and has only had two owners in 1,300 years.
The current owner's family has lived here for 500 years and the long run of ancestral portraits provides the backdrop for a remarkable example of private heritage.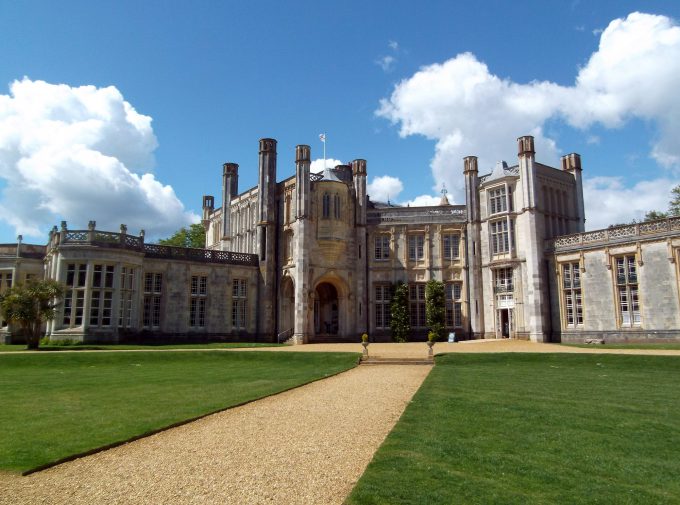 Highcliffe Castle, Highcliffe
Highcliffe Castle is a Grade I listed mansion built in the romantic gothic style. It was built by Lord Stuart de Rothesay in the early 1830s and remained a family home until the 1950s. It is situated on the cliff top with beach access and spectacular views across to the Isle of Wight.
Two devastating fires in the 1960's rendered the building derelict. In 1977 it was purchased by Christchurch Borough Council and a programme of repairs was begun with the support of English Heritage and the Heritage Lottery Fund.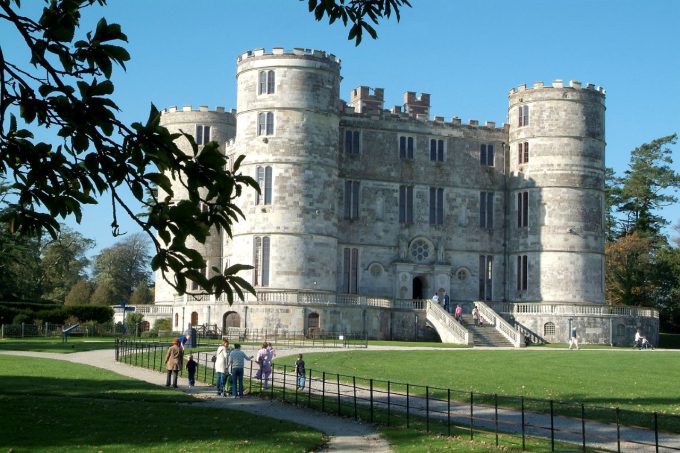 Lulworth Castle, Wareham
Built in the 17th century, this magnificent building is steeped in history.
Originally built as a hunting lodge to entertain aristocracy and royalty, it was for centuries the family seat of the Weld family, the current owners of the Lulworth Estate. Ravaged by fire in 1929, it has been partly restored in a pioneering partnership with English Heritage.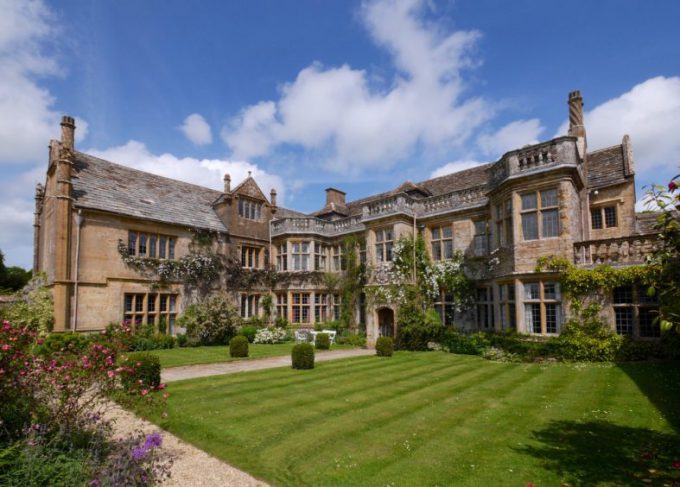 Mapperton House & Gardens, Beaminster
Mapperton House is the home of the Earl and Countess of Sandwich. The family moved here from Hinchingbrooke House, near Huntingdon, in the 1950s, bringing with it the family collection.
Mapperton was voted 'The Nations Finest Manor House' by Country Life and was principal location of 2015 film 'Far from the Madding Crowd'.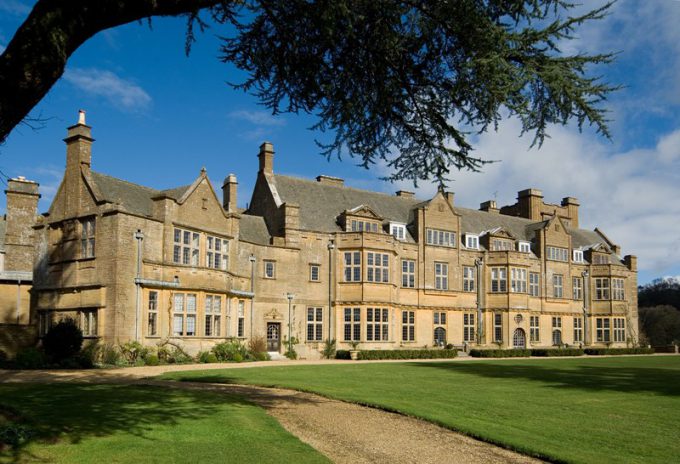 Minterne Gardens, Dorchester
A historic house in an unequalled setting, Minterne House is a unique family home.
You can visit the unique Himalayan gardens and wander 'Far from the Madding Crowd' through Minterne's wild woodland gardens and let the tranquility provide that perfect antidote to life's stresses.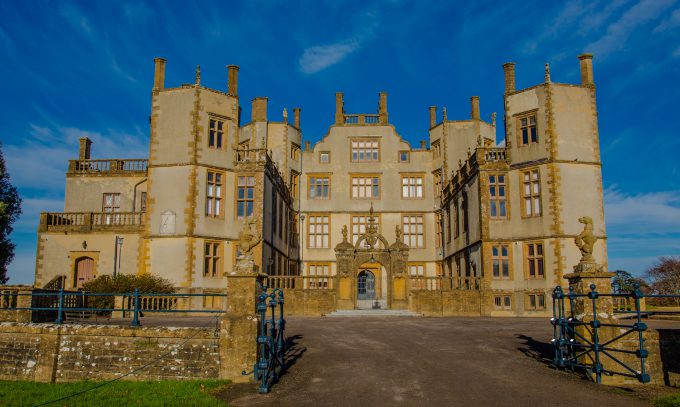 Sherborne Castle & Gardens, Sherborne
Built by Sir Walter Raleigh in 1594 and the stately home of the Digby family since 1617; Sherborne Castle presents glorious staterooms displaying nationally important collections of art, furniture & porcelain.
In the Castle's cellars Raleigh's kitchen and a museum with a 'Capability' Brown exhibition is on view. A new Raleigh exhibition in 2018 will mark the 400th anniversary of his execution.
Stock Gaylard House, near Sturminster Newton
Built in 1720 Stock Gaylard is a Georgian House overlooking an ancient fallow deer park. The estate is approximately 1800 acres with around 300 acres of predominantly oak woodland. A 14th-century dovecote can be found in the garden.
We have an ethos of conservation and preservation and to help to preserve our country estate we offer Yurt holidays. The house is open to the public in April, May and September and we welcome pre-booked groups at other times.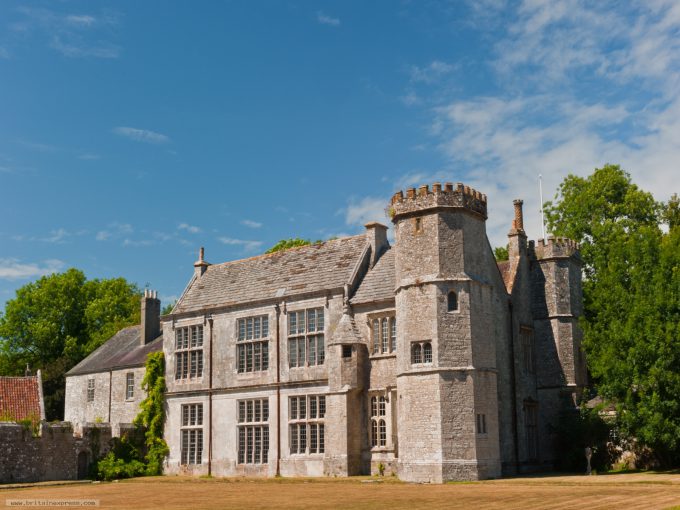 Wolfeton House, Dorchester
Wolfeton is a fine Grade 1 listed mediaeval and Elizabethan house. The original courtyard section of the current building dates back to about 1480 and the house was embellished around 1560.
Wolfeton has magnificent carved oak panelling, splendid plaster ceilings, grand fireplaces and unique stone great stairs. There are also fine pictures and furniture from the 17-century.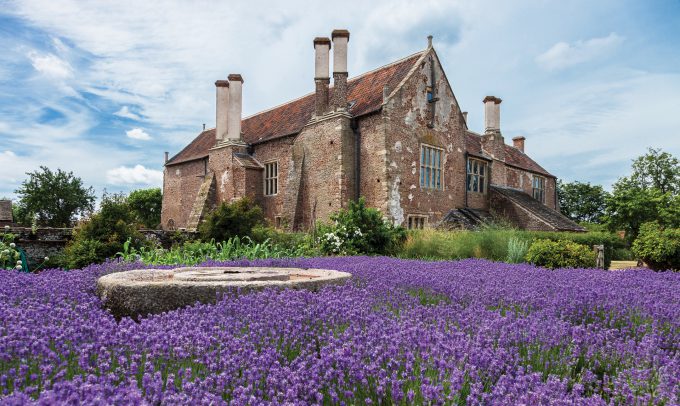 Acton Court, Iron Acton
In 1535 the owner, Nicholas Poyntz built a magnificent new East Wing on to the existing moated manor house in honour of Henry VIII and Anne Boleyn's summer progress around the West Country.
The new wing was a splendid testament to Nicholas Poyntz's loyalty to his King. He went to immense trouble and expense, decorating the state apartments lavishly and fashionably. He was well rewarded as it is thought he was knighted during the royal visit.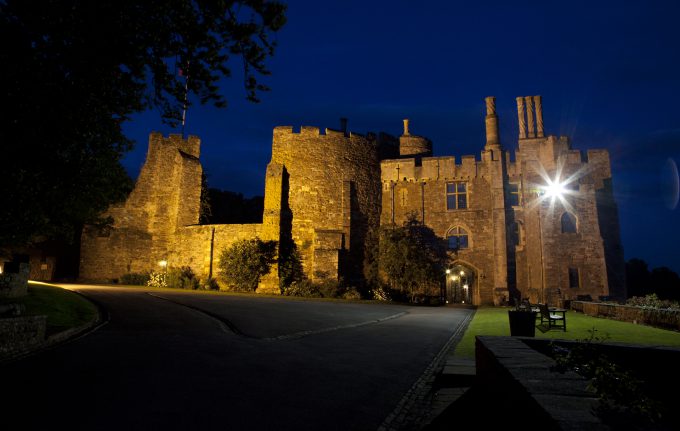 Berkeley Castle, Berkeley
Berkeley is a stunning mediaeval castle which has been the home of the Berkeley family since 1153.
Tall towers, deep dungeon, grand and gruesome: homely and horrid. Henry VIII, Anne Boleyn & Elizabeth I all stayed here and Edward II was murdered here.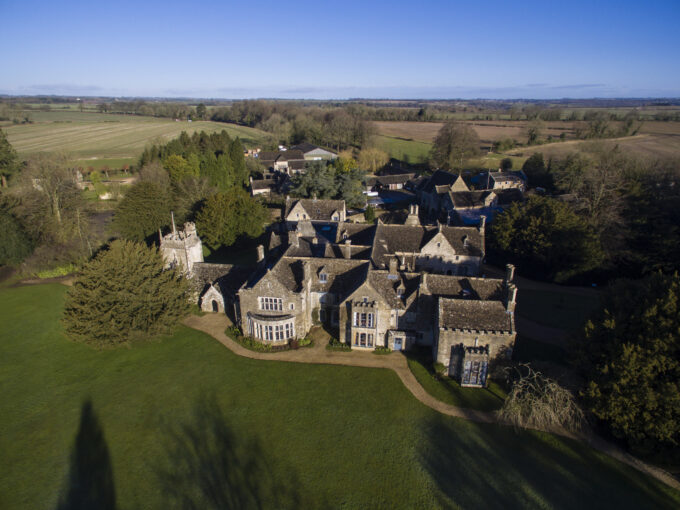 Chavenage House, Tetbury
Chavenage is a wonderful Elizabethan house of mellow grey Cotswold stone and tiles which contains much of interest for the discerning visitor.
The approach aspect of Chavenage is virtually as it was left by Edward Stephens in 1576. Only two families have owned Chavenage; the present owners (Lowsley-Williams) since 1891 and the Stephens family before them.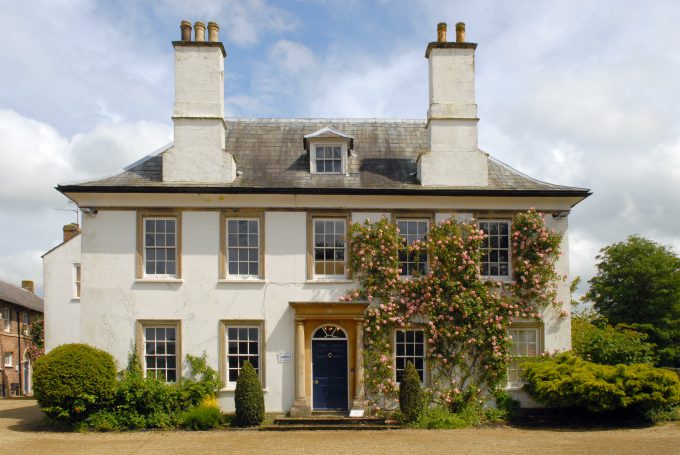 Dr Jenner's House, Berkeley
From Gloucestershire in the 1790s to Somalia in the 1970s, Dr Jenner's House, Museum and Garden traces the impact of one of the pivotal events in world history, in the place where it happened.
This is the house where Edward Jenner, pioneer of vaccination against smallpox, lived and told the world about his work. Less than 200 years later, smallpox had been eradicated, with countless lives saved in the process.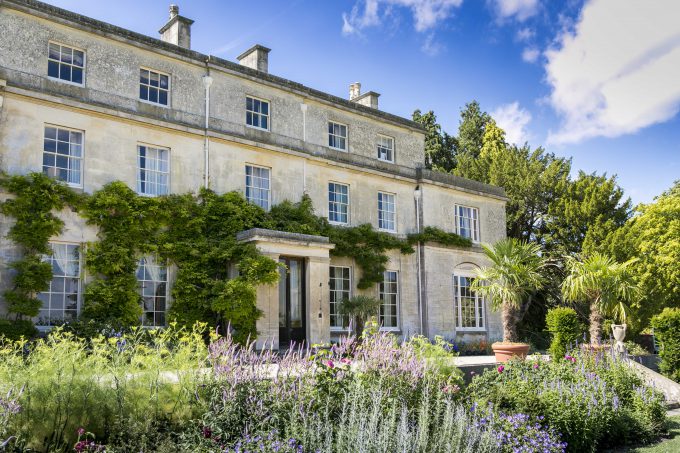 Hardwicke Court, Gloucester
Hardwicke Court is a late Georgian house designed by Sir Robert Smirke in the early 19th century. The house is currently lived in by the sixth generation of Lloyd-Bakers.
Visitors are offered a tour of the drawing room, library and dining room, containing many pieces of furniture and art original to the house. The gardens are also open to visitors.
Kiftsgate Court Gardens, Chipping Campden
Kiftsgate is a glorious garden to visit throughout the seasons with spectacular views. Three generations of women gardeners have designed, planted and sustained this garden.
The upper gardens around the house are planted to give harmonious colour schemes, whilst the sheltered lower gardens recreate the atmosphere of warmer countries.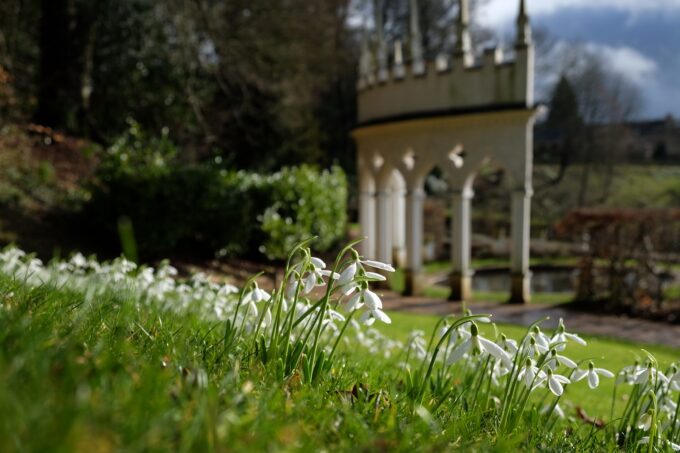 Painswick Rococo Gardens, Painswick
Painswick Rococo Garden is the country's sole surviving complete rococo garden. Designed in the 1740s as a fanciful pleasure garden for Benjamin Hyett and his guests, this hidden valley offers spectacular views of the surrounding countryside and intriguing garden buildings.
A visit to Painswick Rococo Garden will take you back to the elegance and sophistication of the early 1700s.  This was a time when gardens were fashionable theatrical sets, providing a stunning backdrop to decadent garden parties.
Travel sustainably
We're very keen to promote sustainable transport on your visits to historic houses and gardens in the South West of England, so recommend you visit the website of Good Journey to see if you can plan an adventure without the need for a petrol/diesel car. Take a look at Good Journey's web page to start planning.
...also in Gloucestershire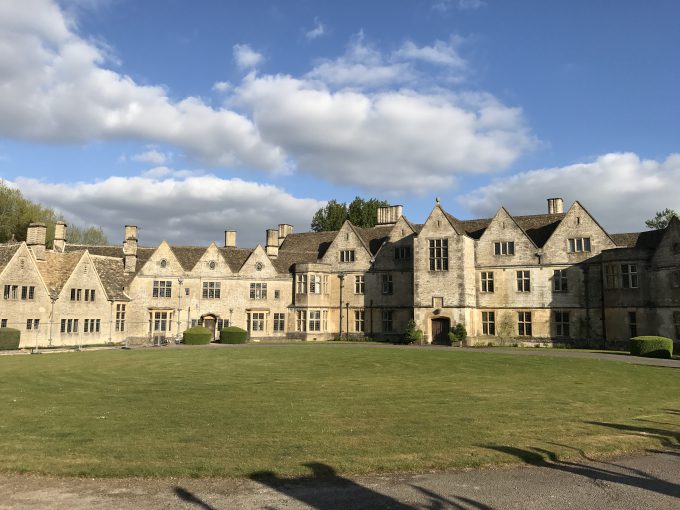 Rodmarton Manor, Cirencester
Rodmarton Manor is a unique Arts and Crafts Manor House containing furniture made locally and with a stunning early 20th-century garden.
The house and garden were designed for the Biddulph family by Ernest Barnsley, whilst his brother Sidney was the principle furniture maker. This house, although post Industrial Revolution was a return to earlier times with local materials, hand tools and craftsmanship.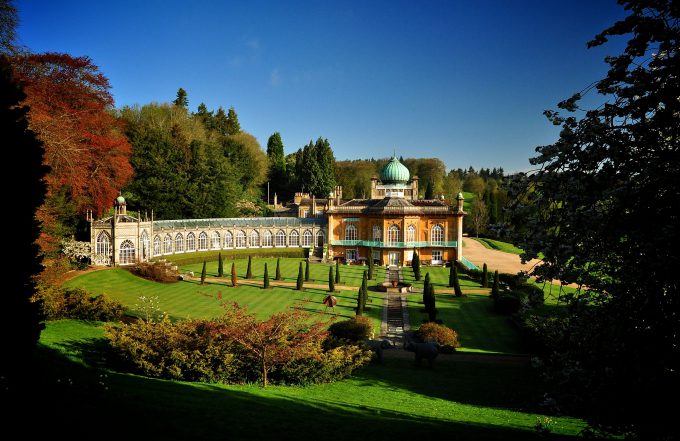 Sezincote, Moreton-in-Marsh
Sezincote is a Mughal Indian palace set in the Cotswold Hills, created by the nabob Charles Cockerell in 1805.
The house is surmounted by a copper dome and minarets, and set in a picturesque water garden with seven pools, waterfalls, a grotto and a temple to Surya, the Hindu Sun God. A curving Orangery frames the Persian Garden of Paradise.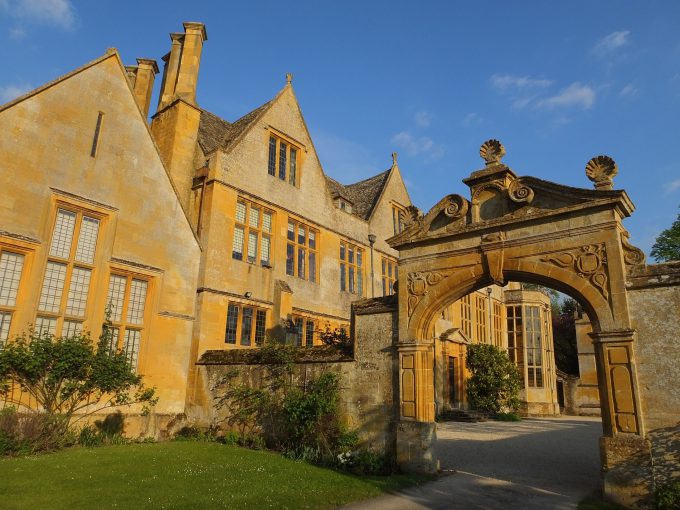 Stanway House, Cheltenham
Owned by Tewkesbury Abbey for 800 years then for 500 years by the Tracy family and their descendants, the Earls of Wemyss who still live there.
The house, its fascinating furniture, the jewel-like Gatehouse, the church and 14th-century Tithe Barn, the 18th-century water-garden, the specimen trees and avenues, the surrounding villages, farms, parkland and woodland all subtly combine to create an enclave of very English and almost magical harmony.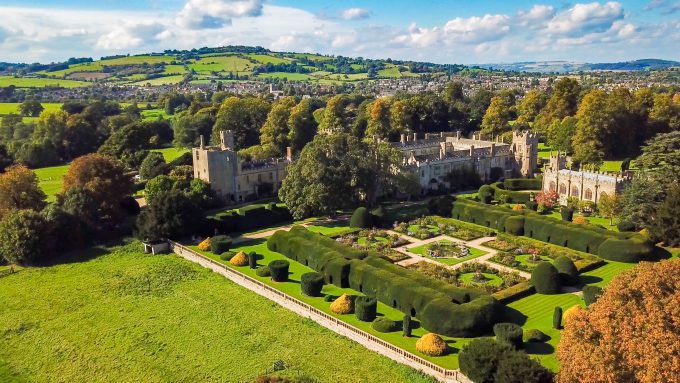 Sudeley Castle, Winchcombe
Located in the heart of the Cotswolds, Sudeley Castle & Gardens has played an important role in England's history for over 1,000 years. The castle rooms and exhibits contain many fascinating treasures, from ancient Roman times to the present day.
Outside, the castle is surrounded by a breathtaking 1,200 acre estate and ten award-winning gardens.  The centrepiece is the Queens Garden, so named because four of England's queens – Anne Boleyn, Katherine Parr, Lady Jane Grey and Elizabeth I – once walked upon the original Tudor Parterre.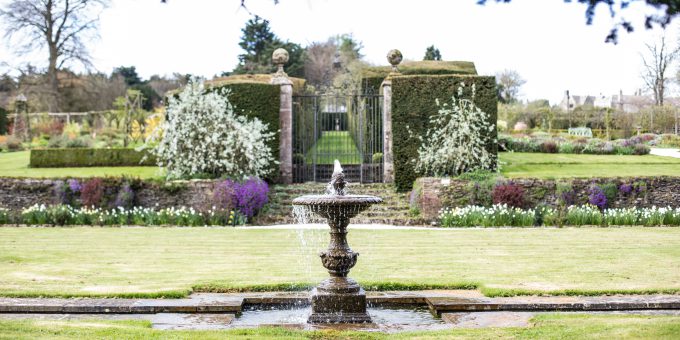 The Garden at Miserden, Stroud
The estate encompasses 850 acres of woodland, farmland and gardens providing a sanctuary for wildlife and a tranquil escape to allow you to spend time with your family and friends.
From early spring visitors can enjoy beautiful flowering beds, shrubs and fine topiary. Within the walled garden generous herbaceous borders run down either side, with a pergola of roses, stately spires of delphiunium and fine specimen trees nestle together with hydrandea villosa.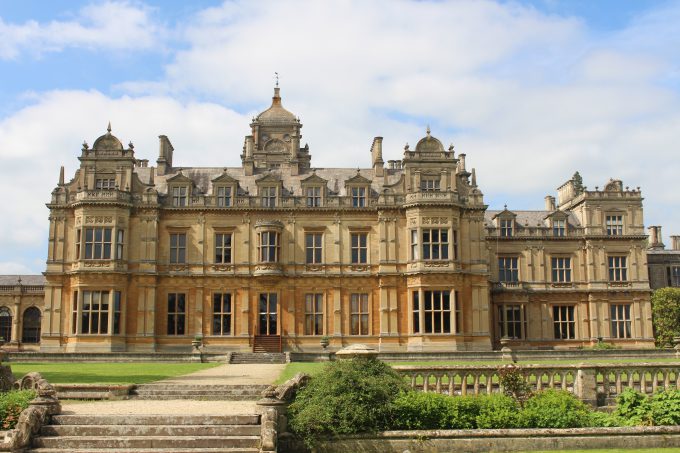 Westonbirt House, Tetbury
Westonbirt House and Gardens are the creation of successive members of the Holford family, most notably of that titan of the 19th-century, Robert Stayner Holford.
Robert invested the family wealth into the Westonbirt estate and his collection of Fine Art and books. He founded and stocked the Westonbirt Arboretum and his private garden with exotic species of trees.
Whittington Court, Cheltenham
Whittington Court is a small Tudor manor house with Jacobean and later additions, set in beautiful Cotswold countryside 5 miles east of Cheltenham.
The present house, believed to sit on the site of a much earlier Manor, was probably started by Richard Cotton of Carmarthen, with later additions built by subsequent generations of the Cotton family who held the house through the 16th and 17th Centuries. It was clearly substantial because on September 9, 1592, Queen Elizabeth 'dyned at Mr Cotons at Whytington' on her Progress through Gloucestershire.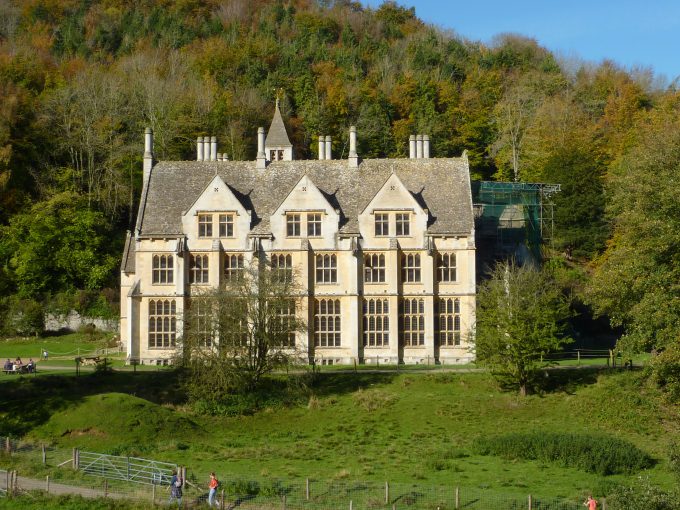 Woodchester Mansion, Stonehouse
Woodchester Mansion, is a Grade I listed house built in the Victorian Gothic style and hidden in a beautiful Cotswold valley.
Construction started in the mid-1850s and stopped in 1870, before completion.Floors and ceilings are missing, walls are not plastered, and windows are unglazed. All the secrets of the construction of the Mansion are visible – details that visitors will never see in another country house.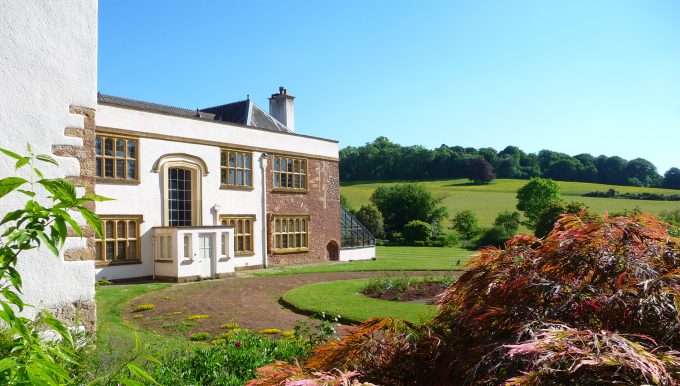 Orchard Wyndham, Taunton
Orchard Wyndham has been home to the Wyndhams and their ancestors for over 700 years. Its history is as complex as its architecture, as tricky to unravel. We know that the house was already built in part by 1287, but the history of the place likely goes back much further.
The last major additions were by Sir William Wyndham, Lord Chancellor to Queen Anne, who found a place in Swift's "Gulliver's Travels". Sir William, a Jacobite, after his arrest and a spell in The Tower, was required by the new King to remain on his estates. And here, in the words of John Gay, he amused himself "with some real improvements and a great many visionary castles".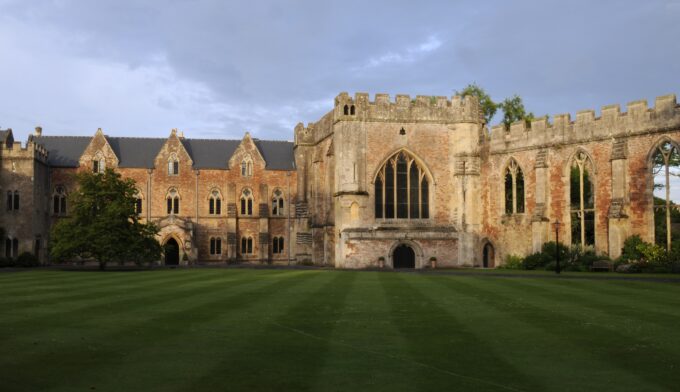 The Bishop's Palace, Wells
The Bishop's Palace & Gardens in Wells has been home to the Bishops of Bath and Wells for over 800 years and this stunning medieval palace is open for all to enjoy.
Surrounded by a breath-taking moat (with resident swans) visitors can cross a flagstone drawbridge, walk under the portcullis and experience a true hidden gem in the heart of the City of Wells.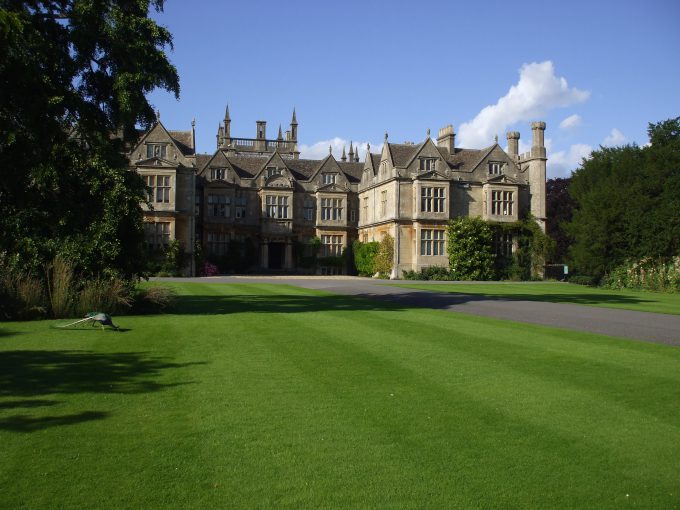 Corsham Court, Corsham
The collection at Corsham Court contains important paintings by such masters as Fra Filippo Lippi, Van Dyck, Carlo Dolci, Joshua Reynolds and Sofonisba Anguissola. The mirrors and tables in the Picture Gallery were designed by Robert Adam specially for the room.
Capability Brown was responsible for the layout of the Corsham Park to the east of the house and in the gardens, amongst the collection of specimen trees, is the oriental plane, which is acknowledged to be the largest spreading tree in the United Kingdom.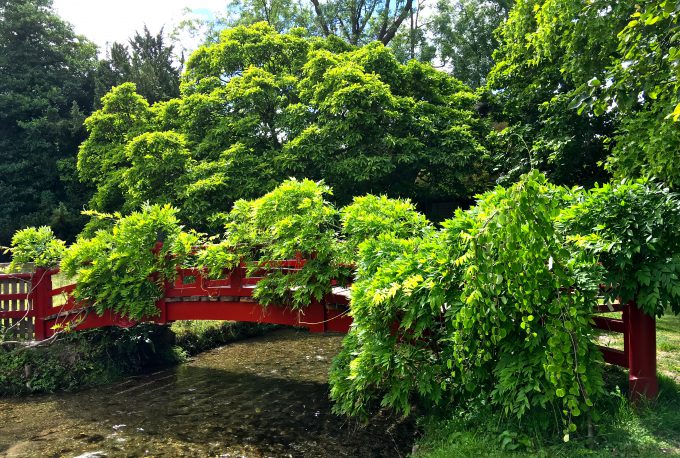 Heale House Gardens, Salisbury
Heale House and its eight acres of beautiful gardens lie beside the river Avon at Middle Woodford, just north of Salisbury, Wiltshire. Much of the house is unchanged since King Charles II hid here in 1651.
When visitors step into the garden at Heale House they are immediately transported into a magical and varied paradise of running streams and exuberant planting that they return to time and again to experience its many different moods throughout the seasons.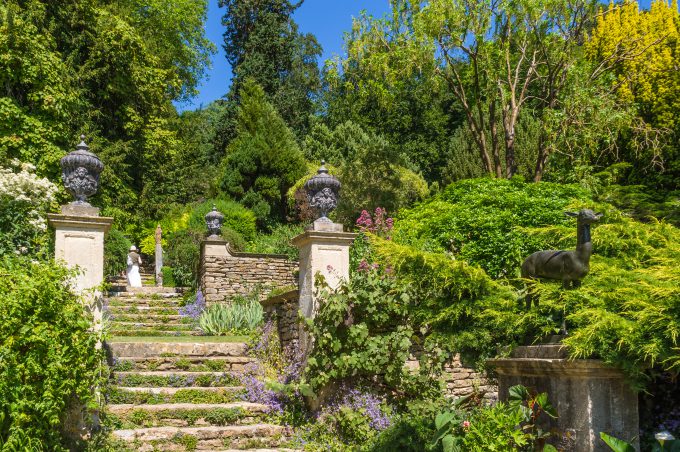 Iford Manor Gardens, Bradford-on-Avon
Tucked away at the bottom of a tranquil valley, a visit to the romantic, award-winning, Grade 1 listed Iford Manor Garden is like no other.
Famed Edwardian landscape designer Harold Peto designed the unique, Italiante, Grade 1 listed gardens when Iford Manor was his home, from 1899-1933. Drawing inspiration from his travels all around the world, the garden blends Italian, Byzantine, Ancient Roman and Oriental garden designs together with architecture and classical sculpture.
The South West is full of important historic collections...
The Cloisters at Wilton House hold an important collection of antique Greek & Roman statuary formed by the 8th Earl, including the Mazarin Collection from Paris, bought in the 1720's.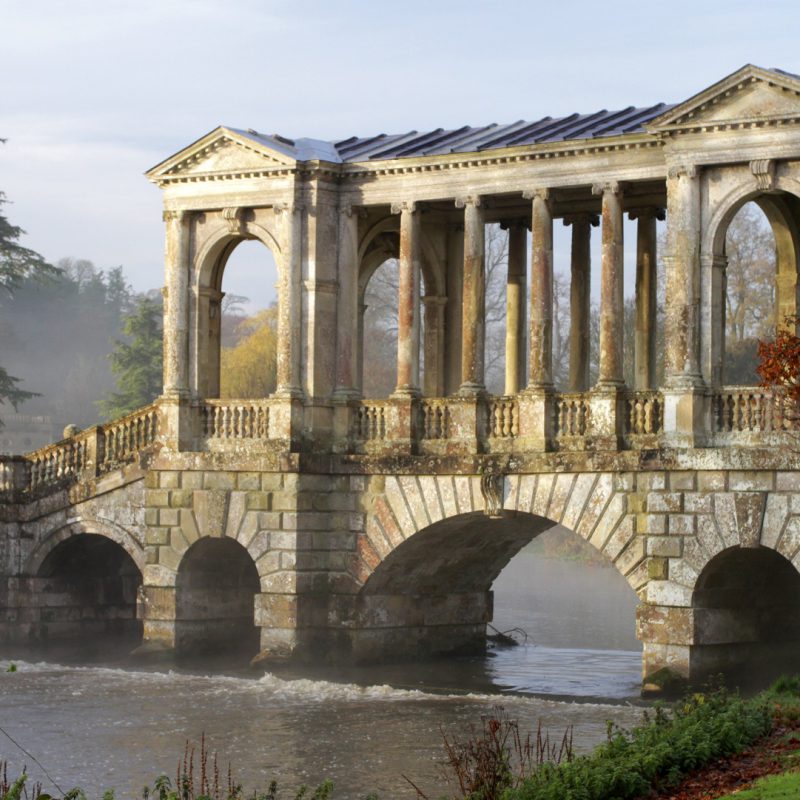 Longleat House, Warminster
Longleat House is set within 900 acres of 'Capability' Brown landscaped gardens and is widely regarded as one of the best examples of Elizabethan architecture in Britain and one of the most beautiful stately homes open to the public.
This former 16th-century Augustinian priory contains many treasures and heirlooms acquired by generations of the Thynn(e) family, some of whom were great collectors of their day. The collection comprises early books and manuscripts, magnificent paintings, exquisite Flemish tapestries, and fine French furniture all housed within 19th-century opulent interiors created by John Dibblee Crace.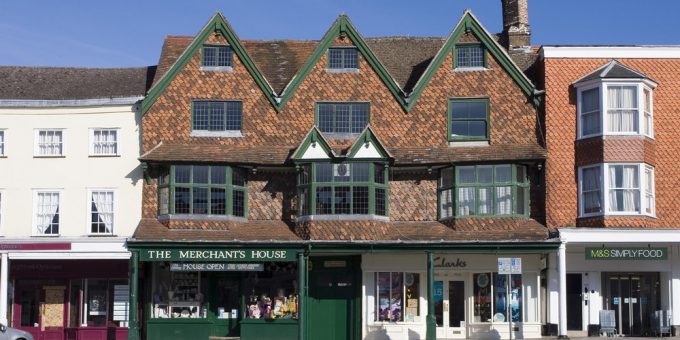 The Merchant's House, Marlborough
Built during the Commonwealth period, 1653 – 1656, The Merchant's House is a rare example of a middle class silk merchant's house, containing nationally acclaimed wall paintings and decorative features.
The house, and its wonderful rooms, are available to tour. Visit the main panelled chamber with a limestone carved fireplace and oak overmantle and the dining room, built around 1670. There are also bedrooms, a suite of servants rooms, a study and kitchen; some of which are furnished according to a probate inventory of 1691.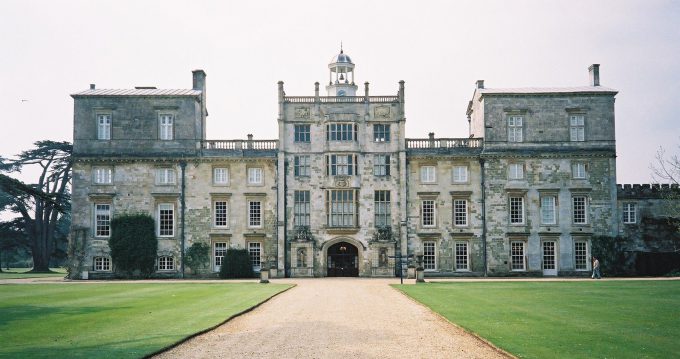 Wilton House, Salisbury
Wilton House has been the Earl of Pembroke's ancestral home for over four and a half centuries. Rebuilt in the Palladian style in 1647 by Inigo Jones & John Webb, with further alterations made by James Wyatt in 1801, the chief architectural features are the 17th-century State Apartments and the 19th Cloisters.
The State Apartments include the Single and Double Cube rooms which contain seat furniture by William Kent and an impressive number of portraits by Van Dyck, including the huge 'family piece' of the 4th Earl, as well as paintings by Lely, Rembrandt, Pieter Brueghel the Younger, and Gerrit van Honhorst, amongst others.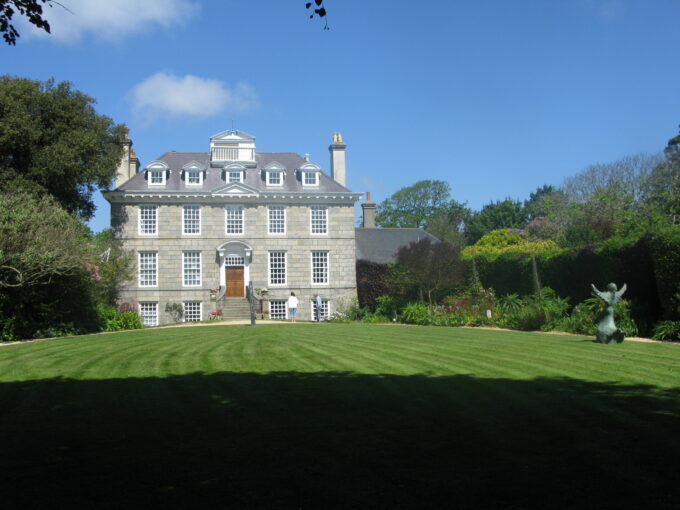 Sausmarez Manor, Guernsey
Sausmarez Manor, parts of which date to the early 13th century, has been altered, reduced and added to over the years with major changes in Tudor, Queen Anne, Regency and Victorian times.
The front of the house is regarded as the finest example of Queen Anne Colonial architecture in Britain. It was built between 1714 & 1718 at the bequest of Sir Edmund Andros, the 1st Governor of New York.
Days out in South West England
The South West is the perfect place to spend your UK holiday, and with so many historic houses and gorgeous gardens to visit on your trip it really is worth spending a week or two there to enjoy them all. You can view a map of all the places to visit in the South West now on our page via the link below.
Become a Historic Houses member
Explore the nation's heritage from just £65 per year.
Hundreds of the most beautiful historic houses, castles, and gardens across Britain offer our members free entry.
Also: receive a quarterly magazine, enjoy monthly online lectures, get exclusive invitations to buy tickets for behind-the-scenes tours, and take up a range of special offers on holidays, books, and other products you might like.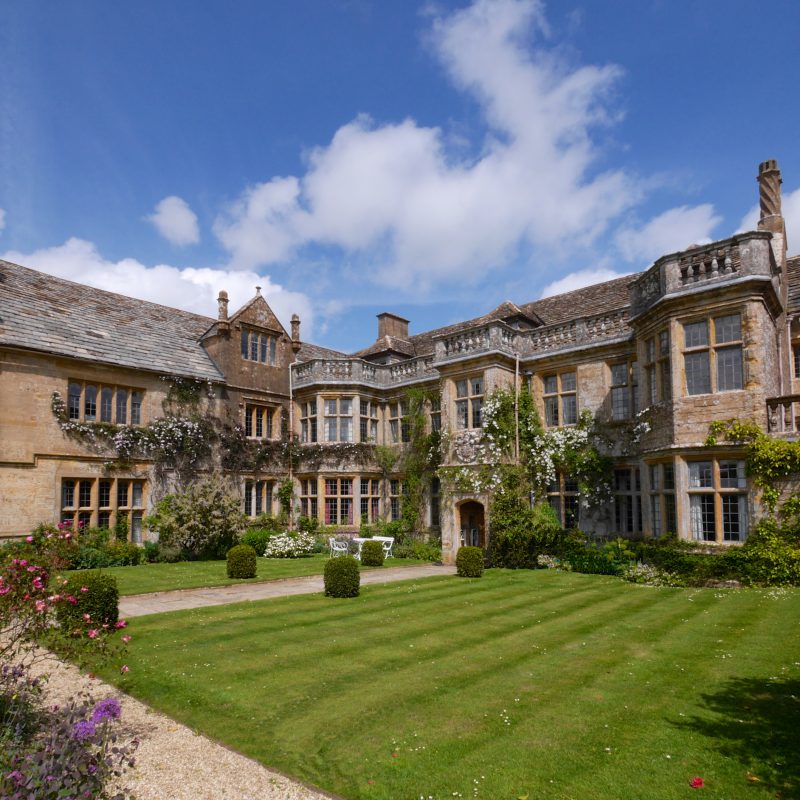 Supporting the future of independent heritage