'Historic House' magazine
Our quarterly members-only magazine, packed with new and exclusive features and images. Historic House is the perfect read for those who love learning and exploring Britain's country houses.
Historic House magazine has been telling the story of the past and present of Britain's since 1976.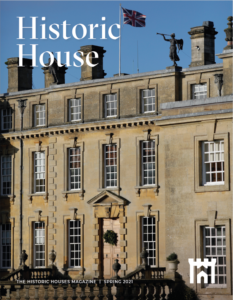 What began as a guide and resource for house members on everything to do with running a historic property has grown into an in-depth read for all types of members. Today it includes not just the vital news and advice that custodians need, but also: features on history, art, and architecture; interviews and diaries; book reviews and recipes; touring and visiting suggestions; insights into contemporary life in historic houses; and much, much more.
If you're not a subscriber, take a look at what you're missing out on in our summary of our regular features, below.
If you are a member, log in to browse the full magazine, including back issues, on your phone, tablet, or PC, right from this page.
Our regular columns
The cover
Our main features
In spring 2020 we visited Ditchley Park in Oxfordshire, an exquisite eighteenth-century house saved in the 1950s by philanthropist Sir David Wills, who made it the home of one of the world's leading international relations forums. We argued over the shape of Charles II's nose, heard stories about Winston Churchill in the bath, and got caught on some very sophisticated cameras.
Other recent cover stars include Burghley House in Lincolnshire, where we talked broken porcelain, downstairs loos, and 'dirty stockings' with custodian Miranda Rock – all in the name of fine art – and Lamport Hall in Northamptonshire, home to Britain's only millionaire garden gnome. At Arbury Hall in Warwickshire George Eliot kept us company while we argued about the 'k' in Gothick, while at Hawarden in Flintshire we swung axes, read Armenian letters, and reminisced about Harry Enfield, all to get to know the statesman William Gladstone a little better.
At home with...
Candid diaries from house owners
In spring 2021 James and Anna Palmer at Dorney Court – fictional home to Jonathan Creek, amongst many others – shared insights of their life, overflowing with animals and children, at the timeworn family seat of Dorney Court in the Thames valley.
In recent issues we've also been treated to diary entries on how many jars of honey make the going rate for a beehive tenancy at Restoration House in Rochester, efforts to launch a new brand of gin at Gordan Castle in Moray, the joys and challenges of having children home for lockdown at Rockingham, and what children should and shouldn't have to see from the windows of a stately wedding venue Iscoyd Park in Denbighshire.
The President's study
Views and reflections from our president
Martha Lytton Cobbold focused on the long term in her spring 2021 letter to members. While we're focused on the short term devastation of coronavirus, the long-term threat of climate change still needs to be tackled – and few groups are more aware of that, or doing more to ensure a sustainable future – than historic house owners.
Other recent columns from Martha and her predecessor, James Birch, have looked at the shift from ladies maid to web designer in the staffing of country houses, the uses of virtual technology to view houses from afar, and the challenge being mounted to regular hotels and B&Bs by historic house owners offering up beds in gatehouses, follies and turrets.
The gallery
The stories behind historic portraits
Historic houses are crammed full of portraits, form the enigmatic to the impressive, intimate to intimidating. Our gallery feature explores the stories behind the faces that continue to look down on us to this day, and brings back to life the people captured on canvas.
In spring 2021 Sarah Greenwood went to Syon House in Middlesex to admire a portrait of the 'wizard Earl' of Northumberland and the sketchings of his astronomer protégé dubbed 'the moon man' by sixteenth-century contemporaries.  Before that we took a closer look at a hunk in Roman armour showing off his many heirs, at Glamis Castle in Angus
The cabinet
Exploring one extraordinary object in depth
Just as every gentleman of the eighteenth century with any pretence to intellectualism had a little – or a large – miscellany of precious and unusual objects that he would keep locked up in a specially made piece of furniture to share only with his most favoured acquaintances – his 'cabinet friends' – so we want to share some of our favourite single objects with you in each issue.
Most recently we dug up the Viking sword unearthed at Morland House in Cumbria in the mid-nineteenth century, already more than a thousand years old even then.
The connection
Finding links between our member places
The historic houses of Britain, great and small, are entangled in any number of webs of interrelationship, from shared architects to swapped spouses, in the itineraries or kings and emperors or in works of fiction. In spring 2021 we looked at houses that welcomed American heiresses in the nineteenth and twentieth centuries.
Other recent columns covered repositories of Napoleonic memorabilia, sites important to Restoration diarist John Evelyn, and Prime Ministerial residences from Walpole to Tony Blair.
The collection
Diverse or definitive, the collected contents of our houses
The rich accretions of contents that have accumulated undisturbed for centuries is one of the great and special joys of independent historic houses. In the sprig 2020 issue we got scientific with the natural and technical artefacts gathered by William Constable and are still on display in his home of Burton Constable in Yorkshire.
Further back, we've admired the moving central European scenes of Jewish life painted by Isidor Kaufmann, 'the Jewish Holbein', at his descendants' house, Hartsheath in Denbighshire; the belongings of poet laureate, Alfred Lord Tennyson, that have found their way back to his recently restored home at Farringford on the Isle of Wight; and the dazzling array of 'Japanoiserie' to be found at Chiddingstone Castle in Kent.
The map room
Suggestions for short breaks
We've joined the dots to make a New Forest-focused itinerary in the spring 2021 issue, which spotlights places to visit and stay in Hampshire. with schedules for London on foot, the Highlands, the Welsh Marches, Galloway, and Lancashire by train under our belts, if we haven't covered your neck of the woods yet we soon will.
The garden
Insights, interviews, advice, and experiences from historic gardens
On top of seasonal observations from her own garden, Easton Walled Gardens, Lincolnshire, our gardening editor Ursula Cholmeley sources top tips from her peers, interviews leading lights of horticulture, and investigates the latest trends, from robot lawn mowers to 'no dig' wedding.
In recent issues we've showcased hard landscaping options,  Sarah Wain from West Dean, the restoration of Benington Lordship's kitchen garden, and the planting influence of Chile's extraordinary climatic variety on British beds.
The muniment room
Tales from the archives
Our occasional piece on archives blows the dust off documents that deserve to be re-read. We've leafed through the notes made by Dr Edward Jenner as he invented the vaccine at his home, today the Dr Jenner's House Museum in Gloucestershire. We've found correspondence at Kirstead Hall in Norfolk from Turkish lingerie emporia on miniature wedding-night bloomers, and from Agatha Christie on school fetes, and we've tried (and failed) to crack the Jacobite codes at  Traquair House in Peebles.
The menagerie
Animal residents, past and present
Humans are a minority at historic houses, far outnumbered by the animals – both loved and unwanted – who share these buildings. Whether it's sighting the pet deer at Muncaster Castle in Cumbria, admiring the rather grand architectural sties of the superior pigs at Kirklinton Hall in the same county, or, as in the spring 2021 issue, remembering the appalling smell of the industrious silkworms at Lullingstone Castle in Kent, we love our creature comforts in this rotating column.
The games room
Sports and pastimes in the country house
It's not just cricket, to paraphrase the common complaint – it's getting pushing with shove-ha'penny, having fun in the shrubbery with croquet, dealing with the losses at cards, and getting chess down in black and white. Our one-in-four foray into play is all about fun, then and now.
The pantry
Recipes and tipples
We have recipes to make the mouth water, from marmalade inspired by the home of the World Original Marmalade Awards at Dalemain in Cumbria to Sir Walter Scott's own prescription for a whisky toddy, no doubt often enjoyed by him at Abbotsford in Selkirkshire. But beware of our historic recipes! Even if you have enough viper's liver, ambergris, and coral in the store cupboard to make Sir Walter Raleigh's Great Cordial, the ingredients list of which he left behind at his home at Sherborne Castle in Dorset, we can't vouch for its health-giving properties!
We read the latest books on our houses, the figures they're linked with, their contents, and the art, architecture, and societies that made them, plus take on today's heritage sector, to help you choose your next present or bedside companion. Our reviews are opinionated and informative, and all commercially available publications reviewed are added to the Historic Houses recommended reading list, maintained by John Sandoe Books of Chelsea.
The trophy room
Shortlists and winners of our awards
Whether it's hearing from the Countess of Sandwich what it means for her garden at Mapperton, Dorset, to have won more public votes than any previous Garden of the Year; sharing with Hugh MacLeod the nervousness of selling his flat to do up his clan's ancient fortress of Dunvegan Castle on the Isle of Skye, winner of the Restoration Award; or marvelling at the range of topics – from mindfulness to menstruation – that adults can study at Bell House, south London, whose work was celebrated in the Frances Garnham Award, we've got the back story on each of the member places that we recognise each year for the positive impact they're having on the economy, sustainability, wellbeing, education and their local communities.
The inventory
Lists of outstanding features
With so much ground to cover, sometimes we just want to glance at eight of the best – tapesties, temples, dining rooms, doorways, chapels, bridges – you name it. The feature's feature.
The interview
Encounters with extraordinary people
Meet the people who own, study, work at, maintain, embellish or campaign for our historic houses, and discover their extraordinary careers. We've been lucky enough to chat to Scottish tea growers and Cotswolds cycling champions, Daughters' Rights campaigners and brick makers. We've learned a thing or two about how to decide when a restoration becomes a recreation, what Julian Fellowes thinks about hats, how a career in modelling takes you to the Chelsea Flower Show, and what to decorate your floor with if you're bored of lino.
Help us reduce paper waste
Go digital to reduce waste
Our magazine is printed on paper from sustainable forestry sources and wrapped in a compostable package made from potato starch. But we know that some people actively prefer to read their magazine online, and tell us that the printed version...