Iford Manor Gardens
Medieval house with a classical frontage also famous for its Italianate garden.
Bradford-on-Avon, Wiltshire, BA15 2BA
Get Directions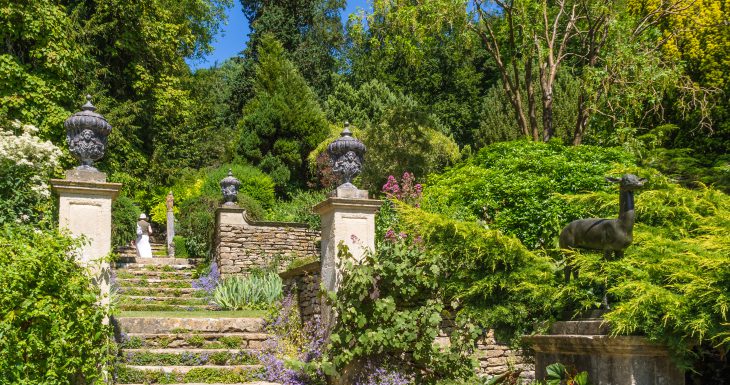 Free for members
Facilities
Easily accessible without car

Free parking

Garden only

Pet friendly
Accessibility
Access statement available
Guide dogs welcome
Accessible toilets
Accessible parking
Tucked away at the bottom of a tranquil valley, a visit to the romantic, award-winning, Grade I listed Iford Manor Garden is like no other.
Famed Edwardian landscape designer Harold Peto designed the unique, Italianate, Grade 1 listed gardens when Iford Manor was his home, from 1899-1933. Drawing inspiration from his travels all around the world, the garden blends Italian, Byzantine, ancient Roman and Oriental garden designs together with architecture and classical sculpture.
Over the past 50 years today's owners, the Cartwright-Hignett family, have lovingly restored the garden and continued to develop it, finishing the Oriental Garden area, extending the woodland walks and redesigning areas of the garden as they age, 100 years after Peto's original plantings.
2022
1 April to 30 September, Wednesdays – Sundays & Bank Holidays Mondays, 11:00 – 16:00 (Last entry at 15:30).
Online booking is essential to guarantee entry to the gardens.
Dogs, children and non-garden visitors are all welcome. Located in a beautiful, secluded courtyard with lots of outdoor seating, the Cafe at Iford Manor promises to be the ideal pit-stop on your walk or visit.
We do not take reservations for the cafe.
Please note: The information on the Historic Houses website is advisory, but please always check the website of the house or garden you intend to visit before travelling.
Historic Houses members visit for free, except on charity open days. Members should select the Historic Houses Member ticket when booking and present their membership cards on arrival.
Adults: £7.50
Concessions: £6.50
Children under 10 are not permitted
We welcome private and group bookings for the 2022 season, so please do not hesitate to contact us to book your group in, or to arrange a private visit. Please contact us directly for details.
If you would like to reserve a slot for 2022 now please contact us to do so.
Since 1910 groups have been welcomed to Iford Manor Gardens and we are proud to continue this long-held tradition, especially being recognised as a 'Little Treasure of Britain' in the 2017 Group Travel Awards. Group visits are welcome during our standard open hours, or privately at other times.
Private visits for anyone who wishes to celebrate a special occasion, enjoy a private tour, or have the garden to themselves are very welcome outside of hours by appointment. Please contact us directly.
With our separate coach entrance and free coach-parking on site, we can accommodate groups of all sizes (by appointment only).
For full details of group and private visits, including prices, please click the button below. Contact Alex on info@IfordManor.co.uk for more information or to book.
We are able to offer groups:
– Complimentary introduction & welcome (c.20 minutes) for all groups given by a family member, in English, Italian, French or Spanish;
– Exclusive, private visits outside of our standard opening hours (groups of 2 or more) given by owner William Cartwright-Hignett in English, French or Spanish (private visits only);
– Option to visit the family's private walled garden, not open to the public (private visits only);
– Audio guides available in a large number of languages;
– A selection of refreshments;
– Free entry for the guide; and
– Free entry and refreshments for the driver.
Accessibility
Access statement available
Guide dogs welcome
Accessible toilets
Accessible parking
Paths twist and turn around ancient statues, columns, terraces and architecture which, combined with ebullient planting schemes, draw you on in anticipation of the next delight. After each step a new view is revealed, allowing visitors to marvel in the clever nature and beauty of the design. Steeped in history and located on the last hill of the Cotswolds, with the Wiltshire/Somerset border running through the garden itself, visitors often say a visit to Iford Manor Garden was like stepping into another, timeless world.
Regularly providing design inspiration to many, the garden often features in international publications and in film, most recently in 'The Secret Garden' (2020). A visit to Iford Manor Gardens should leave you feeling refreshed, uplifted and inspired.
For a special experience, don't miss a Behind the Scenes tour with Head Gardener Steve Lannin, or an evening Champagne Tour with owner William Cartwright-Hignett.
Iford Manor Cafe & Kitchen is open during the day for lunch, cake and afternoon tea. Do look out for special events as well throughout the year.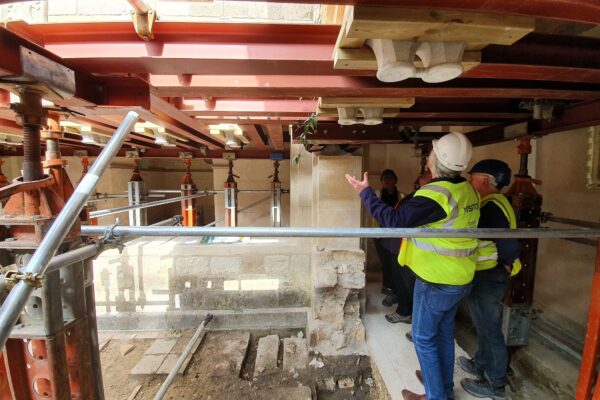 Iford Manor Wins Restoration Award 2020
After a delay of more than six months while judges were unable to assess entries because of Covid-19 restrictions, the UK's largest collection of independent heritage has announced the best restoration project of a historic house, castle, or garden in...
Become a Historic Houses member
Explore the nation's heritage from just £59 per year.
Hundreds of the most beautiful historic houses, castles, and gardens across Britain offer our members free entry.
Also: receive a quarterly magazine, enjoy monthly online lectures, get exclusive invitations to buy tickets for behind-the-scenes tours, and take up a range of special offers on holidays, books, and other products you might like.