The 46 best places to visit in Scotland
Scotland is a dream destination for those who love exploring historic houses, castles and gardens, with some of the finest in the UK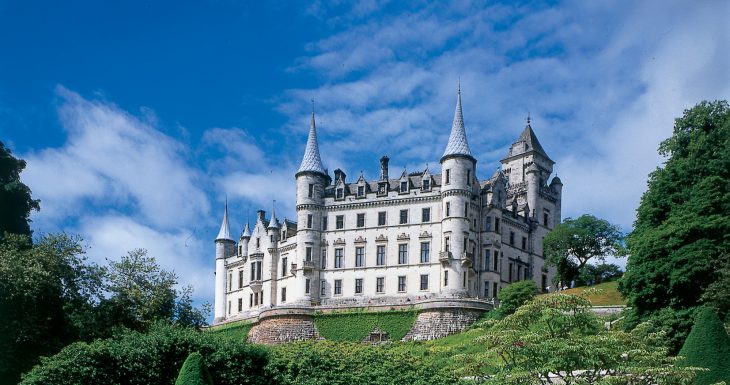 A visit to Scotland isn't complete without a visit to its illustrious historic houses, castles and gardens. From Skaill House in the Orkneys to Floors Castle on the Scottish Borders, it's worth taking account of where you can visit when making a day trip to Scotland or a longer excursion. Here, we list the best places to visit in Scotland, with links to each house and garden in their specific region. You can also view a map of all the houses and gardens on our webpage here.
The Highlands, West Highlands & Islands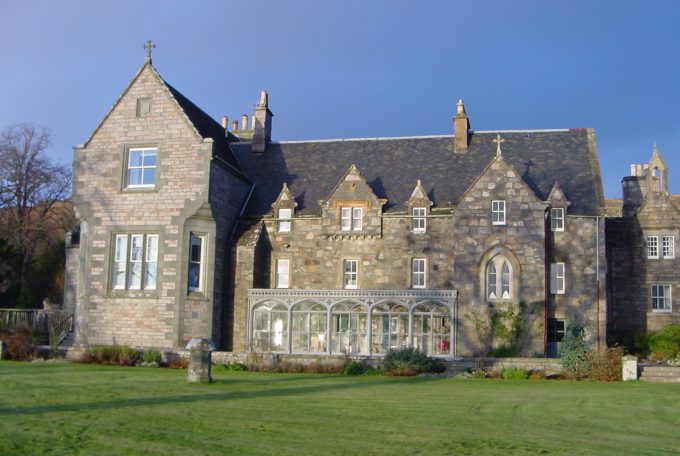 Ardchattan Priory Gardens, Argyll
A garden has existed at Ardchattan for over 700 years, since Valliscaulian monks, from a little know order in Burgundy, first settled here, on the north shore of Loch Etive.
Facing south, with spectacular views over Loch Etive, one can look east to Ben Cruachan and west to the hills of Mull, the monks chose their site well.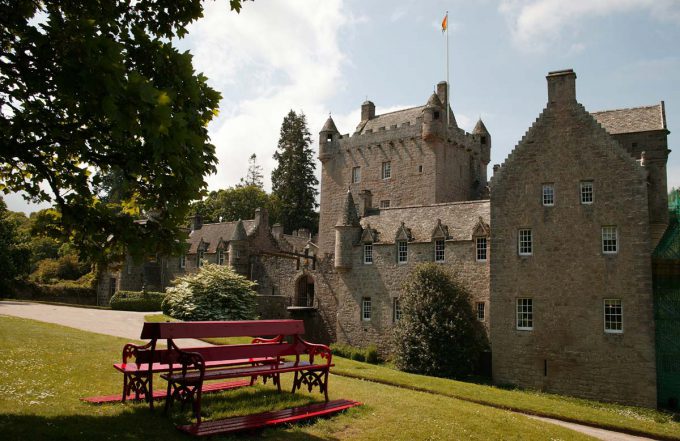 Cawdor Castle, Nairn
Cawdor Castle dates from the late 14th-century, having been built as a private fortress by the Thanes of Cawdor, with the ancient medieval tower built around the legendary holly tree – wherever you look, Cawdor Castle is steeped in intrigue and history.
Later additions, mainly from the 17th-century, were all built in a Scottish style with slated roofs over walls and crow-stepped gables of local stone. This style gives Cawdor a strong sense of unity, and the massive, severe exterior belies an intimate interior that gives the place a surprisingly personal, friendly atmosphere.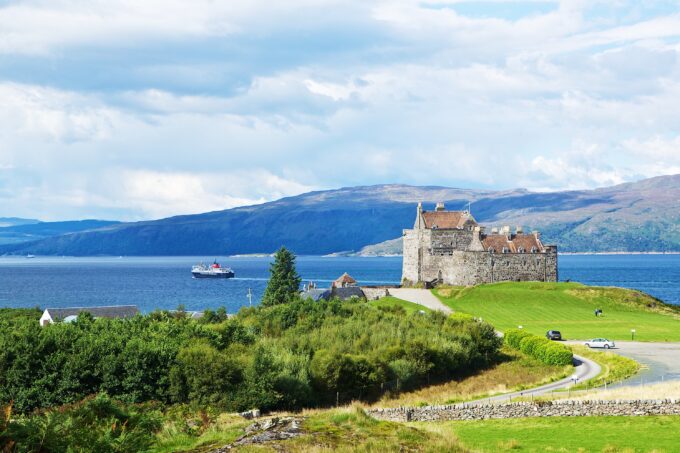 Duart Castle, Isle of Mull
Duart Castle proudly guards the sea cliffs of the Isle of Mull, while enjoying one of the most spectacular and unique positions on the West Coast of Scotland.
Brought back from ruin in 1911, the Castle treasures 800 years of history of one of Scotland's oldest Clans, The Macleans, and is one of the last surviving privately owned Clan Castles in Scotland.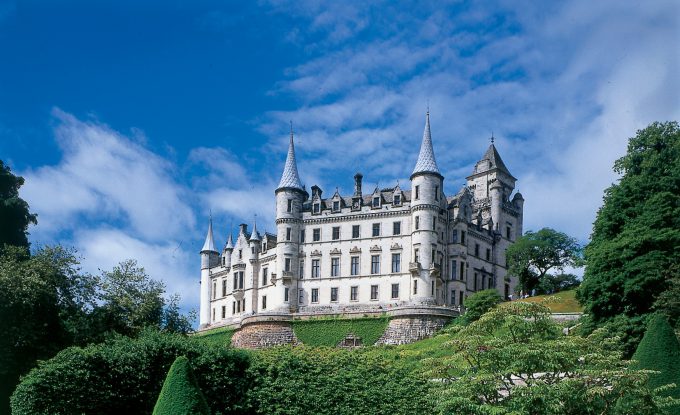 Dunrobin Castle, Golspie
Dunrobin Castle is the most northerly of Scotland's great houses and the largest in the Northern Highlands with 189 rooms. The castle is also one of Britain's oldest continuously inhabited houses dating back to the early 1300s, home to the Earls and later, the Dukes of Sutherland.
The Castle, which resembles a French chateâu with its towering conical spires, has seen the architectural influences of Sir Charles Barry, who designed London's Houses of Parliament, and Scotland's own Sir Robert Lorimer.
Discover behind the scenes at Scottish historic houses
Historic Houses offers members behind the scenes videos of life behind the scenes at houses and gardens across the UK, including at several houses and gardens in Scotland. In the below video, we look behind the closed gates of Duart Castle on the Isle of Mull during the 2020 lockdown.
...also in the Highlands, West Highlands & Islands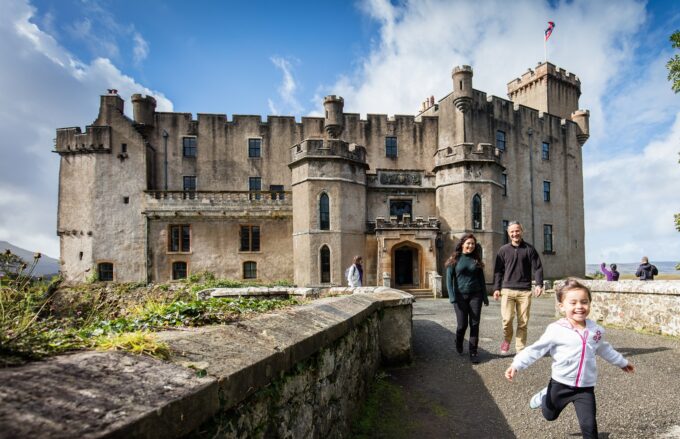 Dunvegan Castle, Isle of Skye
Built on a rocky outcrop on the shores of Loch Dunvegan, Dunvegan is the oldest continuously inhabited castle in Scotland and has been the ancestral home of the Chiefs of Clan MacLeod for 800 years.
On display are many fine oil paintings and clan treasures, the most famous of which is the Fairy Flag. Legend has it that this sacred Banner has miraculous powers and when unfurled in battle, the clan MacLeod would invariably defeat their enemies.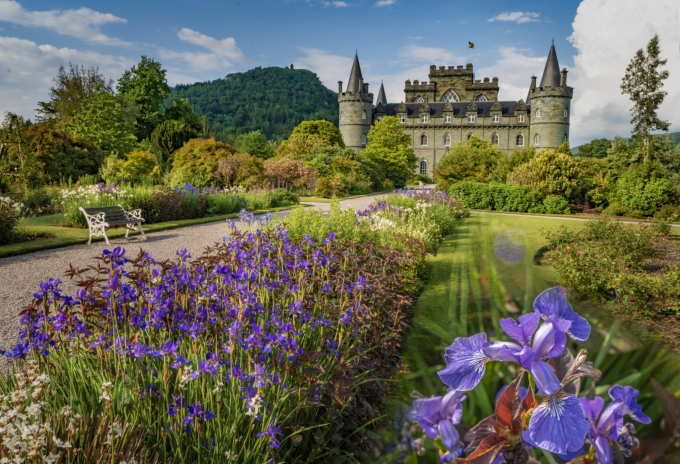 Inveraray Castle, Argyll
Inveraray Castle is an 18th-century turreted castle, seat of the Clan Campbell and home to the Dukes of Argyll.
On the shores of Loch Fyne and in the majestic West Highlands of Scotland with formal gardens famous for their rhododendrons and azaleas. Also recognised as Downton Abbey's 'Duneagle Castle'. Glasgow Central & Queen Street (60 miles) is the closest train station.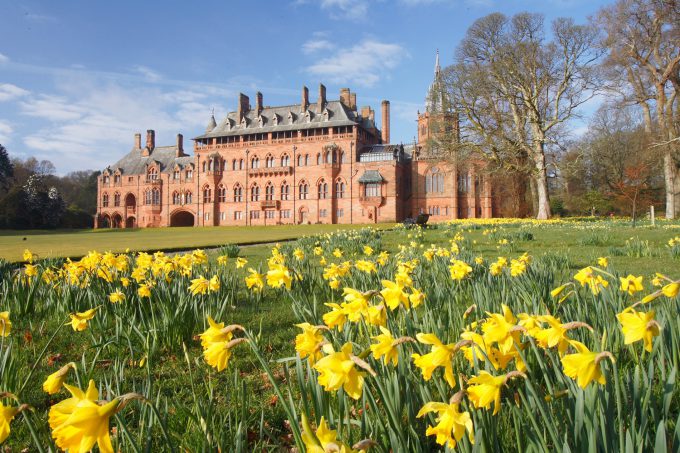 Mount Stuart, Isle of Bute
Mount Stuart, Britain's most spectacular Victorian Gothic house, offers a memorable day out for the whole family.
Walks on the beach, discoveries in the gardens, dazzling interiors, unique architectural details, seasonal events and exhibitions make Mount Stuart a place that captures the imagination! Situated on the Isle of Bute, just 90 minutes from Glasgow.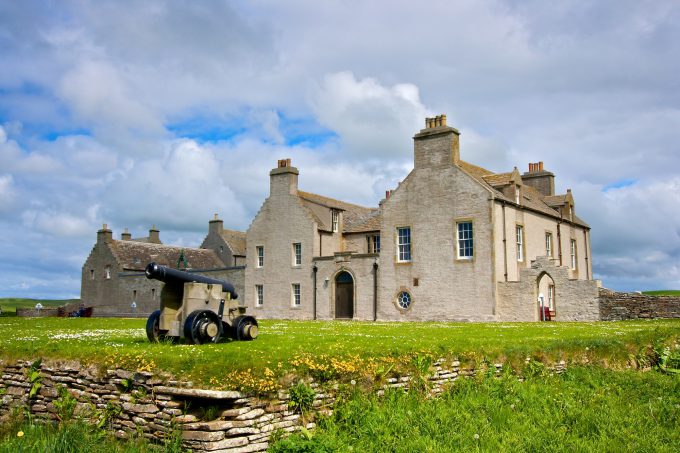 Skaill House, The Orkney Islands
Skaill House is the finest 17th-century mansion in Orkney. Home of William Graham Watt, 7th Laird of Breckness, who unearthed the World famous neolithic village of Skara Brae in 1850. Covering thousands of years of history, Skaill House is renowned for its contribution to Orkney's diverse and exciting past.
The house was originally built in 1620 by Bishop George Graham (Bishop of Orkney 1615-1638), and has been added to by successive generations over the centuries. In its 400 year evolution, all 12 Lairds have been related, contributing to the history and collections in the house.
Visit Scotland sustainably
We're really keen to ensure that your trip to historic houses and gardens in Scotland doesn't have to cost the earth, so we've teamed up with Good Journey to help you start planning your days out in Scotland using the cheapest, greenest means possible. Good Journey are adding new guided routes all the time, so take a look at their website for to start planning your trip to Scotland.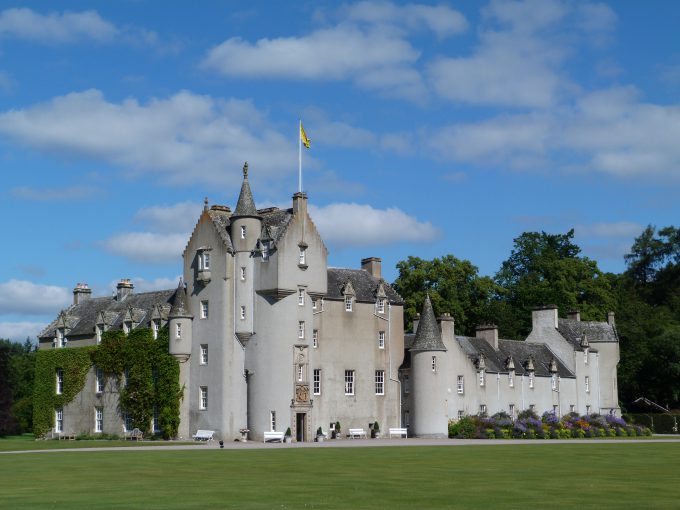 Ballindalloch Castle, Banffshire
Ballindalloch Castle is first and foremost a much-loved family home and one of the very few privately owned castles to be lived in continuously by its original family.
Built originally in 1546, the Castle has been home to the Macpherson-Grants ever since, and Guy Macpherson-Grant, his wife, Victoria, and their three young children, are the 23rd and 24th generations of the family to live here.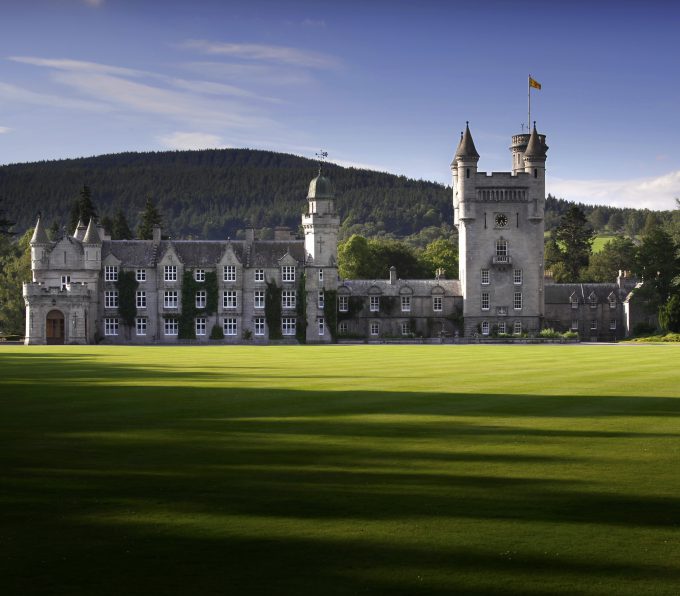 Balmoral Castle, Ballater
The foundation stone for Balmoral Castle was laid by Queen Victoria on 28th September 1853 and can be found at the foot of the wall adjacent to the West face of the entrance porch.
Before the foundation stone was placed in position Queen Victoria signed a parchment recording the date. This parchment, together with an example of each of the current coins of the realm, was then placed in a bottle, inserted into a cavity below the site prepared for the stone.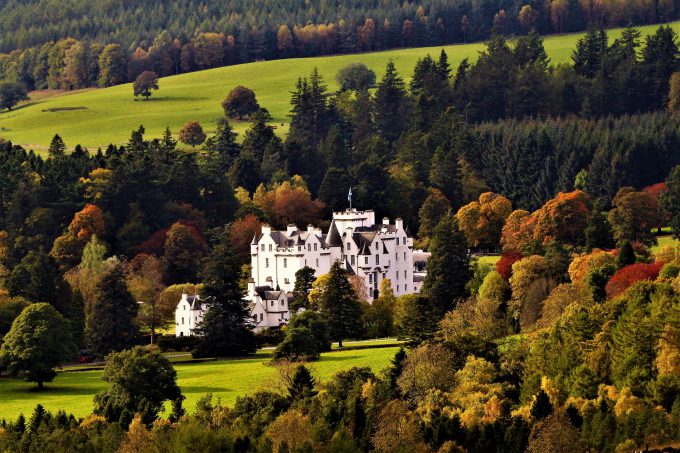 Blair Castle, Pitlochry
You'll find Blair Castle in the traditional Scottish village of Blair Atholl at the entrance to the Cairngorms National Park.
Surrounded by hills and peaceful countryside, the castle has some of Scotland's finest views. The castle has been transformed through the ages, from its cold medieval beginnings to become a fine Georgian mansion and finally a Victorian castle in the Baronial style.
Cambo House Gardens, near St Andrews
Cambo's 2.5 acre walled garden dates from the 1800's and our visitors keep describing it as 'stunning'! We endeavour to create areas of year round interest and the garden is constantly changing, developing and innovating through the passions of our horticulture team.
From early interest in our winter gardens (highlighting our Plant Heritage national collection of snowdrops) through to our late season naturalistic plantings and prairie garden (unique in Scotland!) there is always a reason to visit Cambo.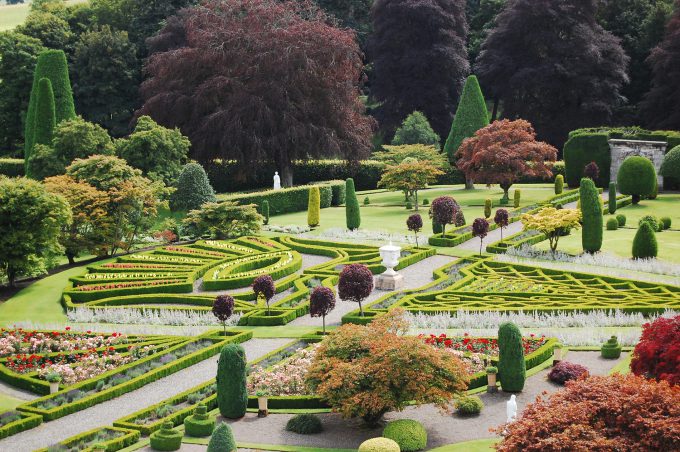 Drummond Castle Gardens, Crieff
It is a composite garden, restructured in early Victorian times and renewed again in the 20th century when the garden framework and the exceptional interest of the original 19th century design were carefully preserved.
Drummond Castle was built on a rocky outcrop by John, 1st Lord Drummond around 1490. The 2nd Earl, a Privy Councillor to James VI and Charles I, succeeded in 1612 and is credited with transforming both the gardens and the castle between 1630-1636. The keep still stands but the rest of the castle was restored and largely remodelled by the 1st Earl of Ancaster in 1890.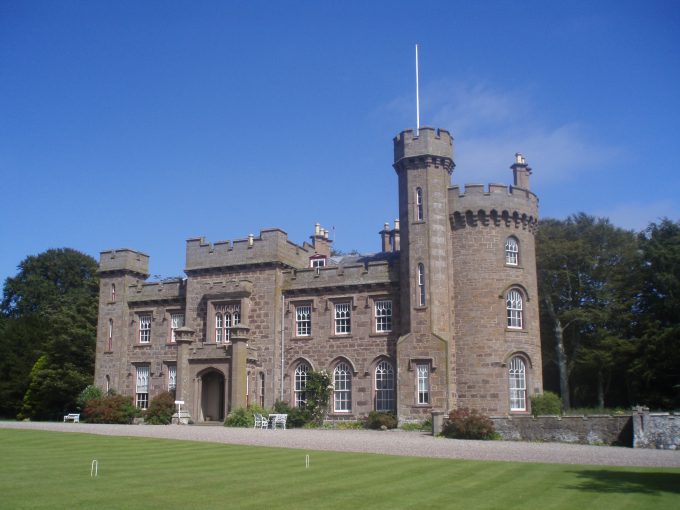 Dunninald Castle & Gardens, Montrose
Dunninald Castle is a family home with an acclaimed walled garden, set in a planned landscape of woods and wild garden. Dunninald was built in 1824 by the architect James Gillespie Graham in the Gothic Revival style.
Guided tours of the castle explain the history of the house, the collections of furniture, paintings and displays of fine needlework photographs and memorabilia, examples of fine plasterwork and trempe l'oeil are also on show. Tours take approximately 40 minutes and start on the hour and half hour.
The fascinating stories of Scottish historic houses
There are few paintings which attract as much interest and admiration as the portrait of Lady Elizabeth Murray and Dido Elizabeth Murray, by the Scottish artist David Martin, which hangs in the Ambassador's Room at Scone Palace. The story of Dido Belle's life has been told many times, but who better to hear it from than William Mansfield himself?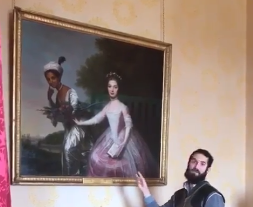 ...also in Grampian and Central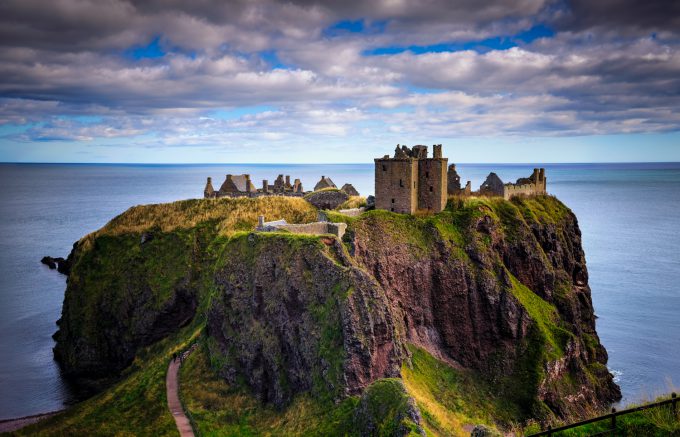 Dunnottar Castle, Stonehaven
Dunnottar Castle is a dramatic and evocative ruined cliff top fortress which was the home of the Earls Marischal, once one of the most powerful families in Scotland. Steeped in history, this romantic and haunting ruin is a photographer's paradise, a history lovers dream and an iconic tourist destination for visitors the world over.
Visit Dunnottar Castle for your own unforgettable experience and discover the importance of Dunnottar – an impregnable fortress that holds many rich secrets of Scotland's colourful past.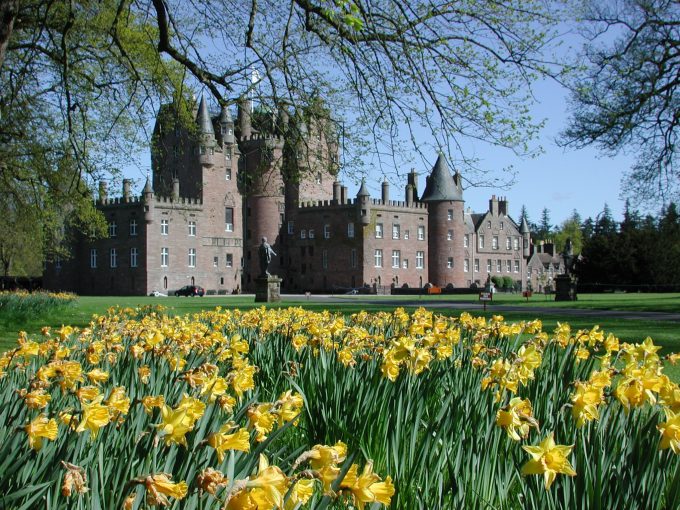 Glamis Castle, Angus
Royal residence of the Lyon family since 1372 and legendary setting of Shakespeare's 'Macbeth'.
Rebuilt in elaborate, turreted French chateau style in late 17th-century incorporating some 14th-century work, it is spectacular. Fine furnishings, paintings and armour.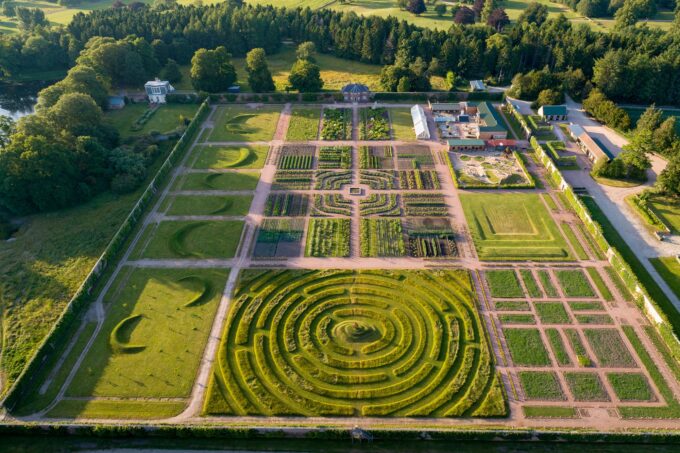 Gordon Castle Walled Gardens, Moray
A hidden gem situated between the River Spey and the Moray Coast, Gordon Castle Walled Garden is one of Scotland's best kept secrets.
At almost eight acres in size it is one of the oldest and largest kitchen gardens in Britain and has been lovingly restored to its former glory with a modern design by world famous designer Arne Maynard. An oasis of peace and tranquillity, the garden is also a hive of activity.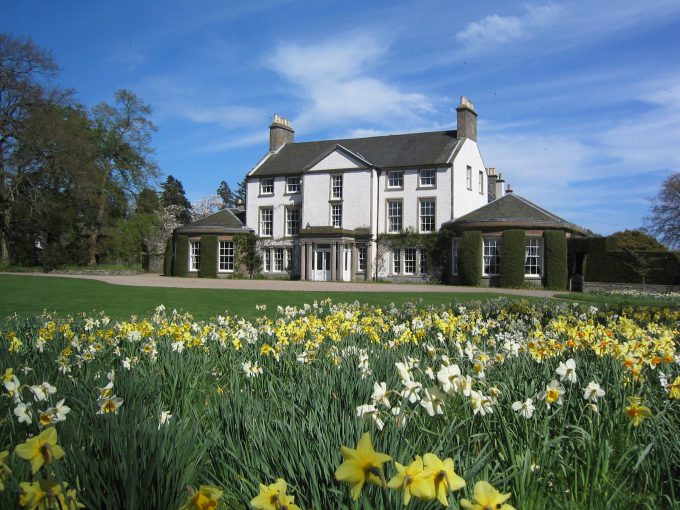 House of Pitmuies, Angus
Pitmuies has known three periods – the first of a house recorded in the late 1500s. Remains of that house, with its worn stone spiral staircase, faces south over the garden.
The grander west facing front is believed to date from 1680's.  Pitmuies was modernised to the 18th century standards some hundred years later when the two pavilions were added, one a music room and one a library.  Also the ionic pillared porch and alterations to the windows were deemed necessary.  The arched entrance into the courtyard carries date stones 1770 and 1820.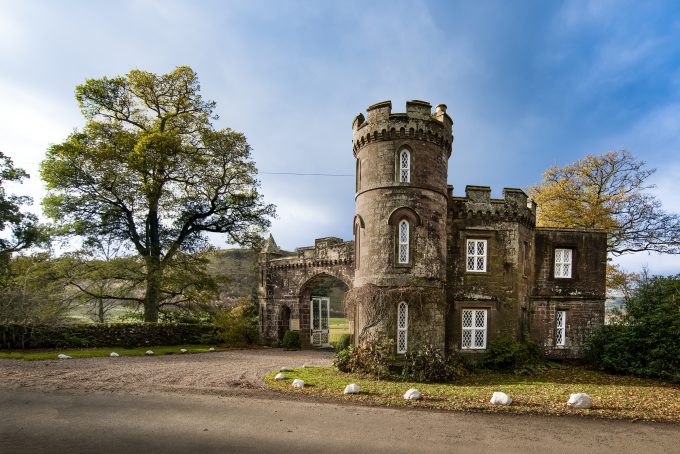 Monzie Castle, Crieff
The oldest part of the castle dates from 1634. The main part was completed in 1795 by Robert Paterson, previously clerk of works to the celebrated Robert Adam.
Monzie Castle is a large castellated mansion which incorporates a small early 17th-century L-plan tower house, much extended and remodelled in 1791. It was a property of the Campbells from early times until 1869, when it was sold to the Johnstones of Lathrisk.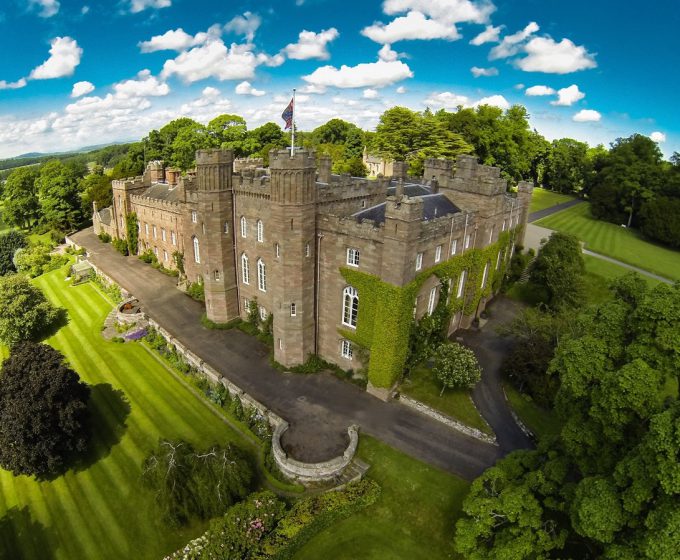 Scone Palace, Perth
Built on the site of Scone Abbey and incorporating the medieval bishops' palace and Moot Hill, place of coronation for Scottish Kings, and extended in gothic style from 1803. Superb collection of objets d'art, including items of Marie Antoinette bought by the 2nd Earl of Mansfield.
The 1st Earl (a notable lawyer) freed his own black slave and in 1772 declared slavery 'odious' and unacceptable in Britain. John Louden laid out gardens contemporary with the house's gothic enlargement. The pinetum, begun 1848 and extended in 1984, contains an outstanding conifer collection and the original Douglas fir, grown from seed sent in 1826 from America by David Douglas, a Scone gardener.
Modern art meets historic architecture at Kelburn Castle
The idea was simple and original: take the vibrant and often transient art form of Brazilian graffiti, out of its predominantly urban context and apply it to the ancient and permanent walls of a historic rural castle in Scotland.
Strathclyde and Dumfries & Galloway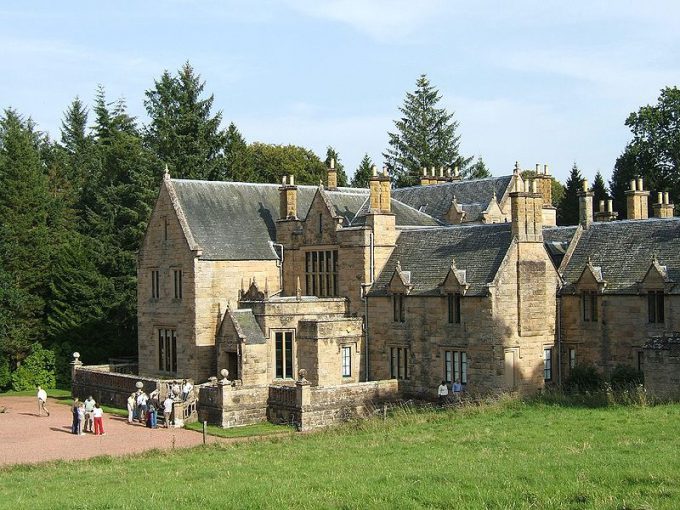 Corehouse, Lanark
Corehouse is a pioneering example of the Tudor architectural revival in Scotland, designed by Sir Edward Blore and situated above the famous Corra Lynn Falls of Clyde.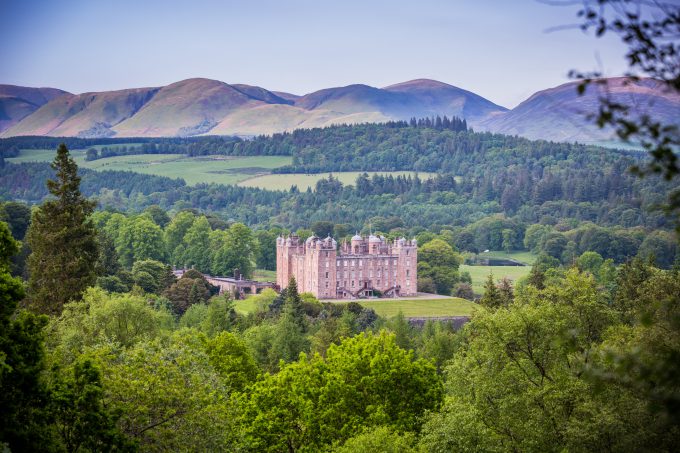 Drumlanrig Castle, Thornhill
Drumlanrig Castle is the Dumfriesshire home of the 10th Duke of Buccleuch & Queensberry.
The Castle is one of Scotland's finest examples of 17th-century Renaissance architecture. Towering over the Nith Valley, Drumlanrig houses items from the world-renowned Buccleuch Collection including works by Rembrandt and Holbein.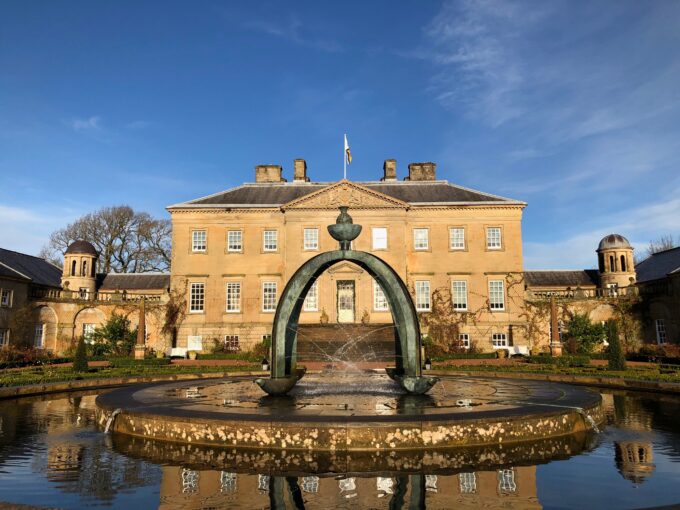 Dumfries House, Ayrshire
Georgian Gem, nestling within 2,000 acres of scenic Ayrshire countryside in south-west Scotland. Commissioned by William Crichton Dalrymple, the 5th Earl of Dumfries. The House was designed by renowned 18th-century architect brothers John, Robert and James Adam and built between 1754 and 1759.
Recognised as one of the Adam brothers' masterpieces it remained unseen by the public since it was built 250 years ago until it opened its doors as a visitor attraction in June 2008.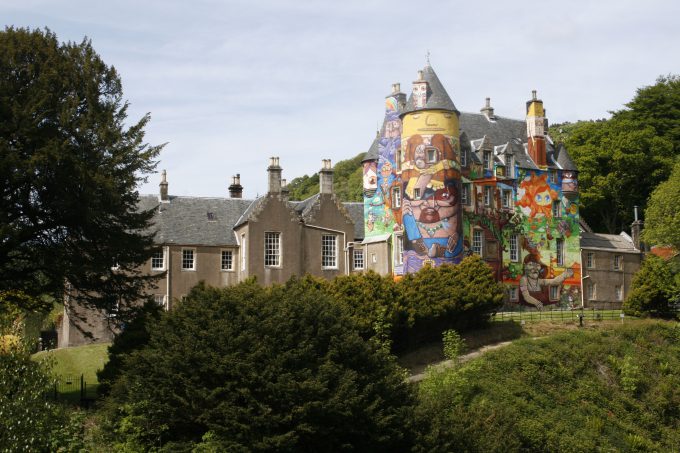 Kelburn Castle, Fairlie
Our 13th-century castle has had an amazing makeover courtesy of a team of Brazilian artist and is the home of the Boyle family. The surrounding landscape offers dramatic walks, coastal views, breathtaking gardens and many features of historical interest.
There is no written record of when Kelburn Castle was first built, but it is thought to be around 1200. The original Norman Keep was added in 1581 and the new castle and old castle were skillfully joined and re-roofed so that the two periods are now difficult to distinguish from the outside.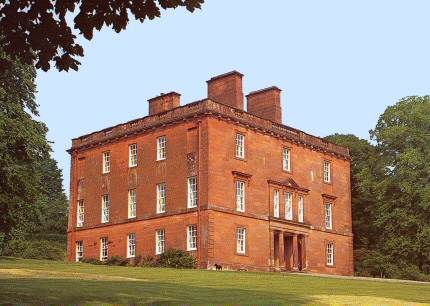 Rammerscales, Lockerbie
A neat, square ashlar Georgian house with a cornice and balustrade and a loggia with Tuscan pillar; unaltered since it was built in 1760 and with wide views over Annandale.
The long gallery completed in the 1770s was converted in the 19th century to house the owner's outstanding library. Modern paintings and works of art include those by Rodin, Hepworth, Segonzac, Lowry and Wyndham Lewis.
Book your events tickets in Scotland
While visiting castles and gardens in Scotland is one way to make the most of your visit to the country, booking yourself onto an event run by a historic house is by far the best means of creating new memories. We have a dedicated page for exploring events at historic houses across the UK, and here you can find a pre-filtered list of events at Scottish venues.
Lothian and the Scottish Borders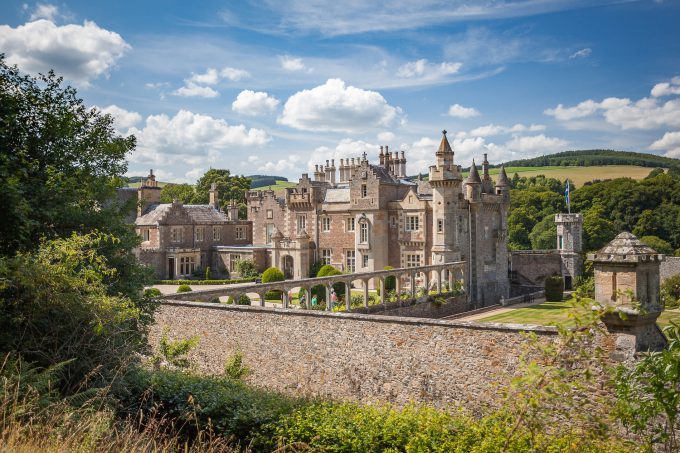 Abbotsford, Melrose
Visit Abbotsford, a monument to the tastes, talents and achievements of its creator, one of Scotland's most important national figures; a renowned 19th century writer and 'Great Scot' who changed how the world saw Scotland and Scotland saw itself.
Located in the heart of the beautiful Borders countryside, Abbotsford was built by Sir Walter Scott in the 19th-century as a family home, work space and private museum and his interests can be seen in the amazing gothic architecture and interiors jam-packed with fascinating curios, artefacts, books and stories galore.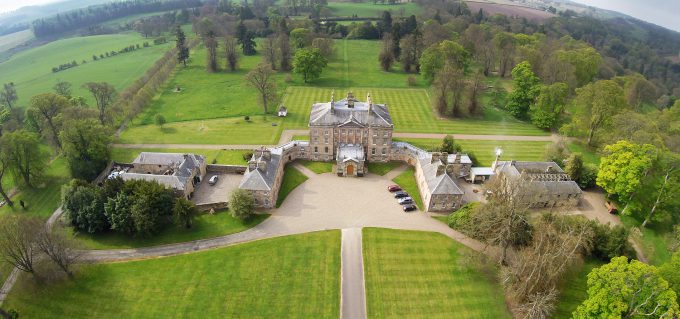 Arniston House, Midlothian
Home to the Dundas family for nearly 450 years, Arniston is a 6,000+ acre estate nestled just 11 miles from Edinburgh.
Featuring a magnificent William Adam Palladian style Mansion House, Arniston is proud to offer guests a guided tour with family members to learn more about the architect, the local history and of course, the Dundas family heritage.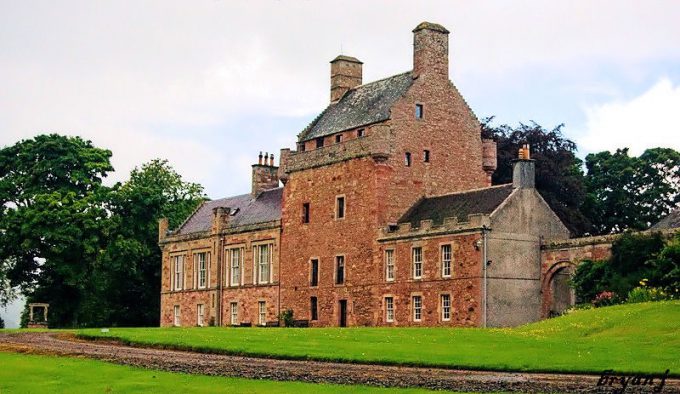 Bemersyde House, Melrose
With a 16th-century peel tower at its core Bemersyde House is an imposing house set within fine gardens and grounds close to the burgh of Melrose in the Borders.
The gardens were laid out by Field Marshal Earl Haig.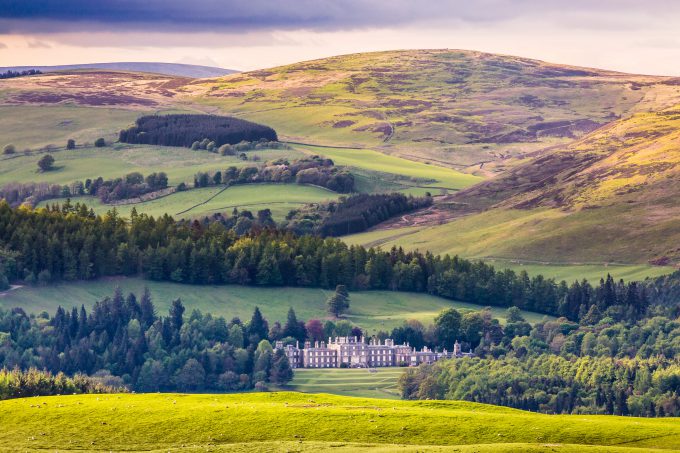 Bowhill House & Estate, Selkirk
Bowhill House has been the principal home of the Scotts of Buccleuch for over two centuries. The House's history gives it many great tales. It also houses one of the world's greatest private art collections including masterpieces by Canaletto, Raeburn, Reynolds and Gainsborough.
You'll find stunning French furniture, Mortlake Tapestries, antique porcelain and portrait miniatures. A new exhibition, Love and Respect in the Victorian Age, opened in 2017 and features many new items on display from the renowned Collection.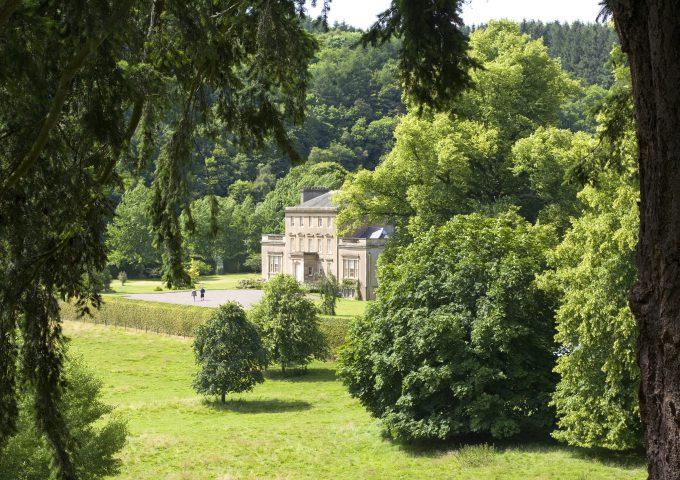 Carolside Gardens, Earlston
Carolside is an 18th century mansion in beautiful parkland, in a valley in the Scottish Borders. It's setting is romantic and serene ; framed by steep wooded hills with the River Leader running through.
Its facade is thought to have been modelled on Chesterfield House , Mayfair , London (demolished 1937) .The design was by Isaac Ware the Palladian arcitect.(1704-1766) There has been a settlement there since at least the 16th Century and Carolside has been cultivated for over 200 years. It has a long history of good gardeners and was a well-known Rose garden in Edwardian days.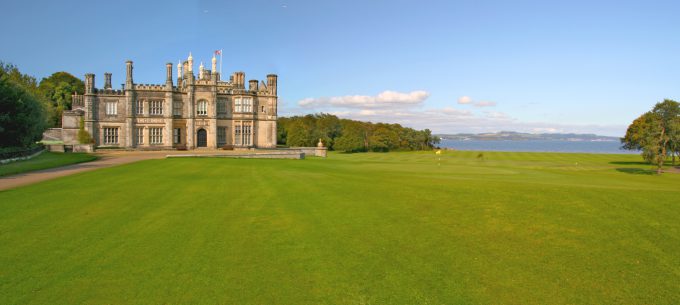 Dalmeny House, South Queensferry
Dalmeny House was completed in 1817 and sits in rolling parkland to the West of Edinburgh. With spectacular views overlooking the Firth of Forth, the house is home to The 7th Earl and Countess of Rosebery.
Although very much a family home, the house is open to the public for viewings and corporate events. The inspired architecture of the house will fascinate some. Others will be enticed by the extraordinary collection of antique furniture, artworks and curious objects.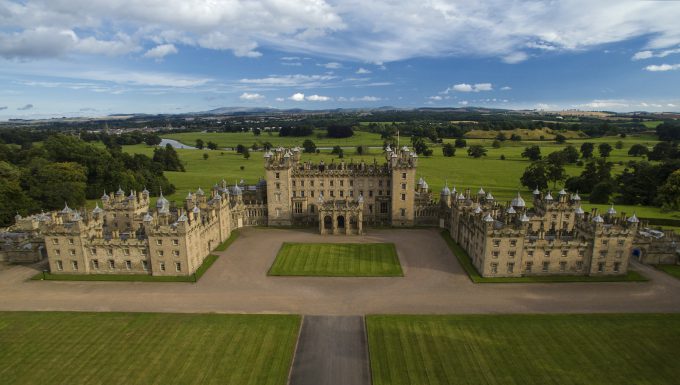 Floors Castle, Kelso
What could be better than exploring a beautiful Scottish Castle? Built by architect William Adam in 1721, Floors Castle is Scotland's largest inhabited Castle and home to the 10th Duke of Roxburghe.
An architectural masterpiece inside and out, the Castle houses a marvellous collection of fine art and porcelain for you to enjoy, including paintings by Matisse and our famous Belgian tapestries.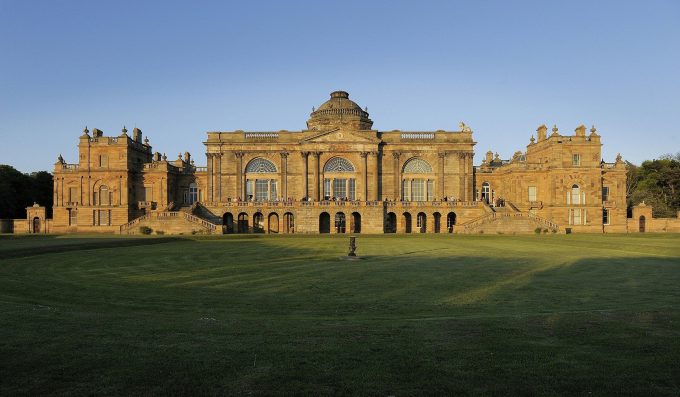 Gosford House, Longniddry
Gosford House, the seat of the Earls of Wemyss and March, is set in 5,000 acres of combined coast and parkland in East Lothian on the south side of the Firth of Forth and close to the celebrated golf courses of Muirfield, Gullane and Craigielaw.
The property is dominated by Gosford House, an imposing neo-classical mansion which was one of the last great architectural commissions of the celebrated Scots architect, Robert Adam.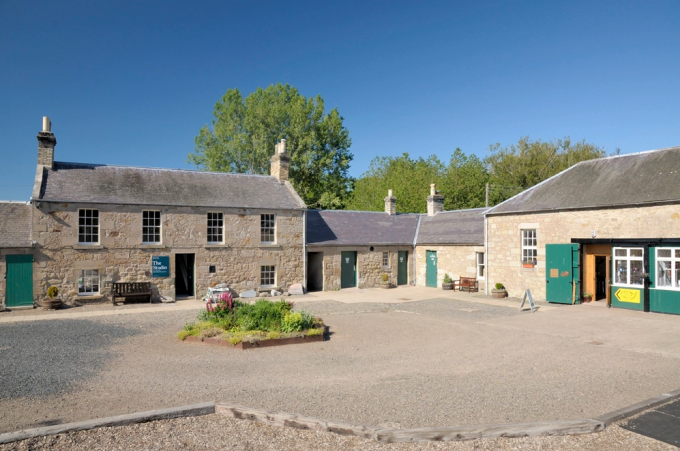 The Hirsel, Berwickshire
The Hirsel is a 500-acre park with lake and river. A spectacular rhododendron and azalea wood can be seen, along with daffodils in April.
The site is a haven for ducks and summer migrants. Also features craft shops, tea room, pottery, museum.
Hopetoun House, South Queensferry
Hopetoun House is a unique gem of Europe's architectural heritage and undoubtedly 'Scotland's Finest Stately Home'. Situated on the shores of the Firth of Forth, it is one of the most splendid examples of the work of Scottish architects Sir William Bruce and William Adam.
The interior of the house, with opulent gilding and classical motifs, reflects the aristocratic grandeur of the early 18th century, whilst its magnificent parkland has fine views across the Forth to the hills of Fife.
..also in Lothian and the Scottish Borders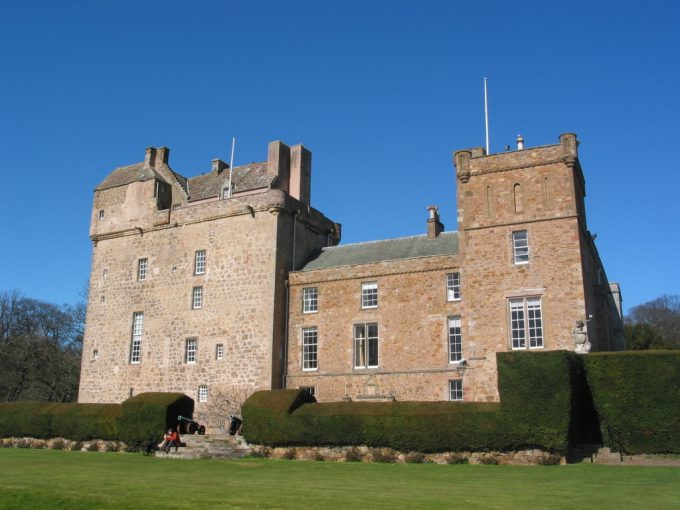 Lennoxlove, East Lothian
A strong and well-preserved keep or Pele tower with suitably rugged interiors; Lennoxlove, at its heart, was extended in the 17th-century into a more comfortable house.
This delightful castle now contains the Dukes of Hamilton collections of pictures, furniture and porcelain in addition to the death mask, famous letter casket, and other mementoes of Mary Queen of Scots.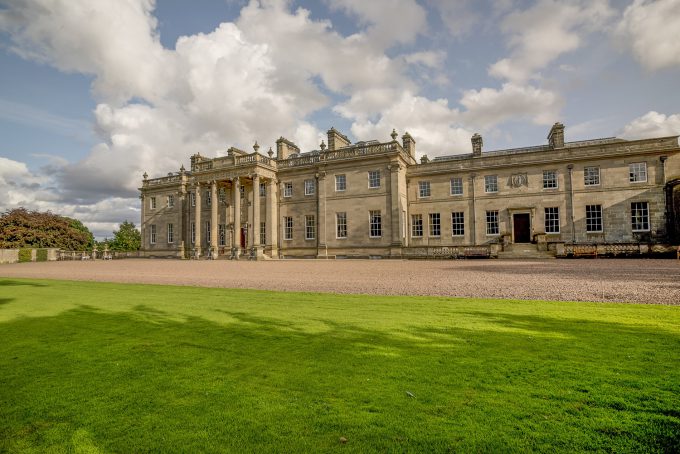 Manderston, Duns
Manderston is a stunning example of Edwardian architecture, the supreme country house in Scotland of it's era. A house on which no expense was spared, with opulent staterooms, a silver staircase, marble hall, acres of formal gardens and magnificent stables.
John Kinross the architect designed the house for Sir James Miller a nouveau riche baronet who married into traditional aristocracy. John Kinross was instructed to create a home of glittering style to match Sir James Millers wealth and status as a country gentleman.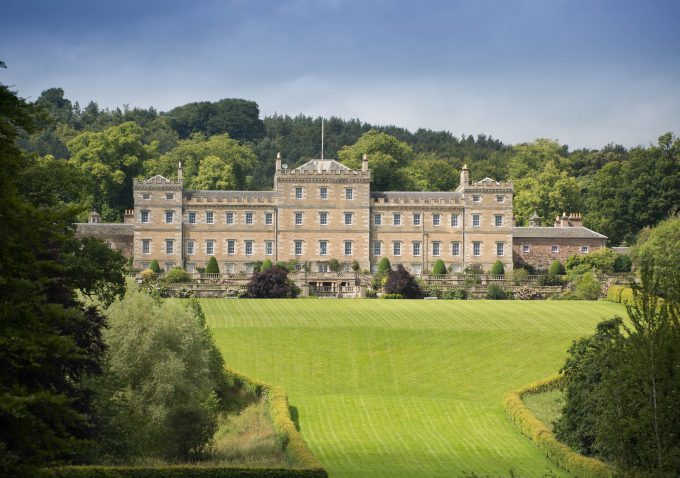 Mellerstain House & Gardens, Gordon
One of Scotland's finest stately homes, this Robert Adam masterpiece is a 'must-see'; complemented by the fine art, period furniture, china and embroidery collections within. It's idyllic location does not disappoint, with acres of stunning parkland, formal gardens, lakeside walks and cafe.
Mellerstain, one of Scotland's great Georgian houses was begun in 1725 by Scottish architect William Adam and completed in 1778 by his more famous son, Robert. The result is an outstanding example of 18th-century Scottish architecture, and some say one of Robert Adam's finest works.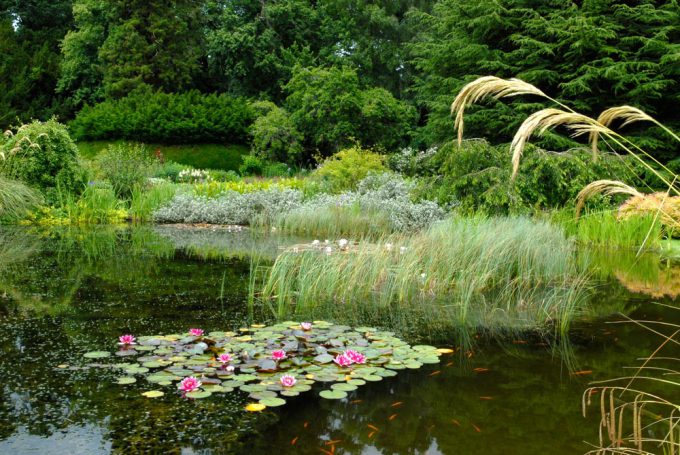 Mertoun Gardens, Melrose
Mertoun House was designed by Sir William Bruce for Sir William Scott of Harden and was built in 1703-05. It occupies an outstanding situation on a high bank overlooking the River Tweed and ornamental parkland beyond.
Little is known of the early history of the gardens, but it is assumed from the great age of many of the specimen trees that they were laid out at the time the mansion was built.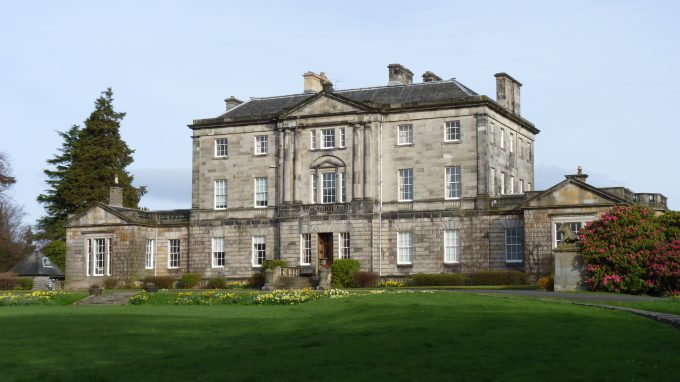 Newliston Kirkliston
Newliston is on of Robert Adam's last and smallest country houses with an 18th-century designed landscape including rhododendrons, azaleas and water features.
An inventory of chattels not on public display can be inspected and such chattels can be viewed by request when the house is open to the public.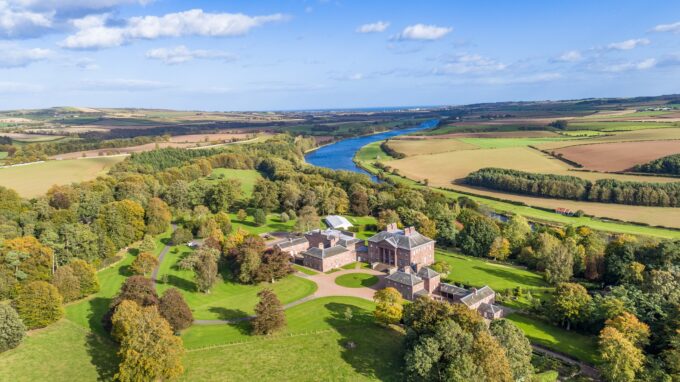 Paxton House, Berwick-on-Tweed
Originally built for Patrick Home, a young Scottish laird, Paxton House is one of the finest 18th-century Palladian country houses in Britain featuring Adam interiors.
It has recently gained recognition for its nationally important collection of Chippendale and Trotter furniture by Museums Galleries Scotland on behalf of The Scottish Government.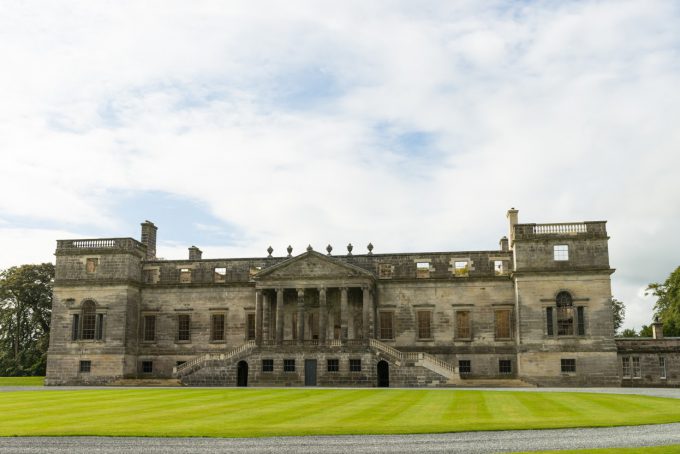 Penicuik House, Midlothian
Penicuik House is the finest and most influential example of Palladian architecture in Scotland. Built in the 1760s and devastated by fire in 1899, the once magnificent buildings has stood as a ruin for over 100 years.
It sits at the centre of an important 18th-century designed landscape, which together form an exceptional physical record of the artistic patronage of the Clerk Family.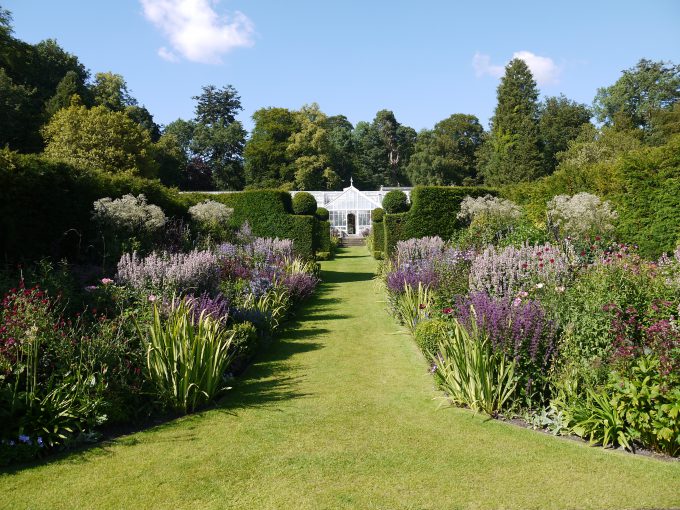 Portmore House Peebles
Set at 800' in the wonderful Peebleshire countryside, the old Victorian gardens at Portmore have been recreated by the current owners Mr and Mrs David Reid over the past 30 years.
The 1½ acre Walled Garden, which is at its height between mid-July to August, has herbaceous double borders, a potager, rose garden, pleached lime walk and ornamental fruit cages.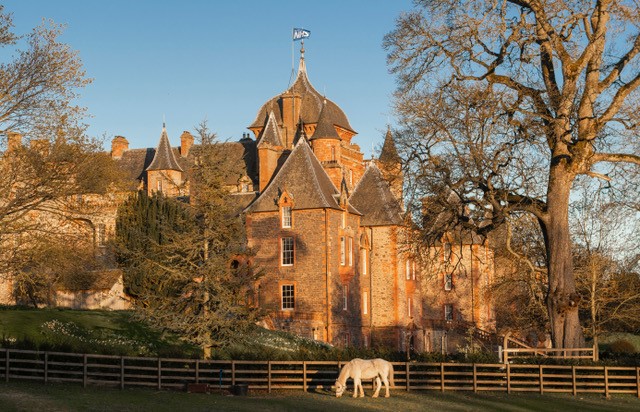 Thirlestane Castle, Lauder
Nestled in an idyllic part of the Scottish Borders, Thirlestane Castle is a magnificent 16th century castle set in a meadow landscape. Family seat of the Duke of Lauderdale, it is one of the oldest and finest castles in Scotland and still remains home to the Maitland family today.
Come and see the breathtaking 17th-century Dunsterfield plasterwork ceilings, one of the largest collections of family portraits in Scotland and nurseries full of historic toys.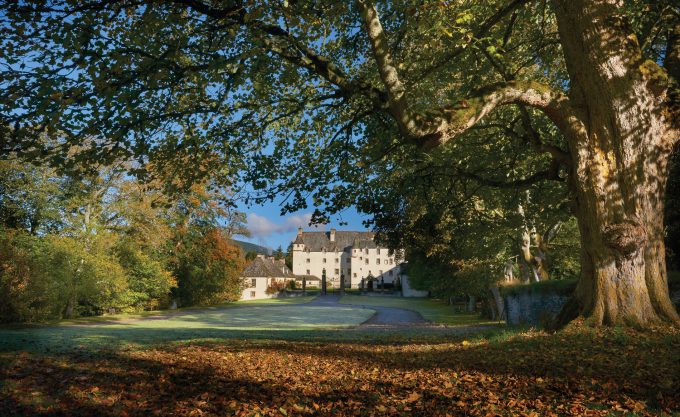 Traquair House, Innerleithen
Traquair is Scotland's Oldest Inhabited House. Visited by 27 Scottish Kings and Queens Traquair dates back to 1107 and has been lived in by the Stuart family since 1491.
Originally a royal hunting lodge, Traquair played host to Mary Queen of Scots and later as staunch Catholics they supported the Jacobite cause without counting the cost. Today, we welcome visitors from all over the world. Enjoy the extraordinary history of this lived in family home.
Become a Historic Houses member
Explore the nation's heritage from just £65 per year.
Hundreds of the most beautiful historic houses, castles, and gardens across Britain offer our members free entry.
Also: receive a quarterly magazine, enjoy monthly online lectures, get exclusive invitations to buy tickets for behind-the-scenes tours, and take up a range of special offers on holidays, books, and other products you might like.