Sausmarez Manor
A rare example of American colonial architecture in the British Isles.
St Martin, Guernsey, Channel Islands, GY4 6SG
Get Directions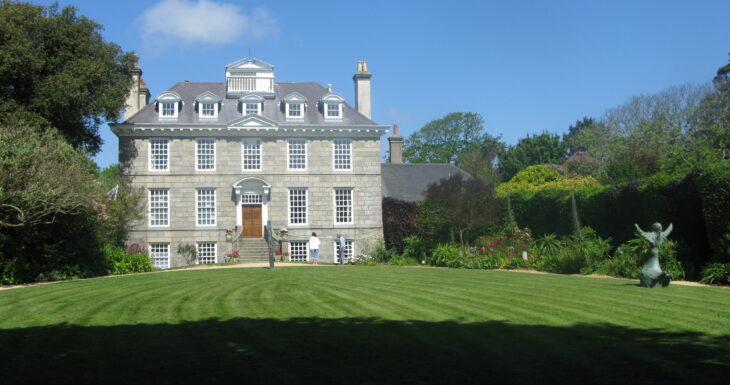 Free for members
Facilities
Easily accessible without car

Facilities for children

Free parking

Mostly wheelchair accessible

Shop
The Manor Guided Tour covers 800 years of occupancy by the Seigneurs de Sausmarez, whose members of the family have been privateers, explorers, soldiers, sailors, churchmen, Colonial governors, Sportsmen, inventors, artists, traders, and in the law, some of whom have left their mark with the contents and architecture to this day.
The Wild Subtropical Garden is an ancient woodland surrounding a couple of small lakes and is inter planted with exotic and subtropical plants, trees, ferns and shrubs, which, because of Guernsey's mild, equable climate can survive and flourish.
Visitors can enjoy seeing around 200 varieties of camellia, tree ferns from New Zealand, Australia and Tasmania, palm and banana trees, Bromeliads, Ginger Lilies, scores of Hellebore, a variety of Cyclamen and around 40 different bamboos. You can also see Brugmansias and a splendid sprinkling of spring bulbs including Narcissus, Pink and White Bluebells and a drift of Snowdrops. Unusual trees include the rare Werlie Golden Sycamour, a mature Davidii Handkerchief Tree, the summer flowering Liy of the Valey tree (Clethera), Cornus Variegata Contreversa Wedding cake Tree, the rare Nikau, New Zealand Feather palm and host of other native and unusual varieties.
The train that has been running every year since it was first installed in 1985 (by the engineer, the late Terry Leighand) has been expanded over the years. The par 3, 9 hole pitch-and-putt course is a testing course set in a shallow valley. Clubs and other equipment are supplied and are suitable for experienced and beginners alike as is the 'vicarage' Putting Green (except on Saturday mornings).
New For 2022, The William le Lacheur Coffee Museum (he introduced coffee to Costa Rica and traded with it all over the world).
The only working Coppersmith in the Channel Islands is a haven of beautifully crafted 'Guernsey Milk cans' and other copper ware.
There are two Holiday lets in the House. One at the top of the house with lovely views over the horses, fields, gardens and wood and the other on the ground floor traditionally known as the Dower Flat. For more information on any of the above ring 01481 235571.
2022
Guided Manor tours only. Tours from 4 April to 31 October.
4 April – 9 April, Mondays to Saturdays from 11.30am. Then from the second week of April to the end of May, 10.30am and 11.30am, Mondays to Thursdays at 11.30am, and on Fridays & Saturdays if no function on.
June, July, August and September: 10.30am, 11.30am & 2.30pm, Mondays to Thursdays at 11:30am and on Fridays & Saturdays if no function on.
First week of October, 10.30am & 11:30am Mondays to Thursdays. The rest of October from 11.30am. All October, 11.30am, Friday & Saturday from 11.30am, weather permitting and if no function on.
Please note: The information on the Historic Houses website is advisory, but please always check the website of the house or garden you intend to visit before travelling.
General Opening times for the Grounds. Please note, free admission for Historic Houses members only applies to the Manor and not to the following, which are open 1st January to 20th December and with admission to grounds and car parking is free.
The Wild Subtropical Garden/Artpark: £6 per adult & £5 concessions.
Pitch and Putt £6 for 9 holes and £8 for 18 holes, conditions permitting.
Trains, open at weekends May to September and during school holidays.
Shop, Tea room and Tea Garden open daily 10am to 4.30pm, April – October.
Tours of Sausmarez Manor
Ghost tours take place every Wednesday at 6.30, cover 10 hauntings, and come with a free glass of wine. The tours need to be booked in advance and cost only £10. They are conducted by the Seigneur. Phone: 01481 235571.
'The Guernsey Literary and Potato Peel Pie' tour covers the wartime occupation experiences of his Great Aunt with readings from her dairies and includes the Famous Slaughtered Pig and German Officer incident. These take place on Thursdays at 6.30 and include a free glass of wine and an individual Potato Peel Pie. Please book more than two days in advance on 01481 235571.
The above two tours are not eligible for free admission to Historic Houses members.
Become a Historic Houses member
Explore the nation's heritage from just £65 per year.
Hundreds of the most beautiful historic houses, castles, and gardens across Britain offer our members free entry.
Also: receive a quarterly magazine, enjoy monthly online lectures, get exclusive invitations to buy tickets for behind-the-scenes tours, and take up a range of special offers on holidays, books, and other products you might like.