Heale House Gardens
Ancient brick manor house and gardens enhanced in the early twentieth century with the help of Detmar Blow and Harold Ainsworth Peto.
Woodford, Salisbury, Wiltshire, SP4 6NT
Get Directions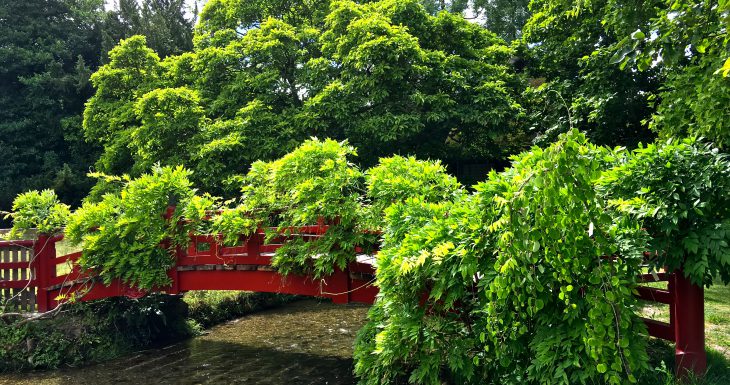 Heale House and its eight acres of beautiful gardens lie beside the river Avon at Middle Woodford, just north of Salisbury, Wiltshire. Much of the house is unchanged since King Charles II hid here in 1651.
When visitors step into the garden at Heale House they are immediately transported into a magical and varied paradise of running streams and exuberant planting that they return to time and again to experience its many different moods throughout the seasons.
The timeless atmosphere at Heale is the result of the creative endeavours of many generations of the Rasch family, who still live in the house, each inspired to leave their mark on a place through which the sparkling tributaries of the river Avon flow. Trout filled streams crossing under the authentic Japanese tea house and below the red Nikko bridge meander through the woodland garden, a rich gardener's paradise.
From early spring when sheets of aconites and snowdrops carpet the ground, to late summer when the crescendo of unusual planting explodes, the garden is in a constant state of flux. In the vegetable garden decorative apple tunnels separate the beds that still supply the house.
Meadows of spring bulbs are home to a new collection of magnolias, and colour-themed borders add contemporary drama to a garden that seems lost in time and is a continual source of inspiration to its owners and the visitors it never fails to charm.
2022
16 March to October: Wednesdays to Sundays and Bank Holiday Mondays, 11am to 4pm.
Please note: The information on the Historic Houses website is advisory, but please always check the website of the house or garden you intend to visit before travelling.
Historic Houses members visit for free.
Adult: £6.00
Children: (2-6) £3.00
Guided tour by the head Gardener: £60
Closed Day visits: £10 per person. For a Closed Day visit, you must email beforehand to see if anyone can accommodate you.
We welcome visit from groups and can offer tours with the head gardener or owner.
Please note tours are not available weekends or Bank Holidays.
Become a Historic Houses member
Explore the nation's heritage from just £59 per year.
Hundreds of the most beautiful historic houses, castles, and gardens across Britain offer our members free entry.
Receive a quarterly magazine exploring the architecture, collections, and family histories of our grandest and oldest homes, and get an insight into what it takes to keep them standing today.
Enjoy monthly online lectures about the houses and their extraordinary history, presented by experts including house owners, curators and guest lecturers.