The 21 best places to visit in the East of England
With famous sites such as Holkham Hall in Norfolk and Knebworth in Hertfordshire, here are the best places to visit in the East of England.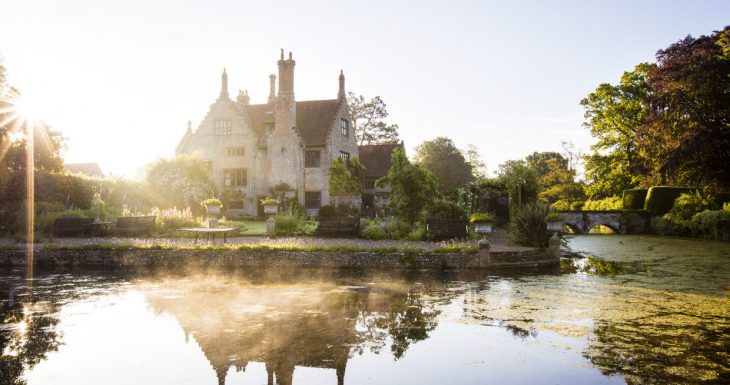 Encompassing famous countries such as Norfolk, Cambridgeshire and Essex, the East of England is a haven for historic houses and gardens, including grand country estates such as Holkham Hall and Knebworth house, to beautiful more intimate spaces such as Stody Lodge and The Gibberd Garden. Take a look below to see where you can visit or view a map of the houses and gardens here.
Elton Hall & Gardens, Peterborough
A visit to Elton Hall is like a walk through history as it reflects the changing tastes and vision of each generation, making it the unique and magical place it is today.
Every room is packed with magnificent treasures – antique furniture and a superb collection of fine paintings including important works by Old Masters dating from the early 15th-century to remarkable 19th-century works by J. F. Lewis, Landseer & Millais.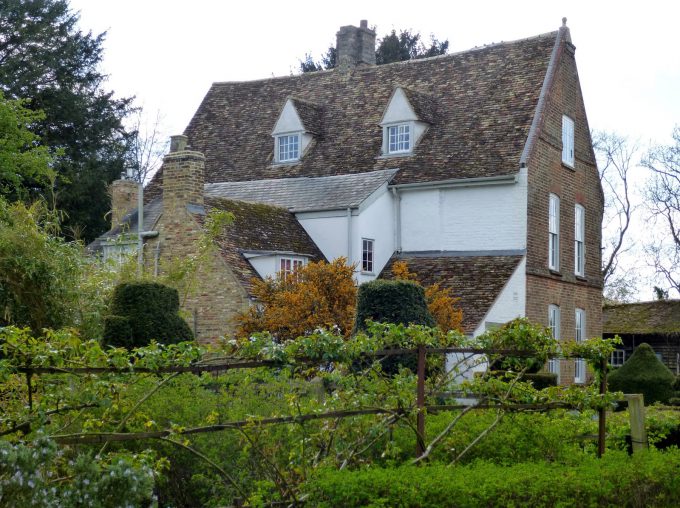 The Manor, Hemingford Grey, Huntingdon
Cottage garden in a formal setting of lawns and topiary surrounding a 12th-century Manor House.
The garden was originally created by the author Lucy M Boston who based her Green Knowe children's books on both house and garden. The seasons of interest start in January with a mass of snow drops and winter flowering shrubs, followed by the excitement of Spring, the bearded irises, the old roses and then interesting summer annuals take the garden through to the first frosts.
Travel sustainably
We're keen to encourage you to explore the East of England sustainably, so have teamed up with Good Journey to help you find car-free means of exploring the range of historic houses and gardens in the area. Take a look at Good Journey's website here to find means of exploring the area now.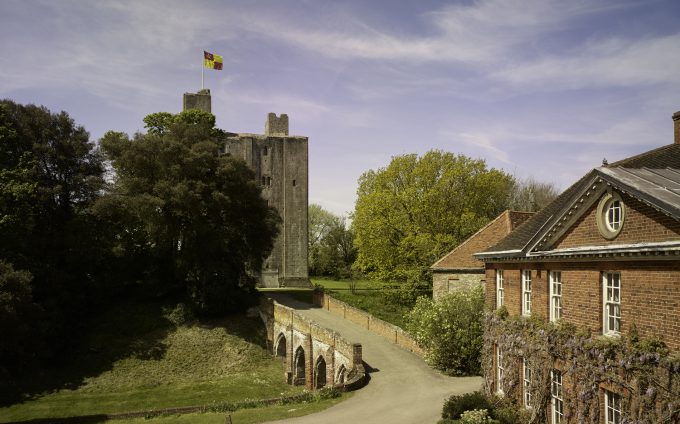 Hedingham Castle, near Halstead
The 900 year old Norman keep of Hedingham Castle stands in 160 acres of spectacularly beautiful landscaped gardens and woodland where the Lindsay family, descendants of the original owners, the De Veres, still live.
The Norman keep forms the centrepiece of the estate. With woodland, lakes and formal gardens surrounding the Georgian Mansion House, it is an enchanting place to visit.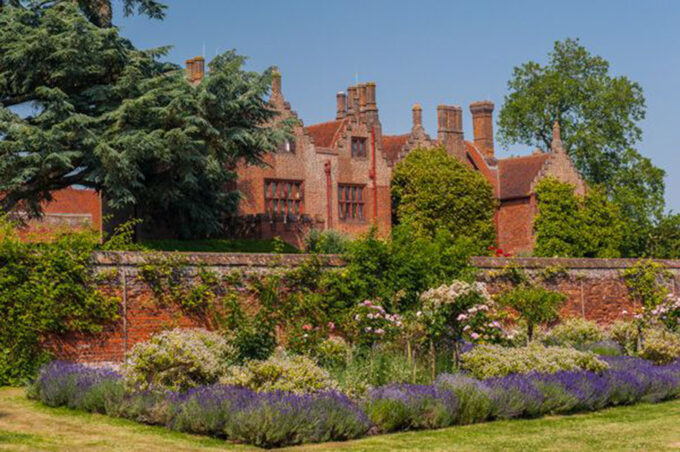 Ingatestone Hall, Ingatestone
Ingatestone Hall is a 16th-century mansion built by Sir William Petre, Secretary of State to four Tudor monarchs.
The Hall stands in open countryside, one mile from the village of Ingatestone and substantially retains its original Tudor form and appearance with its mullioned windows, high chimneys, crow-step gables and oak-panelled rooms. It is surrounded by ten acres of enclosed gardens comprising extensive lawns, walled garden and stew pond.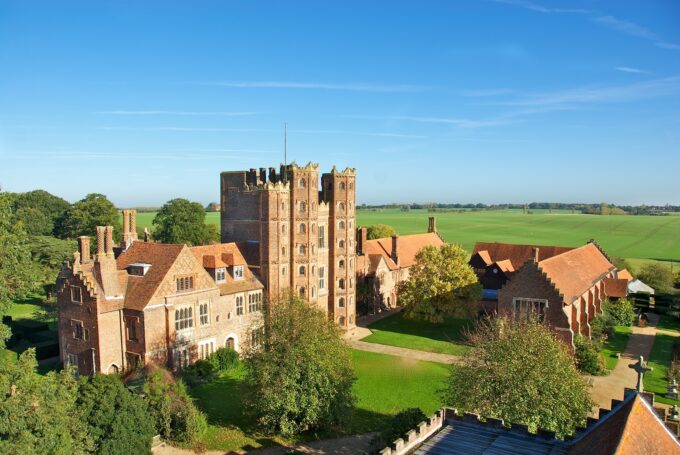 Layer Marney Tower, Colchester
The tallest Tudor gatehouse in the country, Layer Marney Tower was built in the 1520s by Lord Marney, friend to both Henry VII and Henry VIII.
A statement house, of grand design, decorated with ornate terracotta, Layer Marney has been a family home for over 500 years. Lord Marney planned a much larger house, with three additional wings built round a grand central courtyard, but he died before it was finished and his only son died two years later.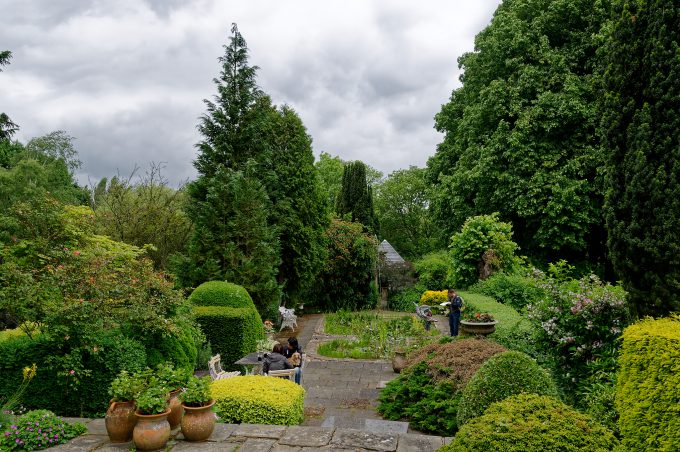 The Gibberd Garden, Harlow
Located on the outskirts of Harlow, The Gibberd Garden is an inspirational Grade II listed garden. Designed by Sir Frederick Gibberd, a leading Twentieth Century architect and Master Planner of Harlow.
The garden comprises of formal lawns, streams and glades, a mature lime avenue, a wild garden with a tangle of paths, 90 artefacts and sculptures and a moated castle. The Gibberd Rooms contain Sir Frederick Gibberd's archive, Library and living area, set as it was during his lifetime.
The home of Governor of the Bank of England
Moggerhanger House in Moggerhanger, Bedfordshire, is a Grade 1 listed house designed by the eminent architect, Sir John Soane Designed in 1792 as the country home of the Governor of the Bank of England, Godfrey Thornton.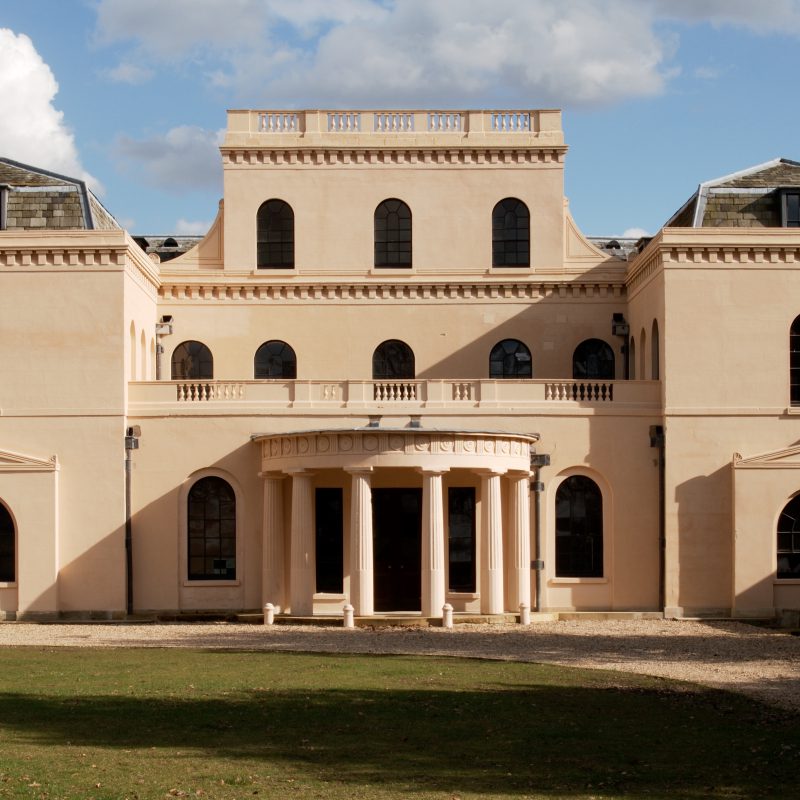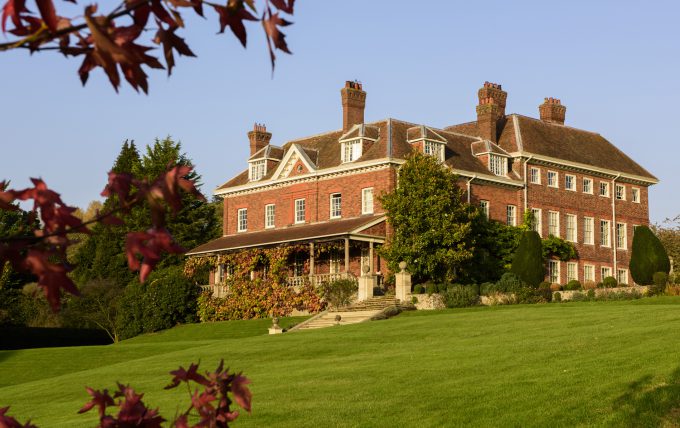 Benington Lordship, Stevenage
The garden at Benington Lordship sits on an ancient fortified site which has been occupied since Saxon times. What you see today are the earthworks of a medieval motte and bailey castle and the ruins of a Norman keep, now a listed monument.
The gardens were initially laid out in the early 20th-century and surround the manor house, the core of which was built around 1700.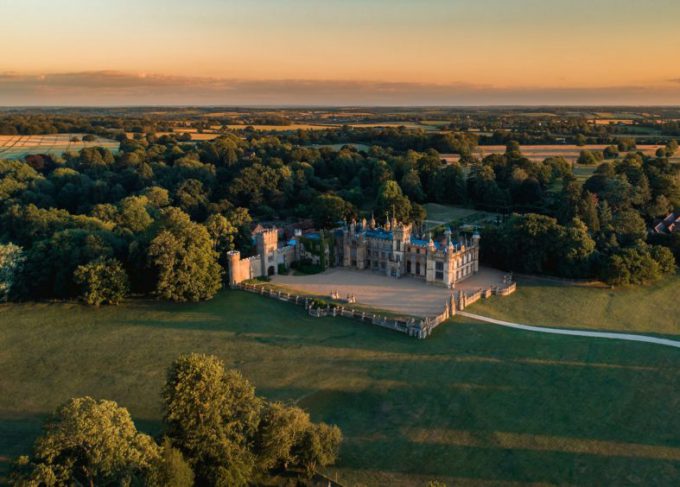 Knebworth House, Knebworth
Set in 250 acres of rolling Hertfordshire countryside, Knebworth House is one of England's most colourful stately homes.
It is remarkable for having been home to the Lytton family for more than 500 years, and for its romantic exterior complete with turrets, domes and gargoyles, which conceal a red brick house dating from Tudor times.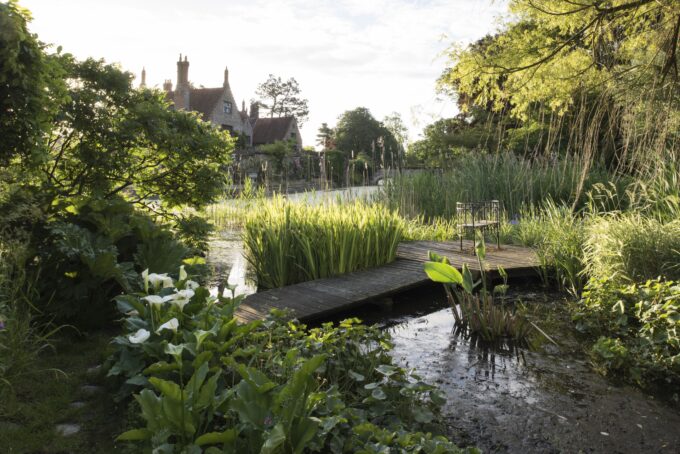 Hindringham Hall, Hindringham
The house is warm brick and cool flint and you get to it across a lovely little brick bridge. You are crossing a moat that has gone all the way round since 12th-century…
The house is Tudor, built c.1538 by a courtier who had got rich in the service of Henry VIII's illegitimate son Henry Fitzroy. It was in decline before Gerald Gosselin from Bengeo Hall in Herts restored it in 1900.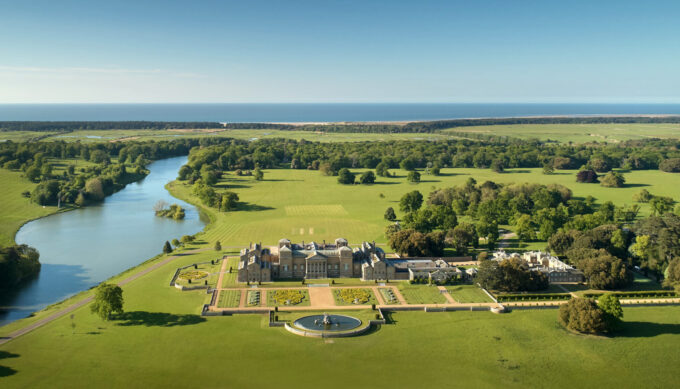 Holkham Hall, Wells-next-the-Sea
Steeped in history, Holkham Hall on the north Norfolk coast has the perfect setting; surrounded by rolling parkland, rich in wildlife. This magnificent 18th-century Palladian hall is home is to the Earls of Leicester and the family takes great pride in sharing the house and its treasures with visitors.
The state rooms offer superb collections of ancient statuary, original furniture, tapestries and paintings by Rubens, Van Dyck, Gaspar Poussin and Gainsborough.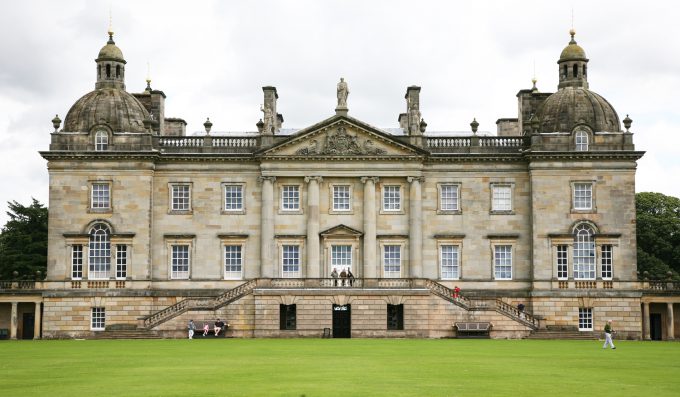 Houghton Hall & Gardens, Kings Lynn
Houghton Hall is one of the grandest survivors of the Palladian era, built in the 1720s for Britain's first Prime Minister, Sir Robert Walpole.
It is a showcase of the work of architects James Gibbs and Colen Campbell complemented by the richly ornamented interiors of William Kent, and furnished to reflect Walpole's wealth and power. The Hall is currently the home of the 7th Marquess of Cholmondeley, Walpole's descendent, and his family.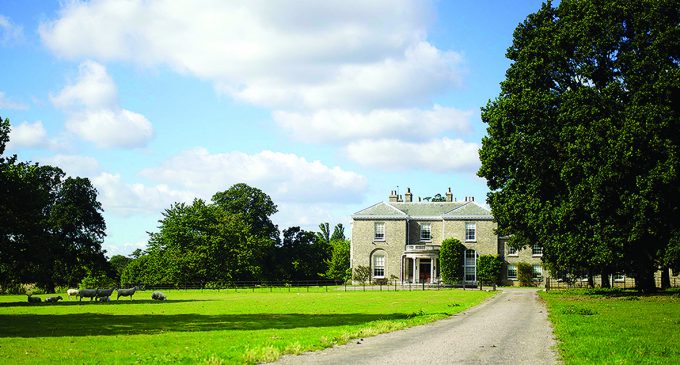 Hoveton Hall, Norwich
Hoveton Hall Gardens is a must-visit whatever the season. Enjoy a visit to the gardens in early spring when the grounds are carpeted with many different varieties of snowdrops and daffodils.
May and June see the azaleas and rhododendrons take centre stage – an amazing collection of colour which has been described as one of the best displays in Norfolk.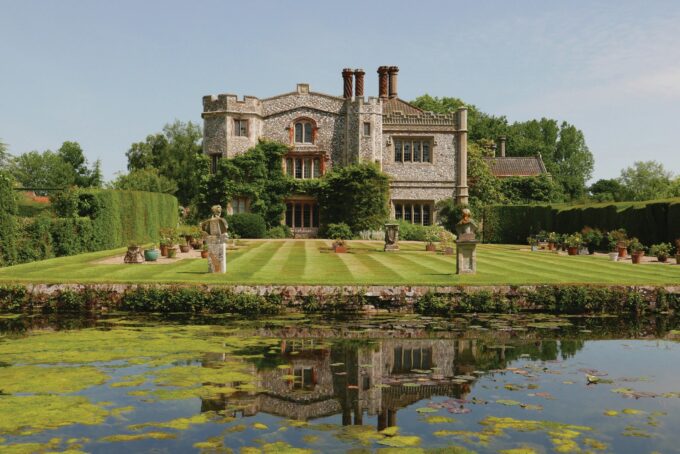 Mannington Hall, Norwich
The gardens feature roses, especially classic varieties, themed borders, a ruined church, Victorian follies, wildflower meadow, birdhide and arboretum.
Visits to the gardens are free to Historic Houses members. Tours of the Hall are available through Invitation to View.
Interested in attending events at historic houses?
The East of England is a hub for wonderful events on the estates of famous historic houses and gardens. From car shows to festivals, art exhibitions to plant fairs, there's so much to do beyond simply viewing these great spaces. Take a look at the range of events happening at these estates in the East of England here.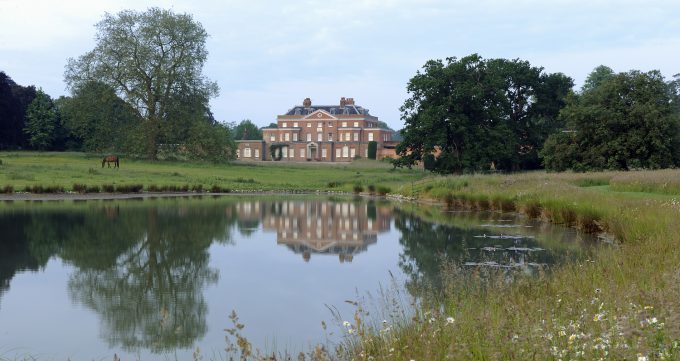 Raveningham Hall & Gardens, Norwich
Raveningham Hall is the Grade II* listed home of Sir Nicholas Bacon Bt OBE DL and his family. The Bacons have been at Raveningham since 1735, today the site comprises 10 acres of gardens and a 5,500 acre rural estate.
Raveningham Gardens, like many others is the work of one person – Sir Nicholas's mother, Priscilla Bacon. She lived here for 50 years and in that time greatly enlarged the garden, creating magnificent herbaceous borders.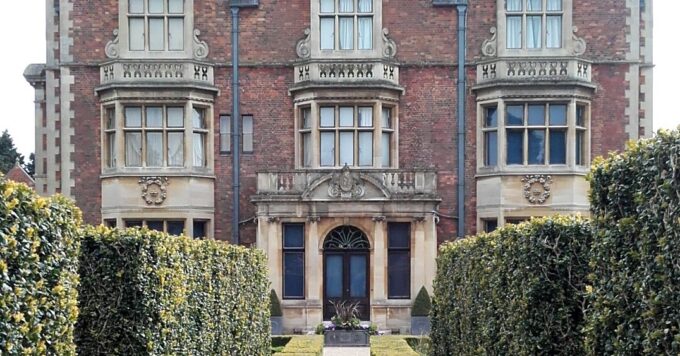 Sandringham House, Sandringham
Sandringham House, the Norfolk country retreat of Her Majesty the Queen, is set in 60 acres of beautiful gardens and open daily April until the end of October.
Enjoy the main rooms of the magnificent House, explore the fascinating museum with extensive Royal car collection, the charming parish church, 600 acres of Country Park, playground , waymarked trails, Restaurant, Tearoom and Gift Shop.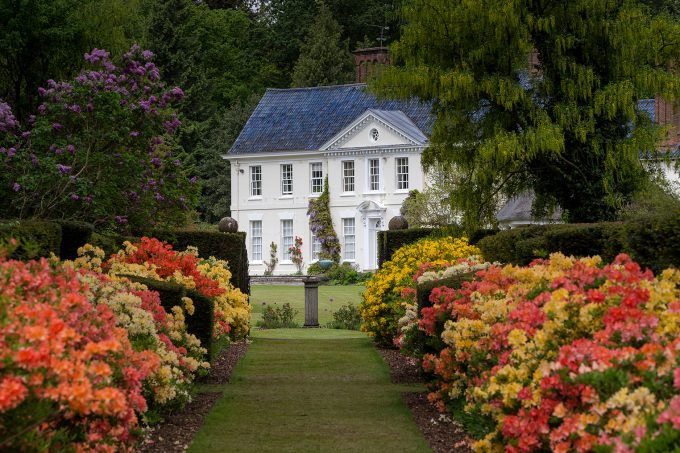 Stody Lodge Gardens, Melton Constable
Stody Lodge Gardens bursts into spectacular colour each spring thanks to its collection of over 200 varieties of rhododendrons and azaleas.
Spread over 14-acres, its avenues and winding pathways are also lined with magnolias, camellias, mature and specimen trees and carpets of spring bulbs. There is also magnificent yew hedging and expansive lawns to enjoy.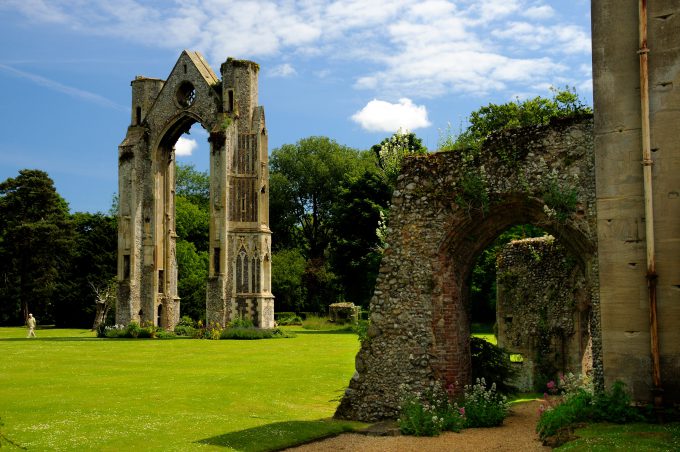 Walsingham Abbey, Little Walsingham
Walsingham Abbey is famous for the spectacular remains of the mediaeval Priory and place of pilgrimage, destroyed at the Dissolution of the Monasteries.
The Grounds are also renowned for snowdrops filling the woodland garden in February. Both bring visitors from all over the world, all year round.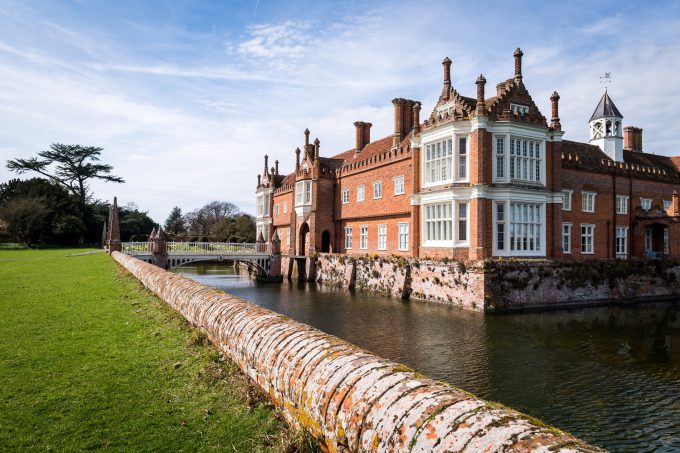 Helmingham Hall Gardens, Stowmarket
Helmingham and the Tollemache family have been together for many hundreds of years. The Hall and the old oak trees that stand today have seen much of the history of England pass before them, and many generations of this family.
Helmingham Hall was completed in 1510, surrounded by its deep moat, serene gardens and ancient 400 acre deer park which is the home to herds of both red and fallow deer.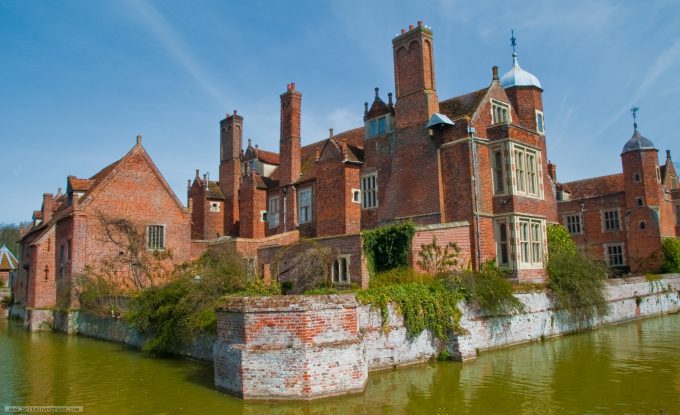 Kentwell Hall, Long Melford
Kentwell Hall is Suffolk's hidden gem and one of England's finest Tudor houses that stands within the most extensive moat in the county and nearly 30 acres of formal gardens and grounds.
A privately owned house that is fully moated, Kentwell is truly a stunning property with a character and an individuality not often seen in great venues these days.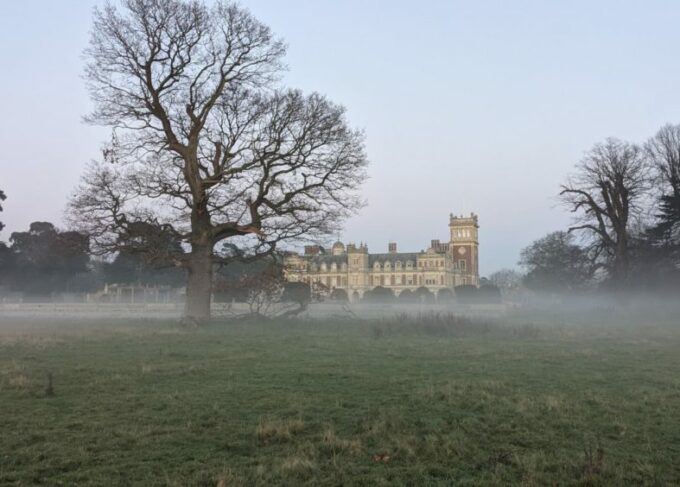 Somerleyton Hall, Lowestoft
Somerleyton Hall is one of the finest Victorian Stately homes in the country, let our expert team of guides bring this fabulous Hall to life with their history tours that run throughout the day.
Somerleyton Hall has 12 acres of magnificent gardens. The charming sunken white garden to the north of the Hall is set within the footprint of the former winter garden.
Become a Historic Houses member
Explore the nation's heritage from just £65 per year.
Hundreds of the most beautiful historic houses, castles, and gardens across Britain offer our members free entry.
Also: receive a quarterly magazine, enjoy monthly online lectures, get exclusive invitations to buy tickets for behind-the-scenes tours, and take up a range of special offers on holidays, books, and other products you might like.