Penicuik House
The palatial ruins of a Palladian house ravaged by fire.
Penicuik, Midlothian, EH26 9LA
Get Directions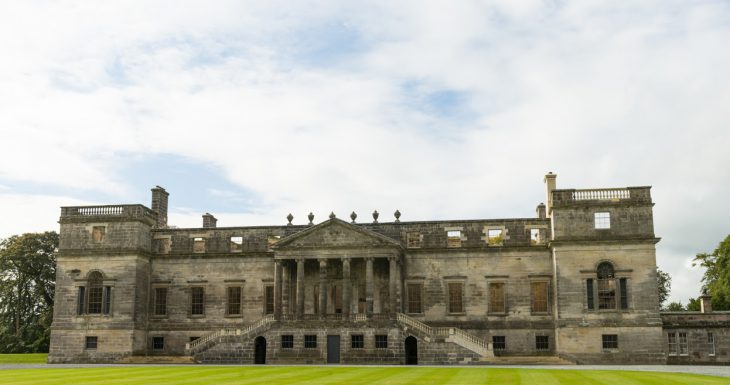 Free for members
Facilities
Easily accessible without car

Free parking

Parkland / open spaces

Pet friendly
Penicuik House is the finest and most influential example of Palladian architecture in Scotland. Built in the 1760s and devastated by fire in 1899, the once magnificent buildings has stood as a ruin for over 100 years.
It sits at the centre of an important 18th-century designed landscape, which together form an exceptional physical record of the artistic patronage of the Clerk Family.
Penicuik House and its immediate surroundings are now in the ownership of the Penicuik House Preservation Trust, and the 6 year project to consolidate this magnificent ruin and improve access to the surrounding estate is now complete.
The second phase of the project has now commenced and involves the conservation and repair of the many eye-catching built features in the designed landscape, including the Roman Bridge and Knightslaw Tower.
2022
House ruin: All year round, tours available – see their website for further details.
Café: all year round, 7 days a week – 10am to 5pm.
Please note: The information on the Historic Houses website is advisory, but please always check the website of the house or garden you intend to visit before travelling.
The designed landscape is open at all times.
No charge is made for access to Penicuik House or the designed landscape but donations from visitors are most welcome.
Group visits can be offered including guided walks in the designed landscape and in the consolidated Penicuik House.
For more information please contact the Head Ranger by email at ranger@penicuikhouse.co.uk.
Become a Historic Houses member
Explore the nation's heritage from just £59 per year.
Hundreds of the most beautiful historic houses, castles, and gardens across Britain offer our members free entry.
Receive a quarterly magazine exploring the architecture, collections, and family histories of our grandest and oldest homes, and get an insight into what it takes to keep them standing today.
Enjoy monthly online lectures about the houses and their extraordinary history, presented by experts including house owners, curators and guest lecturers.