Hopetoun House
The great house on the banks of the Firth of Forth.
South Queensferry, West Lothian, EH30 9SL
Get Directions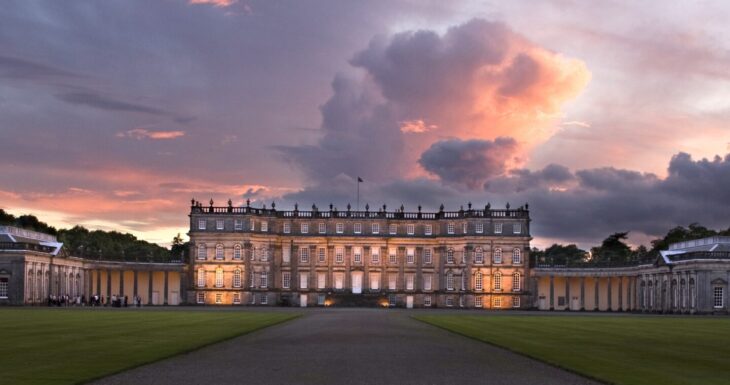 Hopetoun House is a unique gem of Europe's architectural heritage and undoubtedly 'Scotland's Finest Stately Home'.
Situated on the shores of the Firth of Forth, it is one of the most splendid examples of the work of Scottish architects Sir William Bruce and William Adam.
The interior of the house, with opulent gilding and classical motifs, reflects the aristocratic grandeur of the early 18th century, whilst its magnificent parkland has fine views across the Forth to the hills of Fife.
Hopetoun is really two houses in one, the oldest part of the house was designed by Sir William Bruce and built between 1699 and 1707. It shows some of the finest examples in Scotland of carving, wainscotting and ceiling painting. In 1721 William Adam started enlarging the house by adding the magnificent faade, colonnades and grand State apartments which were the focus for social life and entertainment in the 18th century.
The house is set in 100 acres of rolling parkland including fine woodland walks, the red deer park, the Spring garden with a profusion of wild flowers, and numerous picturesque picnic spots.
Hopetoun has been home of the Earls of Hopetoun, later created Marquesses of Linlithgow, since it was built in 1699 and in 1974 a charitable trust was created to preserve the house with its historic contents and surrounding landscape for the benefit of the public for all time.
2022
5 days a week on Thursday, Friday, Saturday, Sunday and Monday (closed Tuesday and Wednesday)
From 11am to 5pm (last admission is 4pm)
However, we may close from time to time for essential maintenance or private events, so please double check our website for notifications of closed days as we'd hate for you to have a wasted journey.
Please note: The information on the Historic Houses website is advisory, but please always check the website of the house or garden you intend to visit before travelling.
House & Grounds
Adult – £12.50
Children – £6.50
Pensioner/Student – £11.00
Family (2 + 2) -£34.00
Disabled – £6.50
Young Scot Card Holder – £1.00
Historic Houses members gain free entry, members can book online in advance via our website or simply show their membership cards on arrival.
We are delighted to welcome group visits and coach tours to Hopetoun House.
During our Open Season* we offer special prices for group bookings of 15+ guests as follows:
£11.00 per person for a free-flow visit – the guests will be given an introduction and welcome to Hopetoun House by our guides and then will be free to explore the House at their own pace, or with your own guide. We recommend that you allow at least 1 hour to go around the house. There are interpretation sheets in all of the rooms and guides are available to answer questions. Translation sheets are available in French, German, Spanish and Italian.
£12.50 per person for a guided tour – the guests will be given an introduction and welcome to Hopetoun House by our guides in the front hall and then will be led around the house on a guided tour. All tours are given in English and last for approximately 1 hour. If the group have any specific interests, such as art, architecture or Outlander, please let us know in advance and our guide will tailor the tour accordingly.
Both options include access to our extensive grounds and there is no charge for the driver or for any guides or tour leaders accompanying the group. Our prices include VAT and assume that the final confirmed number in the group will be +15 people.
*Open Season is Friday 15 April until Sunday 25 September 2022, Open 5 days per week (Thursday, Friday, Saturday, Sunday and Monday), 11am – 5pm (last admission at 4pm). We are closed on Tuesday and Wednesday.
It is possible to book private tours out with the times and dates above and we are also pleased to discuss smaller group bookings for a more exclusive experience, please get in touch and we'll be happy to help.
Become a Historic Houses member
Explore the nation's heritage from just £59 per year.
Hundreds of the most beautiful historic houses, castles, and gardens across Britain offer our members free entry.
Receive a quarterly magazine exploring the architecture, collections, and family histories of our grandest and oldest homes, and get an insight into what it takes to keep them standing today.
Enjoy monthly online lectures about the houses and their extraordinary history, presented by experts including house owners, curators and guest lecturers.