Kiplin Hall
Scorton, Richmond, North Yorkshire, DL10 6AT
Standing by the River Swale in the Vale of Mowbray, a Jacobean house known for its collection of kitchenalia.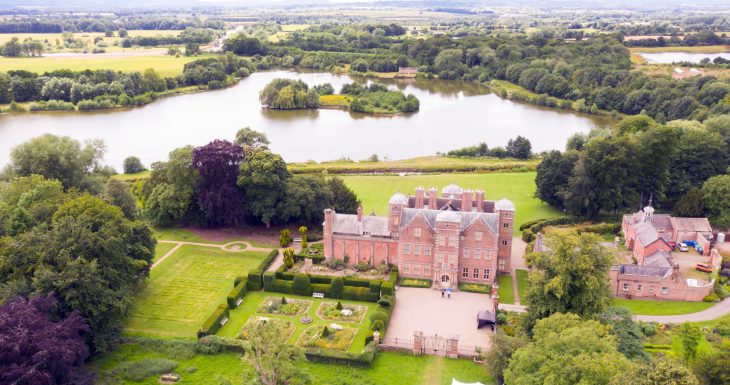 Key Information
Getting Here
Accessibility
As visitors enter the Library, they see a metamorphic library chair made by Morgan and Sanders of London, which has an engraved silver plaque. When the back of the chair is pulled forward, hinges allow it to rest on the floor and it becomes library steps for reaching books on upper shelves. The old plaque reads 'Lord Nelson's chair on board the Victory' and really captures people's attention.
The chair is said to have been taken from H.M.S. Victory by Nelson's chaplain and friend, Rev. Dr. Scott, in whose arms Nelson died during the Battle of Trafalgar. Dr Scott later became vicar of Catterick, two miles from Kiplin on the other side of the River Swale, and was a frequent visitor and dinner guest of the Earl and Countess of Tyrconnel. He was a great bibliophile and a welcomed user of their library.
Some years ago, the world expert on metamorphic library chairs visited Kiplin and said that the first time this type of chair featured in Morgan and Sanders' catalogue was 1811 – 6 years after the Battle of Trafalgar!
Was our chair a prototype? Did it really belong to Lord Nelson and come from Victory? We can't be certain!
Please check the website for further information, admission times and details about special events.
Visit the house's website