'Kiplin Hall', by Monique Gadella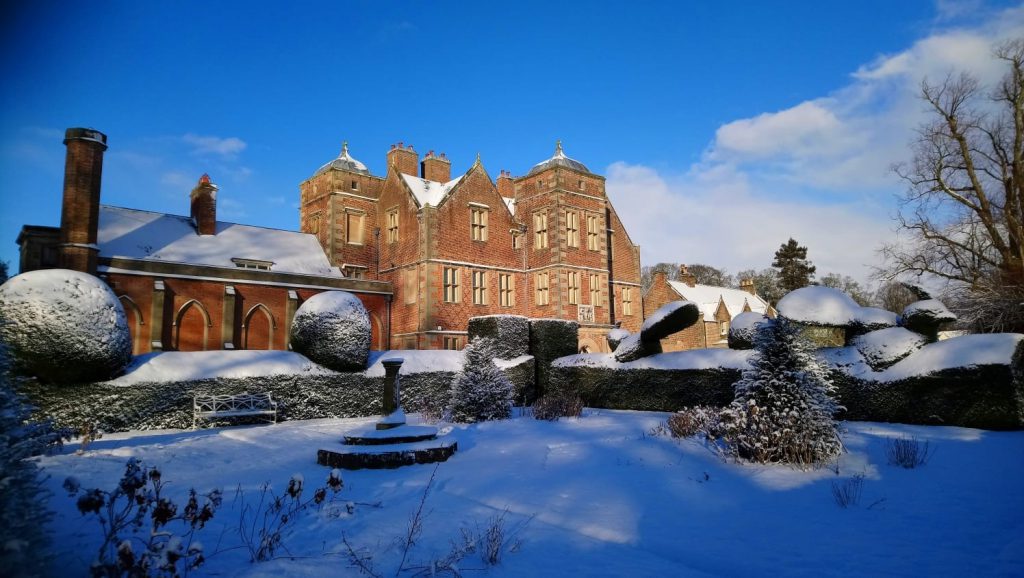 Kiplin Hall, here I come! I have always wanted to visit this beautiful mansion and today I am. I park in a small walled area, maybe a drying yard. What a shame, they should do something with it. It would make a gorgeous tearoom, I bet there is a good view of the lake. The entrance is around the corner and I see a large walled garden with lots of vegetables and fruit growing. I certainly want to have a look there later.
'Can I have a ticket for the garden and the house please?'
'Of course. Have you been here before?'
'No, I haven't.'
'There is so much to see. Walk around the lake, explore the parkland and find all the treasures in the house.'
'Sounds good, I will certainly do that. And the tearoom looks appetising too, I will be back later for a treat.'
A walk around the lake sounds like a good start, so I make my way out again into the sunshine. I need to stretch my legs after the 40 minute drive. At the lake's edge I stop to take a picture of the intriguing folly on the other side. I love a folly, I wonder what it is. As it's a Friday, it is quiet and I am glad I got here on my flexi day.
I follow the edge of the large lake on a small path and soon I am on the other side, looking back at the house. Oh, it's so beautiful, what a great setting. I imagine some 18th century drama being filmed here. I can see the ladies walking with their little parasols on the grass, while the gentlemen are playing cards at a table erected by the many servants. One such gentleman walks towards me, wow he looks so vivid. He is rather dashing too.
'Good afternoon, milady.'
Did he really say that?
'Uh, hi. Are you an actor?'
'Most certainly not, whatever gave you that impression?'
'Your costume.' I am just dressed in a short skirt with a top, nothing fancy like him.
'Totally fashionable. Who are you?'
I can't believe this apparition is actually talking to me.
'Who are you?'
'I am Charles Calvert, 5th Baron Baltimore, at your service Ma'am.' He takes of his hat and takes a bow.
'Somebody is pulling my leg', I mumble.
'I didn't catch your name?'
'Sophie ….. from Romaldkirk.'
'I am very pleased to make your acquaintance Sophie from Romaldkirk.'
'Likewise.'
Holy shit, he actually takes my hand and kisses the back. I can feel it, so this must be real. I pinch myself in my arm just to make sure. Yes, I am awake.
'Might I invite you to a boat ride? That is if your companion is amenable to stay on the shore.'
'My companion? I don't have one, I mean I ventured out by myself today.'
'You are a free spirit, just like the people of America.'
'Yes, right.'
'Allow me.'
He gently takes my hand and takes me to a rowing boat I hadn't noticed before. Without getting my feet wet I get in and sit down. He steps in too and pushes the boat off with an experienced move.
'Do you often entertain visitors to your estate?' I assume he is the owner of Kiplin Hall, did I not read about some connection with Maryland?
'I am not often here, unfortunately. I have affairs in London.'
'Really, affairs?'
'I am not used to talk about my affairs to ladies.'
'Of course.'
'You are an expert rower though.' I enjoy watching his arm muscles flex under his frock coat.
'I enjoy the exercise. There, we are around the island, you can see the rose garden now.'
'Oh, yes. It is beautiful and I can smell it too. There are so many different varieties.'
'Allow me to pick you one?'
'Mais bien sure.' I don't know why this phrase in French suddenly comes to me, but it seems befitting to the situation. He helps me out of the rowing boat onto dry land again.
'May I inquire after your favourite colour?'
'Red.'
He gestures to one of the many gardeners busy weeding for a pair of secateurs and walks towards a large red tea rose bush. He presents an opulent bloom with a flourish to me.
'Please accept this token of my appreciation, milady.'
I open my eyes and notice a beautiful red rose tickling my cheek. I must have fallen asleep and dreamt it all. But how did this rose get here? And there is a rowing boat on the edge of the lake. Strange. I better head to the tearoom for a cup of tea with a scone, that might restore normality.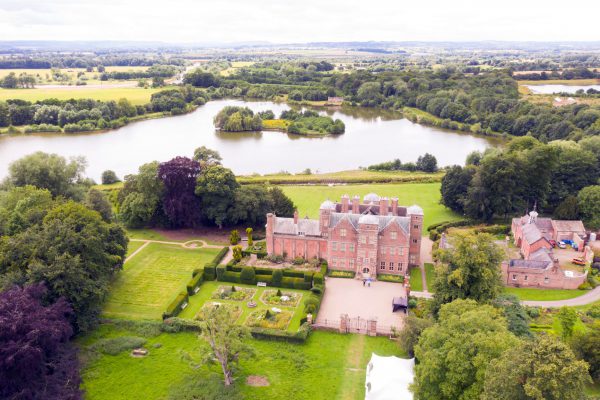 Free for members
Scorton, Richmond, North Yorkshire, DL10 6AT