The Great Garden Trail of Dorset
A curated tour of Dorset's famous gardens
Dorset is one of the most populous counties in which to find Historic Houses and gardens, and in this article, we're going to take you on a curated tour of five of these fabulous places which you might want to consider for when you next visit the region.
.
Arriving and staying in Dorset
We recommend you stay at the Eastbury Hotel & Spa in Sherborne, Dorset. Winner of the 'Best Value Experience' in the 2022 Conde Nast awards for excellence, the hotel offers comfort and elegance, helping you to feel relaxed during your stay in Dorset. The award-winning garden at the hotel is also a reason to stay here, with guests immersed among hazel, lavender, roses, acers, honeysuckle, magnolia, bluebells and many more plants.
For Historic Houses members, Eastbury are offering a complimentary upgrade to a Potting Shed Suite for all bookings placed between before the 30th April 2022, and on stay dates throughout summer (subject to availability). You'll need to ensure you bring your membership cards with you on arrival.
Find out more about the offer for staying at Eastbury
Day one
Sherborne Castle & Gardens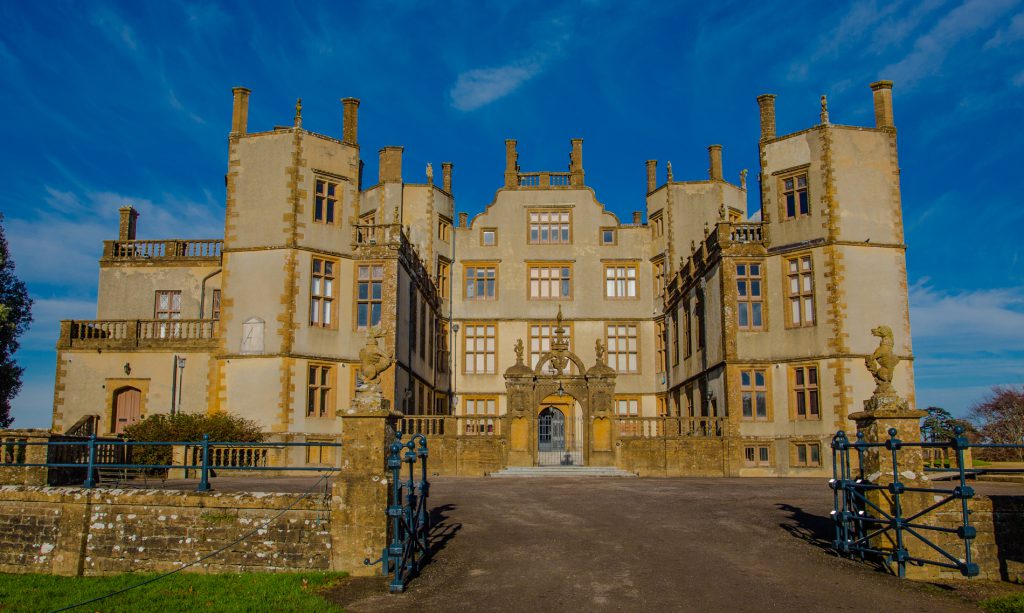 Once you've enjoyed breakfast at the Eastbury Hotel, it's time to set off for your first garden visit. If you're feeling fit and the weather's nice, Sherborne Castle & Gardens is 0.8 miles, or a twenty minute walk, from the hotel. You can also drive there in three minutes.
Built by Sir Walter Raleigh in 1594 and home of the Digby family since 1617 at Sherborne Castle, you can see magnificent staterooms and nationally important collections of art, furniture & porcelain. The gardens are rather spectacular, and here you can view a Capability Brown exhibition and Sir Walter Raleigh's kitchen in the Castle cellars.
Visitors can explore acres of gardens surrounding a fifty-acre lake with spectacular views, colourful herbaceous borders, champion trees and sweeping vistas.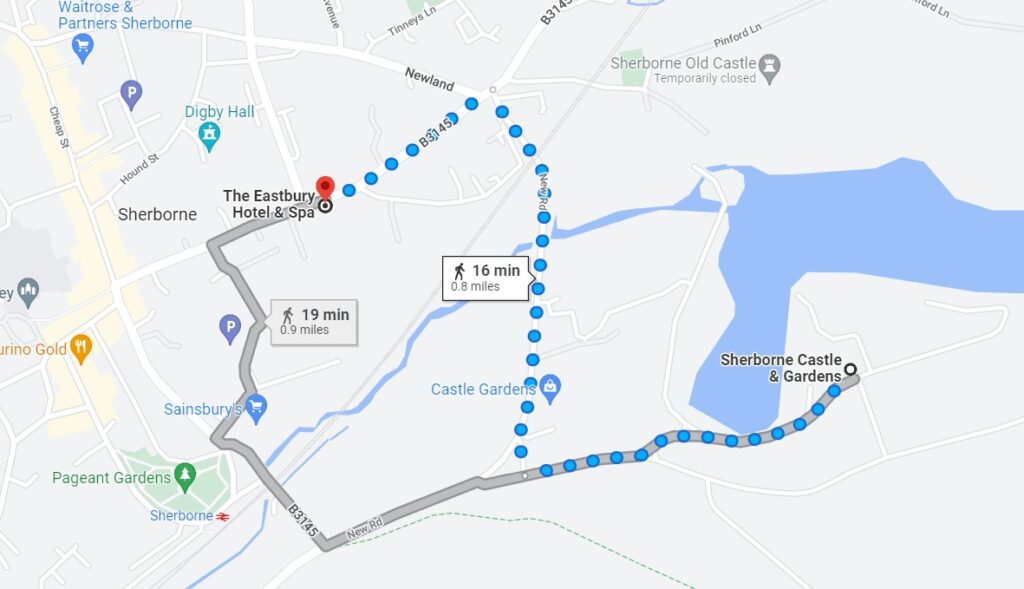 Once you've enjoyed spending time at Sherborne, it's time to enjoy some lunch. If you've walked to Sherborne, it would be best to walk back to The Eastbury Hotel, to enjoy their lunch offer, served between midday and 2pm. You can view a selection of menus on their website. Alternatively, if you've driven to Sherborne, the castle also recommend enjoying lunch The Elms: Farmhouse Kitchen, aslo in Sherborne. Both options offer an easy route to your afternoon stop, Minterne Gardens.
Minterne Gardens
Minterne Gardens are a seventeen minute drive south from The Eastbury Hotel down the A532. A historic house in an unequalled setting, Minterne House and gardens is a unique family estate.
There, you can visit the unique Himalayan gardens and wander 'Far from the Madding Crowd' through Minterne's wild woodland gardens and let the tranquility provide that perfect antidote to life's stresses.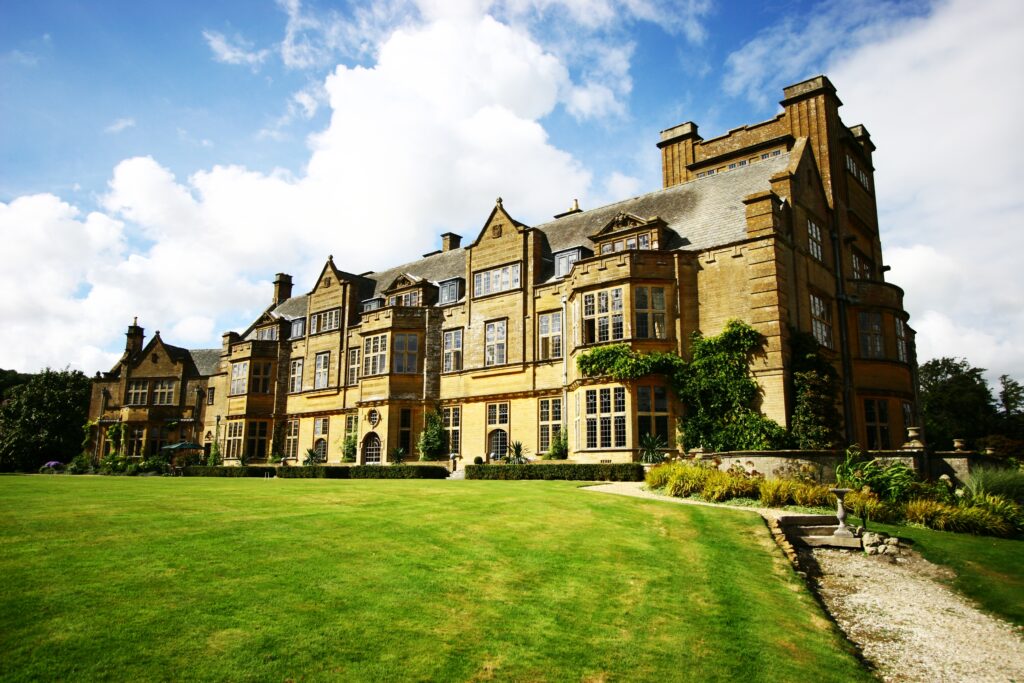 While the house itself isn't open to the public, being a family home, the gardens there really are stunning. After the long winter, Minterne Garden is preparing for new growth. Gone are the autumn leaves the colour of toast. Gone is the autumn sun as yellow as a young chick and in their place is the promise of the spring.
Minterne Gardens close at 6pm, leaving you easily enough time to enjoy the gardens and then set off back up for dinner at your hotel.
.
Day Two
Athelhampton House & Gardens
You've a busy day ahead of you, so make sure you don't get up too late and have breakfast, as you'll need to be at Athelhampton House & Gardens from 10am (when they open) to start exploring their gardens.
Athelhampton House & Gardens is in Dorchester, about a thirty four minute drive south from The Eastbury, passing Minterne Gardens en route. Athelhampton is one of England's finest Tudor Manor Houses. The Great Hall, the heart of the House was built in 1485, when it would have served as the entire accommodation.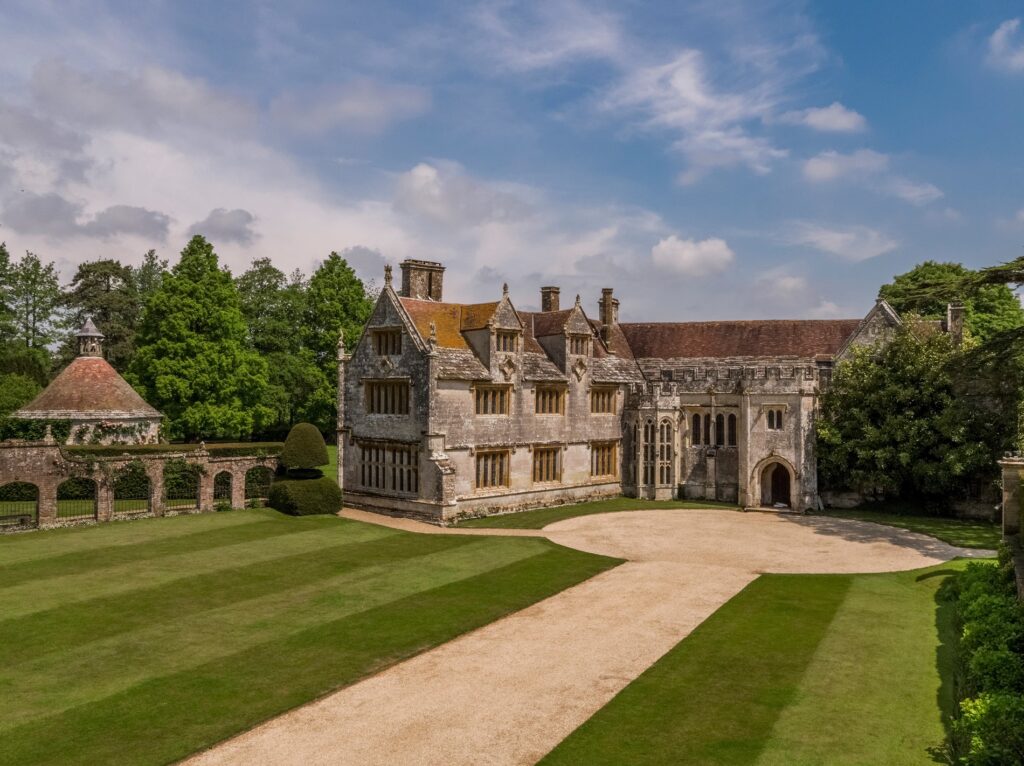 The West Wing was added in the 16th Centuty as the house become domesticated, with further additions over the centuries, and with its linenfold paneling, ancient heraldic stained glass & minstrels gallery, The Great Hall is a fine example of Tudor architecture.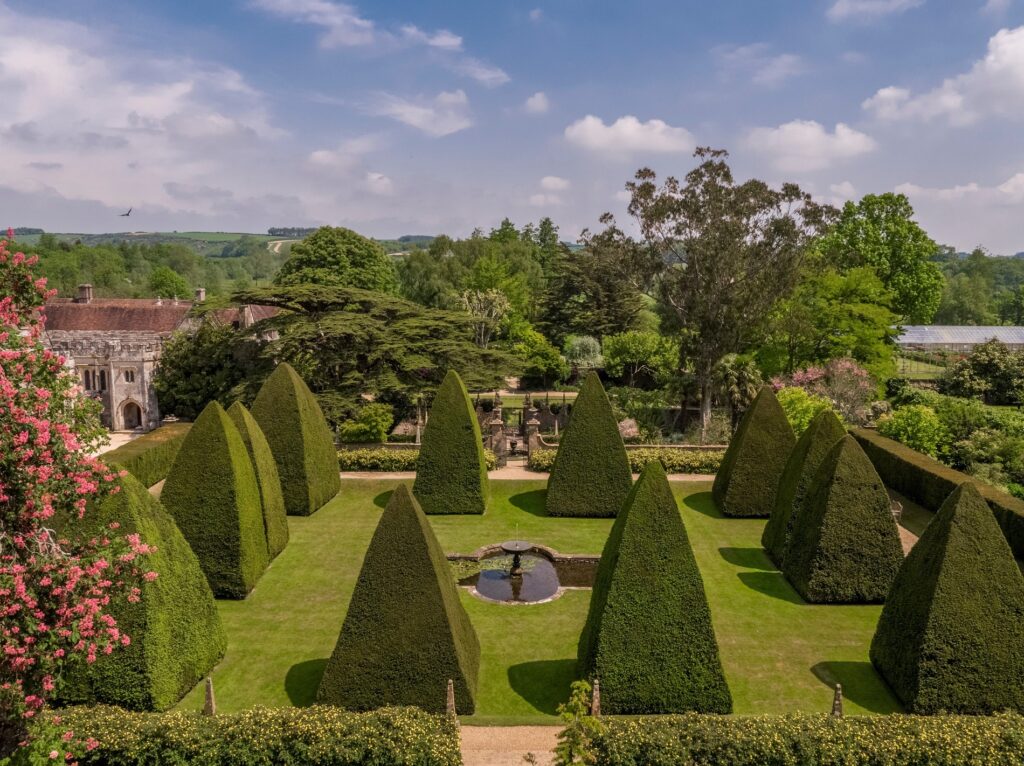 Athelhampton is home to glorious award winning Grade 1 listed gardens. Dating from 1891, the Inigo Thomas designed gardens are full of architectural vistas. The walled gardens include the 12 world famous topiary yew pyramids, Ham Stone courts, ponds and fountains, with the River Piddle leading you around to the C15th Dovecote.
The Kitchen Garden began it's 10 year restoration in 2014 and is being restored to it's former glory with fruit trees, vines, herb borders and vegetable beds to provide produce for the restaurants, the Kitchen Garden will continue to evolve over the next few years.
Your next stop will be Mapperton Gardens, and with two sites still to visit, it's best you enjoy lunch at The Coach House Cafe at Mapperton.
Mapperton House & Gardens
Mapperton is a forty one minute drive west of Athelhampton Gardens, in Beaminster. Just follow the A356 westwards and you'll soon see the signs to visit Mapperton.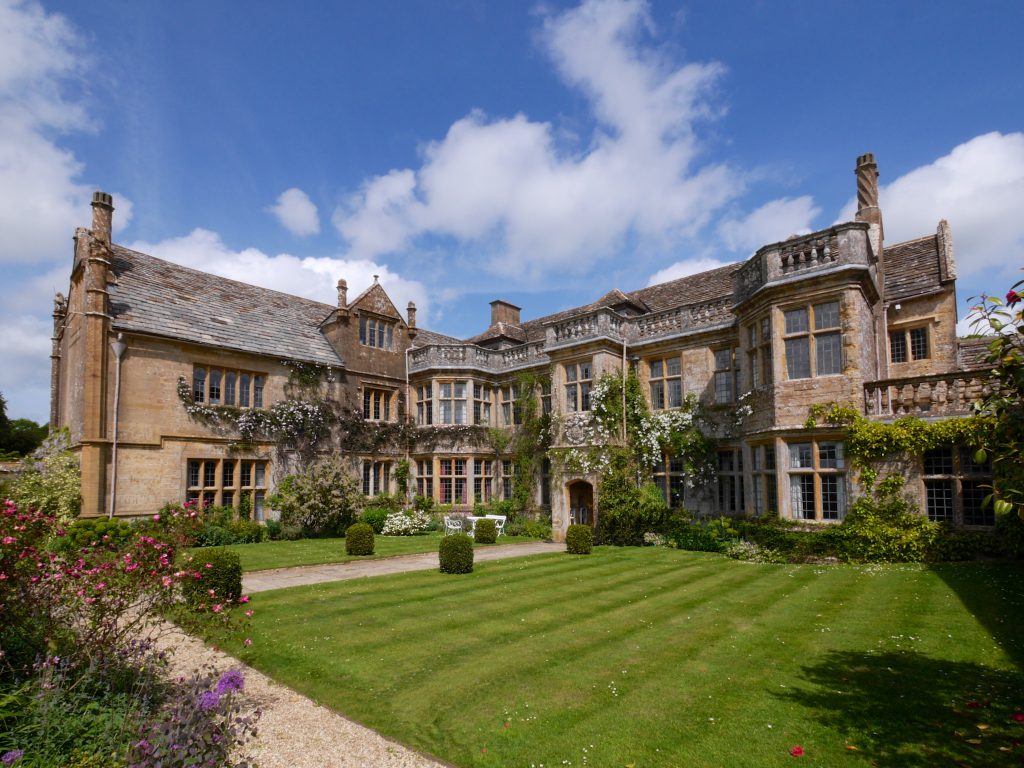 The 2020 Historic Houses Garden of the Year winner (as voted for by the general public) Mapperton is the home of the Earl and Countess of Sandwich. The family moved here from Hinchingbrooke House, near Huntingdon, in the 1950s, bringing with it the family collection.
Mapperton House itself was also voted 'The Nations Finest Manor House' by Country Life and was principal location of 2015 film 'Far from the Madding Crowd'.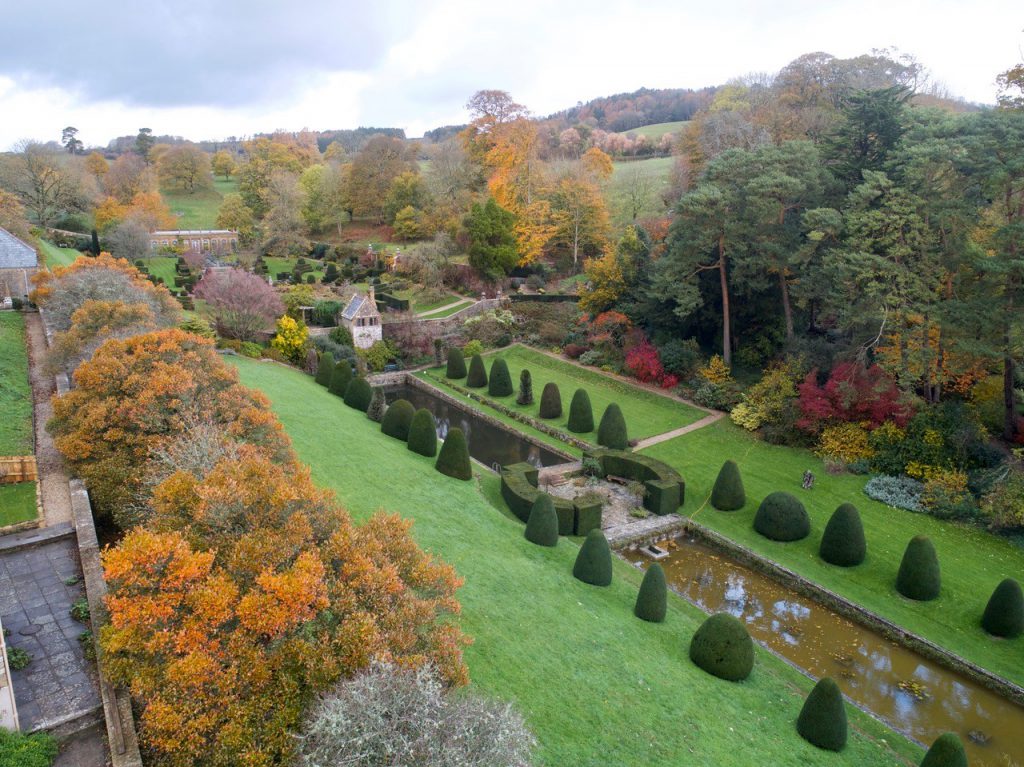 Mapperton is a glorious Jacobean manor overlooking a 15 acre Italianate garden, with orangery, topiary and borders, descending ponds and arboretum. The house has outstanding views of Dorset hills and woodlands.
Forde Abbey & Gardens
If you feel you still have the energy and time to make a final stop, it's certainly worth rounding off your tour with a trip to Forde Abbey. Thirty minutes west of Mapperton, Forde Abbey is a former Cistercian monastery dating back to the early 12th century.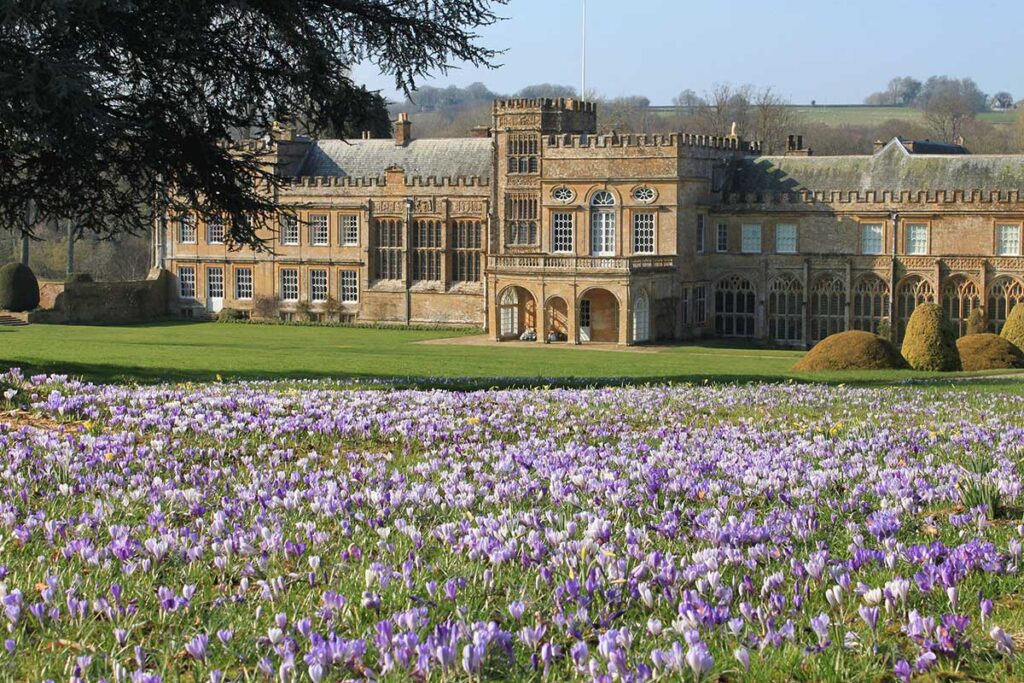 It was converted into a palatial family home during the mid 17th century. The house has exquisitely ornate plaster ceilings throughout the state rooms, together with collection of tapestries woven from cartoons drawn by Raphael for the Sistine Chapel, it is a unique family house.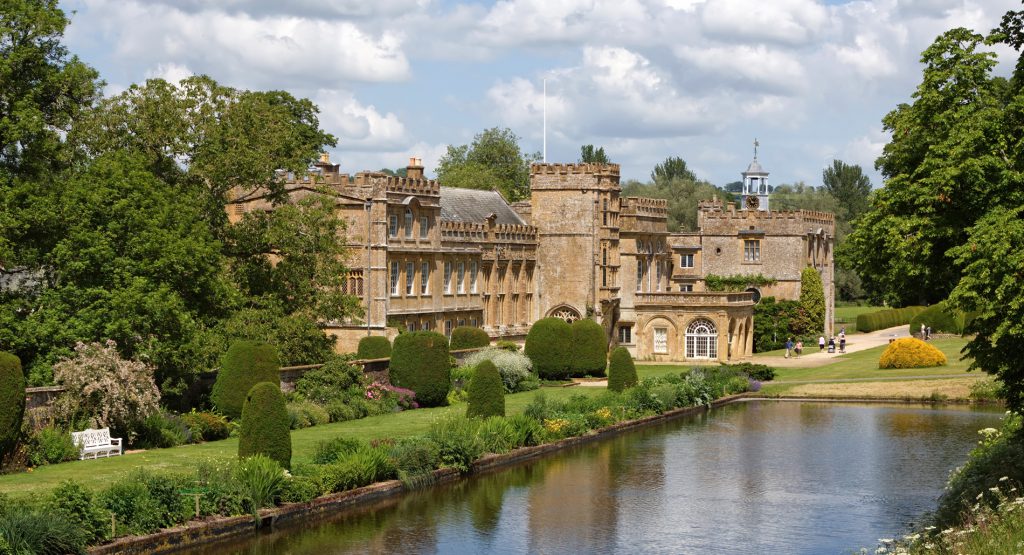 Throughout the 20th century the 30 acres of gardens that surround this unique house have been transformed by the present owners. The gardens are now a diverse and breathtaking landscape fit for the house that they surround, from the productive Kitchen Garden, to the Arboretum, Rock Garden, Herbaceous Borders, Bog Garden, and Woodland Garden.
And so concludes your Great Garden Trail of Dorset. The Eastbury Hotel is a 47 minute drive from Forde Abbey, via Yeovil. Or if you're looking for accommodation a little closer to the Abbey, there are options in Chard.
We hope this has inspired you to think about visiting this beautiful county and the magnificent gardens it houses.
Become a Historic Houses member
Explore the nation's heritage from just £65 per year.
Hundreds of the most beautiful historic houses, castles, and gardens across Britain offer our members free entry.
Also: receive a quarterly magazine, enjoy monthly online lectures, get exclusive invitations to buy tickets for behind-the-scenes tours, and take up a range of special offers on holidays, books, and other products you might like.