Norton Conyers
Anglo-Saxon foundations to a house known now for its pink hue, Dutch gables and literary connections.
Wath, near Ripon, North Yorkshire, HG4 5EQ
Get Directions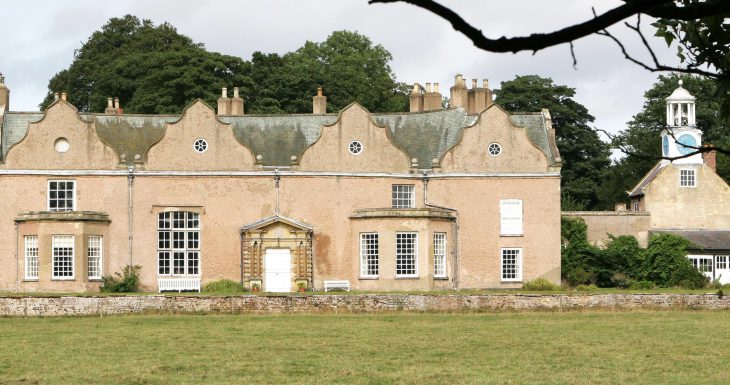 Free for members
Facilities
Accessible parking

Free parking

Garden only
Accessibility
Accessible parking
Accessible toilets
Guide dogs welcome
Norton Conyers has a special atmosphere, resulting from 400 years of ownership by the Graham family. Recent excavations beneath the house revealed evidence of a large Anglo-Saxon house.
Notable visitors to Norton Conyers have included Charles I, James II and Charlotte Bronte, with whom we have close links.  A family legend inspired her mad Mrs Rochester and the house gave her ideas for "Thornfield Hall".
There have been many discoveries during restoration work and in 2014 the house was the winner of the Historic Houses Sotheby's Restoration Award.
The romantic 2.5-acre, 18th-century walled garden is a rare survival of a Paradise Garden. Laid out c.1760, retaining the essential features of its original design, the garden is still used for its original purpose: supplying the house with flowers, fruit and vegetables.
The 18th-century garden was established in the 1760s and has been cared for six generations of the Graham family. It is a plantsman's garden, with a beautiful Orangery and a established potager garden, together with an early example of double-heated walls. The plants used in the garden are sympathetic to its surroundings and the gardens are planted using traditional methods, which benefit the abundant varied wildlife.
Plants, cut flowers, fruit and vegetables grown in the garden are available for sale.
Please note: The information on the Historic Houses website is advisory, but please always check the website of the house or garden you intend to visit before travelling.
View website
Norton Conyers Hall will unfortunately be closed to the public in 2023 due to major building work.
Our walled garden will be open 10-4pm, Monday to Friday from the 1st May 2023 until 29th
September 2023.
It is also open on Bank Holidays 2-5pm: 9th and 10th April, 1st and 29th May, 28th August.
Closed on the Coronation Bank Holiday.
Historic Houses members visit free except on charity days.
House: £15
Under 16: free
Garden £4
Group tours of the garden by owners and head gardener available by arrangement. This can also include areas normally closed to the public including the grounds, and 18th century Stables which featured recently in "All Creatures Great and Small". If repairs permit, tours of work in progress in the house will be available -please email for further information at info@nortonconyers.org.uk
Accessibility
Accessible parking
Accessible toilets
Guide dogs welcome
Become a Historic Houses member
Explore the nation's heritage from just £65 per year.
Hundreds of the most beautiful historic houses, castles, and gardens across Britain offer our members free entry.
Also: receive a quarterly magazine, enjoy monthly online lectures, get exclusive invitations to buy tickets for behind-the-scenes tours, and take up a range of special offers on holidays, books, and other products you might like.