Greywalls Hotel
An Edwardian country house built in 1901 for Alfred Lyttelton, to designs by Sir Edwin Lutyens.
Gullane, East Lothian, EH31 2EG
Get Directions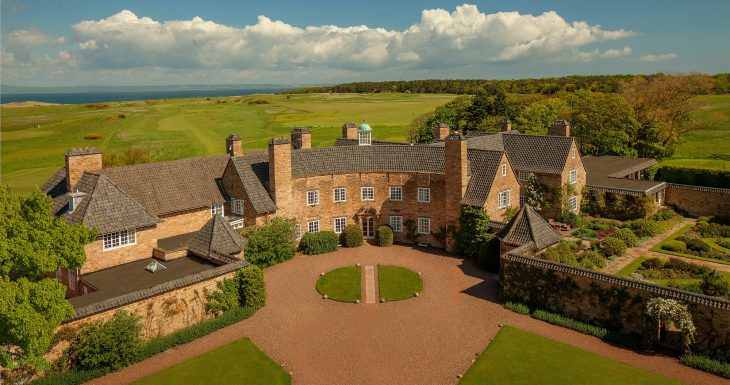 Greywalls Hotel is uniquely situated on the edge of Muirfield championship golf course with stunning views over East Lothian and the Firth of Forth.
Greywalls was designed in 1901 for the Hon. Alfred Lyttelton by Sir Edwin Lutyens. Mr. William James bought Greywalls in 1905 and had the lodges at the gate built on in 1908, and asked Sir Robert Lorimer, the leading Scottish Architect, to build on the 'Nursery' wing to the West in 1911.
In 1924 Lt. Col. Sir James Horlick, grandfather to the current owner, bought the house and he and his family used it as their summer holiday house until the beginning of World War Two. Then it was requisitioned as a place for rest and relaxation for the fighter pilots at Drem airfield. After the War it was important to give the house some purpose, so the idea of Greywalls as an hotel was born. It opened its doors on the 1st of April, 1948.
Viewing of Gardens and House no charge. Accommodation rates apply.
This house is not part of the Free for Members scheme, but is one of many houses on our website that we support to promote their tours, weddings, filming and other commercial offerings. To see all the places you can visit as a Historic Houses member, please visit our 'Free for Members' listings page here. Or to find out more about how the membership scheme works and how it supports our work to protect independent heritage, visit our page here.
Accessibility
Guide dogs welcome
Access statement available
Become a Historic Houses member
Explore the nation's heritage from just £59 per year.
Hundreds of the most beautiful historic houses, castles, and gardens across Britain offer our members free entry.
Receive a quarterly magazine exploring the architecture, collections, and family histories of our grandest and oldest homes, and get an insight into what it takes to keep them standing today.
Enjoy monthly online lectures about the houses and their extraordinary history, presented by experts including house owners, curators and guest lecturers.