Cornwall House
Brick-built townhouse with fine staircase, unusual in retaining its walled garden.
58 Monnow Street, Monmouth, NP25 3EN, Monmouthshire
Get Directions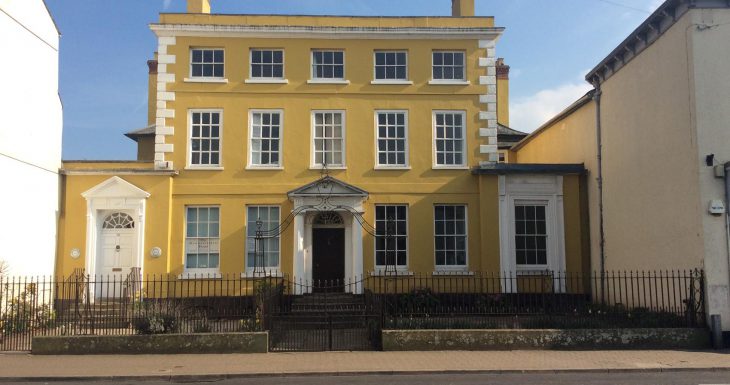 Cornwall House is the last remaining privately occupied house in main shopping steeet of Monmouth.
It is a town house, dating back to at least the 17th-century. The red brick garden façade is in the Queen Anne style, dating from 1752 when the house belonged to Henry de Bergh, the Duke of Beaufort's agent.
The street façade was remodelled in the Georgian style (date unknown). Many original features remain, including a fine staircase. The house still has the original walled kitchen garden.
2022
2pm – 5pm on Fridays in July and August and:
14 – 18, and 30 April
1 – 2, and 28 – 30 May
6 – 7, and 28 – 29 August
Historic Houses members visit for free.
Non-members: £5
Concessions: £2.50
Tŷ Cernyw, Trefynwy
Tŷ Cernyw yw'r tŷ preifat olaf ym mhrif stryd siopa Trefynwy.
Mae'n dŷ tref, sy'n dyddio'n ôl i'r 17eg ganrif o leiaf. Mae ffasâd brics coch yr ardd yn arddull y Frenhines Anne, sy'n dyddio o 1752 pan oedd y tŷ yn eiddo i Henry de Bergh, asiant Dug Beaufort.
Become a Historic Houses member
Explore the nation's heritage from just £59 per year.
Hundreds of the most beautiful historic houses, castles, and gardens across Britain offer our members free entry.
Receive a quarterly magazine exploring the architecture, collections, and family histories of our grandest and oldest homes, and get an insight into what it takes to keep them standing today.
Enjoy monthly online lectures about the houses and their extraordinary history, presented by experts including house owners, curators and guest lecturers.