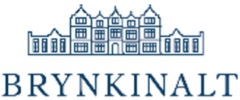 Brynkinalt
The site has been the home to the Trevor family since 942 AD.
Chirk, Wrexham, LL14 5NS
Get Directions
A fine Grade II* house, built in 1612 by Sir Edward Trevor overlooking the Ceiriog Valley on the Wales/Shropshire border, which was then extended in the early 1800s.
The impressive great hall, which was once an open courtyard, was enclosed and extensive wings and a conservatory added in the early 1800s by Charlotte, Viscountess Dungannon who also added a range of gothic features and follies including various gate lodges and a double-walled kitchen garden (now sadly derelict but plans are underway to restore it) with an unusual tunnelled entrance. Some of the features of her design are recorded in a historic book of drawings, plans and sketches giving a fascinating glimpse of the thoughts and ideas that led to her final designs. The original Jacobean oak-panelled hall still remains, giving a glimpse of the original house.
Recent projects include restoring the west garden with its formal beds and large herbaceous borders and the ornamental shrubbery with mature redwoods and a variety of new and old rhododendrons.
Learn about the history of Brynkinalt on a private tour of the house by a member of the Trevor family. The tour covers the formal rooms of the house and family history. Visitors are also welcome to explore the formal west garden and ornamental woodland shrubbery.
Visitors are welcome to explore the formal garden and ornamental woodland shrubbery on their own after the tour. Our stunning Rhododendrons will hopefully be in full bloom for visitors on the May and early June dates. The beautiful roses and large herbaceous and mixed beds in our West Garden are something to look forward to for later dates!
Tours that are scheduled will be listed below. If none are scheduled yet, please check back later, or find other tours you might enjoy on our tours listing page here.
Getting here
Chirk, Wrexham, LL14 5NS
From the main street through the middle of Chirk Village, turn into Trevor Road which is located down the side of the large church. Continue past houses on the right hand side, until you reach a left hand bend. On this bend, turn right through the main black and gold estate gates. This is the Gate Lodge and the main entrance to Brynkinalt. Travel for three quarters of a mile, passing over a small stone bridge and then a larger bridge over the by-pass. You will reach a fork in the drive where you will see a signpost directing left to the Business Centre. Do not take this left but carry straight on and follow the drive to the front of the house.
What3words: ///bracing.quote.croaking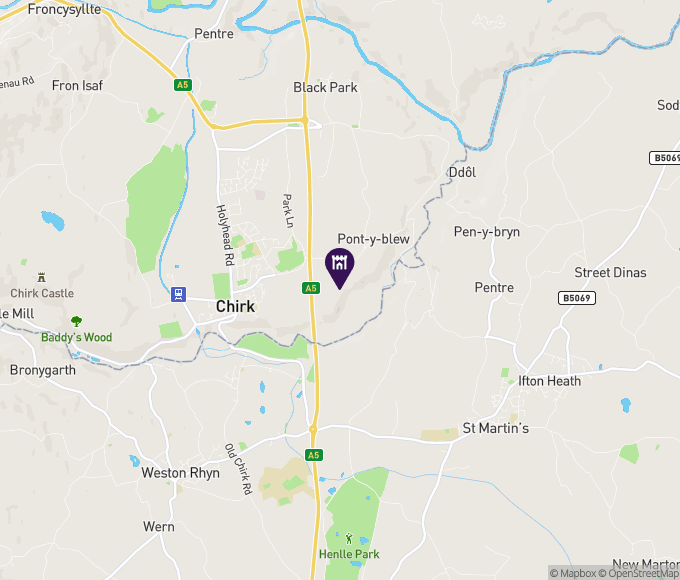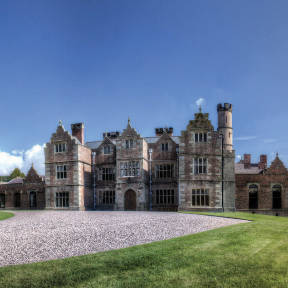 Brynkinalt Hall, Wrexham
Brynkinalt
TOUR DURATION
2 hours
TOUR PRICES
£17.50 per person.
REFRESHMENTS
Tea, coffee and home-made biscuits/cake
ACCESS NOTES
Ground floor only within house. Gravel and grass paths in west garden, rougher grass paths and some slopes in shrubbery.
RESTRICTIONS
No dogs except guide dogs. No photography in the house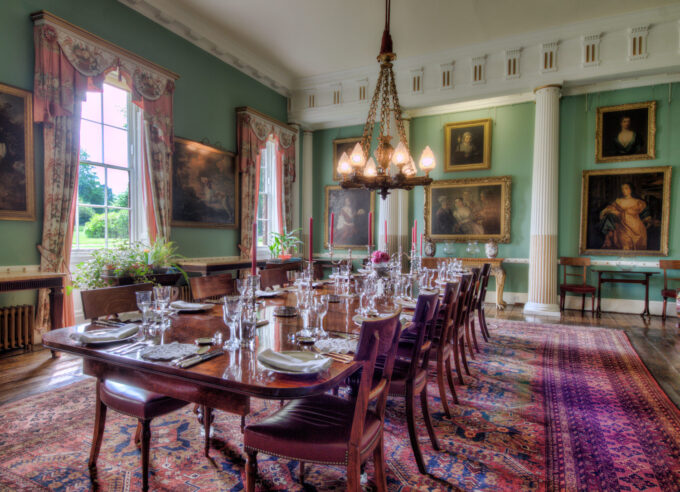 Neaudd Bryncinallt y Waun
Cafodd y Tŷ gradd 2* cain, a adeiladwyd yn 1612 gan Syr William Trevor, sy'n edrych dros Ddyffryn Ceiriog, ei ymestyn ar ddechrau'r 1800au.
Mae'r teulu Trevor yn dal i fyw ynddo. Mae'r daith yn cynnwys ystafelloedd ffurfiol y tŷ a hanes y teulu. Hefyd, mae croeso i ymwelwyr archwilio'r Ardd Orllewinol ffurfiol a llwyni'r coetir addurnol.