Arty creations work perfectly for Wentworth Woodhouse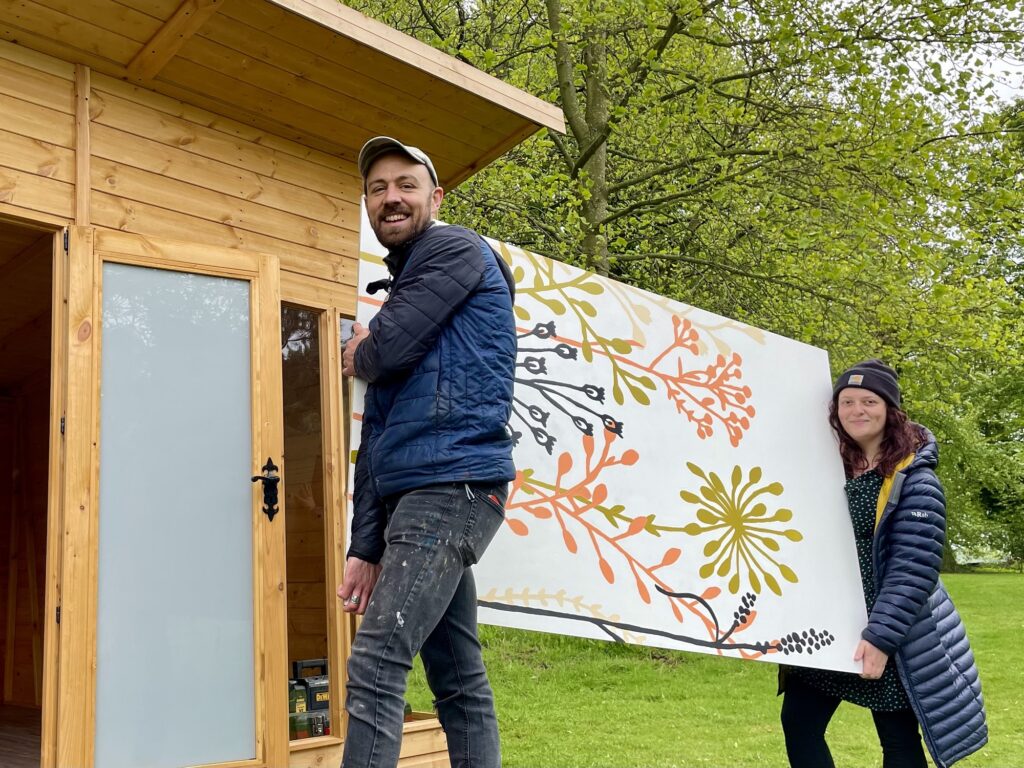 ArtWorks South Yorkshire's members are making a real impact at Wentworth Woodhouse. Their creative talents are now on display in several locations – the latest being one of the new wooden cabins which will soon be for hire in the gardens.
Six ArtWorks South Yorkshire members, Alistair Clayton, Elliott King, Dom Youd, Jack Shillitto, Andy Brady and Tim Prestwood, were commissioned by Wentworth Woodhouse Preservation Trust, which is regenerating the Grade I Listed mansion and its grounds.
The brief was to create a tranquil, relaxing piece of art for the cabin. "The cabin is surrounded by wildflowers and the artists wanted to reflect them in a mural," said their art workshop leader Katie Gammage. They drew out the flowers and chose soft, subdued colours, working really hard over four days. They were very proud of the finished work."
The mural was just the ticket, said Trust COO Paula Kaye. "Wentworth Woodhouse has developed a strong relationship with ArtWorks and their latest creation is everything we had hoped for. "Our cabins can soon be hired for the day for families and groups and will be fully-accessible."
Visitors have already seen ArtWorks' handiwork – the passageway to the mansion's private gardens is now called the Tunnel of Love thanks to the beautiful floral scenes hand-painted by members a few years ago. The gardens themselves also owe much to them. Week in, week out a group work alongside Head Gardener Scott Jamieson. From May 29 to June 27 there's another chance to see the skills of the organisation which celebrates the work of artists with learning disabilities and autism.
Work from nine members around the world will be on display in the Pillared Hall, the entrance to the mansion. They are the winning entries from ArtWorks Together, an international arts competition. The exhibition runs every Wednesday to Sunday, 10am-6pm. ArtWorks South Yorkshire is also staging free public weekend workshops in the gardens throughout June.
Drawing Together runs on June 5 and 26, sun-powered print workshop Cyanotype is on June 6 and 20, Collaborative Sculpture runs on June 12 and 27 and on June 13 and 19 participants can make screen-printed shopping bags.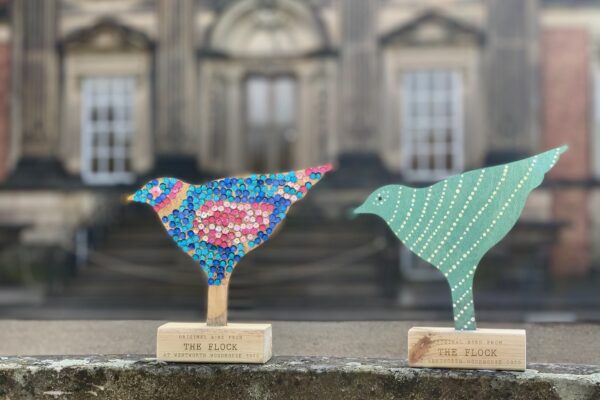 Chance to fly with the Wentworth Woodhouse Flock again…
Thousands of people 'flew with The Flock', Wentworth Woodhouse's moving outdoor art installation to mark the Covid pandemic. Now there's a chance to own a part of it.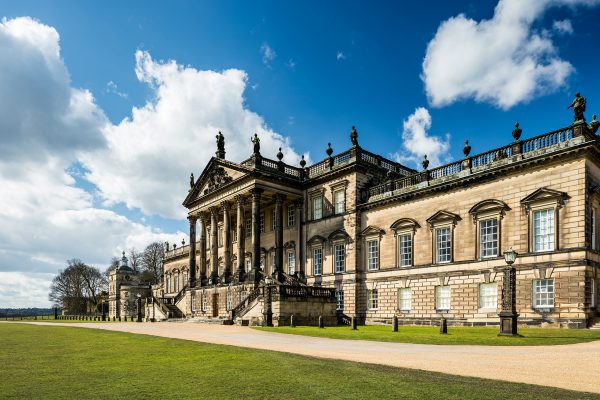 The Follies of Wentworth Woodhouse
In the second of our guest blogs by Joshua Daniels, we hear about the range of beautiful follies you can see when visiting Wentworth Woodhouse.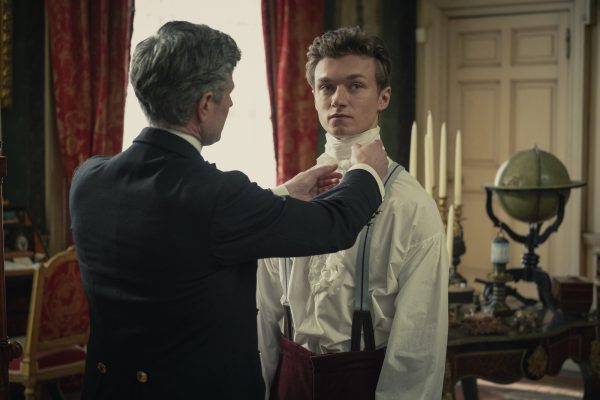 Wentworth Woodhouse stars in Netflix drama
Long-abandoned servants' quarters at Wentworth Woodhouse are about to be streamed into the living rooms of crime drama fans in over 190 countries. The Grade I listed stately home in Rotherham being regenerated by a Preservation Trust was used as...
Become a Historic Houses member
Explore the nation's heritage from just £65 per year.
Hundreds of the most beautiful historic houses, castles, and gardens across Britain offer our members free entry.
Also: receive a quarterly magazine, enjoy monthly online lectures, get exclusive invitations to buy tickets for behind-the-scenes tours, and take up a range of special offers on holidays, books, and other products you might like.