A new discovery on Anne Boleyn's historic prayer book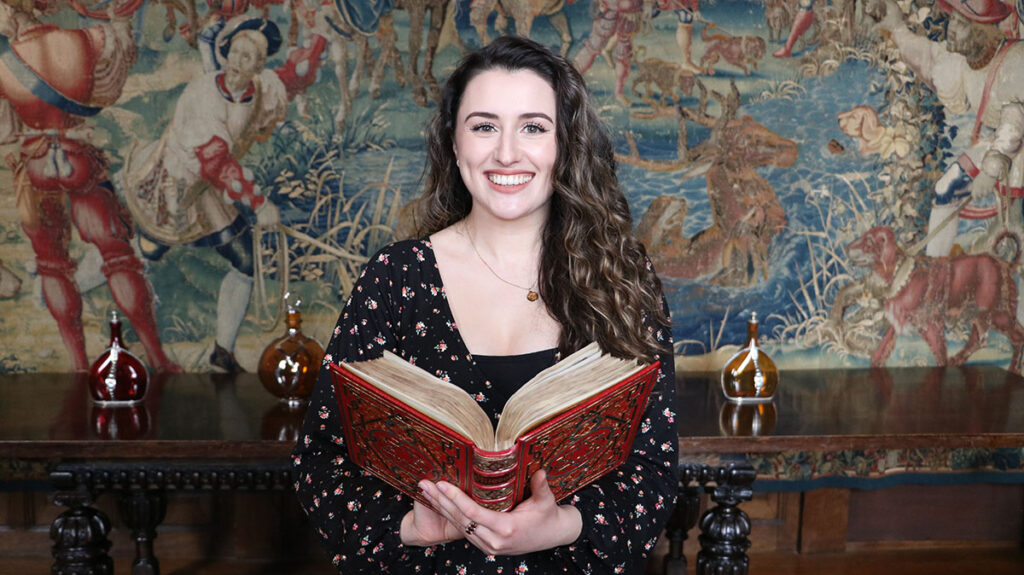 On the anniversary of Anne Boleyn's execution Hever Castle reveals new research on her historic prayer book, unveiling what happened to it after her death.
Research conducted into the Book of Hours prayerbooks on display in Anne Boleyn's childhood home has revealed never seen before names and words hidden in the pages of the historic volume.
Using ultraviolet light and photo editing software it has been discovered what happened to the volume after Anne was executed on 19 May 1536 and when legend has it she handed the book to one of her ladies.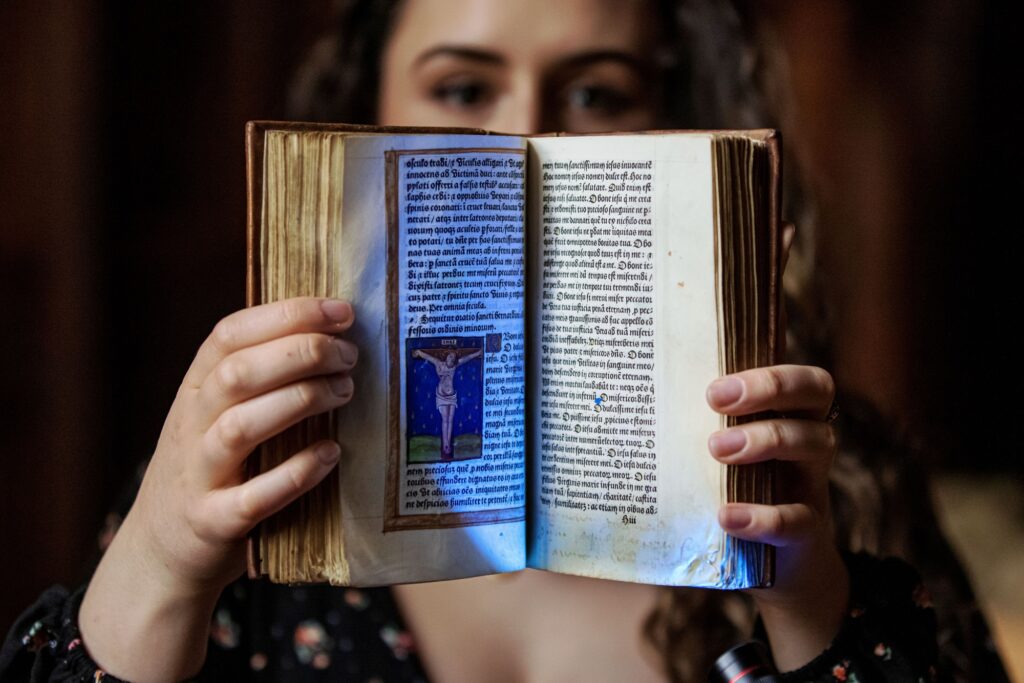 A new discovery
Former Hever Castle steward Kate McCaffrey spent nearly a year studying the two prayerbooks and discovered wording in the printed Book of Hours which had been undiscovered for hundreds of years.
Following the demise of Anne Boleyn, despite pressure to remove all items belonging to the former Queen, the prayerbook she is believed to taken to her execution still survives.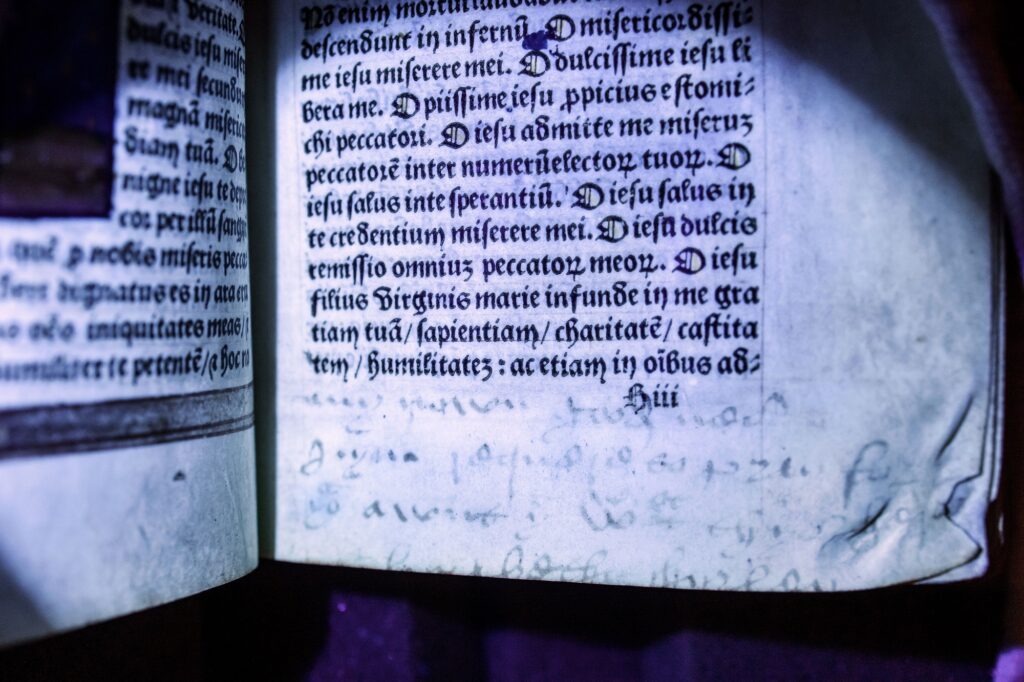 And why this beautifully illustrated prayerbook survives was revealed in Kate's research, part of her thesis for her Masters in Medieval and Early Modern Studies at the University of Kent.
Kate, who worked at Hever Castle as a Visitor Experience Assistant for about six years, was given special permission to look into the prayerbooks which previously was thought only to contain one inscription.
Using ultraviolet light and photo editing software she discovered three family names written in the book; Gage, West, and Shirley (from Sundridge, near Sevenoaks). These three names centre around a fourth, the Guildford family of Cranbrook in Kent.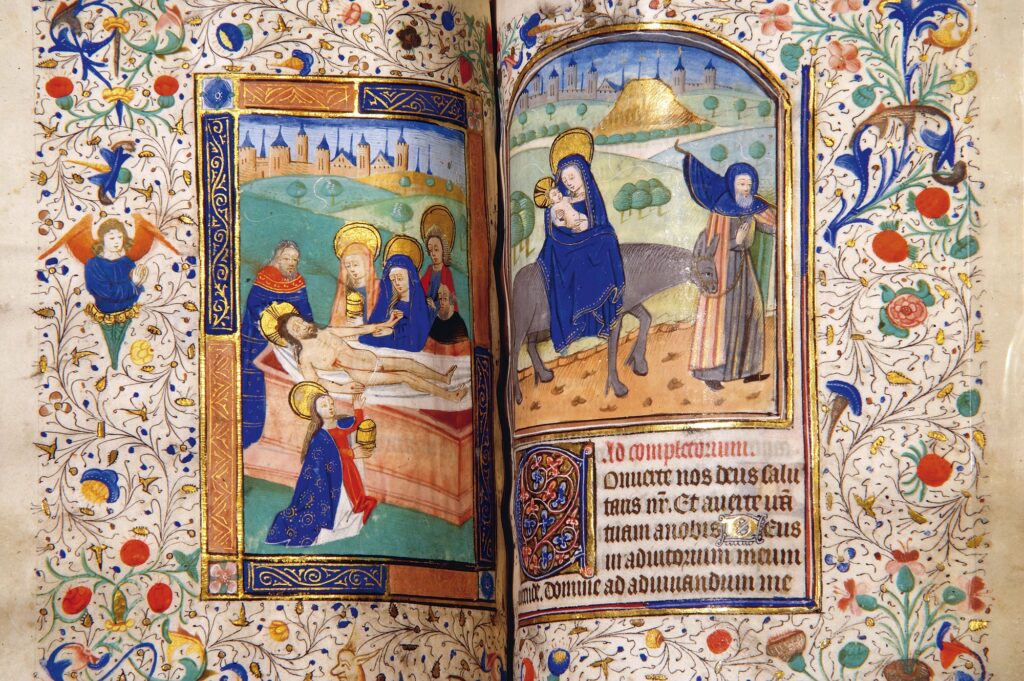 Kate's research uncovered that the book was passed from female to female, of families not only local to the Boleyn family at Hever but also connected by kin.
She explained: "It is clear that this book was passed between a network of trusted connections, from daughter to mother, from sister to niece. If the book had fallen into other hands, questions almost certainly would have been raised over the remaining presence of Anne's signature. Instead, the book was passed carefully between a group of primarily women who were both entrusted to guard Anne's note and encouraged to add their own.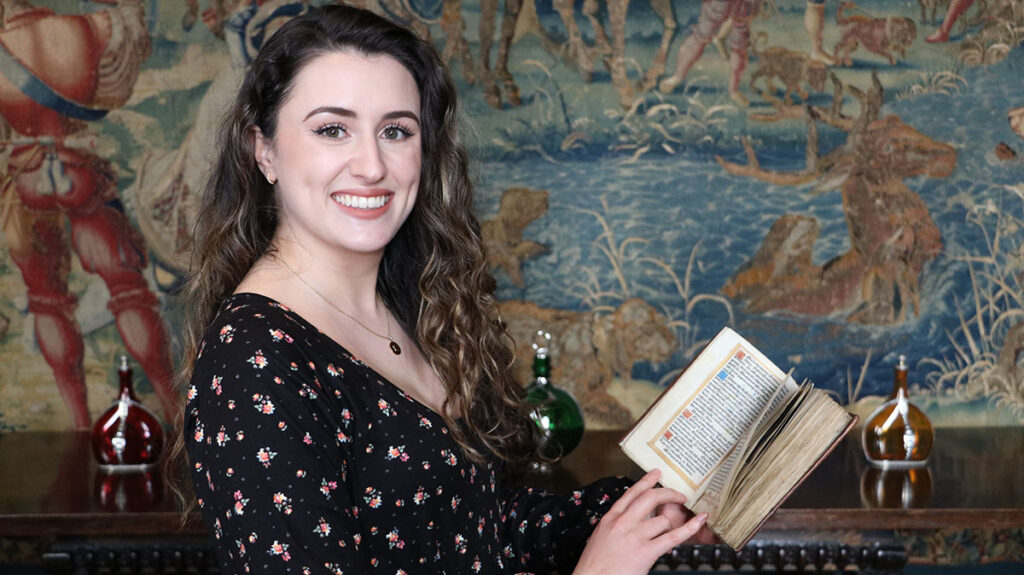 "In a world with very limited opportunities for women to engage with religion and literature, the simple act of marking this Hours and keeping the secret of its most famous user, was one small way to generate a sense of community and expression."
She added: "It was incredibly exciting and surreal to uncover these erased inscriptions, and it has been an absolute privilege to restore the names of their authors and recover their stories. What is perhaps most remarkable is that these inscriptions have been unknown and unstudied for so long."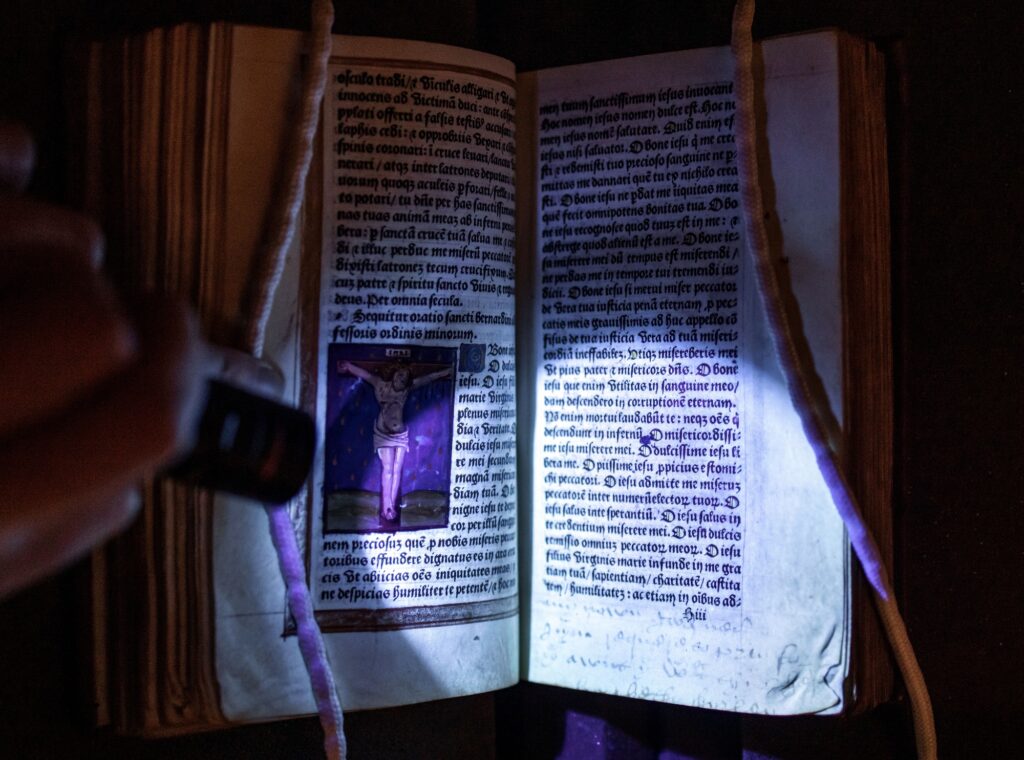 New insights into Anne Boleyn
Dr David Rundle, Kate's supervisor said: "It is every graduate student's dream to uncover previously hidden information about a well-known historical figure. Kate's energy and enterprise have allowed her to do just that, even in the depths of the pandemic when libraries were out of all researchers' reach. What she has discovered has potentially highly significant implications for our understanding of Anne Boleyn and her posthumous reputation."
Hever Castle has on display two illuminated Book of Hours prayerbooks, belonging to Anne Boleyn which she had written in and which bear her signature.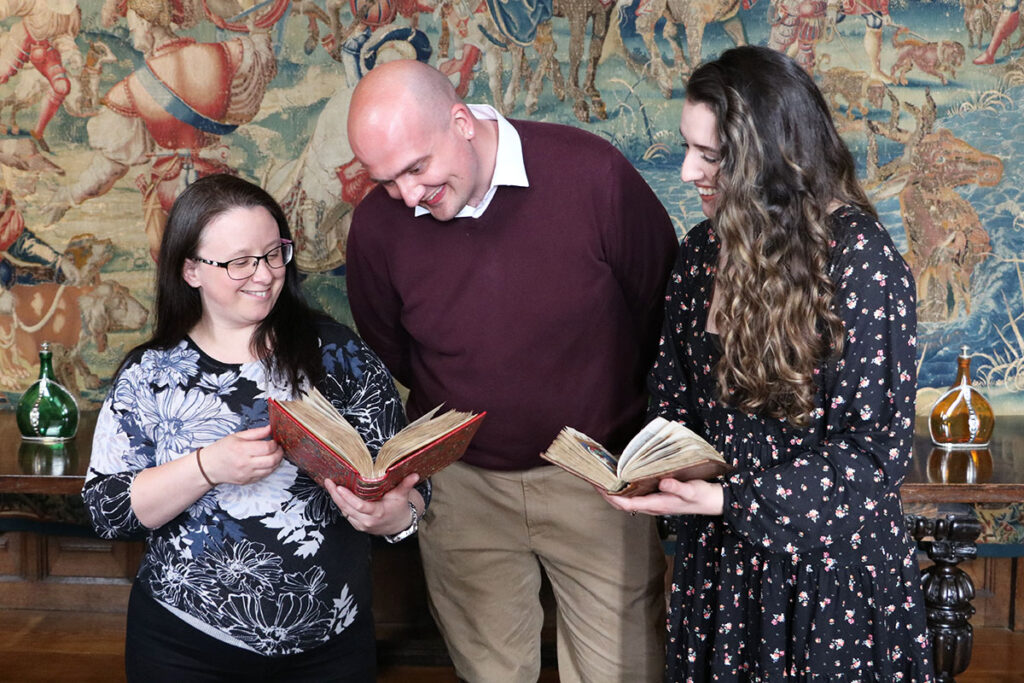 The book, which she may have taken to her execution, bears the touching inscription, 'remember me when you do pray, that hope dothe led from day to day'.
Only a handful of Anne's books survive today and only three contain her signed inscriptions. One is held at the British Library, the other two at Hever.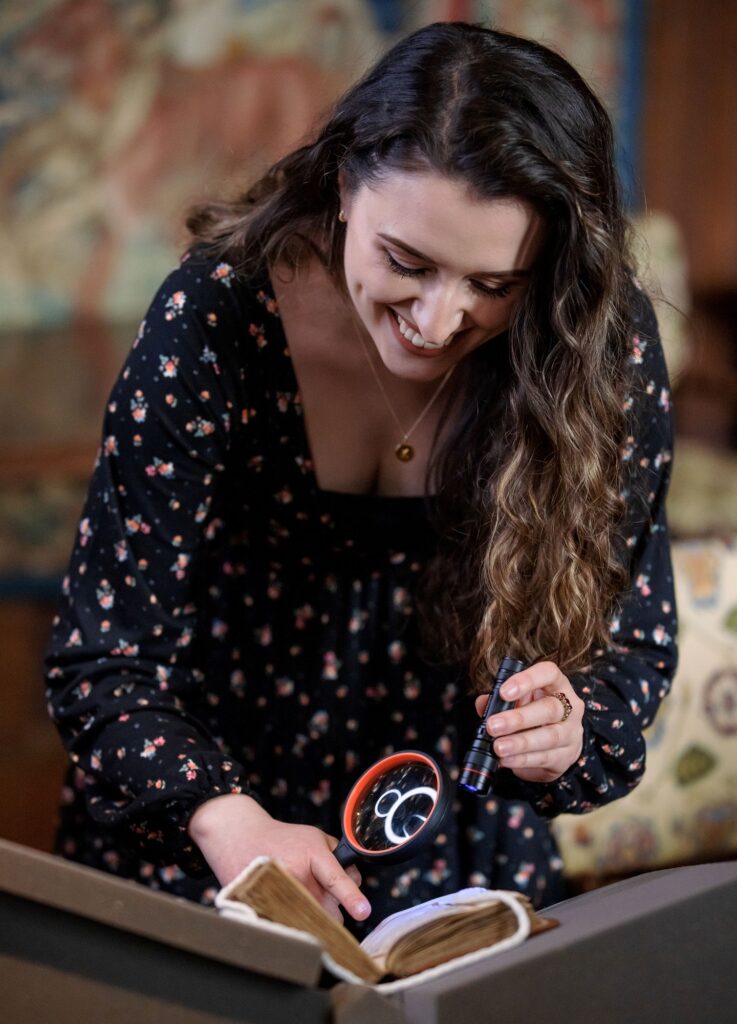 Kate also discovered as part of her research that a copy of the printed Book of Hours in the Morgan Library in New York belonged to Anne's greatest rival in power and love, the Queen of England, Catherine of Aragon.
Hever Castle reopened to visitors on Monday 17 May. Tickets must be prebooked at hevercastle.co.uk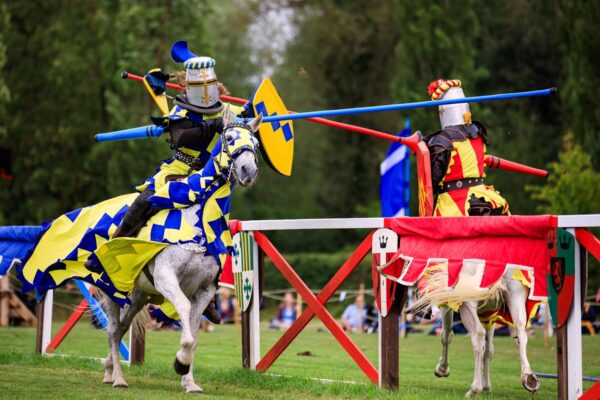 The Knights of Royal England at Hever Castle's annual Jousting tournament
The Knights of Royal England will be entertaining visitors with exhilarating displays of action, stunts, falls and fights in an authentic arena. Battling it out in the saddle and on foot in one-to-one combat, the valiant knights will then compete...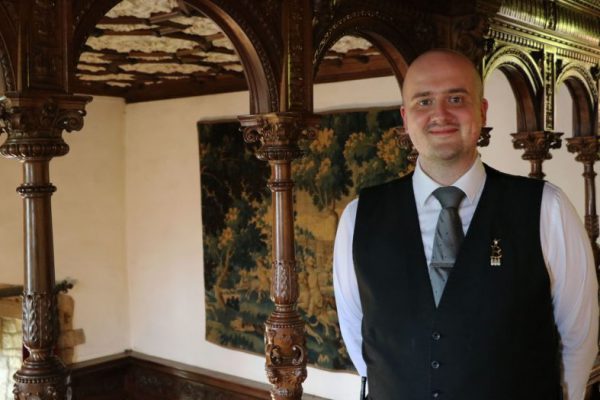 Inside Hever Castle 2021
Historians including Dr Tracy Borman, Claire Ridgway, Lucy Churchill, Dr Lauren Mackay, Gareth Russell and Natalie Grueninger and Hever Castle staff will feature in Inside Hever Castle which launches on 1 January 2021.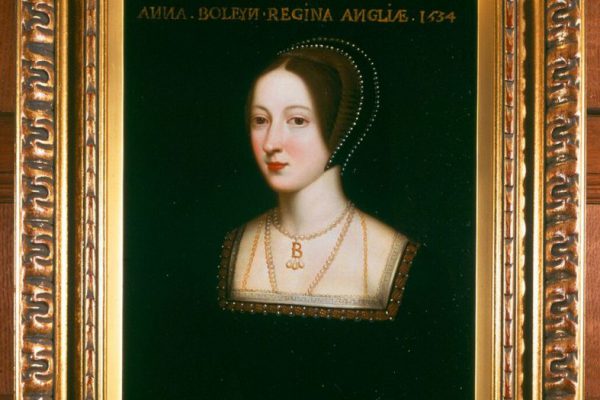 New Anne Boleyn Exhibition
An interactive exhibition opening at Hever Castle in May will give visitors a chance to vote on which of the main theories on Anne Boleyn's demise they believe the most.
Become a Historic Houses member
Explore the nation's heritage from just £65 per year.
Hundreds of the most beautiful historic houses, castles, and gardens across Britain offer our members free entry.
Also: receive a quarterly magazine, enjoy monthly online lectures, get exclusive invitations to buy tickets for behind-the-scenes tours, and take up a range of special offers on holidays, books, and other products you might like.