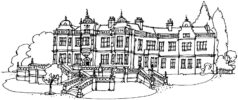 Stokesay Court
Onibury, Craven Arms, Shropshire, SY7 9BD
Set in the rolling South Shropshire countryside, a late Victorian mansion and family home famous for being the location in the motion picture 'Atonement'.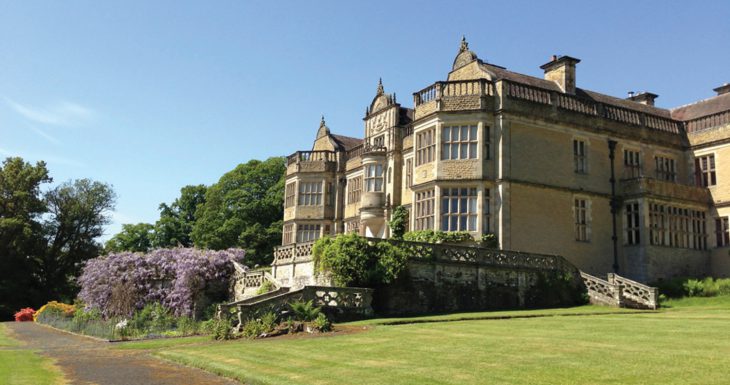 Key Information
Getting Here
Opening Times
Admission
Group Visits
Accessibility
Set in the rolling South Shropshire countryside near Ludlow with panoramic views, a magnificent late Victorian mansion and family home with a stunning oak-carved, double-height, galleried Great Hall.
Stokesay Court rose to fame as the setting for the Tallis House in the film Atonement starring Keira Knightley and James McAvoy.
The house was built in 1889 for John Derby Allcroft, a partner in glovemakers J & W Dent. The architect, Thomas Harris, deployed the most modern technological developments of the time and well preserved examples of some of the earliest electric lighting and heating are visible today. The visitor will discover an unusually unaltered and intact interior for a house of this period.
In WW1 the house became an Auxiliary Military Hospital for convalescent soldiers. Stokesay Court's remarkable hospital archive contains around 300 letters from soldiers and their families, and many official hospital documents.
After WW2 the house fell into gradual decline. John Derby Allcroft's granddaughter Jewell and her biographer husband, Sir Philip Magnus lived in one wing.
In 1994 a major contents sale took place following Jewell's death, and in 1995 her niece, Caroline Magnus, moved in and began restoring the house and refurnishing the interiors. The work is still ongoing.
Today's visitors get a glimpse of the Victorian past as well as experiencing the present day revival. There are also behind the scenes views of Atonement's setting and artefacts from the film.
Please check the website for further information, admission times and details about special events.
Visit the house's website
No two days are the same. I may be taking a tour, entertaining friends and family, laying fires and keeping them going in winter, organising events, making sure that there are enough supplies, shopping, supervising builders. There is never a dull moment and rarely enough time for rest and relaxation.
Become a Historic Houses member
Explore the nation's heritage from just £56 per year.
Hundreds of the most beautiful historic houses, castles, and gardens across Britain offer our members free entry.
Receive a quarterly magazine exploring the architecture, collections, and family histories of our grandest and oldest homes, and get an insight into what it takes to keep them standing today.
Enjoy monthly online lectures about the houses and their extraordinary history, presented by experts including house owners, curators and guest lecturers.