Sinai Park House
Subject to a massive restoration effort after decades of neglect, a large timber-framed manor house being brought back to life.
Off Shobnall Road, Burton-on-Trent, Staffordshire, DE13 0QJ
Get Directions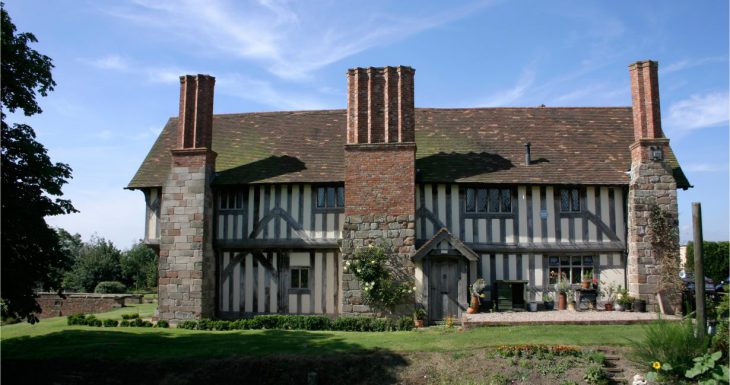 Sinai Park House is a hilltop site overlooking the Trent Valley, used as a sacred meeting place and a strategic outpost from earliest times. From Romans, medieval lords, monks and Tudors to Elizabethan, Jacobean and Stuart bigwigs, Sinai has always been of strategic importance.
The Paget family reinvented the timber-framed shooting lodge as a stylish Elizabethan manor house with a 13th-century moat, and a host of extensions and refinements have been carried out every century since, all in the medieval and Tudor style.
By appointment and Private Tours only.
Please call 07768714406 or email kate@brookesandco.net to arrange a visit or visit our Private Tours section on the page here.
We accept donations from our visitors.
This house is not part of the Free for Members scheme, but is one of many houses on our website that we support to promote their tours, weddings, filming and other commercial offerings. To see all the places you can visit as a Historic Houses member, please visit our 'Free for Members' listings page here. Or to find out more about how the membership scheme works and how it supports our work to protect independent heritage, visit our page here.
Accessibility
Accessible parking
Accessible toilets
Guide dogs welcome
Become a Historic Houses member
Explore the nation's heritage from just £59 per year.
Hundreds of the most beautiful historic houses, castles, and gardens across Britain offer our members free entry.
Receive a quarterly magazine exploring the architecture, collections, and family histories of our grandest and oldest homes, and get an insight into what it takes to keep them standing today.
Enjoy monthly online lectures about the houses and their extraordinary history, presented by experts including house owners, curators and guest lecturers.