Penns in the Rocks
With artistic and literary connections, Dorothy Wellesley created a temple the gardens dedicated to 'The poets who loved Penns'.
Groombridge, Tunbridge Wells, Kent, TN3 9PA
Get Directions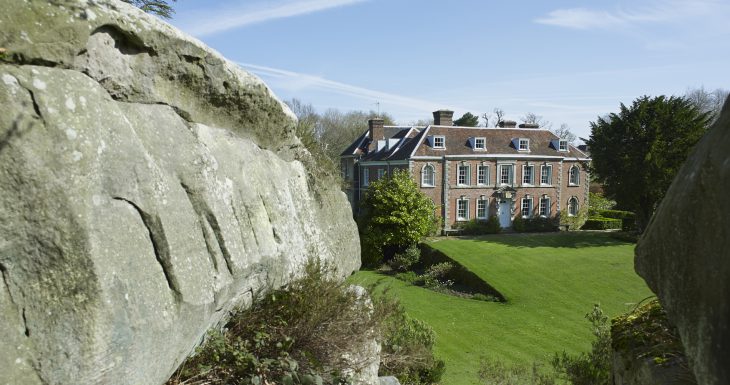 Penns in the Rocks is an early 18th-century redbrick house, built for the family of William Penn of Pennsylvania.
The house is set opposite a natural outcrop of monumental sandstone rocks, and in the 20th-century was home to Dorothy Wellesley, the Bloomsbury poet and friend of WB Yeates. She erected the temple which faces the front of the house, and which is dedicated to 'The poets who loved Penns'. In 1956, after her death, Penns was acquired by the Gibson family, who live there still.
The late Lord Gibson was Chairman of the Arts Council, and of the National Trust. He and Lady Gibson remodelled the interior of the house, and with the help of Lanning Roper adapted the garden from Dorothy Wellesley's original design.
Penns in the Rocks opens for two 2 NGS garden open days.
NGS garden open days: £6.
This house is not part of the Free for Members scheme, but is one of many houses on our website that we support to promote their tours, weddings, filming and other commercial offerings. To see all the places you can visit as a Historic Houses member, please visit our 'Free for Members' listings page here. Or to find out more about how the membership scheme works and how it supports our work to protect independent heritage, visit our page here.
Become a Historic Houses member
Explore the nation's heritage from just £59 per year.
Hundreds of the most beautiful historic houses, castles, and gardens across Britain offer our members free entry.
Receive a quarterly magazine exploring the architecture, collections, and family histories of our grandest and oldest homes, and get an insight into what it takes to keep them standing today.
Enjoy monthly online lectures about the houses and their extraordinary history, presented by experts including house owners, curators and guest lecturers.