Morland House and Gardens
Ancient Cumbrian house and gardens and home to the Markham family since 1828
Morland, Penrith, Cumbria, CA10 3AZ
Get Directions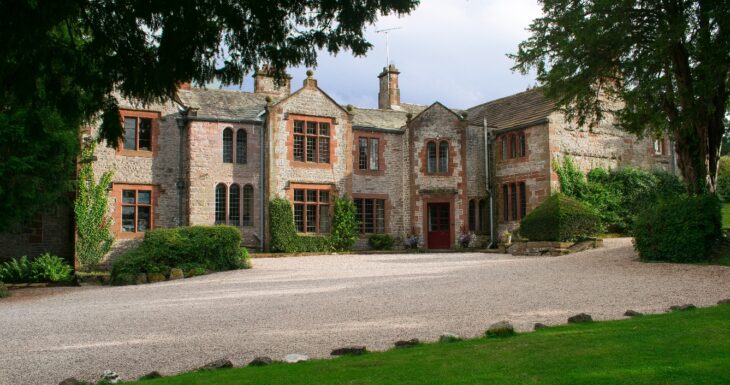 The Grade II-listed house dates to Tudor times but much of its character derives from it being the family home of the Markham family since 1828. Over the last two centuries the house has been extended and filled with a fascinating variety of family paintings, books, antiques and curios which make a stay here truly special.
Originally a Tudor vicarage, the house was extended in the Georgian period, and then substantially again in the 1870s and 1880s when it took on its present appearance with its distinctive oak panelling. Since then, it has been improved by the addition of six bathrooms, a new smart central heating system and other modern comforts, to make a house which combines a formal dining room and drawing room with informal kitchen, catering kitchen, sitting rooms and games room. The house is run by three generations of the Markham family and is much treasured.
The front door opens onto a panelled Front Hall hung with trophies brought back in the 1830s and 1840s by General Fred Markham. The Inner Hall, also panelled, contains a comfortable sitting area around a wood-burning stove.
The large Drawing Room with fireplaces at both ends seats 19 in comfort on sofas and contains a 1913 Bechstein grand piano which guests are welcome to play. It has 17th century oak chimney pieces and is hung with family portraits.
Across the hall is the mainly panelled Dining Room which can seat sixteen at one splendid mahogany table. An oak refectory table can be used as a sidetable for carving, and an alcove contains a smaller table seating up to six, perhaps for children. The walls are a deep red, and table lamps and an open fire make a warm welcoming room for a special dinner.
The nine bedrooms are themed to focus on a particular Markham ancestor, such as General Fred (of the Crimea), Archbishop William (Archbishop of York (1777-1807), Admiral John (Lord of the Admiralty 1801-1807), Sir Clements (President of the RGS who raised sponsorship for Scott's trip to the Antarctic) and Sir Albert Hastings (Polar explorer and Naval Admiral in the Opium wars). The house is now owned by a family trust.