Harlaxton Manor
Reputably the largest house of any commoner in Victorian England.
Harlaxton, Grantham, Lincolnshire, NG32 1AG
Get Directions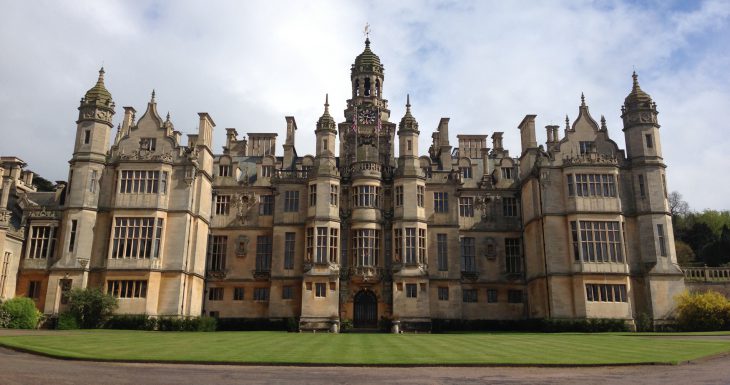 Not free for members
Facilities
Easily accessible without car
Accessibility
Accessible toilets
Wheelchair ramps/routes
Harlaxton Manor is a building that takes its inspiration from the country houses of Elizabethan England.
In 1831, the architect Anthony Salvin was commissioned by Gregory Gregory to build his new Manor house, with work commencing in 1832. But, by 1838, building work at Harlaxton was in the hands of the architect William Burn to whom the service wings and courtyards, with their distinctive Tudor arches, may be attributable.
Both architects were, however, subject to the overarching vision of their client. John Claudius Loudon, on visiting Harlaxton in 1840, concluded that Gregory had entered "so completely into both the design and the practical details of execution he may be said to have embodied himself in the edifice".
This is remarkable in itself, but what makes Harlaxton unique was his brilliant idea "that Elizabethan and Jacobean could be fused with Baroque". This idea is what elevates Harlaxton from the remarkable to the sensational.
This house is not part of the Free for Members scheme, but is one of many houses on our website that we support to promote their tours, weddings, filming and other commercial offerings. To see all the places you can visit as a Historic Houses member, please visit our 'Free for Members' listings page here. Or to find out more about how the membership scheme works and how it supports our work to protect independent heritage, visit our page here.
Groups may visit by appointment, refreshments are provided.
Please contact Charlotte Powell, Conference and Events Manager
+44 (0) 1476 403020
Accessibility
Accessible toilets
Wheelchair ramps/routes
Become a Historic Houses member
Explore the nation's heritage from just £59 per year.
Hundreds of the most beautiful historic houses, castles, and gardens across Britain offer our members free entry.
Receive a quarterly magazine exploring the architecture, collections, and family histories of our grandest and oldest homes, and get an insight into what it takes to keep them standing today.
Enjoy monthly online lectures about the houses and their extraordinary history, presented by experts including house owners, curators and guest lecturers.