Great Fulford
Provincial mansion set in an ancient Devonshire landscape and still a much-loved family home.
Dunsford, Devon, EX6 7AJ
Get Directions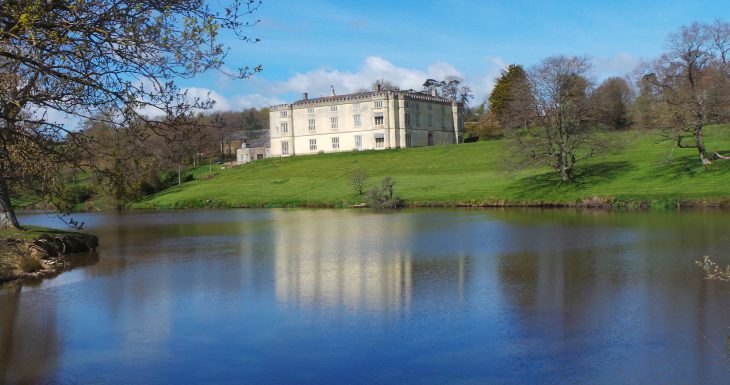 Surrounded on all sides by its own private landscaped park, the house stands witness to 800 years of history. Never demolished and rebuilt it has evolved with time reflecting the ups and downs of the family's fortunes over the centuries.
On a hill overlooking a lake and landscaped park Great Fulford has been the home of the Fulford family since at least the 12th century. The house reflects the financial fortunes of the family over the centuries with major enlargement taking place in Henry VIII's reign and in the Elizabethan period. In the 1690s the house, which had been severely damaged during the Civil War was restored. A suite of 'Great Rooms' being inserted behind the Tudor walls they include The Great Hall where the panelling dates from the early 16th century, a Great Staircase which leads to a Great Drawing Room now boasting a new stunning Baroque plaster ceiling created by the modern master of the craft, Geoffrey Preston.
In 1805 the outside of the house together with some of the smaller reception rooms were remodelled in the 'gothic taste' by James Wyatt.
Please note: The information on the Historic Houses website is advisory, but please always check the website of the house or garden you intend to visit before travelling.
View website
Open all year by appointment. £9.00 a head. Minimum charge for a tour £150.
Alternatively tours can be booked on prearranged dates via our Private Tours.
This house is not part of the Free for Members scheme, but is one of many houses on our website that we support to promote their tours, weddings, filming and other commercial offerings. To see all the places you can visit as a Historic Houses member, please visit our 'Free for Members' listings page here. Or to find out more about how the membership scheme works and how it supports our work to protect independent heritage, visit our page here.
Light refreshments, e.g. tea and coffee, are available. Cream teas, if asked for in advance, are priced at £8.50 per head.
Accessibility
Accessible parking
Accessible toilets
Become a Historic Houses member
Explore the nation's heritage from just £65 per year.
Hundreds of the most beautiful historic houses, castles, and gardens across Britain offer our members free entry.
Also: receive a quarterly magazine, enjoy monthly online lectures, get exclusive invitations to buy tickets for behind-the-scenes tours, and take up a range of special offers on holidays, books, and other products you might like.