Free for members
Facilities
Accessible loos

Accessible parking

Cafe / restaurant

Easily accessible without car

Facilities for children

Mostly wheelchair accessible

Parkland / open spaces

Pet friendly

Picnic area

Shop
Discover the historic home of the Bishops of London at Fulham Palace. The Palace sits beside the Thames in Fulham and reflects the 1,300 years of occupation by the Bishops.
Take a stroll through 13 acres of botanic garden, with a peaceful walled garden at its centre. Admire the 500 year old holm oak and the new Compton beds, grown with varieties originally brought to the Palace in the 1700s.
Take in the building's stunning architecture which dates back to the Tudor, Georgian and Victorian periods before you move into the museum which celebrates the long history of the site and the people who lived and worked here, from Romans to the present day. Enjoy some of the historic rooms, from the Tudor great hall to the Bishop's library (keep an eye out for the secret door!) and a decorative Victorian chapel.
Please note: The information on the Historic Houses website is advisory, but please always check the website of the house or garden you intend to visit before travelling.
View website
The museum and historic rooms are open daily, 10.30 – 17.00 (last entry 16.30).
Café: 9.30 – 17.00.
Shop: 10.30 – 17.00.
Botanic garden: dawn – 18.00.
Walled garden: 10.15 – 16.15.
Tickets can be booked in advance on our website here.
The museum is free to visit. Guided tours are charged.
Admission to the museum, historic rooms and garden is free to all.
In addition, Historic Houses members enjoy free tickets on scheduled guided tours.
Typical tour tickets start at £8 for non-members.
See details of tours here.
Victorian costumes, Roman object handling, scientific discovery of materials and plants — Fulham Palace offers your class a powerful learning experience in one of Britain's most important historic sites.
We offer a variety of hands-on sessions for Early Years, KS1 and KS2, all with links to the Early Years Framework and National Curriculum.
As well as offering sessions at the Palace, we've made resources which bring the Palace to your classroom or directly to your students at home.
For early years we offer bespoke sessions to ensure learning at school is supported here at Fulham Palace.
For secondary schools we offer flexible sessions both on-site and through outreach programmes. Individual topics and cross-curricular days can be arranged. All topics include costume, archive material and resources where appropriate.
We can accommodate up to 30 children per session. Morning sessions begin at 10.00 and afternoon sessions at 13.00.
Booking for all sessions is essential. Full details of all our school sessions are available on our website.
Getting here
Bishop's Avenue, Fulham, London SW6 6EA
London Underground | District Line to Putney Bridge Station
The Palace is a 15 minute walk through Bishop's Park. After leaving the station, walk down Ranelagh Gardens towards the Premier Inn, turn left onto Fulham High Street, then right onto Willow Bank and use the subway under Putney Bridge to access the park. Follow the Thames Path through Bishop's Park for ten minutes to the Palace entrance. Our back gates through All Saints churchyard are open 10.15-16.15.
Please note this station doesn't have a lift.
National Rail | Putney Station
Fifteen minutes from London Waterloo. The Palace is a 25 minute walk down Putney High Street and across Putney Bridge. The 14, 424 and 430 buses taken from across the street from 'Putney Station' stop on Putney Bridge at the 'Putney Bridge Station / Gonville Street' stop.
Take the steps down from the bridge, then follow the Thames Path through Bishop's Park for ten minutes to the Palace entrance. For step-free access, use the street closest to the steps to reach the park.
Bus
Buses 74, 220 and 430 stop on Fulham Palace Road at the 'Bishop's Park Road' stop. The Palace is a five minute walk down Bishop's Avenue.
Buses 14, 22, 39, 74, 85, 93, 220, 265, 424 and 430 stop on Putney Bridge at the 'Putney Bridge Station / Gonville Street' or 'St Mary's / Putney Pier' stops. Take the steps down from the bridge, then follow the Thames Path through Bishop's Park for ten minutes to the Palace entrance. For step free access, use the street closest to the steps to reach the park.
Bicycle
Cycle parking is available at the Palace. See Transport for London's Cycle Journey Planner to help plan your route.
Santander Cycle Hire docking stations are on Bishop's Avenue and at Putney Bridge Station.
Please note, riding bikes is not permitted on the Fulham Palace site. Please dismount before entering the site and walk your bicycle to the parking area near our gated car park.
Car or taxi
Travelling on Fulham Palace Road / A219, turn onto Bishop's Avenue. The entrance to the Palace is at the end of Bishop's Avenue, on the left-hand side.
There is no public parking on-site. An accessible parking bay for blue badge holders only is located within our gated car park. Use the intercom at the car park gates to request access. If possible please call us before your visit and provide the details of the registration number, make and model of vehicle and the date you plan to visit.
Metered parking is available on Bishop's Avenue — Controlled Parking Zone Y. Additional restrictions apply when Fulham Football Club are playing at home. See London Borough of Hammersmith & Fulham's website for full information on parking times, charges and match day restrictions.
Coach
Bishop's Avenue is a cul-de-sac. If travelling by coach, contact us in advance to arrange access to our car park for turning purposes. Coaches can more easily drive down Bishop's Park Road, allowing passengers to alight at Bishop's Park and make the short walk to the Palace's main entrance.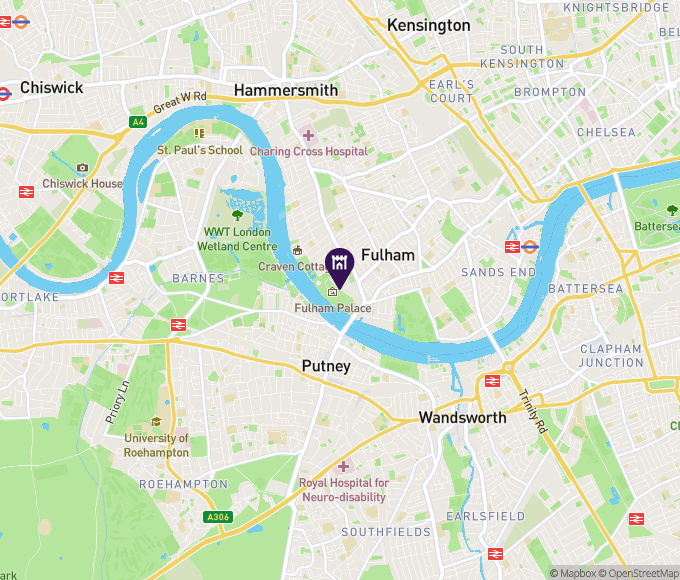 Image credits to Fulham Palace, William Liu, Kasja Kax, Cinzia Sinicropi, Calliope Spathi, Jamie White, Matthew Bruce, Graham Lacdao and Ruxi.
Family trails
Take an adventure together as you discover Fulham Palace with one of our free trails.
Family fun days
We hold monthly family fun days on the last Sunday of every month. There are always crafts, activities and games, each month around a different theme – from design to archaeology. Check our events page to find out about our upcoming family fun days.
Natural play area
This play area uses logs and wooden objects saved from previous tree work on site as a basis for natural play, encouraging families to connect with nature in a fun and enjoyable way. Children are encouraged to interact creatively with natural materials set in a woodland area of our botanic garden.
Our café offers a special menu for our younger visitors.
Gardens
Image credits to Fulham Palace, Kathleen McCulloch, Giselle Brosnahan and Jamie White
Become a Historic Houses member
Explore the nation's heritage from just £65 per year.
Hundreds of the most beautiful historic houses, castles, and gardens across Britain offer our members free entry.
Also: receive a quarterly magazine, enjoy monthly online lectures, get exclusive invitations to buy tickets for behind-the-scenes tours, and take up a range of special offers on holidays, books, and other products you might like.