Foulis Castle
One of the principal seats of the Clan Munro since the mid 14th century.
Evanton, Ross-shire, IV16 9UX
Get Directions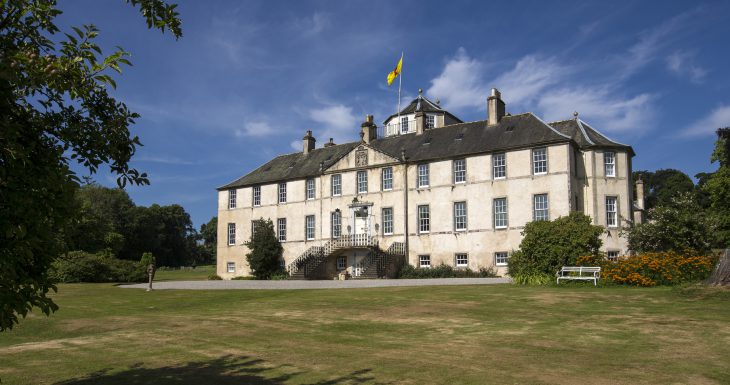 Foulis (Gaelic "Fo-glais" a streamlet) has of old been the home of Clan Munro. Acquired by a Munro Chief in the early 14th centruy. Plans of the original castle are long since lost, but the grounds still contain the site of an 11th-century mott (a manmade mound topped by a wooden palisade).
The present Castle dates from the middle of l8th century containing within its attractive Georgian structure the remains of a much earlier and altogether different defensive keep.
Sir Harry Munro returned after the 1745 Rising in which he lost both his father and uncle at the Battle of Falkirk, to find his ancient home destroyed by fire, and set about building the house you see today incorporating what he could of the old 16th-century keep. The courtyard pierced by three arches with its semi-octagonal tower dated 1754 hints at an earlier form of Scottish architecture, whilst the overall effect of the range of 18th-century domestic buildings, coachhouses, laundry, bakehouse, stables and well, shows a strong continental influence.
The slightly later and more formal Georgian front features a fine double entrance stair leading to a doorway formed from a first floor window in the pedimented centre piece with its heraldic panel dated 1777. The short end elevations have elegant full height angled bays. The whole, very much in the manner of one of the Adams brothers.
Foulis Castle is open by appointment only.  Please give at least 3 week's notice of your intended visit.  To arrange your visit please contact us on:
01349 830212
This house is not part of the Free for Members scheme, but is one of many houses on our website that we support to promote their tours, weddings, filming and other commercial offerings. To see all the places you can visit as a Historic Houses member, please visit our 'Free for Members' listings page here. Or to find out more about how the membership scheme works and how it supports our work to protect independent heritage, visit our page here.
Become a Historic Houses member
Explore the nation's heritage from just £59 per year.
Hundreds of the most beautiful historic houses, castles, and gardens across Britain offer our members free entry.
Receive a quarterly magazine exploring the architecture, collections, and family histories of our grandest and oldest homes, and get an insight into what it takes to keep them standing today.
Enjoy monthly online lectures about the houses and their extraordinary history, presented by experts including house owners, curators and guest lecturers.