Farringford
House in the Gothick style and home to Alfred, Lord Tennyson, who occupied it until his death in 1892.
Bedbury Lane, Freshwater Bay, Isle Of Wight, PO40 9PE
Get Directions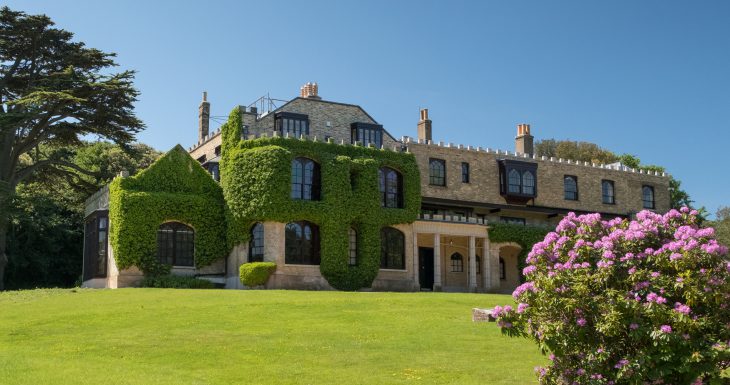 Farringford is a Grade 1 listed building that was the main residence of renowned Victorian Poet Laureate Alfred, Lord Tennyson from 1853 until his death until in 1892.
Here he wrote some of his most famous works, including Maud and The Charge of the Light Brigade, as well as entertaining eminent artists and intellectuals of the day.
The estate remained a family home until eventually becoming a hotel in 1945.
More than half a century later this dramatic Gothic house has been meticulously restored and redecorated in a late 19th-century style that reflects the Tennysons' tastes, interests and lifestyle, featuring personal artefacts and original furniture.
It is now open to the public as a heritage attraction. The extensive grounds have also been restored to their authentic Tennyson-era condition, including an enchanting walled garden with a planting scheme based on contemporary descriptions and artistic depictions by the poet's friends.
2022
House:
27 April – 1 October 2022.
Tour times: 10.15am, 11.45am, 1.45pm, 3pm
Wednesdays to Saturdays.
Garden:
6 April 2022 – 29 October 2022.
10.00am to 4.30pm – last admission 3.30pm
Wednesdays to Saturdays.
Please Note: We do not have a cafe or gift shop at Farringford. A limited selection of soft drinks are available from the Ticket Office.
Dogs are welcome but must be kept on a lead at all times.
Please note: The information on the Historic Houses website is advisory, but please always check the website of the house or garden you intend to visit before travelling.
HOUSE TOURS
Adults: £13.50
Child (5-17 years): £6.00
Children under 5 go free
GARDENS ADMISSION
Adults: £4.00
Child (5-17 years): £2.00
Children under 5 go free
We can give guided tours of the house and grounds for classes of up to 30 students, accompanied by school staff. We have a dining area on site that would be suitable for students bringing packed lunches.
We can adapt our material to suit different age ranges and topics (i.e. Tennyson's life and work, Gothic architecture, a Victorian Christmas etc.). Regrettably, we cannot accommodate coaches on-site, only minibuses.
Become a Historic Houses member
Explore the nation's heritage from just £59 per year.
Hundreds of the most beautiful historic houses, castles, and gardens across Britain offer our members free entry.
Receive a quarterly magazine exploring the architecture, collections, and family histories of our grandest and oldest homes, and get an insight into what it takes to keep them standing today.
Enjoy monthly online lectures about the houses and their extraordinary history, presented by experts including house owners, curators and guest lecturers.