Cotesbach Hall & Manor
The surviving core of the ancient lordship of Cotesbach, a cluster of historic buildings including the Hall, Manor, Stable Yard, Schoolhouse and organic farmland.
Main Street, Cotesbach, Near Lutterworth, LE17 4HX
Get Directions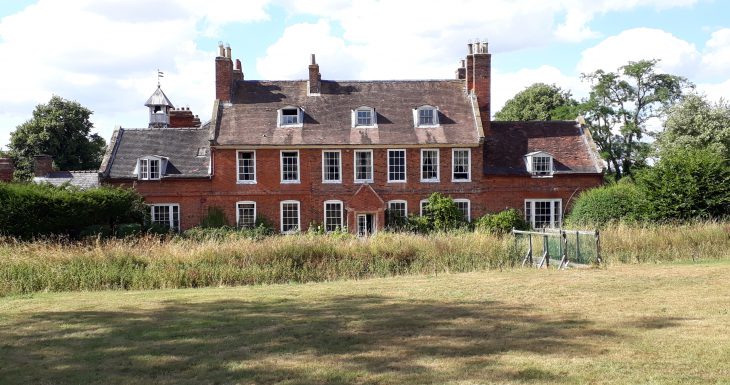 Cotesbach Estate today is what remains of the property bought by the Marriott family in 1759. The Estate is made up of a collection of historic buildings including Cotesbach Hall, The Manor, The Stable Yard and a walled kitchen garden.
Just south of The Stable Yard lies the arable & ancient ridge and furrow which is surrounded by a strip of woodland.
​250 years after the Marriotts first made Cotesbach their home, we are gradually restoring the buildings, creating spaces which are sustainable, useful and relevant to our 21st-century world.
We recognise the importance of the rural heritage of each one of these buildings and the land surrounding them. We endeavor to make the Estate accessible to all – providing opportunities, evoking creativity and most importantly sharing our space.
Free tours on Heritage Open Days; special tours by arrangement.
This house is not part of the Free for Members scheme, but is one of many houses on our website that we support to promote their tours, weddings, filming and other commercial offerings. To see all the places you can visit as a Historic Houses member, please visit our 'Free for Members' listings page here. Or to find out more about how the membership scheme works and how it supports our work to protect independent heritage, visit our page here.
Become a Historic Houses member
Explore the nation's heritage from just £59 per year.
Hundreds of the most beautiful historic houses, castles, and gardens across Britain offer our members free entry.
Receive a quarterly magazine exploring the architecture, collections, and family histories of our grandest and oldest homes, and get an insight into what it takes to keep them standing today.
Enjoy monthly online lectures about the houses and their extraordinary history, presented by experts including house owners, curators and guest lecturers.