Bressingham Hall
Foggy Bottom, Bressingham, Suffolk, IP22 2AA
A large late eighteenth century house of yellow brick with hipped pantile roof and modillion eaves.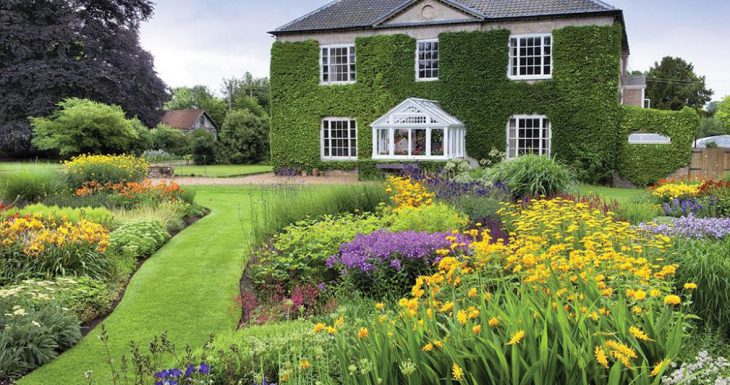 This Grade II-listed country mansion and its companion High Barn have been lovingly restored to their elegant regency origins by the Bloom family, who have celebrated seven decades here. Surrounded by 17 acres of world-famous gardens, often seen on TV, there is something for everyone throughout the seasons.
Tours are usually conducted by members of the family and/or the garden curator. They begin with the barn and an introduction to the gardens followed by a tour of the house.
The gardens range from the colourful island borders encircling the front of the house, laid out by founder Alan Bloom, to Foggy Bottom gardens developed by Alan's son Adrian. Here you will find wide curving walks and great drifts or 'rivers' of perennials and grasses.
The house tour begins in the splendid entrance hall with its impressive staircase. The large reception hall leads through to beautifully decorated drawing and dining rooms and the grand staircase leads to seven spacious and tastefully furnished bedrooms.  The tour includes all these rooms together with the kitchen and former dairy. The Hall has been completely refurbished recently with central heating, re-wiring and plumbing and visitors will learn what can be done to refurnish and revitalise such a house on a tight budget.
Visitors may picnic in the area between the house and the Steam Museum. This and the steam engines are under Trustee ownership and may also be visited (separately) payable on entry. There are two small cafes within the garden centre and museum. Visitors are welcome to stay longer in the gardens after the tour if they wish.
Tours that are scheduled will be listed below. If none are scheduled yet, please check back later, or find other tours you might enjoy on our tours listing page here.
TOUR DURATION
2 – 2½ hours
TOUR PRICE
£18.50 per person.
REFRESHMENTS
Tea with cake and scones
ACCESS NOTES
In general the disabled access to the Hall is poor, with no disabled toilet and several steps even on the ground floor. Grass paths allow access of wheelchairs in the gardens.
RESTRICTIONS
No photography in the house, no dogs (including in the gardens), no stilettos
VISITORS' VIEWS
"What a lovely place … the house, grounds and facilities beautiful."
"This is a wonderful treasure and thank you for allowing us to share it."
"A gorgeous unbelievable venue house and grounds… we will definitely tell all our friends."