17 acres of award-nominated gardens, and a Steam Museum, surrounding a handsome eighteenth-century manor house and barn.
Foggy Bottom, Bressingham, Suffolk, IP22 2AA
Get Directions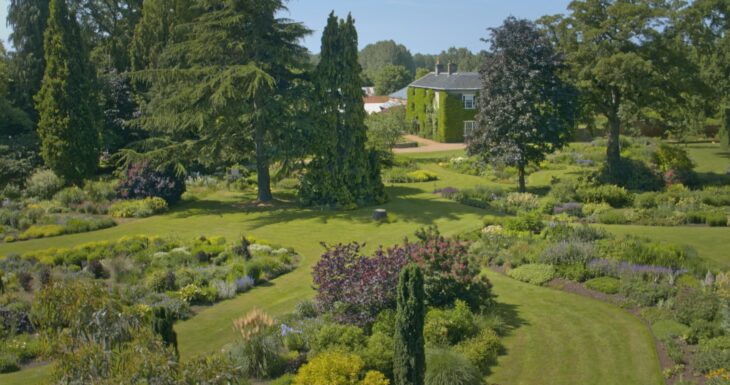 Home of colour and drama since 1953, the Bressingham Gardens and Nursery are born of the passion and dedication of three generations of the Bloom family.
Originally created on grazing farmland to display the Blooms of Bressingham Nursery perennial plants, the gardens today feature over 8,000 species and varieties of plants in six linked gardens over 17 acres of breathtaking views and endless inspirational ideas throughout the year.
The Bressingham Gardens Nursery plants mostly come from the gardens' stock beds, are propagated by seed, cutting and root division, and are grown outside to ensure the plants are strong and ready to start growing in the best conditions as they get to your garden when ordered through our mail order service.
The Blooms' former family home, Bressingham Hall, is now a wonderfully restored Georgian mansion available for the most memorable family and friends' reunions, surrounded by a magical world of garden beauty. Tours of the mansion are available through Invitation to View. Click here for more information.
Please note: The information on the Historic Houses website is advisory, but please always check the website of the house or garden you intend to visit before travelling.
View website
Every day from 28 March until 30 October, 10.30am to 5pm
Historic Houses members are offered free 'Entry only' tickets. Other tickets, rides, etc, will incur a charge. See here for more details of other types of opening.
Entry only tickets (prices marked with * include Gift Aid)
Adult 16+:£9.50* or £8.64
Concession 65+: £9.00* or £8.18
Child (3-15yrs): £6.00* or £5.45
Prices may have increased – but please double check with the Steam Museum 01379 686900
Entry Only tickets allow entry to the whole site (Museum and Gardens) but do not include rides on the Railways and Gallopers. Entry only tickets can be purchased on the door only.
For full details of types of opening day and what can be seen on them, plus other prices, see here.
Group bookings, garden entry only – April to October
A group rate of £8 per person is available for parties larger than 12 visitors. It is necessary to book in advance here, payment on the day at the Steam Museum entrance.
Group bookings with guided visit and refreshments year round:
Enjoy being led through the 17 acres of the Bressingham gardens, learning about the 8500 plant species and varieties that make the gardens so special through the seasons. Each time of the year has different plants of interest, so pick the season you prefer.
Garden entry and guided visit: £15 per person
Garden entry, guided visit, tea, coffee and cake in the restored heated barn: £20 per person.
Garden entry, guided visit, wine and nibbles: £22 per person
To book a group visit with guided tour and refreshments, please see here
Garden entry, guided visit and lunch: £30 per person
This offer is for groups of 20+.
We have limited dates available through the year, so please book well in advance.
Getting here
Foggy Bottom, Bressingham, Suffolk, IP22 2AA
Bressingham Hall lies on the A1066, three miles going west from Diss or 15 miles going east from Thetford.  The Hall is immediately next to the Steam Museum and Garden Centre but please follow the signs which say Bressingham Hall and High Barn Only and then park in the car park adjoining the High Barn.
(If you are coming from Thetford and reach the Garden Centre/Steam Museum you have gone too far.  Coming from Diss the drive you want is immediately after the Garden Centre).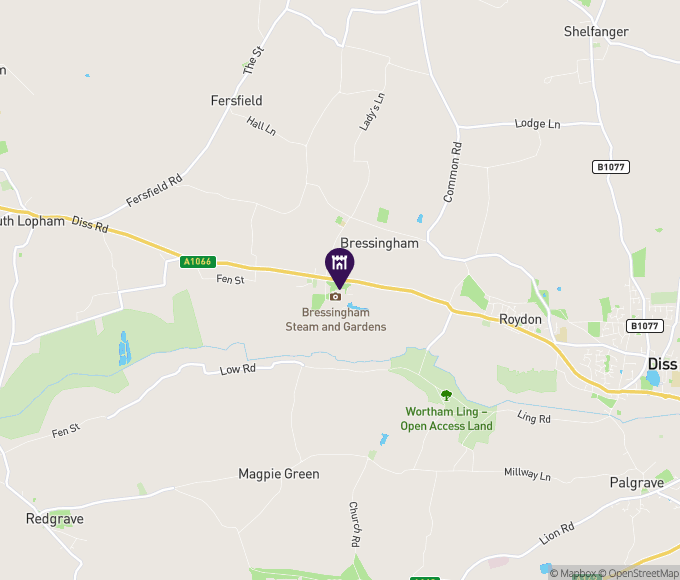 Become a Historic Houses member
Explore the nation's heritage from just £65 per year.
Hundreds of the most beautiful historic houses, castles, and gardens across Britain offer our members free entry.
Also: receive a quarterly magazine, enjoy monthly online lectures, get exclusive invitations to buy tickets for behind-the-scenes tours, and take up a range of special offers on holidays, books, and other products you might like.