Sustainable Energy at Muncaster Castle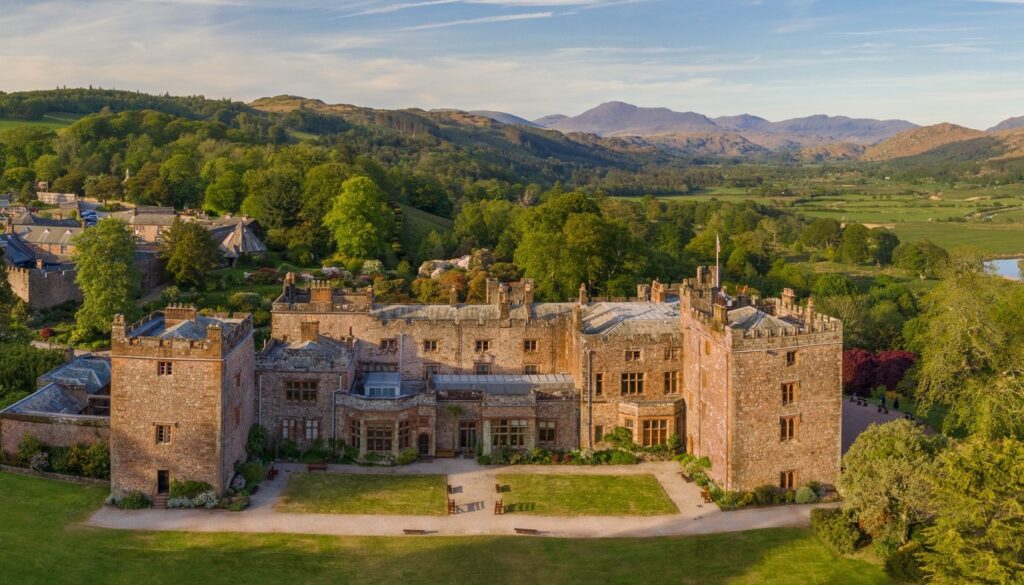 How to Heat a Castle Without Breaking the Bank, or the Environment
Muncaster Castle in Cumbria has been home to the Pennington family for over 800 years, and is reputed to be built upon Roman foundations. Today, the Castle is also a thriving tourism attraction and a centre of hawk and owl conservation, welcoming visitors from across the world. We spoke to Ewan Frost-Pennington, a member of the next generation at Muncaster, about his passion for sustainability and the challenges of adapting historic buildings into warm and comfortable family homes.
What inspired you to pursue sustainable energy at Muncaster Castle?
When I first moved into Muncaster at the age of seven, my most valuable possession was my hot water bottle – it was the key ally for vanquishing the cold from my bed! Muncaster, while beautiful, is large and very difficult to heat without risking bankruptcy, therefore we generally opt for jumpers and thick socks instead of heating.
I am not sure if this was a factor in my career choice, but I became passionate about low carbon energy technologies and have subsequently become an energy consultant. It was therefore a no brainer for me to explore ways to help my parents heat the castle in an efficient way that was not tied to fossil fuels.
For us, the time was also right; the low carbon technologies have reached maturity, the price of gas is rising, and government subsidies all combine to make a good business case for this low carbon transition. By reducing our future heating bills we can redirect the money into other heritage activities that are pressing. With this in mind, we invested in a ground source heat pump for the castle.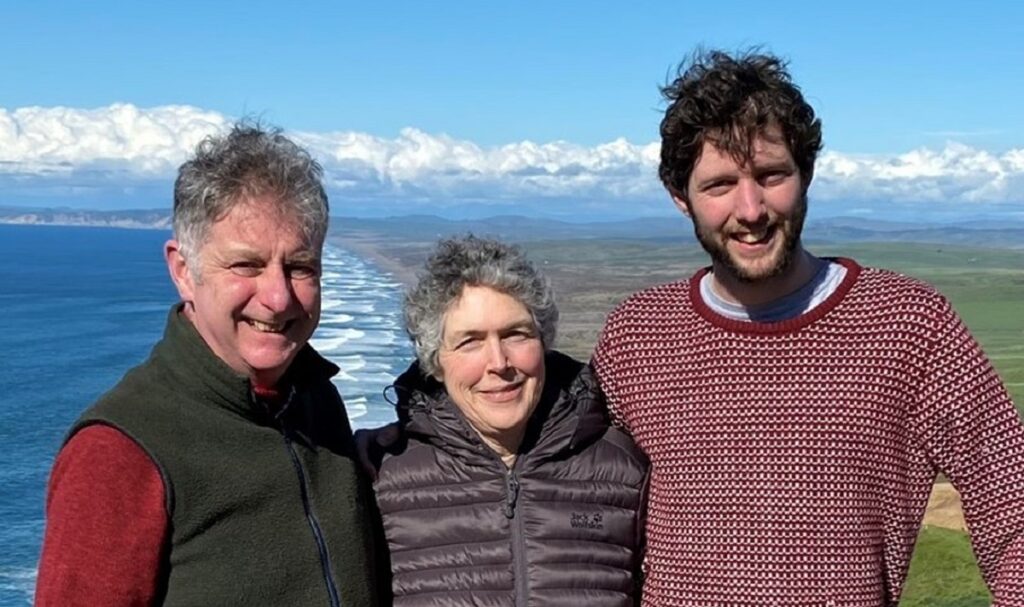 Peter, Iona and Ewan Frost-Pennington
What role do you think historic estates can play in tackling climate change?
Low carbon energy technologies can provide lots of benefits to historic houses beyond reducing their environmental impact. For instance, the baseload constant heating pattern of heat pumps is preferable for heritage compared to gas or oil boilers, which favour regular turn off/on patterns.
As I understand it, Muncaster Castle was designed for the 80 fireplaces to be burning regularly in the winter months, with a coal boiler, constantly on, with rudimentary heating circuits at the core of the building. The thick stone walls compliment this approach by retaining the heat for long periods, acting as a giant storage heater. This is logical because it maintains the castle at a stable temperature that is favourable for the valuable contents, inhabitants, and the structure itself.
Servants are long gone at Muncaster, and as much as my Dad tried to top up the wood or turn on the gas boilers without my Mum noticing, it was impossible to heat the castle constantly. Instead, we ended up sporadically heating the castle for events when the expense could be justified. Unfortunately, this can result in dramatic fluctuations of temperature, switching from single digit degrees in the morning to over 20° in the evening event, which is not good for the castle or its historic contents.
Heat pumps replicate the traditional form of heating old buildings, as they perform best when operated constantly during the cold periods to provide background heat. We have already seen the benefits of this at Muncaster, as the humidity in grand rooms has decreased and the chattels are no longer exposed to large temperature fluctuations. This is likely the same for other historic houses, which probably have a good setup for transition to these low carbon technologies benefiting their bills, carbon footprint, availability of surrounding gardens and heritage simultaneously.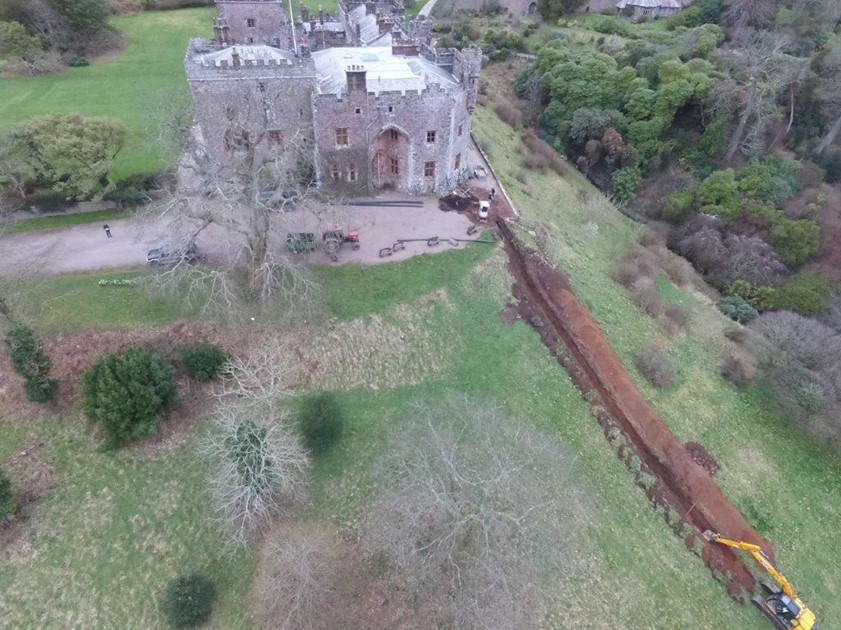 Excavations for the heat pump trenching were intrusive, however the ground recovered within a couple of months in time for the return of tourists in the spring.
What are the challenges you've faced implementing sustainable energy schemes?
We had to assess multiple options to arrive at the scheme that was right for the heritage context of the castle. This included assessing the possibility of using the river, ground and even sewage system as potential heat sources, each of which had pros and cons. In the end we settled on the ground source due to a variety of factors.
Selecting our contractor was particularly difficult, and quotes varied widely from £100,000 to over a million, with different advice provided. Ultimately, selecting the contractor and negotiating the contract was the hardest part, but is an area where we learnt a lot and now know how to go about procurement for this kind of work.
Although our contractor started off being competent, mid-way through the project most of their employees left the organisation for unknown reasons. This caused many issues for us, requiring us to rely on our local network of friendly contractors who ended up doing a fantastic job. Luckily, we had negotiated the contract carefully and were able to transfer the fee due to the main contractor to our local ones.
In terms of integration with the Castle's heritage, the main disturbance was to the garden, which we dug in the winter so that it recovered in time for the return of tourists in the spring. This really helped mitigate any risk around tourism, which is our main source of income to keep the Castle going.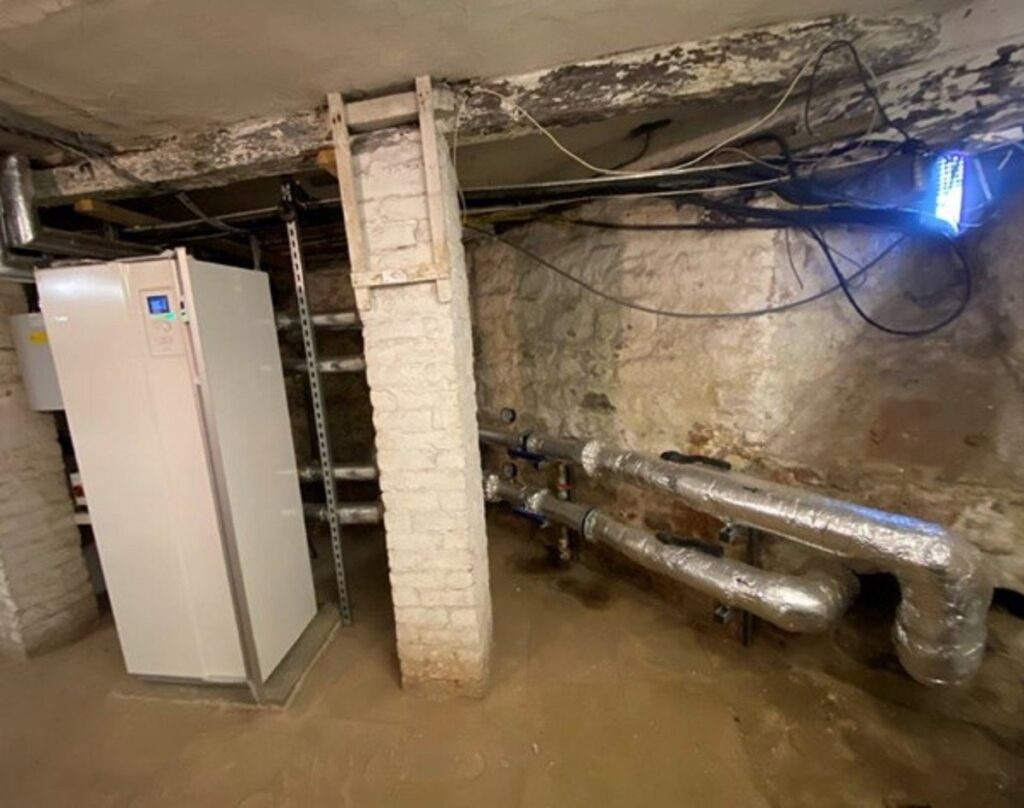 Piping for the new heat pump in the castle cellars
What advice would you give other historic houses thinking of exploring renewable energy schemes?
I would recommend that other houses prioritise the transition to renewable energy schemes. They will ultimately be the future, and it is better to do the transition now while there are subsidies available to help, rather than waiting for the time when it is obliged and there are no subsidies. I predict in the long term, just as the Government has banned fossil fuel cars from 2030 onwards, they will likely do similar for gas and oil heating. So, get in while you can!
While the business case for these schemes does add up, the thing that really convinced my Mum and our advisers that this was the correct direction was that the constant temperature in the castle was good for protecting our heritage. I cannot reiterate the importance of this enough; steady temperatures have reduced the humidity in our property, and made it easier for us to look after our museum grade contents.
Overall, I think renewable energy is well aligned with the values of a historic house, as it has the long-term viewpoint. The big advantage of historic houses being owned and cared for by owner custodians such as us is that our evaluations of business benefits are multigenerational, and extend far into the future. For historic houses to continue to thrive, we need to be implementing actions like this to reduce climate change, and ensure the longevity of our heritage.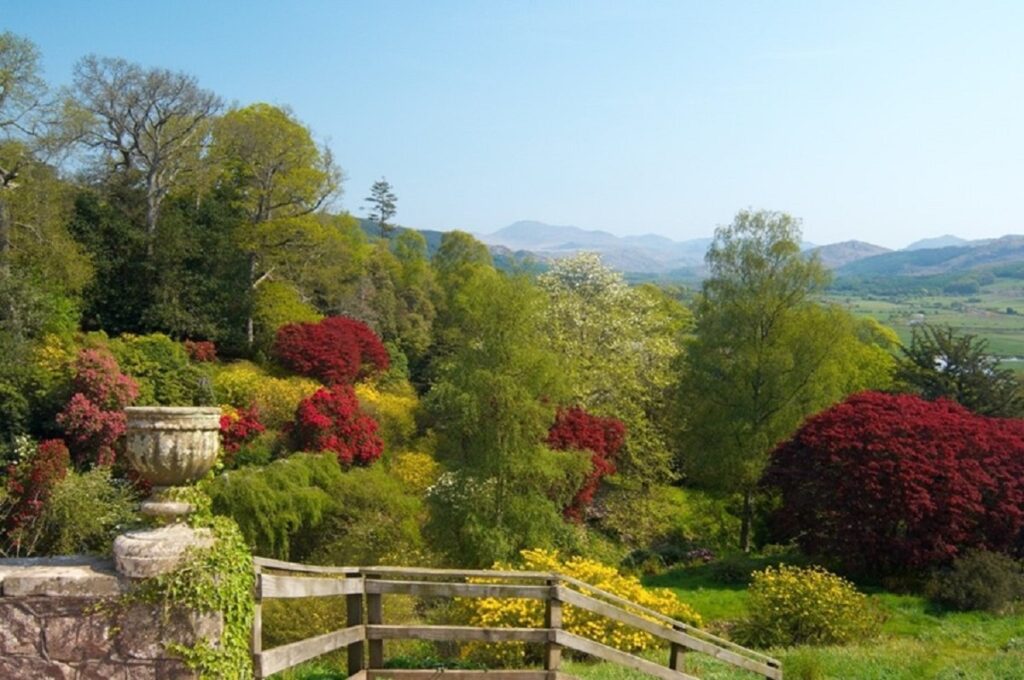 The view from Muncaster's gardens across the fells – known as "The Gateway to Paradise'
What is the next step for Muncaster – do you have plans for any further green projects on the horizon?
Building off the success of our ground source scheme we are now exploring solar panels, which would be on a building within the curtilage of the estate, while not detracting from the heritage. Our sustainable heating solution has enabled this, not just through extending our experience of delivering these sorts of solutions, but it also runs from electricity so it allows us to reduce our heating bills even further.
We are also carrying out more basic improvements, such as refurbishing windows to cut down on draughts, and adding more insulation when we can. Modern double glazing units are not allowed but well-designed secondary glazing can help, as does keeping shutters in good order and functioning if they are still fitted. We also hope to fit more ground source heating units in other buildings on the estate, if we can. We are researching providing electric car charging points for family, staff and visitors to use, and aim to link these to our solar panels when fitted, if at all possible.
If anyone would ever like to come and visit us at Muncaster, we are beaming with pride over the ground source scheme and would happily discuss it with anyone who is interested. I, too, of course, love talking of such things – combining my passions of renewable energy and heritage is hard to beat!
Ewan Frost-Pennington
February 2021
To learn more about Muncaster, here's a behind-the-scenes look at this ancient castle with its current custodian, Peter Frost-Pennington.
Powered by the Elements
Hydropower, wind power, solar and biomass are the four leading types of renewable energy today, but their histories can be traced back much farther than you might think. Read on to discover how four of our member houses are leading...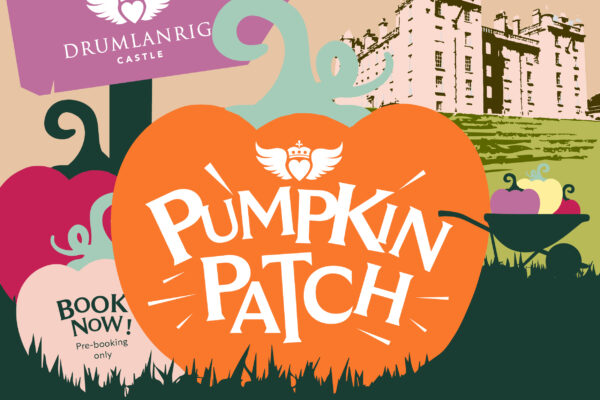 Drumlanrig Castle have launched a brand new pumpkin patch at the Gardens and Adventure Playground, running from 14th to 29th October.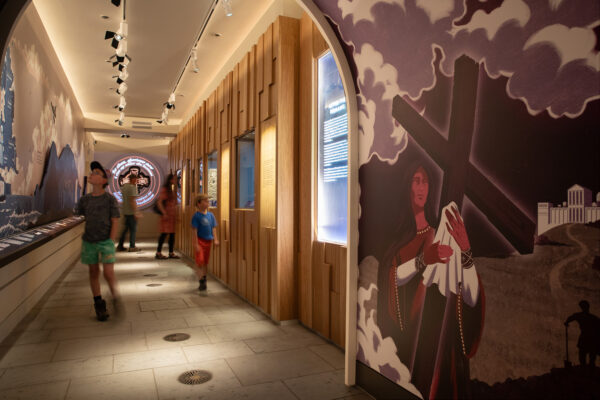 It's been 10 years in the making, and countless challenges have been encountered along the way, but we've kept the faith, and now it's finally ready – the Faith Museum opens to the public on 7 October 2023.
Painshill, in Surrey, invites families to enjoy an enchanting fairy tale adventure in a landscape full of stunning autumnal colour.