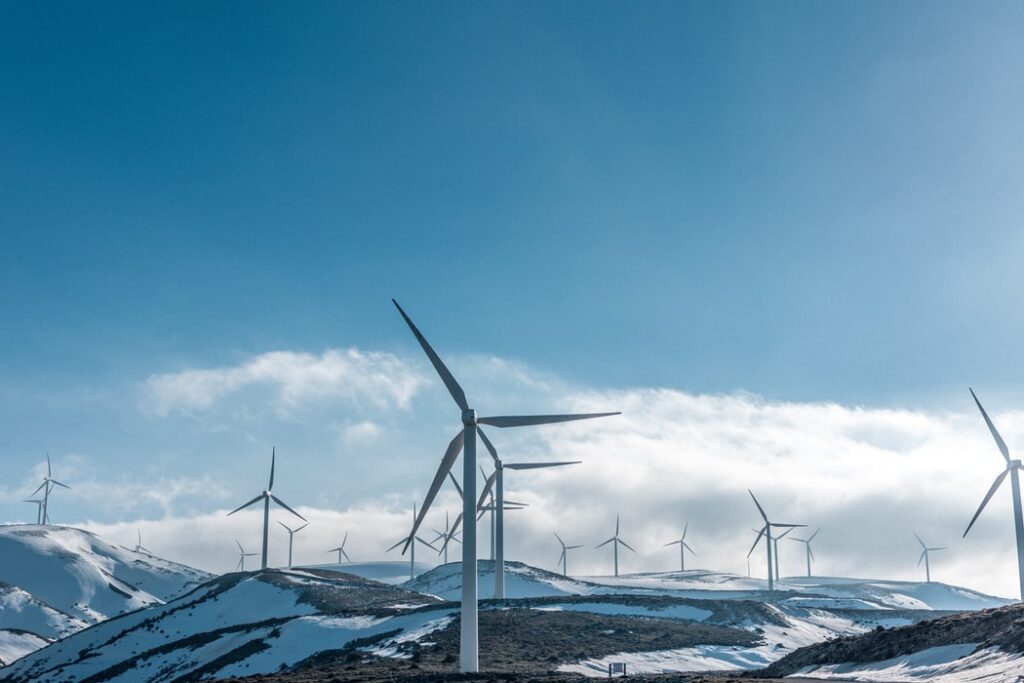 4 Ways Historic Houses are Leading the Way with Renewable Energy
In the centuries following the industrial revolution, the nation's stately homes were warmed by glowing coal fires in grand fireplaces, and lit by flickering gas and oil lamps as the evenings drew in. In more recent years, the custodians of historic houses have increasingly turned to greener energy sources as low-carbon and cost-effective alternatives to these finite fossil fuels.
Hydropower, wind power, solar and biomass are the four leading types of renewable energy today, but their histories can be traced back much farther than you might think. Read on to discover how four of our member houses are leading the way with these four ancient renewable energies, and the surprising stories of monks, witchcraft and whaling behind each of them.
Boosting Biodiversity with Biomass at Miserden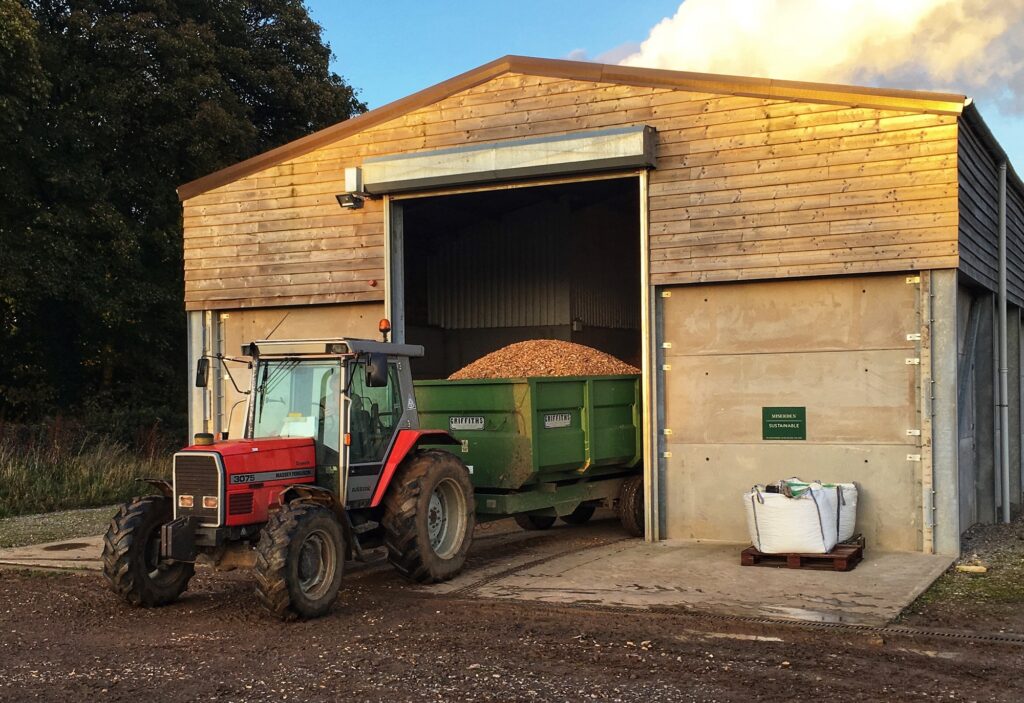 Wood has been our most widely used fuel for millennia, and for most of history heated every home in Britain on roaring log fires. Bio-fuels such as wood include any fuel derived from living matter, but not all these seemingly 'green' fuel sources are sustainable. Whale oil was once one of the most widely used bio-fuels, and almost drove Sperm Whales to extinction – at the peak of the whaling industry in the mid-19th century, 18 million gallons of whale oil were harvested every year for candles and lamp oil.
It wasn't until the impact of human industry on the natural world was properly understood that wood was revisited as a sustainable source of heat. Fuelled by responsibly sourced biological matter, such as chips, logs or wood pellets, biomass boilers are now on the rise as a more sustainable alternative to traditional heating systems.
One of our member houses reinstating this ancient form of energy is Miserden, a family-run estate in the Cotswolds with a focus on environmental and community values. The Estate is committed to reducing its carbon footprint, and to that end have installed a 720 kW biomass boiler, which provides heat and hot water for all 39 properties in the village, including the church, village hall, primary school and residential properties. It is calculated that the biomass system saves 345 tonnes of carbon from entering the atmosphere each year compared to when the village was heated conventionally using fossil fuels.
Miserden operates a policy of 'continuous cover' forestry, whereby each compartment of their 850-acre woodland is thinned every 12-15 years, with approximately 20% of the trees being felled. This allows light to reach the forest floor and promotes natural regeneration, creating an understorey and undergrowth which also provides a diverse ecosystem for wildlife. Through sustainable thinning the woodland produces enough timber to supply the boiler and is (as far as we know!) the largest privately funded, retro-fit biomass plant in the country. The woodland has been formally recognised as exceptional, and receives regular visits from the Royal Forestry Society and Cotswold Tree Wardens.
Hundred-Year-Old Hydro at Blair Castle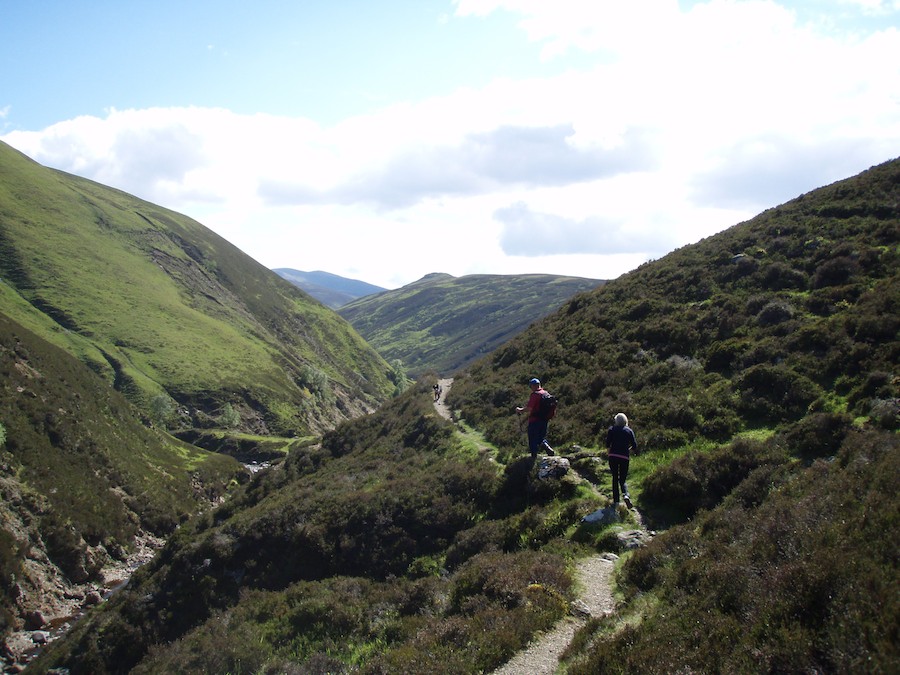 Situated in Perthshire, Blair Castle is a thriving tourism attraction and has been home to the Atholl family for over 700 years. The hydro scheme at Blair Castle was originally commissioned in 1908 to harness power from the Allt Slanaidh streams in the hills above the castle, and remained in use until the National Grid was introduced in 1951. Remarkably, the original Edwardian piping of Blair Castle's hydro scheme was found to still be in good condition over a century after it was built, prompting the decision to restore the hydro generator to its former glory.
Hydropower is an ancient form of renewable energy, with the earliest evidence of water mills dating back to the 4th century BCE. More recently, modern hydroelectric schemes have been developed to harness the kinetic energy of falling water to generate electricity. Scotland has always played a major role in the development of hydro-electric power, with steep mountains, deep lochs and heavy rainfall producing a reliable source of running water. The first hydroelectric scheme in Scotland was built by the monks of Fort Augustus Abbey in 1890, and provided electricity for 800 residents in the local village. Throughout the 20th Century hydro played a major role in providing energy to large parts of rural Scotland which were not connected to the national grid, and today hydropower accounts for a fifth of Scotland's electricity production.
Following the discovery of the intact original hydro scheme at Blair, in 2014 a team of hydro engineers, electrical specialists and environmentalists worked to restore the Castle's powerhouse with a new turbine and intake. Acoustic engineers were also brought in to prevent the scheme from creating any unwanted sound pollution — when running, the turbine produces around 85 decibels within the power house, but outside the powerhouse, silence. In 2015, the fully restored turbine was unveiled by Fergus Ewing, Scotland's Minister for Business, Energy and Tourism, who praised the scheme as "a prime example of how businesses can make sustainable use of their natural resources without adversely affecting our stunning Scottish landscape."
The hydro scheme now allows the castle to be totally self-sufficient, producing enough electricity to power the castle, whilst also selling any surplus power back to the grid. As well as being an environmentally friendly and cost-efficient alternative to fossil fuels, the recommissioned hydro system is also a valuable educational asset. A viewing window installed in the powerhouse allows visitors to the castle to see the system in action, highlighting the important role that sustainable energy has played, and continues to play, in the castle's history.
Shining a Light on Solar at Tissington Hall
Tissington Hall is a Grade II* listed mansion house in Derbyshire, a popular wedding venue and tourism attraction, and home to Sir Richard FitzHerbert, 9th Baronet, and his family.
With warmth leaking out of its 48 chimneys, Tissington's impressive architecture used to pose a significant challenge to keeping the Hall sustainably and affordably heated. After an extensive initial planning process, the introduction of a Solar PV installation comprised of 16 solar panels in 2012 has helped to provide a solution to this problem. Fixed to the roof of the hall, the panels were strategically placed away from the shade created by the chimneys to maximise the efficiency of the system. The subsequent installation of a Tesla battery has also enabled any excess energy to be stored for use at night. Since 2012, the further addition of 8 more solar units has helped to increase energy efficiency across eight other properties situated throughout the wider estate.
Solar as an electrical energy source has a relatively short history, with photovoltaic cells only becoming commercially available for domestic use within the last 25 years. However, the first solar cell was created over 250 years ago in 1767 by Swiss scientist Horace-Benedict de Saussure, 11 years before the discovery of Oxygen. He constructed a box with a small opening with three layers of glass, which magnified the sun's rays to create enough heat to boil water within the box. But it wasn't until 1921 that the invention of modern solar panels was made possible, when Albert Einstein won his Nobel prize in physics for his paper on the photoelectric effect – not his theory of relativity!
Solar now presents a low-profile, low-impact option for historic buildings looking for sustainable energy solutions. Tissington Hall's flat roof, a common feature of many stately homes, helps to completely hide the solar panels from view and preserve the character of this historic house. Although the initial cost of purchasing and installing solar panels can seem high, they can dramatically reduce overall expenditure on energy bills, and Sir Richard has said that the Hall's energy bills have halved in the 9 years since their installation.
In addition to the financial benefits, the solar panels have also created an opportunity to integrate sustainability into Tissington's wider visitor experience. For example, an electric vehicle charge point attached to the solar panels has been made available to occupants of the holiday lets in the North wing of the Hall to encourage sustainable tourism.
A Community Partnership Wind Farm on the Isle of Skye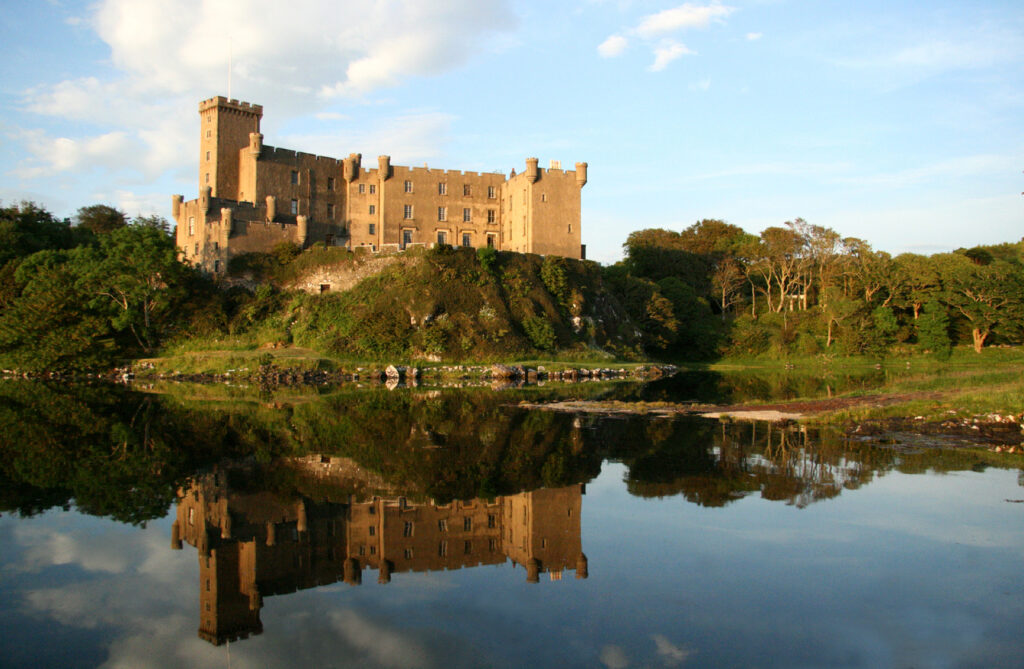 Situated on the Isle of Skye, Dunvegan Castle has been the ancestral home of the Chiefs of Clan MacLeod for 800 years. The current owners of the estate have identified protecting the castle's environment as a major part of their commitment to preserving this important Scottish heritage attraction for future generations.
Consisting of 12 turbines and developed in partnership with RDC Scotland and Falck Renewables Ltd., the Ben Aketil wind farm on the MacLeod Estate, which is crofted by the Feorlig Crofting Community, was the first wind farm to be built on the Isle of Skye. Becoming fully operational in 2009, the windfarm reduces carbon emissions by approximately 52,000 tonnes every year.
Wind has been used to power mills and ships for centuries, but the first wind turbine to produce electricity was also developed in Scotland a little over 130 years ago. Built by pioneer Professor James Blyth in 1887, his garden wind turbine provided just enough electricity for his holiday cottage in Kincardineshire, the first house in the world to be powered by wind. However, Blyth had little fortune marketing his invention, and his surplus electricity was rejected by the people of the local village, who considered his ground-breaking invention witchcraft.
Today, wind power is the second largest source of energy in the UK, and is recognised as a safe and sustainable alternative to the fossil fuels we once relied upon. The Ben Aketil wind farm has not only produced environmental benefits but has had a positive impact on the local community, producing over £35,000 per annum for the locally managed Dunvegan Community Trust. The funds are used to support local community initiatives in education, environmental improvements, energy conservation and community facilities in the Dunvegan area.
With the support of Energy4All Ltd – a company that promotes ownership of renewable energy schemes and energy conservation measures – 570 local community members were also able to purchase a stake in the wind farm from Falck Renewables and establish the Isle of Skye Renewables Co-operative Ltd. The second scheme of its kind in Scotland, this community business initiative allows profits from the sale of the renewable electricity generated by the wind farm to be distributed to members through an annual dividend.
The historic State Rooms of Lydiard House Museum are reopening this April with a new special exhibition and family activity in time for the Easter holidays.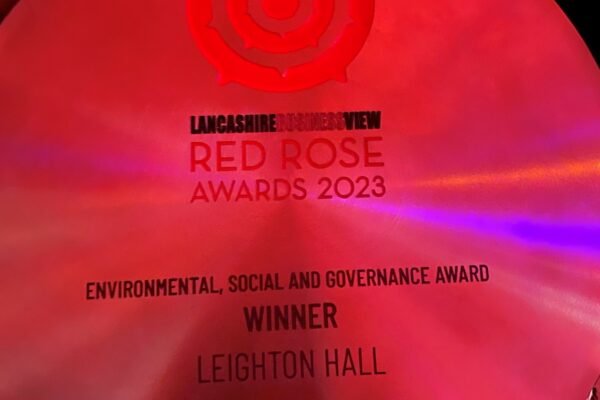 Leighton Hall has succeeded in winning the Environmental, Social and Governance award at Lancashire Business View's Red Rose Awards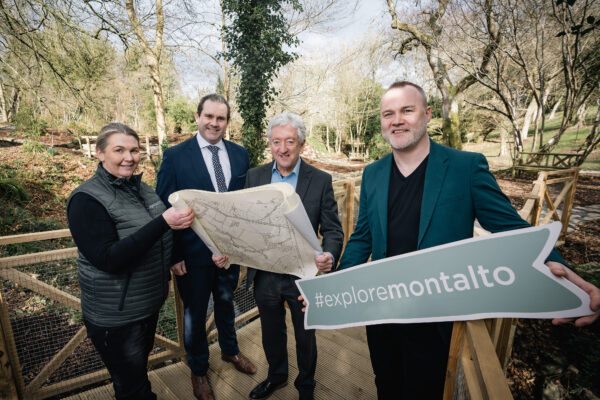 Montalto Estate, in rural Co. Down, is getting ready to unveil a significant new tourism experience called The Lost Garden Trail.