Historic Houses Announces 2021 Art Competition Winner
Historic Houses today announces the winner of our 2021 Summer Art Competition. The competition ran from May to September 2021, with hundreds of entries submitted. We asked for members of the public to depict a Historic Houses place or respond to it in a creative and insightful way. The judging panel met on Thursday 28 October, and consisted of staff members from Historic Houses member houses with strong artistic heritage links, as well as an external artist and BA Programmes Director at the Art Academy in London. The panel discussed each artwork submitted in depth before coming to a unanimous decision on a winner.
And the winning artwork is…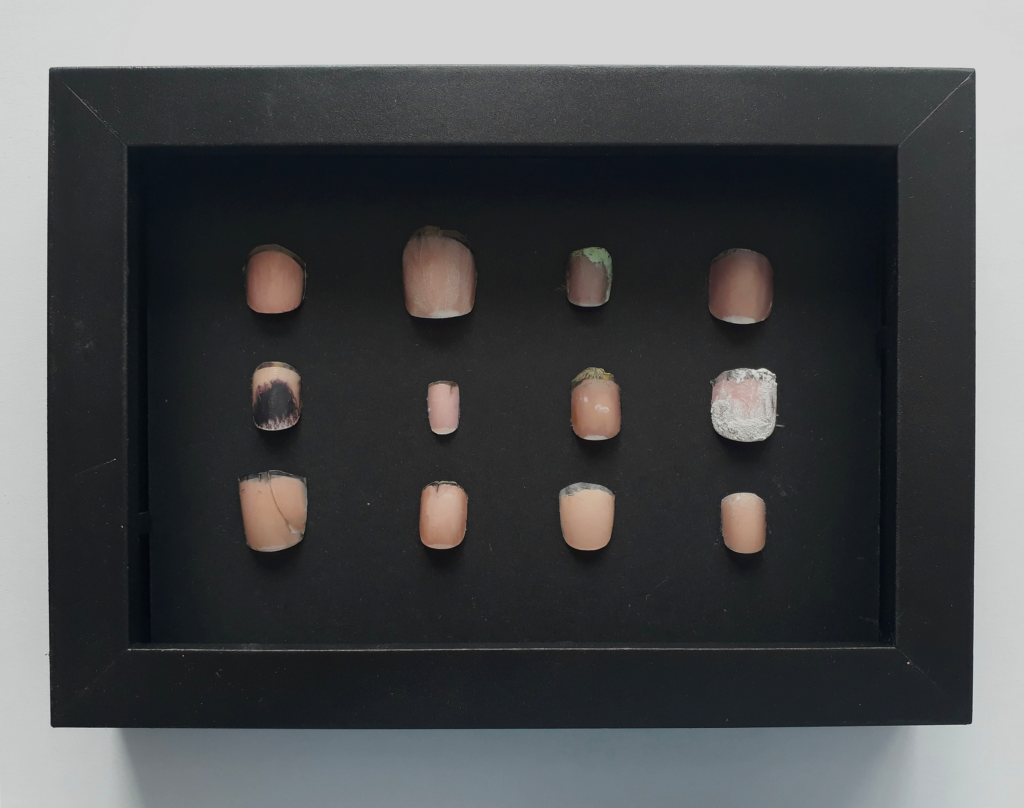 'Fingernails' by Clare Charnley
Materials used include: false fingernails, paint, earth, grease, black lead, saddle soap, plaster etc Size including frame: 12.5 x 17 x 2 cm. The frame is glazed (though the work was photographed without glass).
A huge congratulations to Clare Charnley, for her work, 'Fingernails', in response to Temple Newsam House, Leeds. Here's what Clare mentioned in her supporting statement:
"I have been thinking about work – about jobs historically carried out in Temple Newsam. Some of these overlap with contemporary maintenance jobs there. Washing, cleaning, polishing, blacksmithing, painting, cooking, chimney sweeping, hewing etc.. Through making (i.e through use of my own hands) I imagine others' hands engaged with soil, flour, soap, carcasses, stone, ink, clay, animals, fabric, dung, gunpowder etc..
Arranged like a servants' bell box, each nail is a tiny painting of how it might have been. They include nails that are bruised and damaged and the nails of children."
Here's what the panel thought...
Lucinda MacPherson
Heritage & Arts Communications Consultant at Turner's House
Clare Charnley's response stood out from the many wonderful entries for its skilled execution of a unique and intriguing idea.
Placing three rows of 12 false fingernails in a matt black box like a servants' bell box powerfully evoked the manual labour exerted through the ages at Temple Newsam. It suggested the dichotomy of lives lived upstairs, where owners could ring a bell at whim in one of the 42 rooms to summon a servant downstairs to trudge a lengthy distance to attend them.
Each nail was a miniature work of art in itself, using paint, earth, grease, black lead, and saddle soap to tell a visual narrative of centuries of decorating, gardening, cleaning, polishing and blacksmithing.
The bruised nail had a particularly visceral effect, provoking questions of who had endured this damage and how. A gardener creating the Capability Brown landscape? A miner in the colliery? Or maybe a de Lacy during the Norman Conquest or Lord Darcy before his execution in 1537?
Eleanor Wang
Co-Director San Mei Gallery and Van Gogh's House
When I first saw this piece by Claire Charnley I was a bit taken aback, thinking they were perhaps real nails. The grittiness and visceral reaction it prompts is probably one of the main reasons I chose it. It goes without saying that a historic house takes a lot of looking after, both in terms of general maintenance, as well as the narrative it presents to visitors. I think this thoughtful piece of painting and sculpture encompasses this and encourages us to think about all the work that happens behind the scenes, essential to keeping a historic house functioning. The unusual choices of materials evoke stories of labour and everydayness. I love how this piece, although not a stereotypically 'beautiful' render of a historic house and its gardens, paints it own picture of the people and actions that support the beauty.
Angus Forbes
Artist and Curator of the Doddington Hall exhibition programme
A bold, clever, and unique response to a Historic House. The artwork is both visually striking and conceptually layered in equal measure; it demands conversation. Each fingernail holds its own small narrative and combine to create a fascinating response to the brief.
What the award's sponsors said of the competition...
Robin Bidgood
CEO at The Rag – Army and Navy Club
"We are delighted to have supported the Summer Art Competition and look forward to welcoming the winner for a special stay here at the Club, complete with a private tour of our art collection. We are proud to have ongoing relationships with a number of associations across the country, not least Historic Houses who share our love of British heritage. Congratulations to the winner and all who took part."
David Grant
Director of Sales and Marketing at Search Press
"Search Press is delighted to have been involved in such an inspirational project. The quality and diversity of the competition entries just shows how many wonderful artists are out there. Congratulations to all."
Have your say
The People's Choice Award
The competition isn't over though. We're opening up our Highly Commended Award to a public vote. Now you can have a look through seventy eight entries chosen by the Judging Panel and tell us which artwork you would like to win the People's Choice Award. The vote is taking place over five weeks until Friday 17th December. Take a look at the voting page here:
What do you think of the winning artwork?