Upton Cressett Hall
Home to the Cash family, the oldest house built entirely of brick in Shropshire.
Bridgnorth, Shropshire, WV16 6UH
Get Directions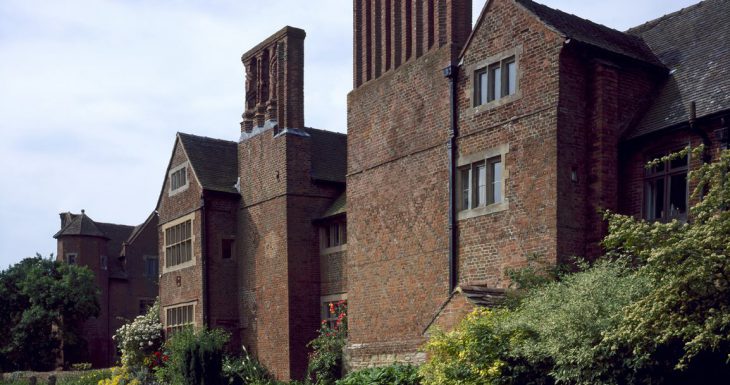 The Hall as it stands today was built in the late sixteenth century – with the remains of a fifteenth-century Great Hall – and is reputed to be the oldest dated house built entirely of brick in Shropshire. A 'date-stone' of 1580 can clearly be seen on the front of the house from the Moat Lawn.
From the fourteenth century until 1926, the historic estate belonged to the Cressett family – Shropshire landowners and royalist courtiers – and their descendants. The Cressett direct line died out with the death of Elizabeth Cressett in 1792, after which the estate passed through various branches of the Pelham Cressett and Thursby Pelham family (which included two prime ministers).
The site of the Hall is ancient. It is recorded in the Domesday Book and in nearby fields there are the remains of a second century Roman settlement. The surrounding land is also the site of a deserted medieval village, traces of which remain as earthworks. A tiny Norman church, dedicated to St Michael, stands nearby and is maintained by the The Churches Conservation Trust.
Parts of the Hall date to 1380 and are the remains of an earlier manor which belonged to the de Upton family. In the thirteenth century, the de Uptons were Verderers of the Royal Forest of Morfe and Knights and suitors to Holgate Castle, and the last of their line married into the Cressett family in the fourteenth century.
Open from May to September, every Wednesday and Sunday and Bank Holidays.
Guided tour from 2.30pm at various times in the year. See their website for further details, or view Tours to see the latest available tours.
There is no access to the hall unguided.
This house is not part of the Free for Members scheme, but is one of many houses on our website that we support to promote their tours, weddings, filming and other commercial offerings. To see all the places you can visit as a Historic Houses member, please visit our 'Free for Members' listings page here. Or to find out more about how the membership scheme works and how it supports our work to protect independent heritage, visit our page here.
Upton Cressett welcomes group tours all year by appointment. We have welcomed hundreds of group visits, including classic car clubs civic societies, history groups, garden tour groups, Rotary clubs, WI and local guild groups, students, art and painting groups, archaeological groups and walking parties.
We can accommodate group visits of all sizes, starting at 14 guests for afternoon tea and a minimum of 12 guest for lunch to a maximum of 30 guests. Group tours are often led by the owner, family member or our head guide Richard. Tour and tea (including home-made cake) is £17.50 per head. Buffet lunches are available for group tours with refreshments (including wine), at £35 per head. Sample group lunch menus available on request or download menus below. *If you are a smaller group we work on a minimum spend policy to cover our costs. (£240 for tour and tea, starting at £400 for tour an lunch)
What the critics say...
"The gatehouse is an Elizabethan gem" - Simon Jenkins, England's Thousand Best Houses
"One of Britain's finest stately homes" - Daily Telegraph
"A splendid example of the English manor house at its most evocative" - Country Life
"A remarkable Tudor house of brick" - Nikolaus Pevsner, The Buildings of England
"A remote and beautiful place" - Sir John Betjeman, former Poet Laureate
"One of the most interesting group of buildings I have ever seen" - Duke of Grafton, SPAB
Become a Historic Houses member
Explore the nation's heritage from just £65 per year.
Hundreds of the most beautiful historic houses, castles, and gardens across Britain offer our members free entry.
Also: receive a quarterly magazine, enjoy monthly online lectures, get exclusive invitations to buy tickets for behind-the-scenes tours, and take up a range of special offers on holidays, books, and other products you might like.