The Merchant's House
A rare example of a middle class silk merchant's house, containing nationally acclaimed wall paintings and decorative features.
132 High Street, Marlborough, Wiltshire, SN8 1HN
Get Directions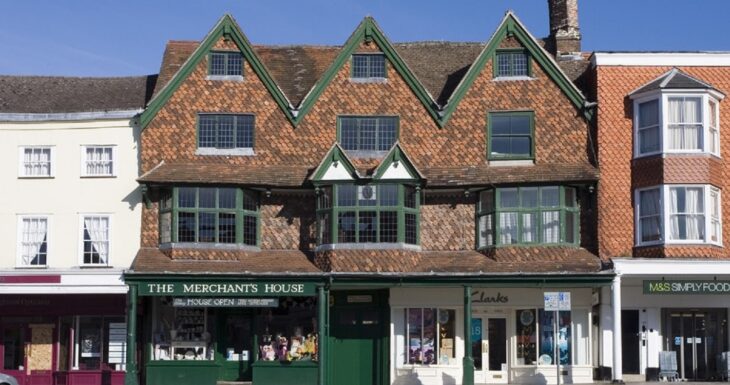 A history of The Merchant's House
In 1991, following an initiative by the newly-formed Merchant's House Trust, Marlborough Town Council purchased the freehold of no. 132 and leased it to the Trust at a peppercorn rent, a continuing contribution from the Town Council which is gratefully acknowledged.  Since 1991 the Trust has been actively engaged in the conservation, restoration and furnishing of this remarkable building.
Many original features survive.  These include a largely unaltered room system, panelling, a grand oak staircase and stone chimney-pieces.  What makes the building exceptional was the discovery in the 1990s of the polychrome wall paintings comprising fictive balustrading on the walls of the grand staircase and a richly coloured striped wall design which is thought to be unique in this country.  This is all the more remarkable in a house occupied by the "middling sort", a social stratum with which many people can identify, and especially unusual in a high street house of a prosperous market town with the never-ending commercial pressure to be updated or even completely redeveloped because of its valuable location.  The quality of the building was recognised by its inclusion in Simon Jenkins' England's 1000 Best Houses (2003).
From the start the Trust has endeavoured to conserve and restore to the highest standards, employing specialist craftsmen trained in traditional techniques (as in the case of plastering and woodwork) and the most up-to-date methods of conservation (as in the case of the wall paintings).  At the same time it has relied heavily on a corps of volunteers to undertake a large proportion of the Trust's activities.  This is partly to save money but also to maximise local interest and participation.
The library of 5,000 books
The Merchant's House Library currently possesses over five thousand books. We aim to develop and promote published literature relating to the history and role of The Merchant's House and the events, way of life and history of rural and urban England in the seventeenth century.
We also house and develop a body of published literature on the history and development of Marlborough and its surrounding villages, and keep back runs of over 70 specialist journals. By prior arrangement with the Trust Office, the library can be used for research and small group tours are available.