Penicuik House
The palatial ruins of a Palladian house ravaged by fire.
Penicuik, Midlothian, EH26 9LA
Get Directions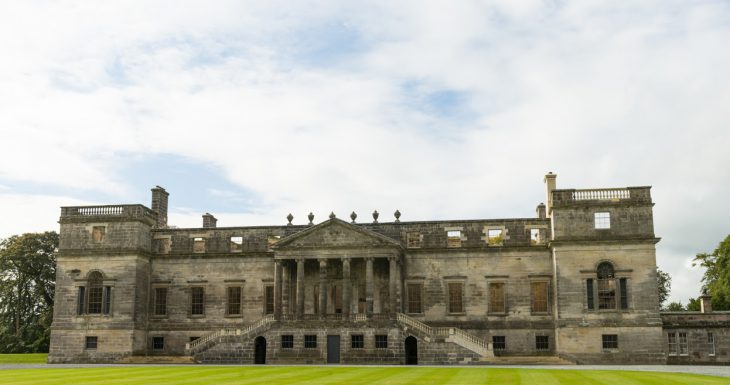 When the Barony of Penicuik was acquired by John Clerk in 1654, Newbiggin House was the family home on the Estate. John Clerk's son – Sir John Clerk, 1st Baronet of Penicuik – initiated the agricultural improvement of the Estate by the enclosure of pastures and the planting of trees, and his son Sir John Clerk, 2nd Baronet was responsible for the creation of the Designed Landscape which survives, largely unchanged, today. Sir John, the 2nd Baronet, had considered extensively remodeling Newbiggin House but it was his son Sir James, 3rd Baronet who, in collaboration with John Baxter the Elder, demolished the existing house in 1761 and designed and built Penicuik House in its place, siting it in the heart of the magnificent Designed Landscape which had been created by his father in the early 1700s.
A Question of Symmetry
Sir James, 3rd Baronet, was a firm believer in symmetry, so Penicuik House was designed with two staircases of equal importance leading up from the front hall – a somewhat dated treatment as the fashion of the time was for a grand state staircase with a smaller secondary stair for servants.
The resulting elevated central portico, and the positioning of the bedroom floor on the attic storey under a platform roof attracted criticism from both Sir James's family and the architect Robert Adam, whose sister Susanna was married to one of Sir James's brothers, John Clerk of Eldin.
However the consciously outmoded design and the four-square planning of the rooms delighted Sir James and echoed the vision of his father, Sir John Clerk: "Above the attic floor a platform roof may be extended like a spacious field from where the many pleasant landskips [sic] round may be with ease and delight survey'd."("The Country Seat", 1720s).