Old Bowlish House
An unexpected tapestry of wool, wars, Huguenots and a ghost or two.
Bowlish, Shepton Mallet, Somerset, BA4 5JA
Get Directions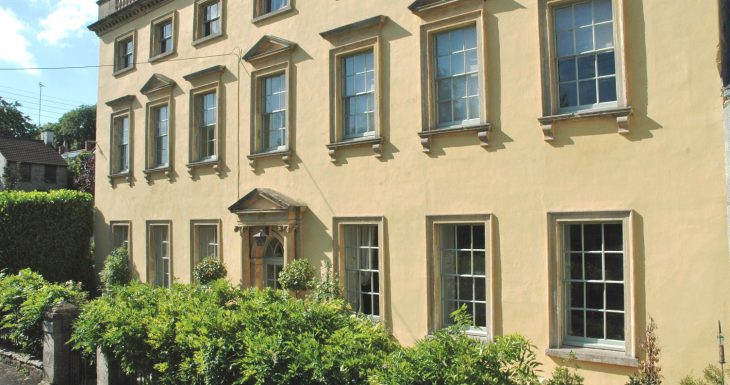 A visit which keeps on revealing. Built around 1618, this Grade II* clothier's mansion was modernised by the Georgians c.1735 and the Victorians c.1860. A Palladian frontage and stone mullioned rear windows are two of the external features which enclose finely proportioned rooms, original fireplaces and a magnificent heavily-carved Jacobean openwork scroll oak staircase which winds through all three of its floors.
Today, the house is very much a family home, having been lovingly renovated by the Keys family, and has been featured in both Period House and Period Living magazines as well as on BBC Radio Somerset.
Owner-narrated tour includes five moderate-sized gardens (each with its own challenges including a large ruin); workers' homes; former industrial buildings and other remains in the hamlet; and the interior: lots of original features, fine furniture and memorable art, as well as a thoroughly-researched architectural, locality and occupant history.
Tours that are scheduled will be listed below. If none are scheduled yet, please check back later, or find other tours you might enjoy on our tours listing page here.
TOUR DURATION
2½ – 3 hours
TOUR PRICES
£17.00 per person, festive tour £22.00
REFRESHMENTS
Cream tea. December tour includes festive treats.
ACCESS NOTES
Ground floor only. Access to the 2nd and 3rd floors is via stairs and to the upper levels of the garden via quite steep steps. Tour includes a walk around the building remains in the hamlet, up a hill for a hundred yards or so and on level ground for a similar distance. For those who cannot climb stairs, there is a booklet which has a summary of what they are missing. There are chairs throughout the house and gardens. On the ground floor of the house and the ground floor level garden, the largest step/change of level is 2 in, so a rollator here should be fine. Visitors can be dropped off outside and the owner will move his car to ensure this if advance notice is given.
SPECIAL RESTRICTIONS
No dogs.
VISITORS' VIEWS
"…a fabulous tour of your stunning house and gardens…and very scrummy cakes."
"Everyone was fascinated by the house and interested in the furniture and art works…a very enjoyable, rather special, afternoon."
"..the highlight of our trip to the area…interesting talk and superb cream tea…a memorable experience."
"We particularly liked your stories. They brought the tour to life."
"…a wonderful trip round your amazing house, outbuildings and Bowlish hamlet."
"The tour was brilliant in every respect. What a truly wonderful place and such informative and enthusiastic guides. A most enjoyable afternoon."
"People were fascinated by the house, your commitment to it and its place in the history of the area."
"It was generally agreed that your house and style of tour will be looked back upon with much warmth and pleasure by the members of Seend Historic Houses Club. As a group we have seen many houses, both great and small, since the club started about 25 years ago, occasionally we find a gem. Usually they are houses which are also homes and it's the personal and obvious love for the history and fabric which come through from you, as stewards, which tantalise us. It's a shame the rain was relentless which prevented us from enjoying the gardens. However, this was certainly mitigated by the sumptuous tea you provided!"