Kincardine Castle
An ancient country house in Royal Deeside and still a family home.
Kincardine O'Neil, Aboyne, Aberdeenshire, AB34 5AE
Get Directions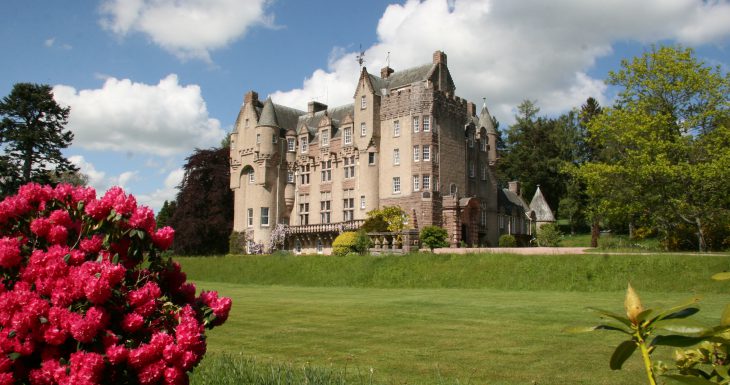 Features
Corporate hire

Easily accessible without a car

Film location

Open fire

Overnight accommodation
Accessibility
Access statement available
Accessible toilets
Wheelchair ramps/routes
Accessible parking
Guide dogs welcome
Hire Kincardine Castle
If you can't be at home for business we believe the next best thing is to stay in a relaxed homely environment rather than yet another nice hotel. We provide that ambience – comfort, friendship, intelligent conversation, superb hospitality and so much more while providing the requirements for successful meetings.
When a seriously well-travelled businessman took me aside he did so to tell me we were providing world-class hospitality. When I pointed out the things we didn't have – like swimming pools and fitness rooms, he replied that didn't matter in the slightest – what we did provide was of infinitely greater value – our ability to look after people we've never met and treat them as old friends.
For your business we provide a home from home – need we say more?
For more information please contact:
Andrew Bradford
01339884225
kincardineestate@btinternet.com
Accommodation at Kincardine Castle
A stay in the castle is to step into the lives of the laird and his wife for a few days and be treated as one of their close friends. Their hospitality is legendary.
In the castle are 16 guest bedrooms furnished with antiques each with its own bathroom. Our exclusive-use accommodation is for groups only and includes superb hospitality with seriously good cuisine. Over your stay you'll find out a great deal about the history of the castle and family, about the gardens and how a Scottish estate supports its local community. In all a fascinating, friendly and homely time – we'll leave it for one of our past guests to sum up:
"We shall never forget the extraordinary warmth of your welcome at Kincardine. You two are wonderful hosts and you spoilt us rotten. You have a very special house, and you have the great gift of being able to share it with people you've never met before, treat them as friends and make them feel completely at home."
For more information please contact:
Andrew Bradford
01339884225
Accessibility
Access statement available
Accessible toilets
Wheelchair ramps/routes
Accessible parking
Guide dogs welcome