Holdenby House
A historic Northamptonshire country house, traditionally pronounced, and sometimes spelt, Holmby.
Northampton, Northamptonshire, NN6 8DJ
Get Directions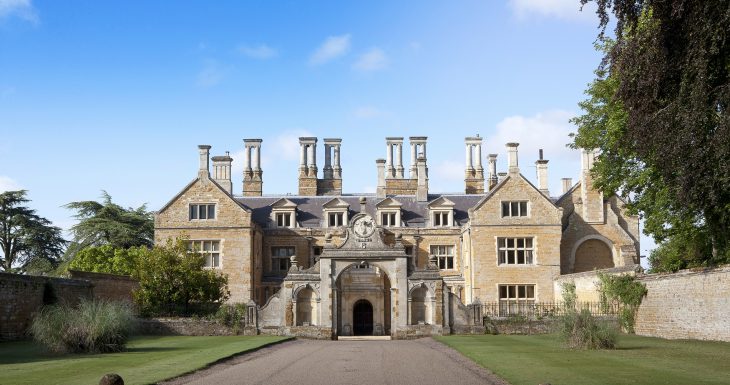 Features
Film location

Pet friendly
Accessibility
Accessible toilets
Accessible parking
Guide dogs welcome
Wheelchair ramps/routes
Hire Holdeby House
Holdenby has been the scene of some of England's most important historical events. Now it provides the ideal venue for all types of corporate or public events, whether outdoor or indoor, large or small scale.
Outdoor events
The Grade I grounds are perfectly laid out for larger scale events… from product launches, company staff days, concerts, festivals, events and parties of all kinds. Its uniquely inspiring setting has been used for a large scale reception for the British Grand Prix, with a magnificent transparent marquee, fireworks and dancing with drivers flying in by helicopter.
Entertainment
The elegant interiors lend themselves perfectly to memorable dinners, luncheons or parties. The Ballroom may be used for concerts, dancing or converted into a casino for the night. Awards dinner, auctions, mystery evenings can all be accommodated in Holdenby's beautiful suite of rooms.
Conferences
Holdenby has a suite of elegant rooms for all types of business requirements. The Pytchley Room is ideal for board meetings or gatherings of 8-15 people. The Ballroom can seat up to 100 delegates (theatre style). The Dining Room, with its beautiful silk damask wallcovering, can seat up to 80 delegates (theatre style) and may also be used to dine. The library, Inner Hall and Entrance Hall are also available for smaller events.
Contact us for more information:
Jacquie Hampton
01604 770074
Accessibility
Accessible toilets
Accessible parking
Guide dogs welcome
Wheelchair ramps/routes