Haughley House
Village house probably dating from the sixteenth century of timber-framing and plasterwork under a hipped plaintiled roof.
The Folly, Haughley, Suffolk, IP14 3NS
Get Directions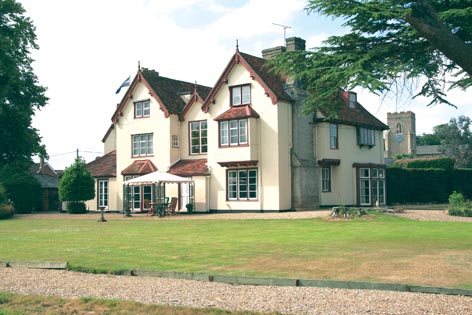 Late-medieval manor, with eighteenth-century additions, adjacent to the outer bailey of a ruined Norman castle, destroyed 1173.
The manor of Haughley was one of the foremost in England, previous lords included Henry II and Mary Tudor (present owner is the current lord). Notable features include the priest hole in a chimney, two bricked up tunnels and manorial documents on display. There is also a three-acre garden with a walled kitchen garden.
Go on a tour that will include the cellar, ground floor, first floor and brief look at the attic, followed, after tea, by a tour of the gardens. Of particular note are the owners' collections of fans, antique weaponry and militaria.
Tours that are scheduled will be listed below. If none are scheduled yet, please check back later, or find other tours you might enjoy on our tours listing page here.
TOUR DURATION
1½ – 2 hours.
TOUR PRICES
£20.00 per person.
REFRESHMENTS
Afternoon tea comprising tea/coffee, homemade scones and cake. Lunch for groups by arrangement.
ACCESS NOTES
Ground floor only; gravel paths; main staircase has a handrail to the left all the way up; the stairs are wide and not particularly steep.
RESTRICTIONS
No photography in the house, no stilettos, dogs or smoking.