Haughley House
Village house probably dating from the sixteenth century of timber-framing and plasterwork under a hipped plaintiled roof.
The Folly, Haughley, Suffolk, IP14 3NS
Get Directions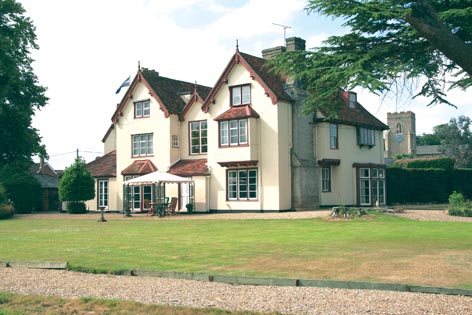 Late-medieval manor, with eighteenth-century additions, adjacent to the outer bailey of a ruined Norman castle, destroyed 1173.
The manor of Haughley was one of the foremost in England, previous lords included Henry II and Mary Tudor (present owner is the current lord). Notable features include the priest hole in a chimney, two bricked up tunnels and manorial documents on display. There is also a three-acre garden with a walled kitchen garden.
Open for private tours and accommodation only.
This house is not part of the Free for Members scheme, but is one of many houses on our website that we support to promote their tours, weddings, filming and other commercial offerings. To see all the places you can visit as a Historic Houses member, please visit our 'Free for Members' listings page here. Or to find out more about how the membership scheme works and how it supports our work to protect independent heritage, visit our page here.
Become a Historic Houses member
Explore the nation's heritage from just £59 per year.
Hundreds of the most beautiful historic houses, castles, and gardens across Britain offer our members free entry.
Receive a quarterly magazine exploring the architecture, collections, and family histories of our grandest and oldest homes, and get an insight into what it takes to keep them standing today.
Enjoy monthly online lectures about the houses and their extraordinary history, presented by experts including house owners, curators and guest lecturers.