Elizabeth Gaskell's House
Home to Mrs Gaskell, an English novelist, biographer and short story writer.
84 Plymouth Grove, Manchester, M13 9LW
Get Directions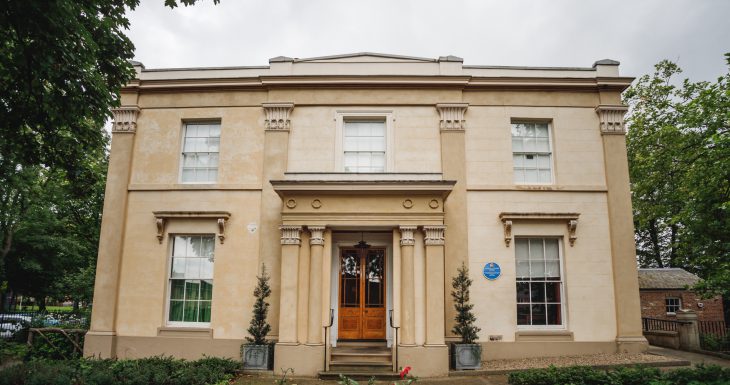 Free for members
Facilities
Bike storage facilities

Cafe / restaurant

Easily accessible without car

Facilities for children

Mostly wheelchair accessible

No parking

Picnic area

Shop
Accessibility
Brail leaflets and signage
Touch tours
Guide dogs welcome
Accessible toilets
Wheelchair ramps/routes
Accessible parking
Access statement available
Elizabeth Gaskell's House in Manchester is the former home of the famous author and her family.
Her novels include Mary Barton, Cranford, North and South and Wives and Daughters and are enjoyed on television, stage and radio.
This beautifully restored family home has spectacular period rooms and re-imagined garden for visitors to enjoy. The House, combined with the story of Elizabeth Gaskell as a writer, public figure and private person, provides a unique and engaging experience.
Take the opportunity to browse the books in William Gaskell's study and sit where Elizabeth sat to write, overlooking her beloved garden. The majority of the furniture and objects can be touched and used, providing a very rare and hands-on experience.
Ring the doorbell and stand on the same doorstep as many of Elizabeth's famous friends. ask one of our friendly volunteers for a Cranford the Cat exploration trail and discover what life was like in a Victorian House.
Go down into the Servants' Hall where you can dress up as Charles Dickens, Hearn the Housekeeper or even Elizabeth herself.
Located in what was originally the kitchen and Servants' Hall, the Tea Room and shop are in the light and airy basement of the House. Join us for freshly brewed tea and coffee and delicious cake served in style on vintage china.
Browse our collection of new and second-hand books, or pick up a literary themed souvenir of your visit.
2022
5 January to mid December.
Wednesdays, Thursdays and Sundays. 11-4.30pm (last entry 3pm/Tea Room closes at 4pm).
Pre-booking essential.
An average visit to Elizabeth Gaskell's House lasts approximately 2 hours with a visit to the Tea Room. If you are looking for a longer day out take a look at other cultural attractions and museums in the Oxford Road Corridor area.
Please note: The information on the Historic Houses website is advisory, but please always check the website of the house or garden you intend to visit before travelling.
Elizabeth Gaskell's House offers private and bespoke group tours on Mondays, Tuesdays, Fridays and Saturdays- this must be booked in advance.
Contact enquiries@elizabethgaskellhouse.co.uk or call 0161 273 2215
Learning is central to our ethos at Elizabeth Gaskell's House, building on the legacy of Elizabeth Gaskell and her family.
Our hands on approach and relaxing environment means we are an inspiring, sensory and creative space for learners of all ages.
Early years: Storytime at Elizabeth Gaskell's House An interactive, hands on story time session inspired by Beatrix Potter, a childhood visitor to Plymouth Grove. Children will play with Victorian toys, enjoy a story in our hands on Period Room and take part in a craft activity. Curriculum areas: Literacy, art and design.
KS1. Through the keyhole at Elizabeth Gaskell's House Who lived in a house like this? Through a variety of playful and hands on activities pupils will discover more about Elizabeth Gaskell, her family and her Victorian home. Using Victorian household objects, toys and replica costume pupils will compare and contrast life in Victorian times to today. Curriculum areas: History, literacy, drama, science.
KS2. The Interruptions of Home. Through a variety of historical enquiry and drama activities pupils will discover who lived in 84 Plymouth Grove in 1860 and what their lives can tell us about the Victorians. These activities are based on extracts from Elizabeth Gaskell's brilliantly descriptive letters and pupils will bring to life the characters from these letters using replica objects and costumes. Curriculum areas: History, drama, literacy.
KS2. Elizabeth Gaskell's House: Now and then. Discover how 84 Plymouth Grove has changed through time. Through hands on exploration using objects and historical documents, pupils will discover facts about the restoration of a significant local history site and the life of Elizabeth Gaskell. Using detective skills pupils will piece together evidence to illustrate the history of the House through different periods in time. Curriculum areas: History, literacy, geography.
Accessibility
Brail leaflets and signage
Touch tours
Guide dogs welcome
Accessible toilets
Wheelchair ramps/routes
Accessible parking
Access statement available
Become a Historic Houses member
Explore the nation's heritage from just £59 per year.
Hundreds of the most beautiful historic houses, castles, and gardens across Britain offer our members free entry.
Receive a quarterly magazine exploring the architecture, collections, and family histories of our grandest and oldest homes, and get an insight into what it takes to keep them standing today.
Enjoy monthly online lectures about the houses and their extraordinary history, presented by experts including house owners, curators and guest lecturers.