Crow's Hall
Brick-built moated medieval manor house.
Debenham, Stowmarket, Suffolk, IP14 6NG
Get Directions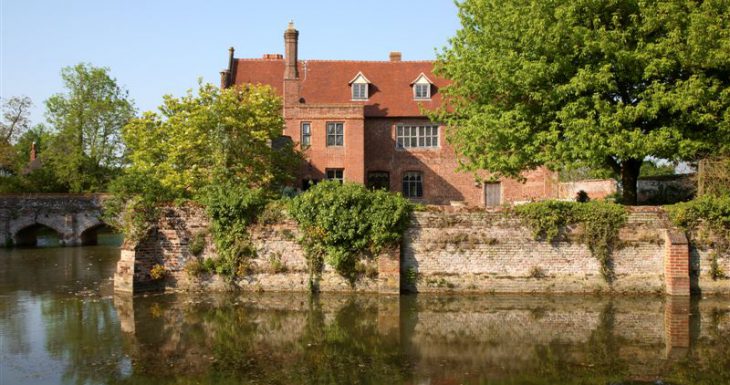 Most of the sixteenth-century and earlier parts of the manor house were demolished by about 1700. This included the Great Hall range to the east and the service wing to the south. This left the north reception wing which was built around 1560 and the gatehouse to the west still standing, interlinked by a screen.
By about 1700, a narrow single-storey range filled the space between the gatehouse and the west gable of the north wing. At the same time a small service wing was added to the north side, re-using roof timbers apparently from the demolished Great Hall. There is also an extension within the courtyard built soon after 1900. The north wing contains an upper dining chamber (since divided into bedrooms) with panelling of c.1560, and more of it has been moved round within the building. The dining chamber was approached by what may be the earliest example of a balustraded box staircase in England.
The manorial history at Crow's Hall dates back to 1086 and the site could have been occupied from earliest times.  Its name, however, would seem to derive from the occupation of John Crow in the late thirteenth century.  The name John Crow appears in the Hundred Rolls 191, 1274/5.  It has been suggested that they were a Yarmouth family who made their money in shipping.  It was bought by Jenk in Framlingham in 1397 and passed by descent until the late seventeenth century.
In 2005, Crow's Hall was purchased by the current owner who has undertaken an extensive repair schedule on the house, prepared and managed by Nicholas Jacob Architects and executed by R & J Hogg, including re-roofing and the removal of some late 20th century additions. These works have received awards for Craftsmanship by the Suffolk Association of Architects.
The owner has also landscaped the inner moat, the design of which has been influenced by traditional gardens and includes a kitchen, formal garden with dipping pool, and a courtyard following early foundations of the former Hall and south wing.