21 Yateley Road
By H T Buckland and E Haywood Farmer for Buckland himself who lived there until his death.
Edgbaston, Birmingham, B15 3JP
Get Directions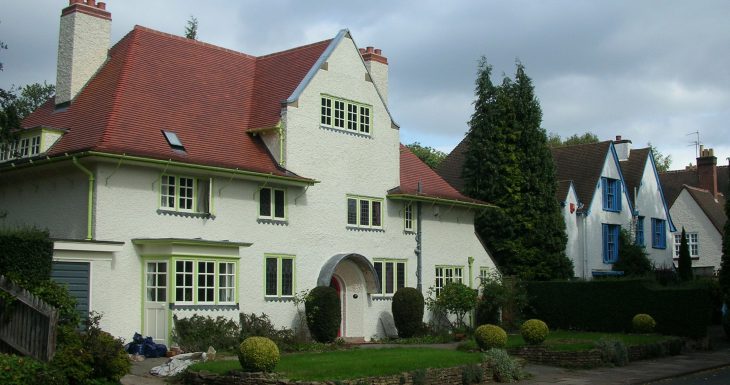 The house is a Grade I Arts & Crafts detached house and garden in a leafy Edgbaston street. It was designed as a family home by the architect H.T. Buckland in 1899 until sold by Buckland's widow in 1951.
Buckland designed a cottage-like, white-painted rendered building, with a tall gable dividing a strongly hipped roof both at the front and back. While the roof at the front stops above the first-floor windows, that on the back drops almost to the level of the steeply sloping garden.
The front door, with its semi-circular head, is entered through a deep hood, decorated with strangely abstract symbols, which are said to be based on the signs of the zodiac. Most of the windows are simple timber casements but around the main front door they are leaded, and in two cases decorated with leaded light owls and Tudor roses.
Elsewhere in the house this play on Buckland and his wife's name – Marigold – is continued in the plasterwork, and in the beaten copper chimney cowls where marigolds and Tudor roses are intertwined. The interior is remarkably intact. It is the only Birmingham Arts & Crafts house that is really well preserved, and for that reason it is one of only twenty-two buildings to be listed Grade I.
In his domestic work Buckland showed an originality that was much admired, helping to make Birmingham the centre for a magnificent group of provincial architects. Alan Crawford, distinguished authority on the Arts and Crafts period, confirms that Buckland "developed such a highly personal style of such quality in domestic work that he must rank with the best of his time".
Buckland was born in Barmouth, Wales and educated at King Edward's School, Birmingham and the school of architecture at Birmingham School of Art. He worked as architect to the School Board in 1901 and then served as architect to the City of Birmingham Education Committee. His buildings are among Birmingham's most forward-looking of their time. He also sat on the Executive Council of The Birmingham Civic Society which devised many schemes for the improvement of Birmingham in the 1920s and 1930s.
Much of modern Birmingham owes its origins to the ideas put forward by Buckland and his partner Haywood.