Historic Houses launches the 2023 Garden of the Year Award
The Historic Houses Garden of the Year Award 2023 kicked off on Saturday (1 April 2023) with six beautiful gardens competing to be named the Garden of the Year in a public vote. The award, launched in 1984, and run in conjunction with Christie's auction house, has gone from strength to strength since then, with tens of thousands of votes cast in recent years.
Shortlisted entries are chosen from among the hundreds of gardens, parks, and grounds that offer free entry to members of Historic Houses, the association that represents and supports the UK's independent historic homes, castles, and gardens. Details of this year's six finalist gardens can be found below.
Vote for your favourite garden now
Ben Cowell, Director General at Historic Houses:
'Our Garden of the Year Award showcases the very best in gardening talent from across the UK. It is particularly exciting to see such a strong Scottish presence in the shortlist this year. Blair Castle, Dunvegan and Mount Stuart join Hergest Croft and Scampston from England as well as Glenarm, our first-ever shortlisted garden from Northern Ireland. Together, these represent some of the UK's very finest gardens – and we can't wait for the votes to start rolling in.'
Ursula Cholmeley, Chair of the Historic Houses Gardens Committee:
'The Garden of the Year Award is a great opportunity to recognise and reward the beauty and quality of independent historic gardens. The hard work that is put in to maintaining and evolving these gardens is undisputed, and it's so important that not only the owners are celebrated but also the gardeners and volunteer teams who give up their time and effort day in, day out to preserving independently owned heritage. These gardens are amongst the finest in the country and we hope that you will get great pleasure from visiting some of them and voting for your favourite.'
Orlando Rock, Chairman, Christie's UK:
'We are incredibly proud to have sponsored The Garden of the Year Award since its launch in 1984. The award represents a wonderful opportunity to discover some of the country's most spectacular gardens. Oases of calm and natural beauty that appeal to all our senses, we are captivated by the picturesque charm of each short-listed garden this year. Each has its own unique character and demonstrates truly exceptional design and the triumph of human endeavour. I hope you are encouraged to visit, discover the beauty and be captivated by the enchanting personality of each garden.'
The 9.5-acre walled garden at Blair Castle, Perthshire, tells the story of the changing life of the castle over the past 270 years. Visitors can enjoy following The Sculpture Trail, which includes a mixture of contemporary and eighteenth-century sculpture, through the castle gardens and grounds, while Diana's Grove – a tranquil wooded area adjacent to the castle – offers an opportunity to enjoy some of the country's finest and tallest trees.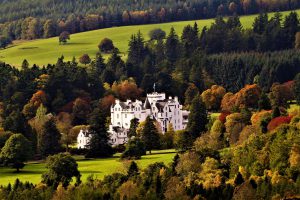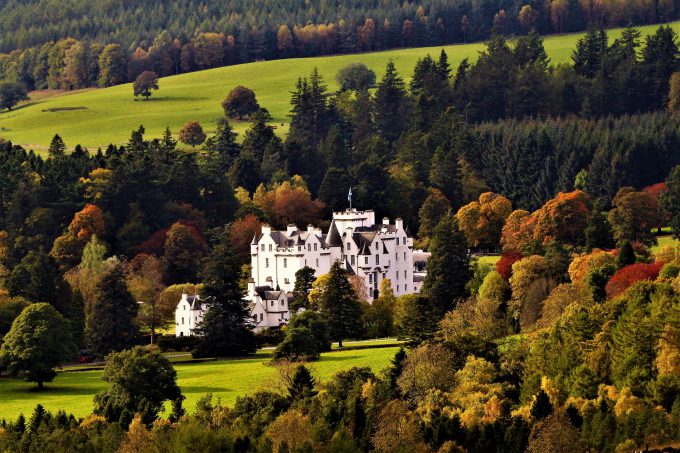 With stunning views towards the Black Mountains and next to the Offa's Dyke Path, the horticulturally important Hergest Croft Gardens, Herefordshire, contain more than five thousand rare trees and shrubs.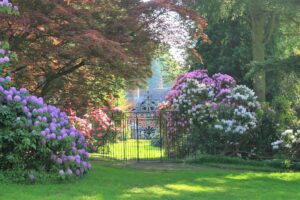 Dunvegan Castle, on the Isle of Skye, has five acres of formal gardens which began life in the eighteenth century. The castle's Water Garden, Round Garden, Walled Garden, and woodland walks provide a hidden oasis for an eclectic mix of flowers, exotic plants, shrubs, and specimen trees.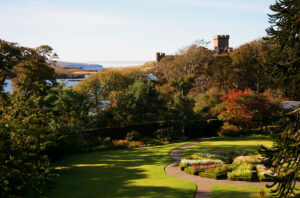 Despite its historic setting, Glenarm Castle Walled Garden, County Antrim, is in many ways a new garden. Completely restored and replanted by Randal and Aurora Antrim, with the help of garden designer Catherine FitzGerald and renowned plantsmen, it reimagines the original purpose of a walled garden with its ornamental plantings of fruit trees in garden 'rooms'.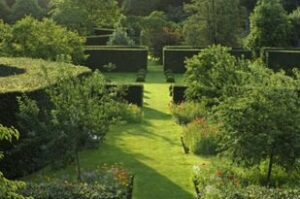 The new Calvary garden at Mount Stuart, Isle of Bute, includes two large ponds, with a chain of cascading waterfalls flowing down to the Wee Garden, creating a fantastic new visitor attraction with areas for pond dipping, picnic tables, and relaxing.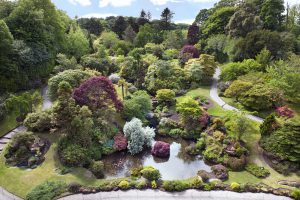 Scampston Walled Garden, North Yorkshire, is a beautiful contemporary garden, featuring perennial meadow planting alongside more traditional areas. Set within the eighteenth-century walls of the original kitchen garden, today the Walled Garden has an exciting and unashamedly modern feel to it and complements the adjacent eighteenth-century 'Capability' Brown parkland.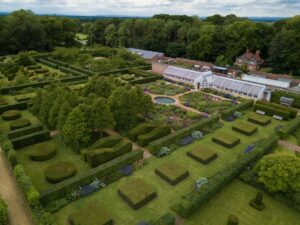 Vote for your favourite garden here. Voting closes on 31 August.
Become a Historic Houses member
Explore the nation's heritage from just £65 per year.
Hundreds of the most beautiful historic houses, castles, and gardens across Britain offer our members free entry.
Also: receive a quarterly magazine, enjoy monthly online lectures, get exclusive invitations to buy tickets for behind-the-scenes tours, and take up a range of special offers on holidays, books, and other products you might like.