An Interview with Artist, Laura Diggens
Throughout 2022, Historic Houses will be working with artist, Laura Diggens, to showcase her beautiful drawings and paintings to our members and supporters.
Laura will be producing twelve paintings over the year, each depicting one of our member houses around the UK, and we'll be revealing one per month in our weekly email newsletter (subscribe to the bulletin here).
In this interview, coinciding with the publication of her first painting for our bulletin on Friday 14 January 2022, our Digital Officer, Dominic Head, finds out more about Laura, her practice and motivations as an artist.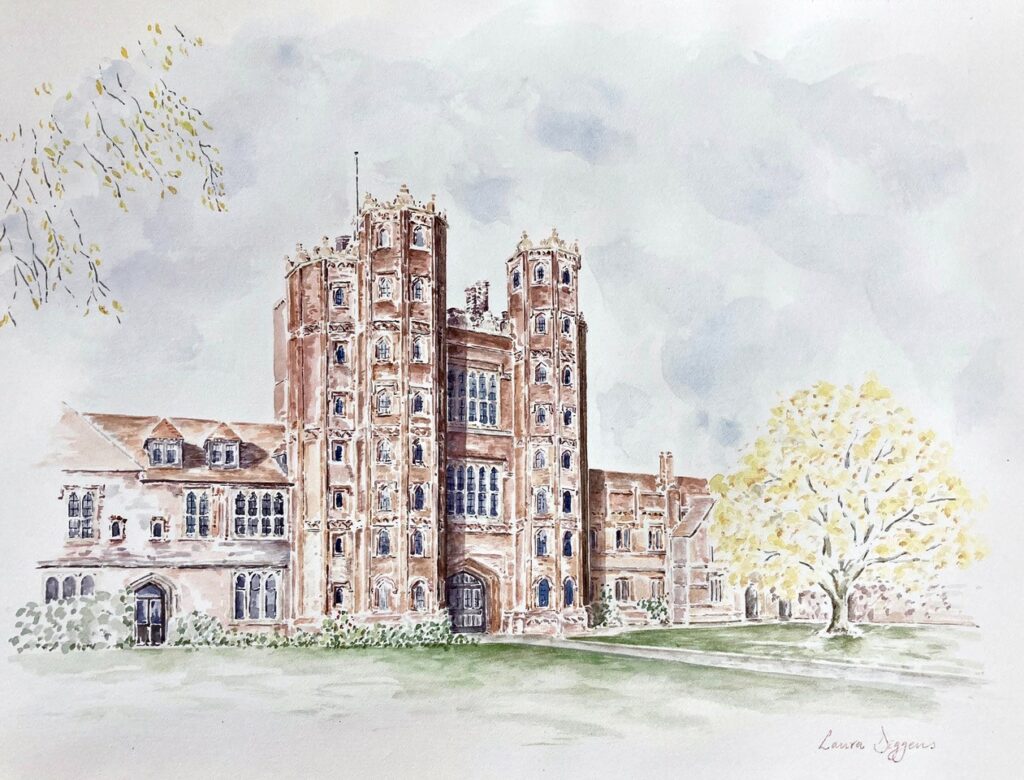 Layer Marney Tower, Essex ©Laura Diggens
Dominic Head: Hi Laura, we're excited to be working with you through 2022 to illustrate some of the fabulous Historic Houses places across the UK. Could you start by letting us know a little about you and your background as an artist?
Laura Diggens: Hi Dominic, I'm really looking forward to working with everyone at Historic Houses throughout the year. If my first visit to Layer Marney Tower set the precedent for rest of the year, then it's going to be fascinating and filled with novelty.
I'm an artist specialising in architectural painting and illustration.
I can't remember a time in my life when I wasn't in the thrall of buildings. It seems the writing was on the wall from an early age when rather than being bored to tears, I returned home and enthusiastically described a day trip to Oxburgh Hall, aged 8, to all my family.
I studied Interior Architecture at university where I learnt about perspective and how to illustrate my designs to appeal to a wider audience but after that I stopped drawing altogether really. It was while living in Florence in 2019, clearly inspired by my surroundings, that I started drawing again. Since then, it's been a lot of trial and error, a short course at the Royal Drawing School and a lot of time spent studying other artists.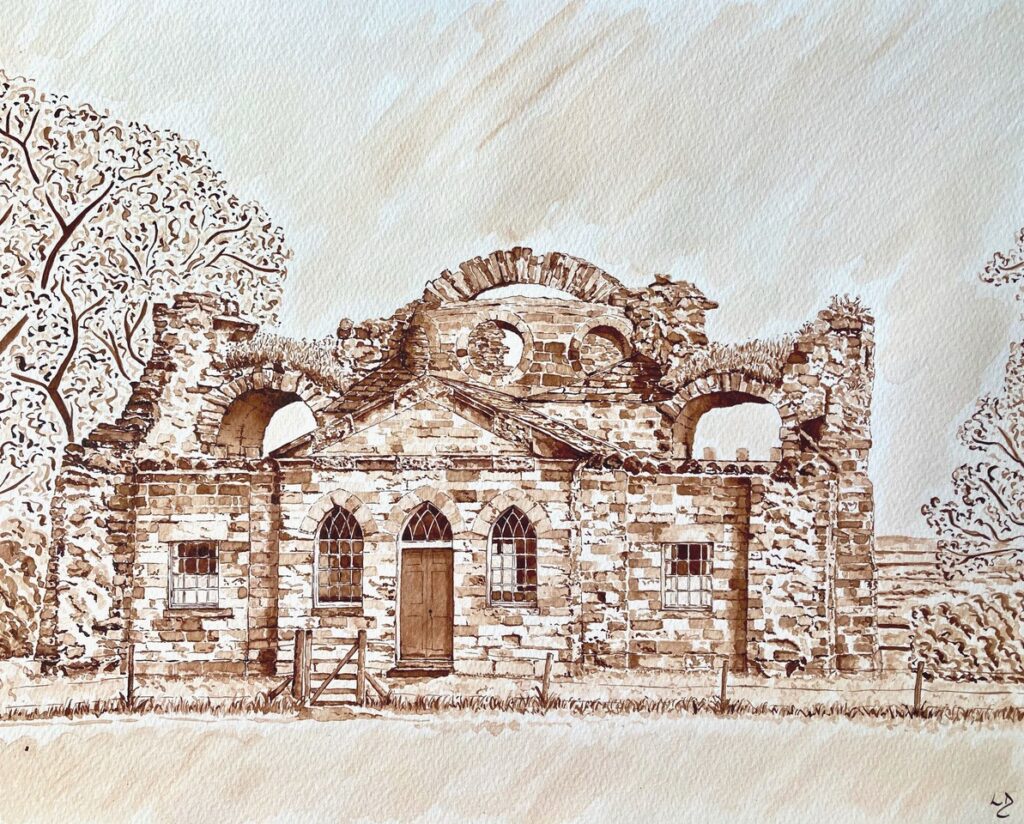 The Ruin at Hackfall, Landmark Trust  ©Laura Diggens
DH: Your time in Tuscany seems to have had a major impact on your work. Could you let us know more about your time there and what particularly inspired you about the architecture of the region?
LD: My time there reignited my desire to start creating my own work again. I spent six months in Tuscany in 2019, firstly studying History of Art at the brilliant and slightly eccentric British Institute of Florence before working at an artist residency in the hills between Pisa and Florence.
The architecture of the region is incredibly varied, as the geography is so diverse. Florence and the surrounding hills are more genteel than the slightly harsher landscape of the Val D'Orcia and the architecture reflects that. Focusing on Florence, the medieval period threw up some absolute gems. Both the Baptistery and San Miniato al Monte, created in the 11th century, are timeless in their beauty. The designers of the Renaissance were real sticklers for order so there is a great harmony in Florence's architecture from this period.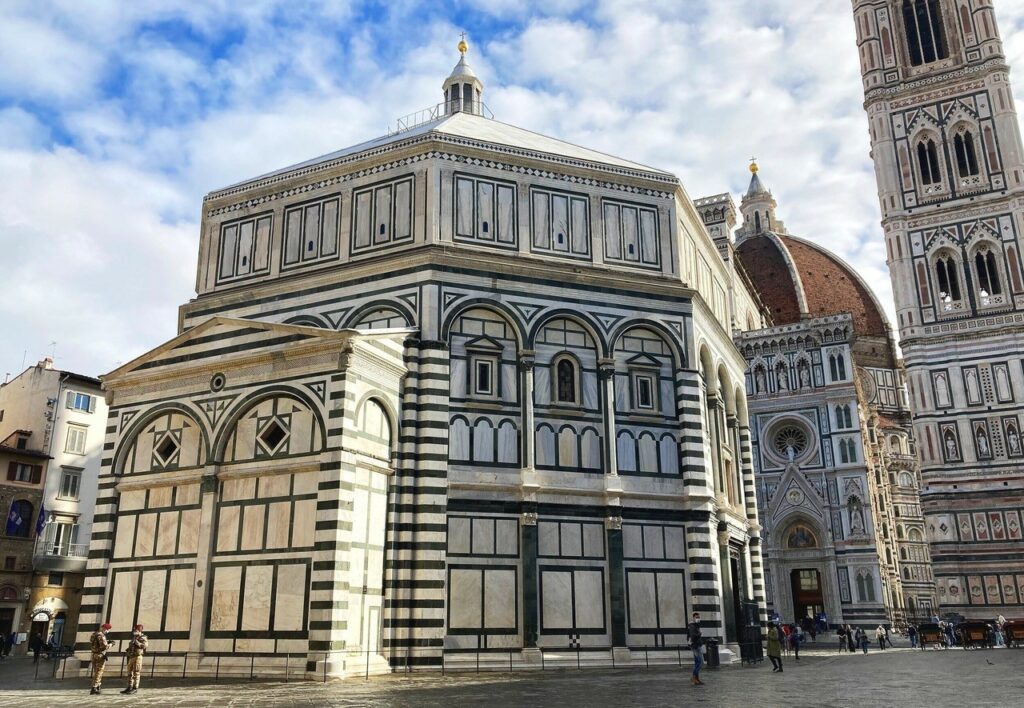 The Baptistery, Florence, Italy ©Laura Diggens
DH: What's interesting to note is that you work with a wide range of materials; from pencil sketches, to ink drawings, photography and painting on furniture and household objects. You also publish articles you've written on your website. Could you let us know a little about how you decide on what materials to use?
LD: Don't they say, 'Jack of all trades, master of none'?! I suppose I sometimes think of myself more as a designer because of my background. After university I worked for landscape designer Jinny Blom, who is a Brother of the Artworkers Guild. Although it was primarily a landscape studio, we worked on a variety of design projects which allowed me to experiment with different elements of art and design.
I'm fascinated by the history of architecture and the role buildings have played in our lives and how they mirror changes in society. I enjoy writing about buildings, trying to create a sense of how they influence and move us. The articles are my, rather limited, attempt at that.  In terms of illustrating architecture, I started working mostly in ink but I'm now learning more about watercolour and finding that its softer quality lends itself to architecture, especially more historic buildings.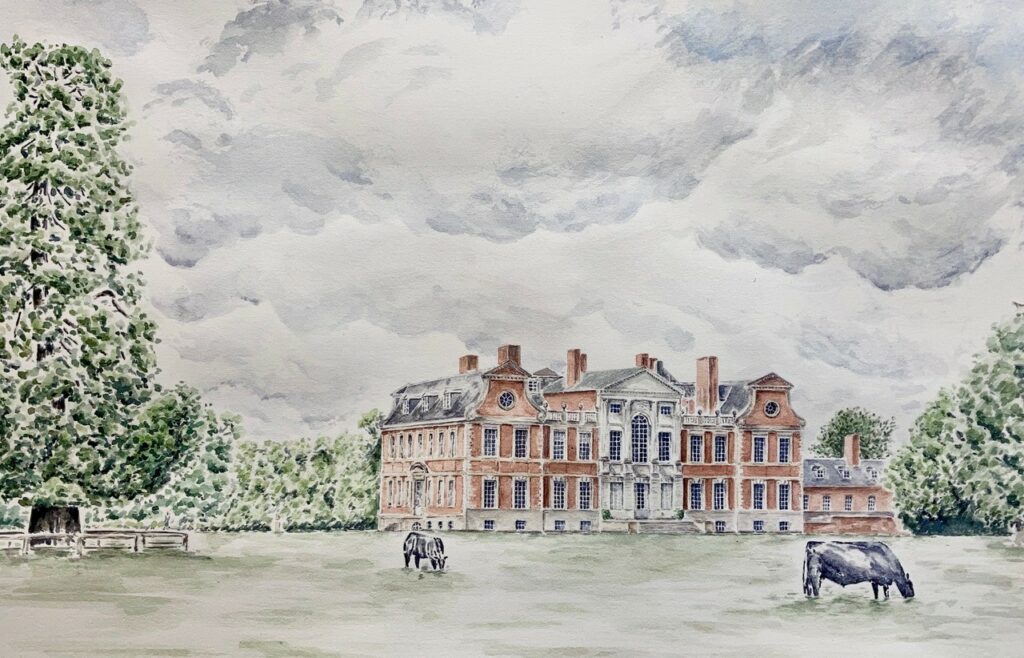 Raynham Hall, Norfolk – Watercolour painting ©Laura Diggens
DH: Our readers will of course be particularly interested to know more about the beautiful architecture you paint. Are you drawn to any particular style of architecture, and are there any artists who've particularly inspired you to move in this direction?
LD: I like the grandeur and showmanship of the 'prodigy house' period encompassing the Tudor, Elizabethan and Jacobean era. Blickling Hall in North Norfolk is the house I covet the most. It has a beautiful symmetrical Dutch gabled façade, a long central drive flanked by Dutch gabled service wings. It's a masterclass in upping the drama and does what it was designed to do; impress.
John Ruskin is a true inspiration for many reasons but artistically for his architectural watercolours of Italy. His studies of details on buildings such as St Mark's in Venice are ludicrously precise and delicate. By observing these isolated component parts he conjures a sense of the building without having to illustrate it in its entirety.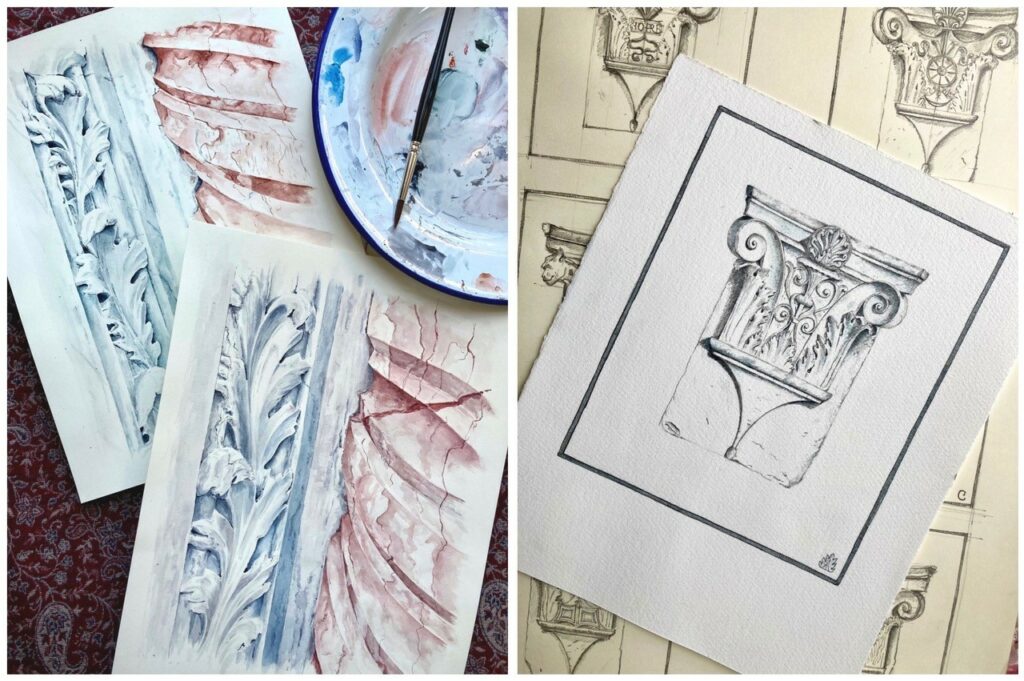 Watercolour studies of details on the Siena Duomo. Pilaster console study from the V&A museum, London, 'Rocca Roveresca di Mondolfo – 1483-90' ©Laura Diggens
DH: Over 2022, you're going to be depicting one of our member houses each month that we'll publish in our Friday newsletter, starting this month with a beautiful illustration of Layer Marney Tower in Essex. I was wondering if you could explain how you went about depicting Layer Marney, and how the house compares to others you've painted before?
LD: Nick and Sheila Charrington, the owners of Layer Marney Tower very kindly let me stay there so I was able to have an afternoon and the next morning sketching the house from various positions trying to find what angle would work best and what aspects of the building I really wanted to illustrate.
It has a lot of very small windows so that was mainly an exercise in counting. The gatehouse is also rather tall, so you need to stand back and give it room to breathe. I also wanted to get that shock of yellow of the Tulip tree into the frame as it's an absolute beauty.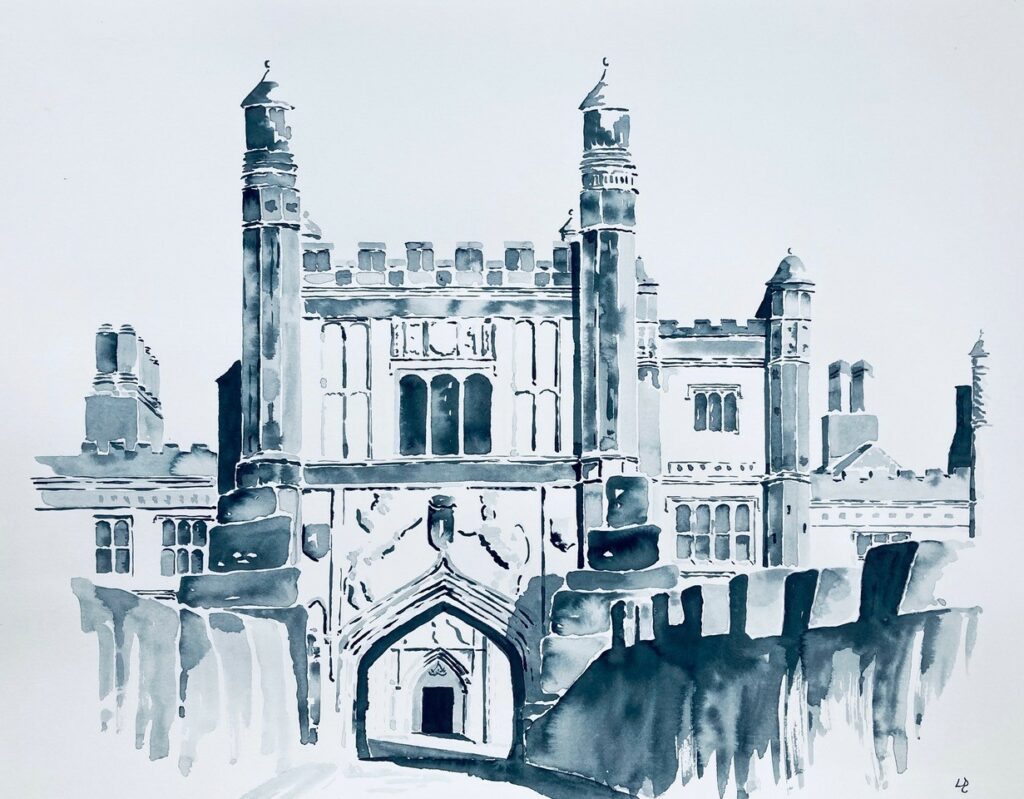 East Barsham Manor (private property in North Norfolk) – Ink wash painting ©Laura Diggens
DH: We, of course, love your work, and are excited to be showcasing it to our supporters through 2022. For anyone who's interested in seeing more of your work, where can they go, and how would someone go about getting in touch?
LD: For any interested souls, most of my work is on my website at www.lauradiggens.com and for a slightly more filtered version, my Instagram is quite regularly updated and can be found here: @laura.diggens
It's always nice to hear from people so please don't hesitate to get in touch with any questions. The contact page of my website is: www.lauradiggens.com/contact.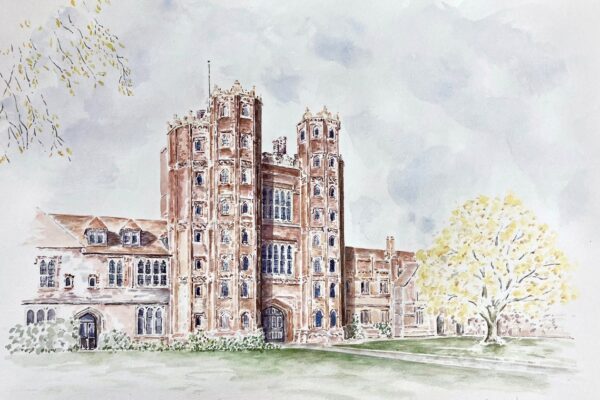 See more of Laura's artwork on her website
Studying Interior Architecture and later working with landscape designer Jinny Blom, her lifelong interest in architectural history was retained and nurtured. In early 2019 she moved to Florence to study history of art to learn more of the great buildings...
Stories from Historic Houses
More from Historic Houses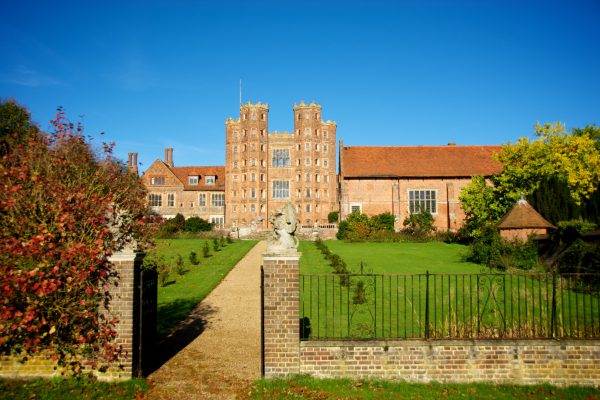 Free for members
Colchester, Essex, CO5 9US
Become a Historic Houses member
Explore the nation's heritage from just £65 per year.
Hundreds of the most beautiful historic houses, castles, and gardens across Britain offer our members free entry.
Also: receive a quarterly magazine, enjoy monthly online lectures, get exclusive invitations to buy tickets for behind-the-scenes tours, and take up a range of special offers on holidays, books, and other products you might like.