Raynham Hall
In all England there are few more beautiful houses than Raynham.
Fakenham, Norfolk, NR21 7EP
Get Directions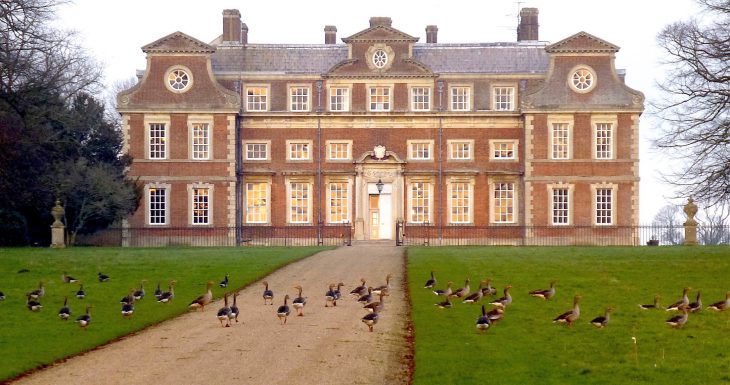 An exquisitely comfortable and intimate house built by Sir Roger Townshend in 1620 with interiors designed by William Kent in the early 1720s for the second Viscount Townshend ('Turnip') Not only was he the renowned agricultural reformer but also an important figure in the courts of Queen Anne and King George I. The 16-room tour embraces 400 years of Townshend occupation, the portraits and furniture reflecting lifetimes of collecting. Visitors may also visit the new gardens and the church.
"In all England there are few more beautiful houses than Raynham – and none perhaps, that so perfectly exemplifies all that is best in English domestic architecture in the first half of the seventeenth century. Raynham is not palatial, there is a comfortable, homely feeling about it. It is a house designed not only to be admired, but also to be loved." John Julius, Viscount Norwich.
Tours that are scheduled will be listed below. If none are scheduled yet, please check back later, or find other tours you might enjoy on our tours listing page here.
TOUR DURATION
1½ hours
TOUR PRICE
£30.00 per person
REFRESHMENTS
Tea, coffee and biscuits.
ACCESS NOTES
No disabled access: many steps up to ground floor and no lift between floors.
RESTRICTIONS
No dogs, no photography, no stilettos
VISITORS' VIEWS
"Only a home as gracious and elegant as Raynham can host classic Rolls Royces and architectural lovers. Thank you for your hospitality & tour"
"I spent a great day here today and it is an unforgettable great memory in my life"…
"Ten of us, on an Art Pursuits Norfolk tour, have had a most wonderful afternoon. Can the rest of our visits match up to the beauty of Raynham on a lovely sunny afternoon? Maybe not. Thank you, Alison and Charles, for a fascinating and fun visit."