what3words
Street addresses weren't designed for 2021. They aren't accurate enough to specify precise locations, such as building entrances, and don't exist for parks and many rural areas. We partner with the solution.
The simplest way to talk about location
///shops.chap.ranges – the exact location of the visitor carpark entrance for Abbotsford.
All too often, a farm drive, locked gate, dower house, shoot rendezvous, or stable block will share the same post code as a visitor car park or ticket kiosk, and satnav can lead the unsuspecting astray. That's why we've partnered with the app what3words to provide genuinely useful and accurate locations for our member properties.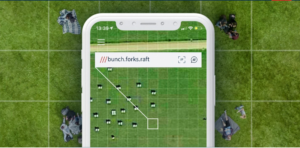 Where you see three random words preceded by '///' and separated by dots, in our handbook or online, they're the exact address of a three-metre by three-metre spot that is precisely where you need to head.
To use this revolution in place-finding, download the app.
Get the what3words app