Our May painting: Laura Diggens paints Combermere Abbey
Read about Laura Diggens' time at Combermere Abbey, and get an insight into her creative process with a look at her preparatory sketches:
Ominous grey skies loomed overhead as I journeyed along the sweeping drive down to Combermere Abbey; the light cream, crenelated, Gothic mansion made brighter by its stormy backdrop.
Combermere Abbey has morphed from a Cistercian monastery to a Tudor manor house and into its current state of a Gothic mansion over its near-1000-year history. The Cistercian monastery, which was in financial ruin at the time, was handed to Sir George Cotton, a friend and member of Henry VIII's court during the Dissolution of the Monasteries. The Cotton family went on to remove much of the original monastery and ancillary buildings, and built a timber-framed and stone Tudor manor house.
Although very little remains today of the Tudor manor house, a painting by the Dutch artist Peter Tillemans shows the house in the 1730s. Notable changes from then include the existence of two meres, that were later joined by 1st Viscount Combermere to create the spectacular and grand Comber Mere, and the existence of formal avenues and knot gardens that projected north. This landscape style was a far cry from the naturalistic design of the current park and gardens.
1st Viscount Combermere, a successful diplomat and military leader during the Napoleonic wars, was responsible for the Gothic redesign, adding a rendered facade, crenelations and gothic pointed arched windows, encasing the Tudor house and timber panelling under his grand new plans.
The house fell into disrepair after WWII. In the early 1990s, Sarah Callander-Beckett inherited the property from her mother and has spent the last 25 years restoring Combermere Abbey to its former glory. The 1837 Edward-Blore-designed stables were restored, as well as the entire property. This included a full restoration of the impressive Great Hall, which was the central core of the pre-existing Cistercian monastery. Although again now hidden under a panelled ceiling, an original hammerbeam roof from the 16th century was uncovered during the restoration and conservators worked painstakingly to bring this stately room back to its former splendour.
From the Edwardian glasshouse in the extensive walled garden to the summerhouse in memory of Sarah's mother, nestled in the woodlands and azalea groves, there is intrigue around every turn at Combermere and my time at the abbey, with its remarkable setting and rich history was a joyful and enriching experience.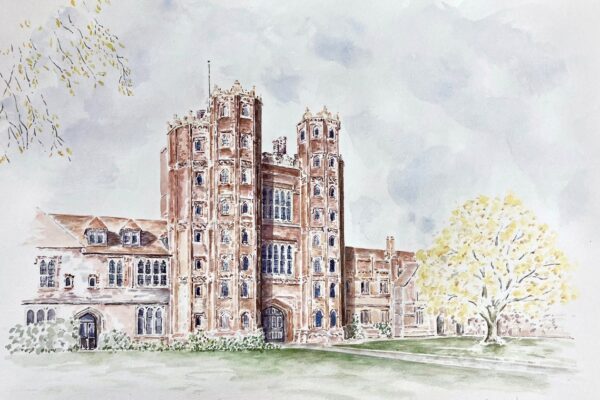 Throughout 2022, Historic Houses will be working with artist, Laura Diggens, to showcase her beautiful drawings and paintings to our members and supporters. Laura will be producing twelve paintings over the year, each depicting one of our member houses around...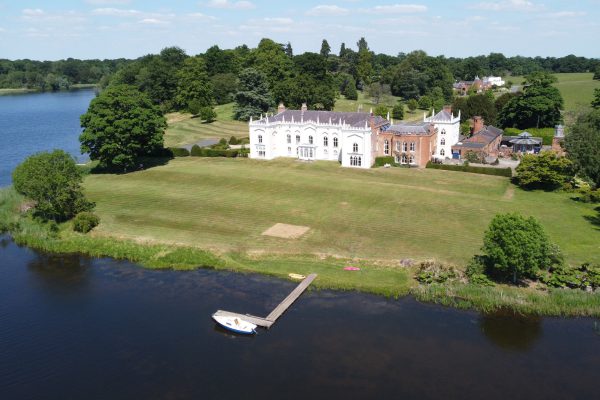 Free for members
Whitchurch, Shropshire, SY13 4AJ