Finding a Future for Historic Houses: Reflections on the 2023 Attingham Summer School
Kate Walter, curator at Arundells, was 2023's Historic Houses Attingham Scholar. She shared her reflections on this year's Attingham Summer School below.
The Attingham Summer School is the grande-dame of country house studies and celebrated its 70th edition in 2023. It takes the form of an intensive, immersive road trip, visiting over 20 country houses across six counties over the course of two weeks. Teaching is through lectures, site visits, and uniquely, peer-to-peer learning among an international cohort of curators, academics, designers, conservators and art market specialists.
The core course aims were to study the architecture, interiors, collections, gardens and social history of the country house from the 16th to the 20th century. There were opportunities to deep dive into our own specialisms, and my most lasting memory of the course is the way the furniture specialists would drop to the floor in a commando roll to study the frame whenever they spotted a particularly interesting piece.
Visiting properties with varied ownership and management structures also exposed us to case studies of how the historic house can evolve to meet the challenges of income generation, climate change and increasing visitor numbers.
Questions of authenticity and relevance were asked as we compared interpretive solutions at the properties we visited. It was generally agreed that 'bringing places to life' is the ultimate goal of historic house interpretation. We observed a number of creative solutions: at Standen, life-sized reproductions from a family sketchbook depicting daily life in the house were placed in the rooms. It did feel as though the properties still in private ownership, such as Parham Park, Lady Emma Barnard's family home, had a clear advantage in this respect.
Authenticity was also a consideration as we discussed approaches to conservation and restoration, from the preservation of Cowdray as a romantic ruin, through the revival of heritage skills for the reconstruction of Uppark following the 1989 fire, to the historically informed but acid-bright wall coverings in the State Drawing Room at Stowe.
I joined the team at Arundells, the Salisbury retreat of former Prime Minister Sir Edward Heath, as Curator in 2021. The house opened to the public following Heath's death in 2005, and has reached an exciting point in our aspiration to establish Arundells as a high-quality and sustainable historic house museum. Participating in the Summer School I was able to observe best practice at established properties and gain inspiration of how best to improve access to – and engagement with – our collection.
A number of universal themes became evident during the course relating to my professional and personal interests. A better understanding of how global networks of travel and trade shaped historic house collections was one I had a particular interest in. Working with world collections often means balancing competing priorities of interpretation. My personal and academic interest is in Islamic art so I was particularly interested in the links between Britain and the Middle East rather than the better understood connections with, for example, China and India.
Heath's collection at Arundells encompasses diplomatic gifts from significant twentieth-century figures including Mao Zedong, Fidel Castro and Shah Mohammad Reza Pahlavi, which rub shoulders with personal acquisitions including 20th century British art, Chinese ceramics and Japanese woodblock prints, reflecting Heath's own taste and off-duty achievements. More than just a Prime Minister's house, Arundells is a place of contrasts: ancient and modern, local and global, personal and political. The global aspect of the collection is, as yet, under-researched and has the scope to tell a wider range of stories than we currently do.
Although Islamic art was not particularly plentiful in the collections we visited, I was pleased to find Iran (Persia) well represented.
An exceptional collection of early pile carpets in the Buccleuch Collection at Boughton House contained one of my highlight objects of the course, a Safavid 'Sanguszko' carpet hailing from 16th century Kerman, Iran. These carpets are distinguished by figurative decoration closely relating to contemporary manuscript illustrations and a bright appearance from the use of white in the pile.
Islamic carpets are synonymous with historic house interiors but are frequently overlooked as part of the fixtures and fittings today. This was not the case in Tudor Britain. Trade with the Ottoman and Safavid Empires took off during the reign of Queen Elizabeth I, who approved the initial charter of The Levant Company in 1592. By the end of the 16th century, Islamic carpets, particularly those woven in Anatolia (Turkiye) were commonly seen in portraits, reflecting the wealth and social status of their owners.
A pleasing juxtaposition can be seen at Hardwick, with Anatolian carpets taking pride of place in the portraits of Arbella Stuart and Mary Queen of Scots, placed next to a table covered by a carpet thought to be from the court of Abbas I, the fifth Safavid Shah of Iran. While the significance of Islamic carpets to European sitters is well understood, historic house interpretation generally does not cover the origins of these works of art in the nomadic tribes of central Asia, nor the fascinating stories of their women-led manufacture or the meaning of the symbols used in the designs.
Another personal highlight was a pendant pair of portraits at Petworth of Sir Robert Shirley and Lady Teresia Shirley (née Sampsonia) by Sir Anthony van Dyck. Shirley was an adventurer who served as ambassador to Abbas I from 1608. Sampsonia was Circassian (from the north-east shore of the Black Sea) and a gifted linguist who saved her husband's life on at least two occasions.
The influence of the Silk Routes has been brought up to date with a new garden at Woolbeding Gardens. The ancient trading routes between Asia and Europe are best known for silk and other commodities but were also the source of plants such as roses, rosemary, lavender and fennel when brought to Britain. A winding path guides the visitor through 12 distinct regions of the Silk Route, culminating in a lotus-shaped glasshouse, designed by Heatherwick Studio, which houses Asian ferns, banana trees, and magnolias.
Discussion of global networks would not be complete without acknowledging they are loaded with difficult histories. The Dutch East India Company and the East India Company were commercial operations which became colonisers and seized control of large parts of Southeast Asia. The Transatlantic slave trade, or 'triangular trade', sailed routes between Europe, The Americas and Africa. It is reasonable to say that few properties we visited were without collections or connections related to these operations: whether through direct trading in or ownership of enslaved people, political involvement in colonial management, business interests in supporting industries such as insurance, or consumption of goods or materials produced by enslaved people.
We did not observe a significant amount of interpretation of world collections in the houses we visited. It would be easy to attribute this to a commitment to preserving a nostalgic vision of historic houses but, within the group, there was an enthusiasm for presenting more complete histories. Lack of resources and subject specialist knowledge, however, are key limitations. Uncomfortable elements of history are not always popular, but we have a responsibility to be historically accurate and nuanced and offer complete histories of properties in our care. 'Retain and explain' became a catchphrase of the course which sums up our ambitions.
Kedleston has begun to make progress in interpreting their world collections, although they acknowledged that they are still in the early stages of the process. The Eastern Museum was formed from the collection of George Nathaniel Curzon, Viceroy of India. The collection contains objects from countries including Japan, China, Tibet, Afghanistan, and Iraq. The collection is currently displayed in a way that does not demonstrate an understanding of the cultural background and significance of each item to its source community, nor is it particularly transparent about provenance.
Kedleston's current intervention, 'My Adornment is My Power', steps towards understanding the context of objects from the Eastern Museum. Responding to Lady Curzon's description of the Maharani of Jodhpur as a "painted jewelled female prisoner", the project explores the themes of power and female adornment. It includes a display of South Asian jewellery from the collection, selected by local jeweller Anisha Parmar and shown alongside some of her own work. The display is accompanied by a film, made in collaboration with the Grewal Twins and featuring the dancer and choreographer Kesha Raithatha.
The Attingham Summer School very much met my expectations of inspiration and learning, and there was also a great deal of laughter. Bringing together 40 like-minded individuals into an intense environment sparked conversation, exchanges of ideas and debates which is what I believe sets the Summer School apart from other courses, and gives strength to the celebrated Alumni network.
The Attingham Summer School is a heritage institution in its own right, but I gained a very strong sense that our industry is evolving in exciting new ways. I gained an understanding of my own area of interest, global networks and world collections, in greater depth than it has been possible to outline above, and a sense of the scope for the future development of the subject. Other topics such as women in the country house, queer histories, and the environment are gaining momentum and have a huge amount of untapped potential for broadening the field of historic house studies.
Even familiar faces are being looked at with fresh eyes thanks to constant breakthroughs in research, such as the restoration of the Beauties Room at Petworth. Technical developments are enabling a better understanding of the materiality of the objects in our care and constantly evolving methods of conservation.
The unifying factor between all the sites we visited was the shared passion of the owners and staff who live and work at these historic houses to work tirelessly to ensure they continue to develop, thrive and remain relevant well into the future.
Apply to be our 2024 Attingham Scholar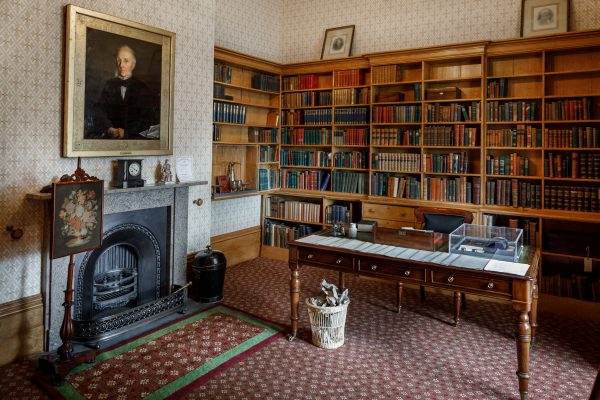 Attingham Trust scholarship